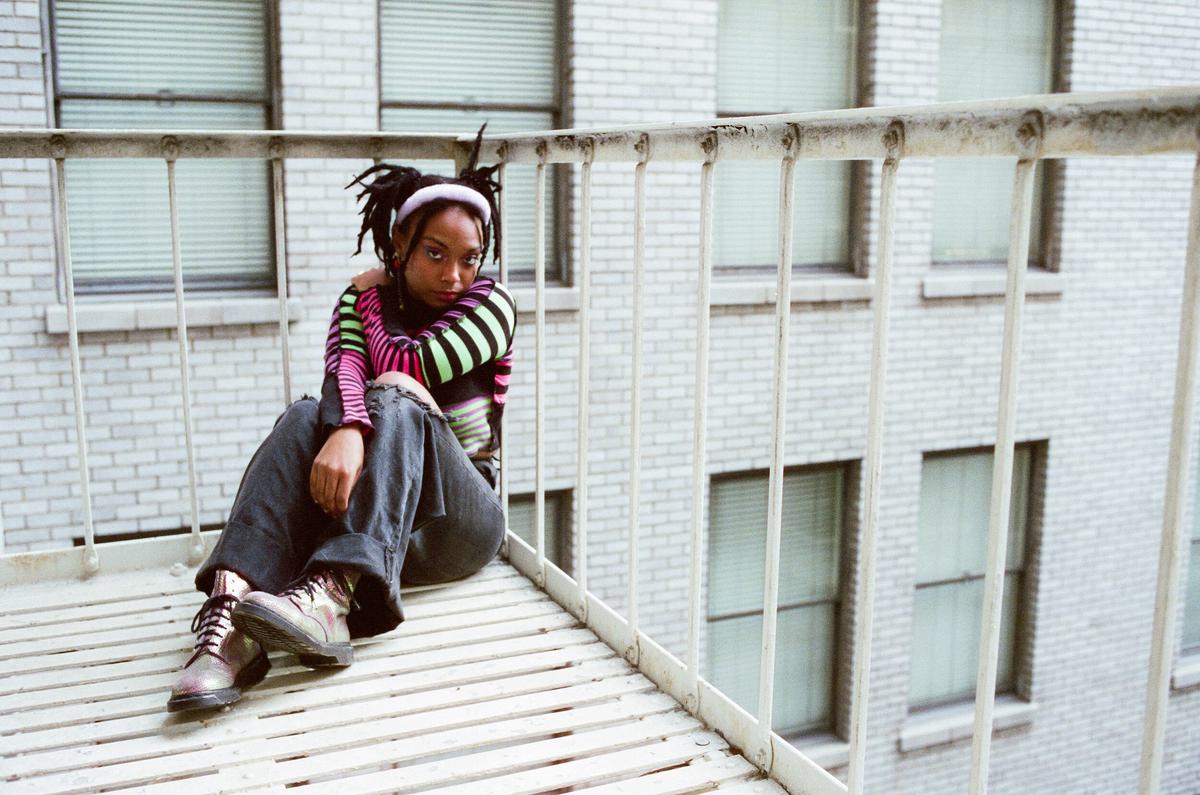 Hyperpop frontrunner RYL0 admits her faults on explosive mixtape title track "I'm The Worst!!"
LA-based experimental pop star RYL0 is sitting on one of the year's most exciting projects – her forthcoming mixtape I'm The Worst!! which is packed with frenetic, fast-paced anthems like its riotous title track.
Born and raised in New Jersey, RYL0 (aka Lauryn Henry) began her musical journey thanks to an obsession with her dad's cassette player and the soundtrack for Disney's Tarzan. One time she even got in trouble for listening to it in class, confiscated by her teacher, she couldn't retrieve the gadget until her dad wrote her a note.
Written at the top of 2021, "I'm The Worst!!" was the track which got Henry thinking about the mixtape which is due for release next month. "I always get really depressed in the winter months, so it was really easy to tap into writing self-critical lyrics about all the things I'm insecure about. This particular song was about me being really emotionally unavailable and not making the time and effort to be a good communicator."
Writing her very first song "After Midnight", over a Lane 8 instrumental, years later it finally got released – with completely new production courtesy of Mattu – as part of her I'm The Best project. Most fledgling songwriters' first forays into making music are far from ready for release, so "After Midnight" is a real testament to Henry's vision which has been with her from the beginning.
"I grew up on pop-punk and other genres that would now be considered "proto hyperpop"," she explains discussing today's release, "so I would like to think that the younger version of myself would've gone crazy for a sound like this but it's hard to say. There's a chance my brain would've exploded though. I was incredibly angsty for my age so I think at the bare minimum, I would've resonated with the lyrics even back then."
From Paramore to Flyleaf, Henry remembers "my parents legit had no idea I could sing until I was like 10. I was also listening to a ton of Flyleaf when I first started realising that my voice could be powerful like that, so definitely I would say Hayley Williams and Lacey Sturm impacted my approach to singing."
EDM has also played ina part in her creative experimentation, discovering Krewella early on "I pretty much instantly fell in love with the Yousaf sisters," she adds, "they're complete powerhouses." Originally everything she released as RYL0 was done alone in her bedroom "partially because I liked it, partially for convenience," her earliest releases even feature vocals recorded on her in-built earphones mic. She looks back at this music fondly, seeing it as a gateway for her own evolution.
"I'll always be really proud of my first releases because those projects really gave me room to gain confidence in myself before I started inviting other people into my creative process," she tells us, "I work with people constantly now and it's great because I'm making even better music at a much faster rate. I definitely had a hard time opening up in the first few sessions I had with other artists and producers, but now I really do prefer it."
"This is the longest I've worked on a single project," she reveals, "I wanted the announcement for the I'm the Worst!! mixtape to be a surprise, but I consider this one and the I'm the Best!! mixtape as parts of the same project. They sound entirely different, but they're designed to communicate with each other and create a bigger picture."
Creating that bigger picture is nothing new for Henry, studying screenwriting in college, as a songwriter she says "I obviously love telling stories... This whole process has just been me trying to figure out how the catchiest, most honest story I have right now." Henry explains that I'm The Worst!! – which is set to feature last month's single "Broke Nobody" and January's "On The Run" too – is a "kind of coming-of-age project and the main theme circulates around this desire for intimacy while being emotionally unavailable."
Straddling the line between unhinged adolescence and that point where you reluctantly realise you're technically an adult, "it's very clearly a project about being young enough to keep making stupid mistakes and decisions, but old enough to know better," she adds. With the title track co-produced by Hyperpop Records co-founder Cosmicosmo, Henry has no issue with the hyperpop genre tag which is seemingly used to describe any kind of pop with any left-field twists.
"It still feels accurate to me and what I've been doing, but I think I'm trying to lean on that label a little less now that these last two mixtapes are complete. I haven't really nailed what my next wave of projects will sound like yet, but right now it seems safe to say that it will definitely be "pop". Will it be more hyperpop? Alt pop? Dance pop? Pop-punk? I really don't know right now because even what it means to have that "hyperpop" sound is changing pretty quickly."
Discussing the misconception that hyperpop was born out of the pandemic, Henry suggests "a lot of that is due to not understanding that hyperpop has always been generated by a unique community and is more than just a Gen Z genre with marketable packaging."
Teasing the mixtape she reveals that "Horse Tranquilzer" is "definitely [her] favourite." Describing it as "the most satisfying to write" and when she breaks down the track's concept it's clear why: "It's written from the perspective of a cowboy's getaway horse after the cowboy robbed a saloon. One minute, I'm a horse just chilling out, and the next, I'm running for my life roped into shit I didn't do. If I were a horse in that situation, I would definitely need a horse tranquilizer. It's sad but it's also kind of funny, especially because I used to be a horse girl."
A true storyteller at heart, RYL0 is a vessel for Henry to share these stories – whether they're entirely fantastical, fictional creations, or drawn out of on her own ever-relatable insecurities. "I really want to set the pattern that my sound will always change," she says, "more important than genre or style, what I really want to get across between these mixtapes is that I am a versatile artist that knows how to tell a story."