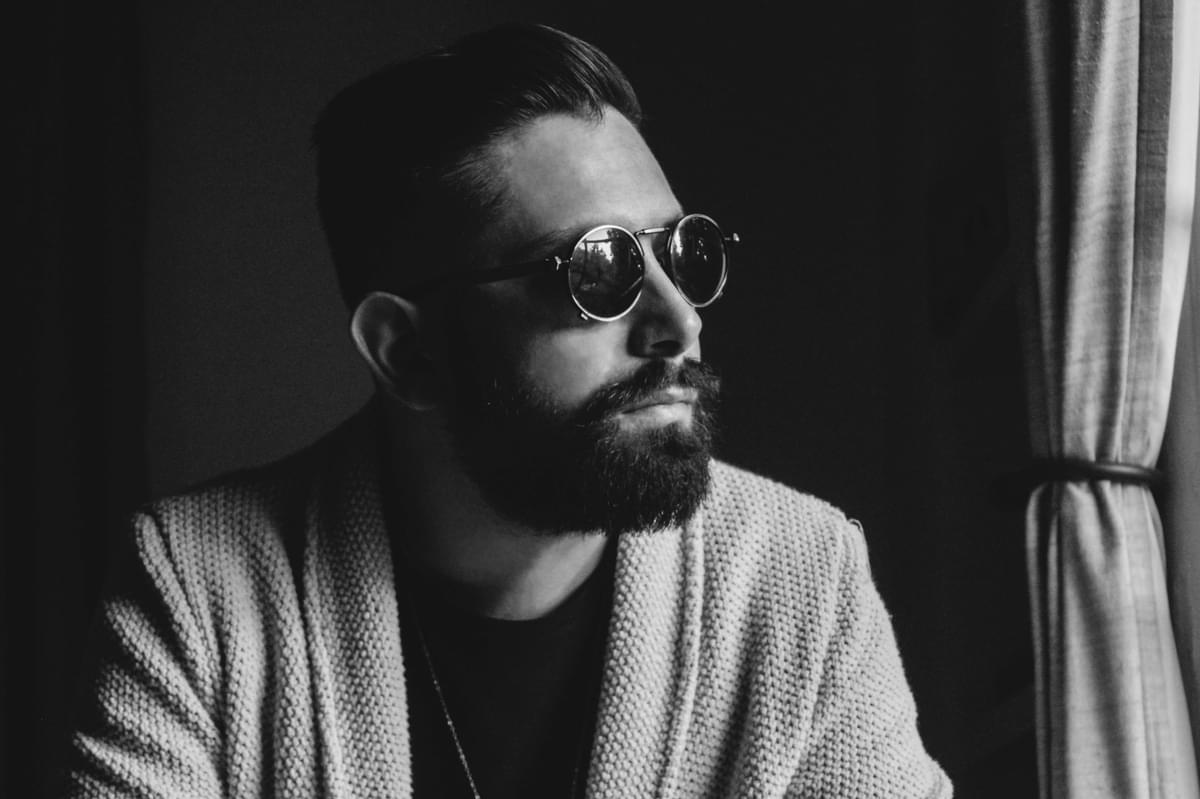 Bulgarian-born producer and composer Kan Wakan discusses his ambitious Phantasmagoria trilogy
For most people, releasing one album would be enough, yet that would not quite satisfy Kan Wakan's insatiable creative appetite. Earlier this year, the Bulgarian-born, L.A.-based producer and composer released the first volume of the long-awaited Phantasmagoria trilogy, starring the Sofia Philharmonic Orchestra and a solid cast of featurings.
It's an elusive 11-track, chiaroscuro and other-worldly piece conducted by Gueorgui Linev that showcases his proficiency in blending organic arrangements with electronic elements. His meticulous, yet experimental, approach to music brings back the cold aura of the 90's seminal trip-hop scene, warm jazz melodies, cinematic orchestral beauty fused with more understated sonic perfumes.
This dreamy and diverse medley of sounds provides a backdrop that flows soothingly against Elle Olsun's mysteriously haunting timbre throughout the album whilst drummers Ian Chang (Son Lux) and Gene Coye from Flying Lotus add skillful rhythmic dynamism to the effort.
We caught up with Linev to discuss the new album, his creative process and what we can expect from him in the future...
BEST FIT: Congrats on the album release. How does it feel to have this collection out in the world?
KAN WAKAN: "Thank you! Very happy to have finished the record and it's a great relief, but also lowkey I know it's right back to work on the other two volumes."
How do you view Phantasmagoria in comparison to your previous work, how did your approach change?
"After the first album, I spent a lot of time producing other artists, I scored a film, and there were other passion projects in between. Taking an extensive break from your own creative headspace makes it hard to tune back into it. It wasn't until I stopped trying to make a record that the music began to take shape naturally. I had to surrender any premeditated intentions about how it was going to happen.
"My approach this time around was entirely different because the first album was made with the same group of musicians over a three-week period in a studio. This time I worked with many guests over a longer period of time. Everything was freer flowing and experimental. I also feel like I had more time to fully realise the project, and for me this is a crucial part of the process as things reveal themselves truer over time and sometimes you just don't know if what you're excited about in the moment is actually any good."
You originally planned to release the album as a triple LP a year ago — why has that changed?
"It became clear that the album was truly three parts. Each set of songs developed a unique character and a consistency, and it felt natural to arrange them in a way so that they would complement each other. More than just a beginning, a middle, and an end, they grew further apart like a fractal with each new song that I wrote in the space between two others, until eventually they overgrew the length of a single record in the traditional sense. However, I remember starting to realise that printing to vinyl would become a challenge, and it became really interesting to consider how the limitations of these physical mediums really affected my experience of creating the story overall."
What were the main inspirations behind the album? How did Phantasmagoria come into being?
"The word 'phantasmagoria' relates to story-telling, specifically, stories told using shadows. In retrospect, Vol. 1 plays off of smoke and mirrors, refraction, and the ghosts of the past and future and the present. I came across the word 'phantasmagoria', as it related to ghost stories told using a sheet at a lamp, making shadows tell volumes. And so the word felt capable of encasing the feeling one gets after sharing stories over a campfire… that dreaminess that starts to take over your senses, the contrast of light and dark."
You worked a lot with vocalist Elle Olsun and the Sofia Philharmonic Orchestra. How did that come about?
"I've worked with Elle for a few years now, she's a close friend and appears on the entire first volume. We met at a jazz bar in L.A and I kept coming back every week to watch her perform in front of a small number of people who were just casually eating their dinner, mostly oblivious to the nuances of the incredible music happening around them. I tend to be drawn by music that invites you in with subtlety and layers of complex emotion, and that's what Elle's voice felt like to me upon first listen.
"With the Sofia Philharmonic there was need for orchestral textures for some of the new arrangements, but I didn't want the strings to be a dominant component conceptually, as they were on the previous album. It's been somewhat of a childhood dream for me to work with a Bulgarian orchestra, ever since watching my uncle Stefan conduct at a young age. He also conducted the orchestra for the previous album at our sessions in LA so to take things back to Sofia for Phantasmagoria felt only natural. It was a great honor to work the musicians from the Sofia Philharmonic."
What's your favourite track from the album and why?
"That's a tough one. It always changes depending on my mood and where I'm at with everything. Currently I feel like it's 'Unlucky'. I wrote the melody on voice memos going down a really sketchy elevator in Bulgaria. the ones where you don't know if you're going to actually come out alive. I actually got stuck in between floors and I was there for a good 30 minutes before someone came. I feel like this song captures an emotional undertone that to me is the essence of the album, and I love the arc and journey it takes on, as much as it's a challenge for people with short attention spans...I was like 'fuck it let's make it the first track on the album!'"
You grew up in Bulgaria, was there a lot of music around while you were growing up?
"Coming up in a family of artists and musicians, there was always music in the house. When at my grandmother's, I'd hear traditional Bulgarian folklore music on the radio, then my uncle would come home and start conducting in the living room, rehearsing for an opera performance. At my mom's there was always a rotating playlist of blues, and rock'n'roll cassette tapes…
How is the music scene in Bulgaria like right now?
"2018 marks the fourth consecutive year that I've been coming back to Bulgaria and organizing events for Kan Wakan. Each year I've brought guests from abroad to perform and just enjoy the city and every year I've come back I'm introduced to more of the local music community. It really feels like a thriving creative atmosphere, and for the size of the city, there seems to be more musicians per capita in Sofia than most places I've travelled to. There's a wide array of Bulgarian artists that I'm really inspired by, some of whom I've the honor to work with recently, such as Ivo Dimchev, who just performed a very special set at Outlier fest in Sofia, which I curated this year."
What does the next few months entail for you? Is there anything that you're particularly excited about?
"A lot of shows.. tour in the works.. some exciting collaborations, more productions. A couple of film projects I'm excited about… then back to work on Volume 2 which is about 60% right now. I can't wait to catch up on this backlog of unreleased music…hopefully I can put it all out next year."
Get the Best Fit take on the week in music direct to your inbox every Friday