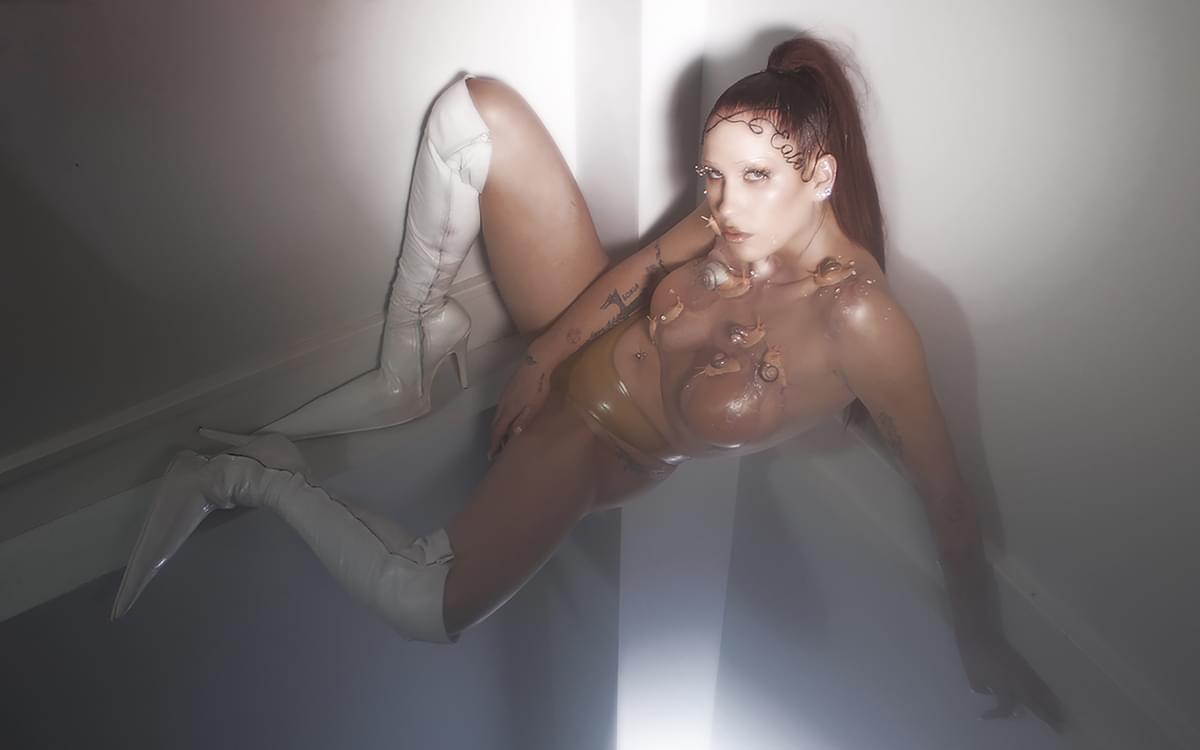 Eartheater unravels the dark side of nature in the reverie of "Mitosis"
"Mitosis" is Eartheater's first single of the year and marks her as a bonafide creative for a new generation of alluring, visual pop.
Consider the visionary alt-pop auteurs of late – Grimes, Arca, Namasenda – and you'll detect a theme. Together with their distinctive taste for visuals, multiplicity, and refusal to be contained, they thrive in the 'otherwordly'; where 'Manic Pixie Dream Girl' meets high fantasy. In the video for "Mitosis", Eartheater is filmed from above, wearing latex underwear, white thigh-high boots, and with her baby hairs gelled alongside the diamante jewels popularised by Euphoria. For a moment, she's another string in this bow, but look a little closer.
Bedded closer to the grit of nature, you'll find Eartheater. As the track builds with a buzzing swarm of flies, close-ups reveal two-headed snails covering her head to toe. It's an attack on the senses, but with a rose-tinted hue that never gains full focus, she remains ethereal, a welcome addition to the canon.
Born as Alexandra Drewchin to a British mother and Russian father, Eartheater moved between the bustle of New York City and the Pennsylvanian countryside as a child, before eventually retreating to her neighbourhood of Queens, where she now resides. In 2015, her debut album Metalepsis and follow up RIP Chrysalis emerged and presented elements of psychedelia and guitar-led folk with a postmodern edge. In the albums that followed, she fleshed out vocal harmonies, dark electronics, and her identity; most recently with 2020's Phoenix: Flames Are Dew Upon My Skin.
At the time, she told The Face "I had lots of scratches that I needed to itch, lots of impulses.​ My struggle has been trying to satisfy all the different ways in which I'm inspired into something that I think works. I get bored easily and also I like to mix things up for my own mental health just for who I am really, saying that's the way to be."
Now rising from the ashes, "Mitosis" is a glitchy, electronic experience of Drewchin going against the grain. Akin to the scientific process that the title aligns itself to, atmospherics are replicated and then segregated while Eartheater's voice bellows and forges a space to be heard.
Produced by friend and collaborator Sega Bodega, it's an impactful set-up to further collaborations to come, including a confirmed track with Grimes. As her stature and icon status grows, Eartheater is becoming larger-than-life; but rooted in the natural world, she embraces elements that speak for themselves.
Get the Best Fit take on the week in music direct to your inbox every Friday