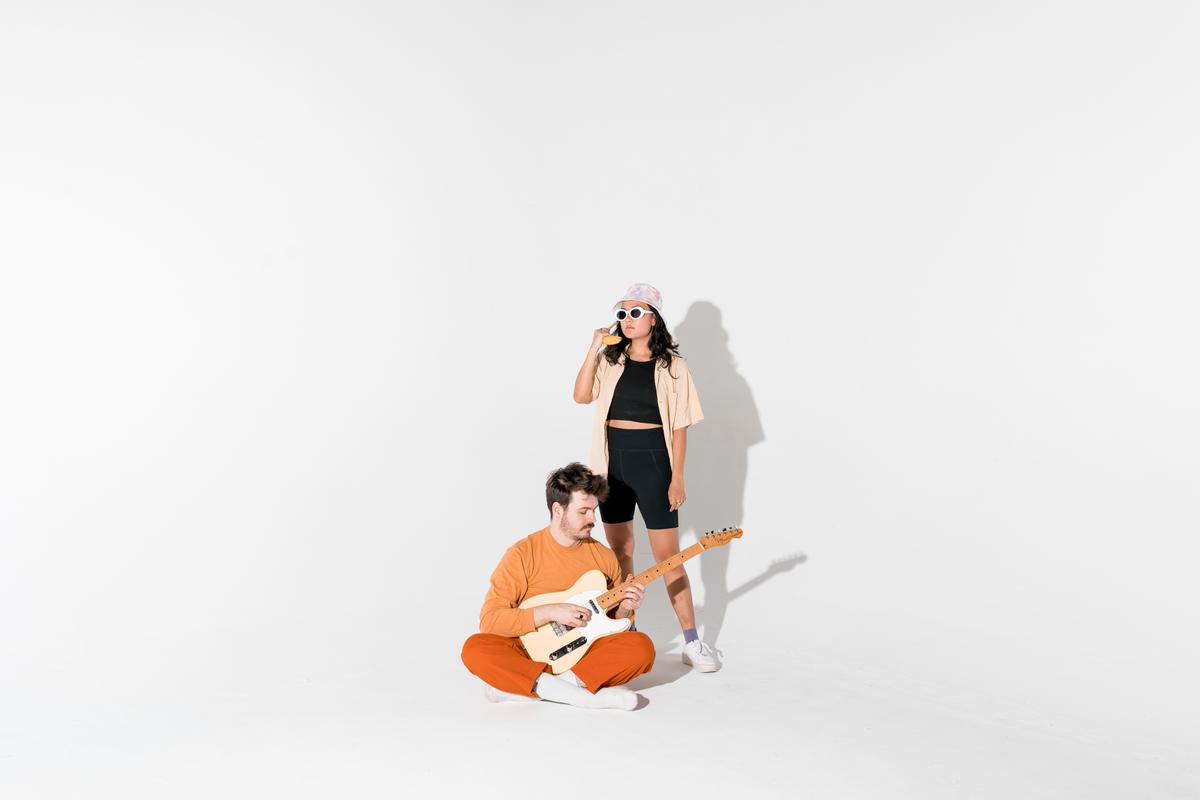 Bestfriend announce places i've lived EP with hazy indie-pop track "Hannah in the City"
Canadian duo Bestfriend have always dealt in intricately crafted slices of sun-drenched nostalgia. New single "Hannah in the City" is no exception.
Bestfriend's distinctive production style shines brightly on the track, with crisp percussion pinning down the film of hazy synths beneath its beguiling vocal harmonies. Noodling guitars wend their way into the arrangement in an intricate, multi-layered approach that builds subtly before dropping away into a heart-wrenchingly beautiful bridge.
An affinity for storytelling sits at the core of Bestfriend's work, clearly expressed through "Hannah in the City"'s clarity of narrative. Singer Stacy Kim was inspired to pen the track whilst reflecting on a girl who broke her heart several years previously. Expressing admiration for the many queer artists currently dominating the indie-pop sphere – Rina Sawayama, MUNA, and Clairo, to name but a few – Kim is keen to explore her own relationships with women through Bestfriend's music.
"Hannah in the City" is the first taste of new music from the pair this year, and serves to introduce Bestfriend's forthcoming EP places i've lived. Boasting six tracks, the record was written and produced entirely by Kim and bandmate Kaelan Geoffrey, with mixing from Grammy-nominated Travis Ference (Ariana Grande, Tori Kelly, Imagine Dragons). Bestfriend consider this EP the first in a series of letters, which will be followed by sister EP places i've left in the very near future.
places i've lived turns a reminiscent focus on the people and places Geoffrey and Kim have found themselves outgrowing through their twenties. The pair open up with more details on the project in conversation below:
BEST FIT: "Hannah in the City" is the lead single from places i've lived. What made you pick this song to introduce the project?
Kaelan Geoffrey: We've been working on this song for ages and ages. It's been finished for a year-and-a-half at this point. Whilst everything has been changing around us – as everything has for everyone – this song has been one static thing. No matter what, we knew we had this song. A lot has changed, but every time we show the whole body of work to someone they always come back and point to this song. We were like, "maybe we don't need to overthink this." That's how we ended up settling on it: it was a feeling, and the feeling was confirmed by all of our friends.
The single probably would have come out around the time the pandemic started. We didn't have a big plan, but we saw what was happening and sat back; didn't put any pressure on it, and wrote songs together. We started to realise that a lot of the things we wanted to write about were the exact same things as each other. We have the exact same string of emotion tying everything together that we wanted to write about. We call them little love letters to the people and the places of that era! The hope is that people can listen to that, and fill in the blanks with their own people and places.
"Hannah in the City" is full of bittersweet nostalgia. What was the inspiration behind the track's lyrics?
Stacy Kim: Any song I write usually starts with a phrase coming into my head. For this one, it was "you take me to the backyard / behind the Japanese maple tree." I think the pandemic has caused a lot of reminiscing about things that may not have been great, but they seem really fun and exciting compared to sitting in your room alone.
I brought out my shitty acoustic guitar, and said the line over and over to come up with a melody. I took that sentence, which was about an experience that I had and all the different potential that you have with a person – the "maybe if I'd done things differently, it wouldn't have fallen apart." All while knowing it was doomed anyway. That all came from Japanese maple trees, and that's the thing I love about songwriting; you come up with this one sentence, and it creates an entire world for you to work within.
I recorded the demo with most of the lyrics done and sent it over to Kaelan. It started off like a ballad – just me and a guitar, sad girl vibes. He blew the demo out of the water – added so many cool things and sent it back almost unrecognisable, in the best way possible.
Geoffrey: Stacy has a habit of writing accidental choruses. She's talking about one line in the verse, but she didn't realise she'd written an accidentally killer chorus line two lines later!
Do you think that working remotely allows you to approach each other's contributions with particularly fresh eyes, and find things that the other misses?
Kim: Without a doubt. We barely knew each other when we first started this, and in a way, that was a blessing. With something as intimate as songwriting, you have to start talking about personal shit. I am an open book, but it was much easier online. I'd type out everything I was feeling. I don't think I could have said those things in person. The way that we have the system set up now is perfect.
Geoffrey: It took us a couple of years and a lot of weird system changes! It gave us a funny leg-up heading into the pandemic.
So, how did two people on opposite sides of Canada end up in a band together?
Kim: We started a conversation over the internet two years ago, and have not stopped since. We met through a mutual friend, and I started infiltrating myself into his life via the internet 'cause he seemed really cool. Eventually it got to a point where we were like, "we both do music, let's try doing something together," and the rest is history!
What is your favourite thing that your bandmate has contributed to this project?
Geoffrey: Stacy has always been the braver songwriter of the two of us. I have a lot to say, but I wouldn't be able to convey these emotions if it wasn't for her having the guts to say something. She has a very storytelling way of writing, and I love that. I do not know how I could ever come close to making anything I was even remotely as proud of if it wasn't for that.
Kim: Production is something that I've been very afraid of for a very long time. It's very big and scary. Before Bestfriend I would have these huge ideas in my head, but I'd have absolutely no idea how to do it. I don't know how, but nine – no, ten times out of ten – Kaelan will send [a track] back and it will be exactly what I want it to sound like, down to the drum tone. He has a knack for being able to capture feeling in music that I think is untouchable.
Other than "Hannah in the City", which key tracks should we be looking out for on the EP?
Geoffrey: "Good To See You" makes me happy. That song is, to me, what this whole thing is about – getting together and making things for the purpose of communicating what you're feeling. It's all in that song for me, and it was such a community-based thing from the very start. We wanted the closing track for the EP to be bigger than us and have more going on that just the two of us.
We put out an open call to all of our friends and followers to sing the last chorus with us. It went as well as I could have possibly hoped. It was a jump to put ourselves out there – there's always the chance that no one's gonna do it, but it was massively well-received. Bless our wonderful mixing engineer, Travis Ference, for going in and cleaning up 50 individual vocal tracks. He crushed it, and it gives me chills. If I am listening to it driving home and it is even a little bit dark, I will cry!
"Hannah in the City" is out 27 August. The places i've lived EP follows on October 1.