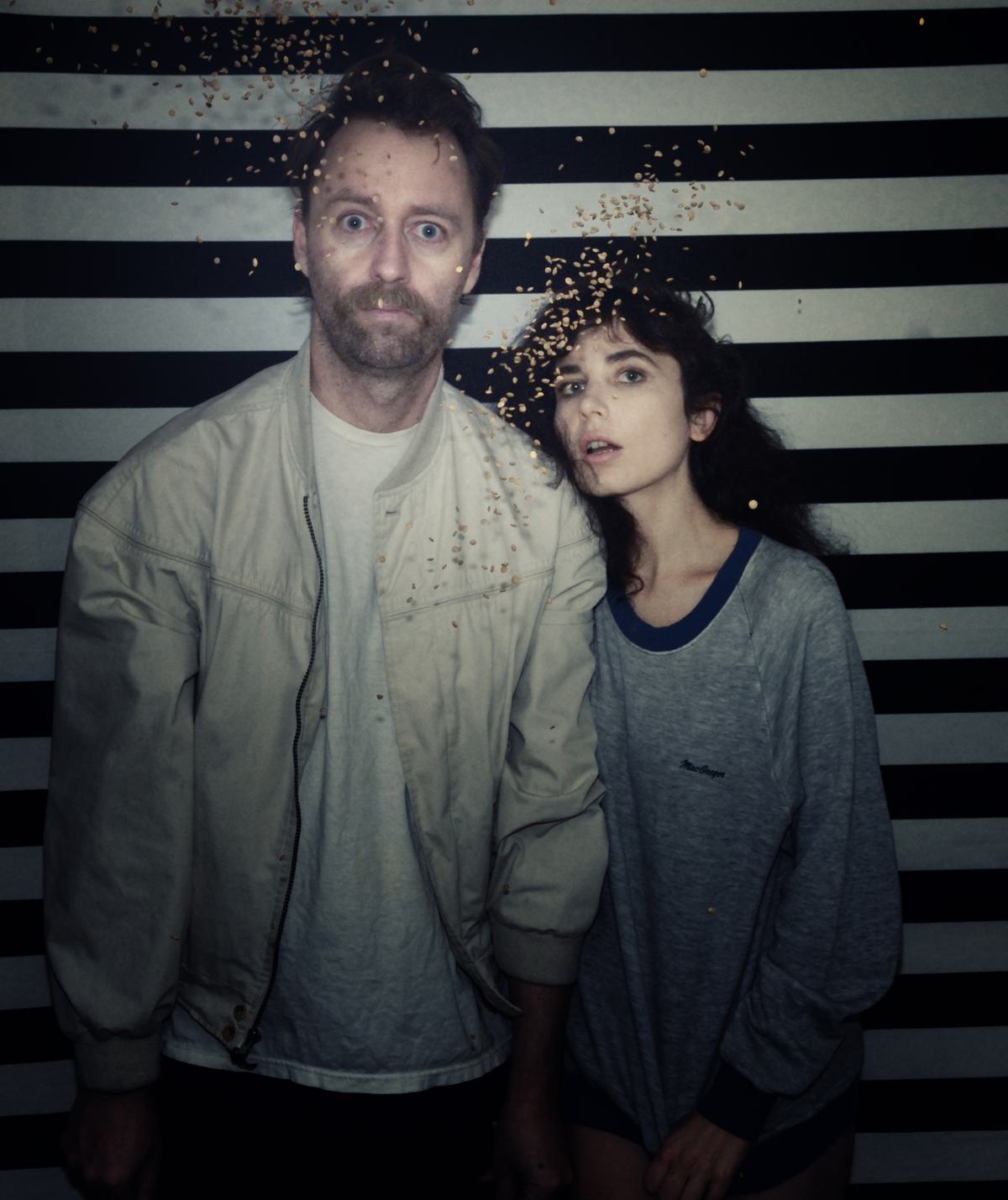 Track By Track: OOFJ on Acute Feast
20 April 2015, 10:00
Danish/South African duo OOFJ, based in the US, release new album Acute Feast today (20 April), and have kindly run us through exactly what it means in this exclusive Track By Track guide.
In our 7.5/10 review of the record, Jon Putnam said that: "We all know the cringing, clichéd meme of the sophomore album, so as far as that goes, OOFJ has performed more than admirably on Acute Feast. Just like from song to song on the album, as is typical for synthpop duos, the challenge for OOFJ now is to continue on from album to album with fresh ideas, both lyrically and musically. Acute Feast's closing duo indicates that OOFJ is already firmly on to that next step, and with [Jenno] Bjørnkjær's musical pedigree and [Katherine] Mills-Rymer's effortless survey of the interminable well-spring of the human psyche, the twosome have it in the tank to keep it churning."
Check out what Bjørnkjær and Mills-Rymer had to say about the record below, and stream the whole thing afterwards.
You're Always Good
Jenno: "Like a lot of our songs, lyrically we are usually saying the opposite. And repeating it. The track was one of the last ones we made. We were in Denmark last summer and we were jetlagged, heavily, and I started playing around with this track.
Katherine: "The verses of the song are about memory. Things I've done, or wished for, but written in code."
I Forgive You
J: "This song came out of jamming inside our studio in Highland Park in L.A.. It was me on a synth and Katherine just playing around. The song plays around the idea of forgiveness, and the idea of walking through life trying to forgive others and yourself is the most difficult thing."
K: "Originally it was also about a love affair between a U.F.O. and its Earth lover… there are still traces of it in there, you just have to listen..."
Snakehips
J: "We sat across the room from each other. Katherine was on the couch and I was on the floor. It was the middle of summer last year and we were sweating. We wanted a song you could rub up against someone with. The song took forever to make. It's really hard making something like that, even though it seems like the opposite."
K: "The key to it was to just emphasize the arpeggios, arpeggios are fun on the ear."
Don't Look
J: "The song was about a dream girl - or person, but definitely it was feminine in my mind. This was also one of the last ones we made before closing on the album, and we were obsessed with underwater, astral things."
K: "This girl in the song is like a lot of enticing things - essentially empty and damaged... lots of glamourous, exciting people are like that."
Cliffdive
K: "It's about taking off your clothes in front of someone, and then still being covered in a way... and also the whole song for me sounds like a foggy sea. The track was made first on guitar, and then we separated each to a room in the house to make our respective parts."
J: "Yeah it's our most open track, chilled like a glass of water inside the album. If the rest if the album is a mixture of expensive food, the glass of water becomes very special."
Cherry
K: "I was in South Africa at my Mom's house. I brought recording equipment with me, except for a mic stand... so I used a wine bottle and elastic bands..."
J: "I was in Copenhagen, and I just became obsessed with this track. It's very flowery and beautiful, like it almost has a sweet smell."
K: "I love this track. It was December and hot in SA so for me it was about missing my lover, this track is definitely probably the only track directly to Jenno."
Totally
K: "This is not a song about heartbreak, even though the track repeats, "totally broke my heart over and over.""
J: "We wanted the track to be fragile and then break apart and fragment and collapse all over the place… and it's not about traditional heart break, but it can be..."
K: "Imagine you were your own lover, if you were singing it to yourself."
Wolves
J: "I set out to make a disco track - big and heavy - as I wanted to at least make one track where we could be played in a club. We like some club music."
K: "Yeah but it's panicked. Again we are repeating a phrase this time it's only "hold those wolves, I promise they'll come." The music is insane... It's like you are on bad drugs in a good way."
Sailor
J: "I was obsessed with this underwater bassline, with the refinement of the strings… and trying to make Katherine's voice feel like a chandelier. The track was made half in Copenhagen and half in South Africa. It's very much about walking into a party and smelling all the perfumes swirl around you, and feeling every embarrassing thing you ever did or might do."
Stephen Says
J: "Written on acoustic guitar, it's the only track to retain its acoustic roots. Katherine introduced me to Stephen Hawking, which she grew up with because her father was obsessed with him... we made this track before the biopic was announced or came out.
K: "The song is a nod to my father, and to the bigger things. That comforts me immensely… the planets, space time, the singularity, gassy death planets and the infinite."
J: "The chorus is directly about math and how it's generally black and white."
OOFJ's Acute Feast LP is out now on Ring The Alarm. You can stream the record in full below.