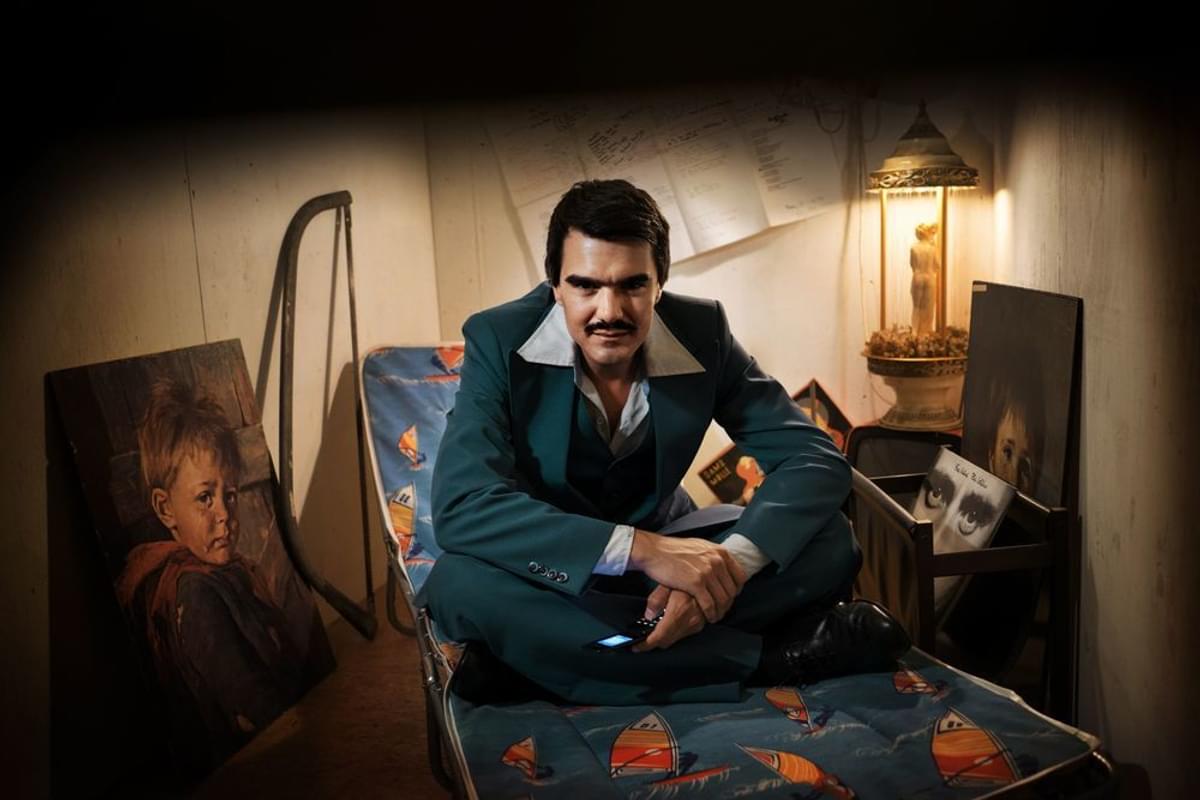 Track By Track: Mathias H. Tjønn of Racing Heart on What Comes After
14 September 2016, 10:30
New York-based Norwegian musician Mathias H. Tjønn is preparing to release his second album of music under the name Racing Heart. Here, he talks us through the making of ,and influences on, What Comes After.
Made with the help of fellow Norwegians producer Hanne Hukkelberg and Jenny Hval (who contributes both lyrics and vocals to the record), What Comes After is more of an electronic affair (although the acoustic instruments are seamlessly integrated in a number of songs) than Racing Heart's debut and tackles the personal and the political in what's an often stirring affair. The drums and programming of Martin Langlie (Susanne Sundfør) are high in the mix, while Tjønn's croon is a gentle counterpoint to the layered and complex instrumental mix.
You can listen to the excellent What Comes After below, complete with a track-by-track guide from the album's creator, Tjønn.
Flogging a Dead Horse
This song started out as pretty low-key number with just me and a wurlitzer, but turned into a noisy, gritty and angry little thing after my producer Hanne Hukkelberg and drummer Martin Langlie were done with it. That's Hanne's sampled and mangled voice we hear entering at 01:17. Lyrically it's not the most subtle song I've ever written, but I was honestly too pissed off to care when I put pen to paper. Watching everyone in power scramble to prop up the banks that brought the world down in 2008 and the whole "too big to fail" debacle that came in its aftermath, really cemented an impression many of us have: Power-players, politicians and cold hard cash rally round each other in troubled times, everyone else is dispensable.
That Doubt Returns
From politics to the personal, "That Doubt Returns" is in short about the fear of growing tired of someone you're with, that creeping sensation that it's all over and you're the last one to do anything about it. What can I say; I turn to making music when things get dark. That's Hanne and Jenny Hval both wailing in the background, doing what we dubbed "the alpine choir". I was pretty blown away by how that transformed the song. Martin tracked about twenty runs of body percussion, finger-snapping, thigh-patting and chest-thudding to get the rhythmic bed right, I'm proud of this one.
Bargaining Chip
Hanne's sampled vocals open up this number, in general we aimed to populate the album with strange, other-worldly yet human voices throughout. Here I'm toiling with the why's of making music, basically. Who am I trying to talk to, and what am I trying to tell them? Is it just about me wanting recognition, or can it mean something beyond that? Particularly these days with Spotify giving away songs for a pittance and mass musical saturation in general, I think musicians (myself included) need to think long and hard about why we do what we do and what we're looking to get out of it. Chances are your songs will just disappear in the background static of all that other music happening constantly. I often come back to a David Bazan interview from a few years back where he said: "If you want to do this and be serious, you have to find your own rhythm independently of money or praise. If you can find that, then you can do it for a long time, but you can't need more encouragement than you're going to get."
Letters from the Compound
The opening notes are just me messing about with some wine glasses. Playing glassware was a first, it was pretty thrilling to find that this beautiful, sonorous instrument had been hanging out in my kitchen cupboard all along! Lyrically we're on the heavy side of things, the protagonist being a self-righteous stalker languishing in his own feeling of superiority from behind bars. I find that the need for self-justification we all carry around, including even amongst the most awful people, is morbidly fascinating to me. The final chorus sung by Jenny was a beyond last-minute thriller that happened during studio over-time. We'd been toiling with the lyrics for ages and then BAM! It suddenly came together.
New Economy
Originally this was meant to be the chorus of a much longer song. Jenny and I had thrown the lyrics back-and-forth over a course of several months, without really nailing something that convinced us of its right to live on the record. In the end she suggested just taking the one line that worked and making it into a little interlude between the other songs on What Comes After, many (all?) of which are quite heavy. The lyrics are fairly self-explanatory; in short it's a comment on how these days everyone packages themselves to be more attractive and worthy of praise/love/recognition. That's what you get I guess, when all we value is money and moneymaking endeavours and market-speak becomes the language of the day.
Sleep with my Fists Clenched Tight
The lyrics on this one are really influenced by the Martinique poet and politician Aimé Césaire. The way he described the hollow claims of colonialism and what civilizing a society means (destroying it, more often than not), still feels relevant. I think the parallels to what neo-liberalism is doing to us all today, are palpable. To contrast the lyrics, we aimed to make the song a rhythmic romper, doom & gloom in danceable doses! Julian Tulip and his Sleeproom studio in New York supplied a lot of the wobbly synthesizers needed, that was fun.
A Prayer from Our Leaders
After watching Errol Morris' biopic of Donald Rumsfeld called The Unknown Known, I was left with so many questions. Morris' himself even admitted it was a thoroughly unsatisfying work, because Rumsfeld seems to have understood so little of the consequences of his four decades of political maneuvering and decision-making, "crowned" with the invasion of Iraq in 2003. It's maddening to see a man so blissfully unaware of the shitstorm he's unleashed, like a super-sized version of a child blaming everyone else for the mess its made. The leader in this song is modeled on him, given more of a conscience than Rumsfeld seems to have, but sharing that same messianic belief that Only.I.Know.What's.Right. The second half of the song was a real eye- and ear-opener of EDM (as in evil dance music) that Hanne and Martin brought to the party. Bonus-question: spot the Tibetan prayer bowl buried somewhere in there.
New Economy (Slight Return)
We come back to the mantra of this song's previous iteration, this time joined by Kaja Fjellberg Pettersen's beautiful cello-playing.
Badlands
The challenge here was to make a song with only three chords that could keep the listeners interested and guessing. I'm relying heavily on a beast of an old synthesizer called the Roland VP-330 for those lush choir sounds, definitely putting that one on my Christmas wish-list (if only…). The title is taken from the incredible Terrence Malick movie of the same name, as is the story I'm trying to tell.
Squaring the Circle
This was the first one out of the batch of songs I wrote for what would become What Comes After, where I felt I was onto something. The lyrics came out of reading old CIA covert ops manuals, frontline reports from the War on Terror and the like. Jenny really helped me ground this in a flesh-and-blood person through working together on the lyrics, so that it's not just dogma put to a beat. Wheezing away throughout we hear my grandma's old harmonium, and the roaring bass is Kristine Tjøgersen playing a contrabass clarinet, the biggest woodwind I've ever seen! There was no designated bass player for WCA, so mostly it's me on various analogue synths in combination with Kristine's low-end rumbles. Everyone needs to one have one of those on their albums.

What Comes After
We close out with the title track, here Martin created a beautiful intro/outro theme that's almost orchestral in scope. The song itself is a dark ditty with Hanne and myself playing omnichord, and lyrics about people like Jeanne d'Arc and Malala Yousafzai. In our society we seem to have this strong desire to lift certain individuals up and almost sanctify them, only to viciously turn on the very same people later and basically tear them to shreds. Celebrity culture gone mad, if you will. That hasn't happened to Malala yet, and I hope it doesn't, but isn't it odd that teenage girls need to carry the burden of our collective sins, instead of everyone doing something about it together? I'll be the first to admit that singing a line in French here towards the end is veering dangerously close to overblown pretentiousness, but hey, it's my record and in the end I'll do what I want. So there.
What Comes After is out Friday 16 September on Misra Records.
Get the Best Fit take on the week in music direct to your inbox every Friday