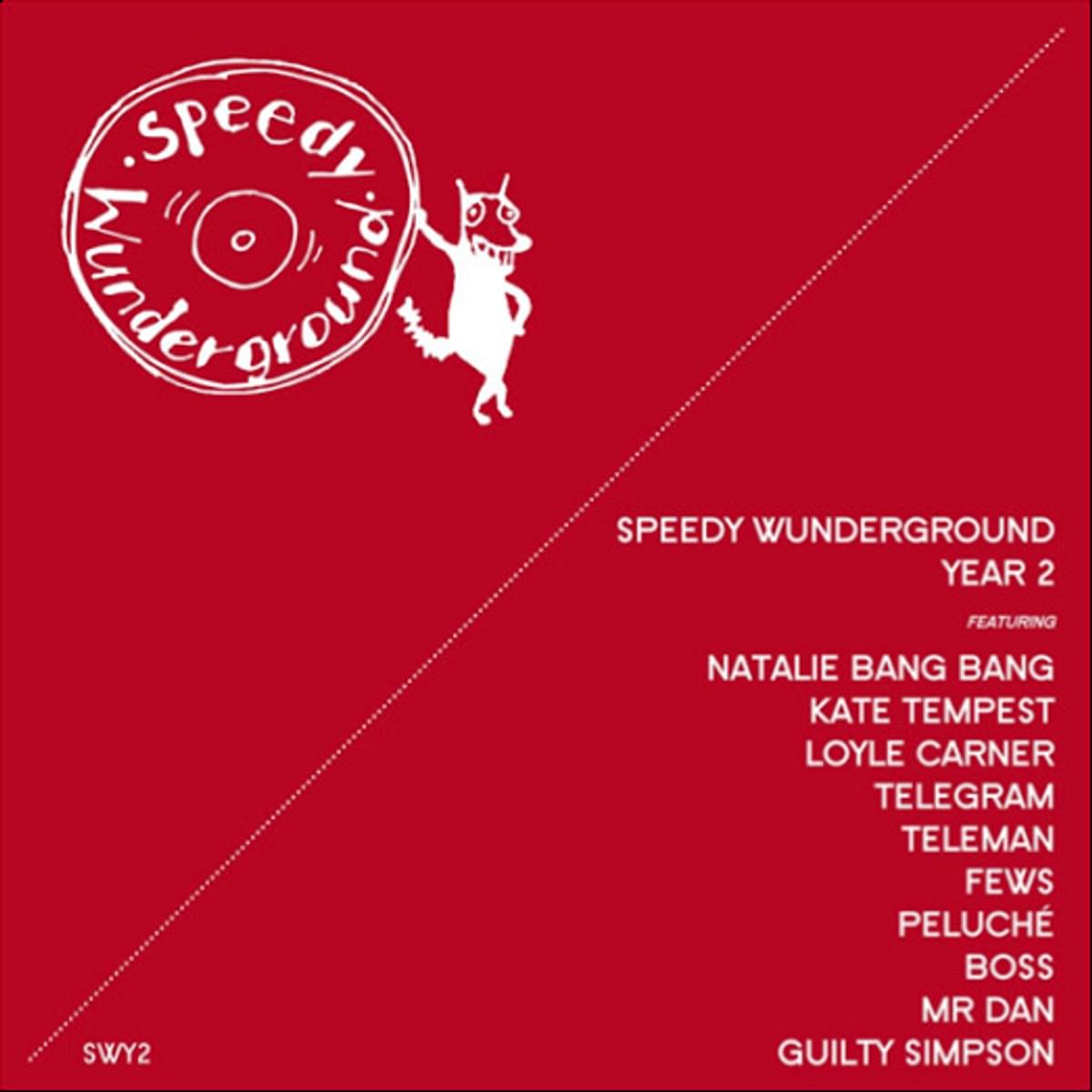 Track By Track: Dan Carey and Pierre Hall on Speedy Wunderground's Year 2 compilation
13 June 2016, 10:45
Here, label founder and in-demand producer Dan Carey and Pierre Hall, who helps run the label, talk us through each of the tracks which were all recorded and mixed in a single day. You can also stream the compilation following the duo taking us through the songs.
Dan Carey: I was supposed to be trying to write a pop song with Natalie, and we weren't totally sure where to start. I'd found an ancient tape machine in the Oxfam shop in Streatham, so we plugged a drum machine into it and played along - me on guitar, Nat on bass and we came up with the song pretty quickly. She met a guy in the street just after and managed to persuade him to be in the video. Must have been a strange day for him!
Pierre Hall: I love this as previously she was known for writing kinda clean-cut pop songs, but from hanging out with her we knew she was into different stuff, so glad we managed to get this from her: sleazy, dirty, distorted power-pop.
Kate Tempest & Loyle Carner - "Guts"
DC: Kate and I had this idea to do a Hip Hop tune, in the style of our favourite stuff from the 90s; where it used to be a break and a few MCs (D.I.T.C. – "Day One" being an example)
. I'd just got into old Iranian music, so sampled 'Ey Vatan Iran' by Emad Raam and made a beat. I met Loyle Carner that afternoon and he blew us away. We decided to just make it him and Kate. They wrote the lyrics together, whilst I finished the beat, and recorded it in one take.
PH: I think this is one of the Speedy's I'm most proud of – I completely fell in love with Loyle after hearing "Cantona" online before all of the hype. I sent it to Dan straight away saying "WE HAVE TO WORK WITH THIS GUY". It's so good to see him doing so well now. He's a special talent.
Telegram – "Inside Outside"
PH: Telegram are such nice guys. On my first New Years Eve here after moving to London, we watched them play at The Horrors' night Cave Club – they went on at exactly midnight and the place went nuts. I think this is probably our fastest ever selling Speedy and we still have loads of people ask for it now. They've got a lot of fans out there. The guitars in this are like a glam MBV. In my opinion the dub-version on the b-side is one of the best Dan has ever done.
Teleman – "Strange Combinations"
PH: One of our most well-known Speedy's and the one that has probably got the most radio airplay. Marc Riley raved about it. It's so Teleman; Kraftwerk, Bowie-ish – but slowed down to this steady pulsating groove. I love how loud the synth solo is in the middle. It sounds like a kazoo. It's a classic in-between-albums single and it's not available on any album, which I dig. We saw them headline KOKO a few weeks back and they started with this, which was a great moment. Lovely lads.
FEWS - "Ill"
DC: One of the most intense 8 minutes in the studio ever. We were already a few tracks into recording the album, but wanted to see what it was like to push things further (louder, faster, longer), so we decided to do a Speedy, partly so we could release something before finishing Fews' record, also being recorded at our studio. It was a really good thing to do because it made us go back over some of the stuff we'd already recorded and give it a bit more power.
PH: A really important release for us as were with them from the very beginning and I think it's a good indication of how the label has changed since year 1; working with brand new artists and giving them a platform, but also leading to Dan recording a full record with them. This is such a huge track, I was blown away when I first heard it. It was even better and bigger than I could have imagined.
Peluché – "The Guy With the Gammy Eye"
PH: This is probably my favourite track on the album – as none of us literally had any idea how it would turn out. It's epic. They're so hard to describe as a band. On this it's like a weird mix of The Sugarcubes meets PiL or The Pop Group. It's mental. So atmospheric. It was also the speediest Speedy we had ever arranged, too. I'd sent Dan the links to the band, we saw them play live the next day, and the day after that we had the girls in the studio. They're one of London's best-kept secrets. Alexis Smith from the label is working on their new stuff at the moment and it sounds amazing.
BOSS – "I'm Down With That"
DC: Guro (All We Are), Theresa (Warpaint) and I had had a jam a year to the day before the session and came up with something we wanted to record, mainly based around Theresa's guitar hook. A year later we got Sarah Jones (Hot Chip) over and listened to the fragments of the late night jam we'd had previously and re-formed it into a song.
PH: I remember thinking this was such an usual track when I first heard it; fuzz bass, glacial synths… but the guitar riff is almost calypso. It's so simple, but super catchy.
DC: I've always wanted to do something with Guilty Simpson. I made this beat and I thought I'd just try and get it to him. It seemed like a bit of a long shot, but he got it and liked it and said he was up for it. He was on tour at the time and obviously really busy, and I feel a bit bad because I sent him a lot of messages seeing how it was.
PH: Whenever we'd go round for late night at parties at Dan's studio he'd be constantly playing me this beat – so I'd heard it a lot of times before guilty put his bit down. Once I heard it together it was perfect. I love how sinister it sounds and when the swarmatron comes in during the choruses. Considering they were never even in the same room (or country) at the same time, they nailed it.
Speedy Wunderground's Year 2 is out Friday 17 June.
Get the Best Fit take on the week in music direct to your inbox every Friday