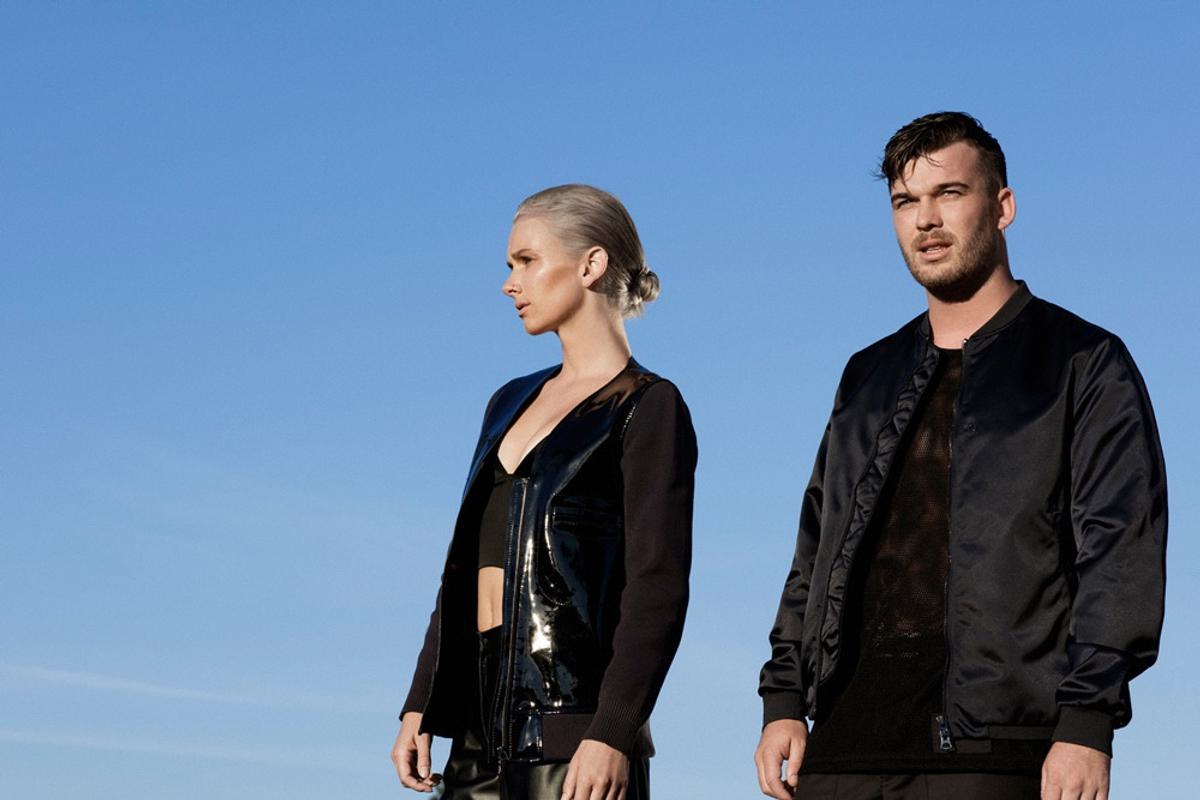 Track By Track: BROODS on their second album, Conscious
18 July 2016, 10:45
Last month, New Zealand brother-sister duo BROODS released the follow-up to their debut album Evergreen, the bracing pop juggernaut Conscious.
Full of huge, heartfelt pop songs, Conscious doesn't stray too far from the vibrant electronics of Evergreen but this time features stellar collaborations from the like of Lorde and Scandipop queen Tove Lo.
Today, lead singer Georgia Nott exclusively talks us through the tracks on Conscious - from cheating partners, to learning to accept who you are. Stream the record and read below.
Free
Free was the first song we wrote that we really felt "this is definitely going on the album!". The whole vibe and the lyrics just said so much about the place we were in at the time and, in our opinion, that's what an album should be. The song is pretty much about making a very clear statement that we are going to do things our way. Someone told me recently: "everyone goes home at night and detaches from their job, but you live with this forever so make it the way you want it to be". I'll never forget that.
We Had Everything
This is one of those songs that has a happy exterior but when you dig deep into the lyrics you realise its super depressing. I actually cut out some of the lyrics I wrote because they were too intense. It's about looking back on a time in your life when everything was a lot easier and more innocent. There is a time in everyone's life that they have their whole life ahead of them and anything seems possible. Unfortunately, a lot of the time it doesn't stay like that for very long. Being an adult is bloody hard.
Are You Home
This was one of the last songs we wrote for the album. Someone we really love got a rough deal in her relationship and we wanted to write something that she (or anyone else that has been cheated on over and over) could basically say "YOU CAN'T HAVE THIS ANYMORE! I'M OUT!" to. It's about being suspicious about the person you're with and then finding out that you were right about them.
Heartlines
We wrote this song with the uber talented Ella AKA Lorde! Such a fun writing session. The song is about Caleb and this girl he was semi seeing (who knows what their status was) who lived on the other side of the world. Its about that feeling of "what if" when you are into someone. In this case it was "what if we saw each other more than twice a year".
Hold The Line
This was our first attempt writing with Alex Hope, an Australian producer who worked on a lot of Trove Sivan's records. We wrote the song pretty quickly actually. It's just a fun song that 18-year-old me would've gotten ready for a night out with the girls to. It's one of those tracks that we cannot wait to play live every night.
Freak Of Nature
This is my favourite song on the whole album. Partly because it features one of our fave people in the industry right now, Tove Lo. She's such an awesome human and she writes from a very similar place that we do. She's one of those people that you think "Man, I'm glad I found you". This song is the most emotional for me too. I went through a time when I thought there must be something wrong with me because I feel everything very deeply compared to the people around me. I had it in my head that I needed to stop being so emotional about everything. It took me a while to realise that that was just how I work and I started to embrace it. Hopefully people that feel like that can find some comfort in the song too.
All Of Your Glory
This song is about the harder moments you have in a long term relationship. You take things for granted and forget that you need to show your love. It's not an apology that fixes those moments, it's remembering to put them first again and give them everything you have.
Recovery
Recovery is one of our favourite tracks on the record. The lyrics talk about a very vulnerable story but the production is so hopeful, it feels like there's an urgency to get back on track to "the road to recovery". There's something really satisfying about that. It's one of those songs that will mean something different to different people, which I like.
Couldn't Believe
We wrote this song about the day I got engaged. It started out as a demo Caleb and I wrote and it just felt like such a purely happy song that we had to write lyrics that had the same vibe. When you find your person it's such a surreal feeling, like you wondered about what it would be like to be that in love, but when it actually happens it's so unbelievably overwhelming. This song expresses that feeling better than any other we've written.
Full Blown Love
This track took a long time to get right. The song itself came easy but we spent so long tweaking the production and trying anything and everything. We must have tried about 25 different synths going back and forth and changing our minds. It's about when you first take interest in someone but you're adamant to have no attachment to them. You think you'll be all cool about it and not take it too seriously when it's obvious that you're obsessed.
Worth The Fight
This is one of the more-sad, helpless songs on the record. It's about falling into those lulls where you find it hard to keep yourself together. The day we wrote it, Joel's daughter was sitting in the studio with us because she didn't want to go to the supermarket or something. We had a chord progression and beat on loop, humming potential melodies and jotting down lyrics. His daughter, who was 4 at the time, was humming away too and scribbling on a piece of paper. She kept going up to Joel and whispering her ideas in his ear. After the third time whispering the same idea to Joel, he told us her idea and we ended up using it in the song.
Bedroom Door
This is the oldest song on the record. For a while we thought we wouldn't even put it on the album but the more we listened to it, the more we felt it needed to go on. It's such an intimate song with such a personal meaning, the more I sing it the more I love it. It's kind of like the love song for married (or basically married) people.
Conscious
This was the last song we wrote for the record. A couple of days before we planned to send the album off to mastering actually. We pushed it back so we could put it on. The funny thing was that we'd already named the album "Conscious" before we wrote the title track. We went into the studio to see what would come out and we ended up writing the most "us" song on the record. It is the most honest combination of Caleb and I out of any song we wrote for the record.