Back in 2010 Oh! Canada fell in love with the short, snappy jangle-punk of Apollo Ghosts' sophomore record Mount Benson, naming it as one of the years best Canadian releases. Following on from releasing numerous singles, one off collaborations and a bookmark last year, the band are ready to unleash their follow-up album Landmark, a record that bears witness to the fact that quietly and assuredly, they have developed into one of the finest bands in Canada.
We caught up with frontman Adrian Teacher to talk about Landmark, the joy of being a "seasonal" band and what the future holds for Apollo Ghosts, and to tell the stories behind the tracks on the album.
Landmark is your debut with You've Changed Records. It seems like a natural fit (there are even references to fellow You've Changed artist Shotgun Jimmie on the album) but how did the collaboration come about?
Adrian: It was actually really easy. It's funny to see stuff pop up like, "Apollo Ghosts sign to You've Changed records" when in fact nothing has been signed. There were no papers or fountain pens. I got to know Steve last summer while I was living in Sackville, New Brunswick. A summer bro-mance if you will. I played some drums for him in a jam-space. We had a few beers. I asked him if he'd be interested in putting out a future Ghosts record and he seemed really into it. You've Changed is no paperwork and no bullshit. Ideas and promises are made verbally, informally and honestly. We're honored to be associated with such great bands on the label.
Your previous records had a very particular geography – with Hastings Sunrise and Mount Benson littered with references to your home town now and while you were growing up. Landmark too has a definite sense of home, yet much of it was written while you were away in Sackville. Do you feel that being away from home was a factor that influenced the writing of the record?
It influenced it a bit, but ultimately you can't escape yourself. As my Dad likes to say, "Wherever you go, there you are." The word 'landmark' has multiple connotations in my mind. It's something to lookout for when you're lost. Even the word itself seems solid when you say it. The apartment building I'm living in right now is named 'Landmark'… it's built like a brick shit house; in fact, it withstood the leaky condo crisis of the 1990s here in B.C.
Your live shows have built quite the reputation – from cape wearing to crowd surfing and beyond, you really seem to have a great time and many of the songs on the record seem to have a real joy about being in a band. What do you enjoy the most, playing live, or the process of putting records together?
We definitely enjoy both aspects equally. We're a seasonal/regional band though, and we generally hibernate for part of the year to work on new material. I would say we don't play live on a regular basis – it's deliberate and keeps it special for us. It's also impossible for us to tour for long periods or over great distances. I think that's why we really pop when we do get the chance to play live – it's exciting and very exhilarating to get up in front of a sympathetic audience! I still can't believe people come and see us play, to be honest…
Since Mount Benson, you have released 7"s, a book with an EP bookmark, a Christmas single with a wrestler, a Valentines day single using an erotic letter from James Joyce to his future wife and a collaboration with fellow Vancouverite Dirty Beaches. What can we expect next from you and Apollo Ghosts?
There will be a new split 7″ coming up this fall as well as a new EP. After that I'd like to work on a larger project; hopefully something super hi-fi over a long period of time. It's something I've never done. Jarrett plays in a band called Korean Gut and Jay has been playing with Lost Lovers Brigade and Collapsing Opposites so I'm sure they're going to be busy too.
Track by Track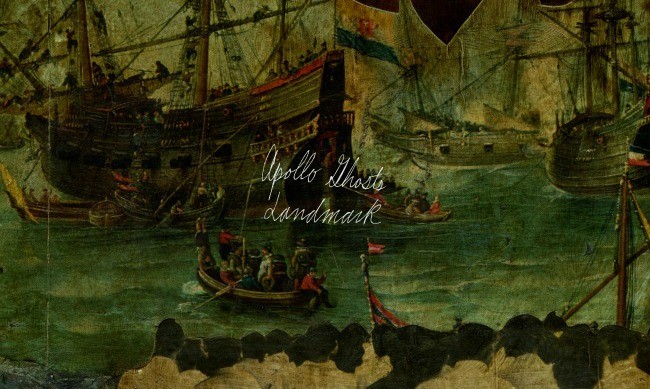 What are your Influences?
A call to arms, raise the trumpets and fire the cannons, will the kids pogo? Will they tear apart the room while you're playing? Lazy rock journalism and the ultimate question. Are you what you eat? Bowie's coke habit – guitars soar like twin eagles and friends reunite for an evening quickie.
American Joint
'American Joint' is an ode to the punk-rock kids of Bellingham, queer power, house parties, Pacific Northwest skinny dipping, train hopping… you know? A summer jam.
I'm in Love With the USA
Jesse Taylor, who runs Nite Prison and plays in Twin Crystals/Shearing Pinx, did a wikkid sax blowout near the end. Takes it across the border illegally.
Why Can't I be the Man on Stage?
Originally a lot jazzier….Kicks a bit more with the disco beat. Jarrett keeps threatening to make a video of this one.
Violet Margaret
A woman named Violet fell in love with my grandmother in the 1930s… After my grandmother married Ernest in 1940, Violet arrived at the door one day with a suitcase – a wedding gift. The suitcase was monogrammed Violet Margaret. I felt incredibly sad for her and for the times she had to live in.
So Much Better When You're Gone
Initially a poppy song, written during the Hastings Sunrise LP sessions and then shit-canned. It later got reworked into one of the saddest songs we've ever put out. We don't even like playing it at practice!
Landmark
The guitar solo was written by Jay and we used a lot of tape echo. It still sends shivers up my spine every time I hear it – like early U2 Edge. I was listening to a lot of The Cure when I wrote this. I think Robert Smith gives very polite interviews.
Weekend Fantasy
The title is lifted from something Robert Pollard said in an interview…he was talking about doing rudimentary science experiments for his grade 4 class…and living a "weekend fantasy" with his band, Guided by Voices. Probably the funnest song to play live from the record.
Day of Glory
We generally start the set with this song since it's hard to fuck-up.
For What They Do, They Do
I think of all the songs I've ever recorded myself, I'm most happy with the sound on this song. My friend Jay helped me with the vocals.
Paralysis of My Long Clerkship
Lyrically, this song is an homage to The Winter Of Our Discontent by John Steinbeck – a major influence on this record? I'm not sure. I'm not sure about any of these.
I Followed the Rules and I Got Everything
There is a drummer named Zippy (The Dils, DOA, Art Bergmann) in our jam-space. That's all I gotta say.
Guitar Brother
The ultimate bro-down. Snap the beer rings and grab another one. Slam shoulders, hit the overdrive pedal. Pretend like you're playing in front of millions.
Newcastle
Go home? Stay here. Go home? Stay here. Go home? Stay here.
Will You Forget Me
I hope this person doesn't forget me. I really don't. What will I do if that happens? Go home? Stay here? What would I do? Is this over?
Landmark is released through You've Changed Records in Canada on 15 May and can be ordered directly from the bands website.