Looking back it is safe to say 2010 has been a pretty stellar year for Canadian Music. With new releases from big hitters like The Arcade Fire, Broken Social Scene, The New Pornographers, Holy Fuck, Black Mountain, Women, The Besnard Lakes and Caribou leading the assult, the rest of the pack wasn't far behind…with plenty of surprises along the way. Over the course of the year here at Oh! Canada we have tried to introduce you to just some of the great music coming out of the country. It seemed only logical that to sum up the year we should ask some acts and commentators what they thought were the standout records of the year, what record the felt deserved more attention, what their highlight of the year was and what their tips for 2011 are. Some had more to say than others, while others were more than happy to dish out life advice that might help you make it through the year. So without further ado: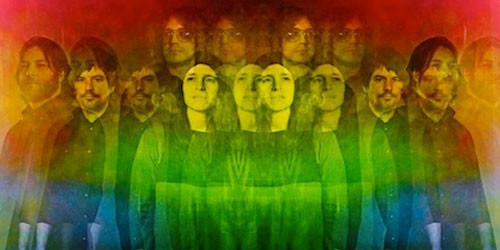 Jace Lasek (The Besnard Lakes)
The Besnard Lakes made a triumphant return this year with The Besnard Lakes are the Roaring Night winning critical acclaim and a second consecutive Polaris Prize shortlist nomination. If all this wasn't enough, Lasek's production work at his Montreal Breakglass studios saw him get his hands on some of the years finest releases.
Canadian Album(s) of the Year:
Land of Talk Cloak and Cipher, Suuns Zeroes, QC and Women Public Strain. Land of Talk and Suuns because my hearts' with these records since I helped make them (!), and Women, because it's such a bold, interesting album.
A Canadian record or act from this year that more people need to hear:
USA Out Of Vietnam from Montreal.
Highlight of the year:
Seeing High on Fire at SXSW in March 2010. Just blew my mind.
Canadian Tips for 2011:
Don't eat yellow snow.
- – - – - – - – - – - – - – - – - – - – - – - -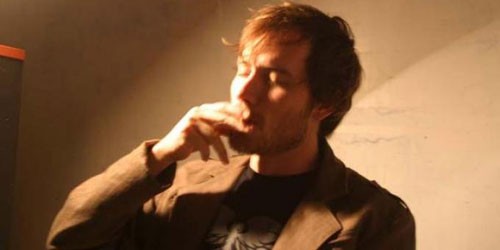 Brian Borcherdt (Holy Fuck)
2010 saw the release of Latin, a record hailed on these very pages as a compelling, beguiling, contempalative and euphoric addition to their already impressive output. The band have spent much of the year out on the road, honing their already stellar live show. Not forgetting the Cat vs Dog car chase video for Red Lights (watch below)…
Canadian Album of the Year
Caribou Swim
A record or act from this year that more people need to hear
Bishop Morocco
Highlight of the year
Getting married.
Canadian Tip for 2011
Learn to use a compass.
- – - – - – - – - – - – - – - – - – - – - – - -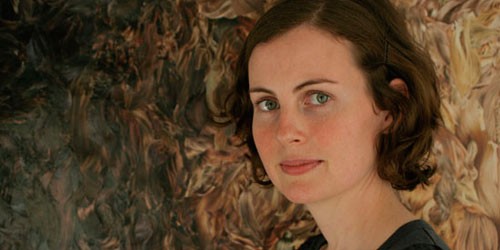 Kathryn Calder (The New Pornographers/ Kathryn Calder)
2010 saw two releases for Kathryn. The New Pornographers Together as well as the release of her debut solo album Are You My Mother.
Canadian Album of the Year
Gigi Maintenant.This is definitely my favourite record of 2010. Based on the style of 60′s girl group Brill Building songs, Maintenant is filled with a rotating cast of amazing musicians and wonderful songs. Find it, it's worth it!
It also got less attention than it deserved!
Highlight of the year
Listening to Beach House play at the Primavera Sound festival in Barcelona while sitting on a hillside surrounded by thousands and thousands of people on a warm Barcelona evening with friends.
Also, touring with The Dodos, who I adore.
Canadian tips for 2011
Watch out for the new Himalayan Bear – solo work from the mega talented Ryan Beattie of Chet (Chet is also amazing), possibly a new Dan Mangan record in 2011, and the new No Kids record!
- – - – - – - – - – - – - – - – - – - – - – - -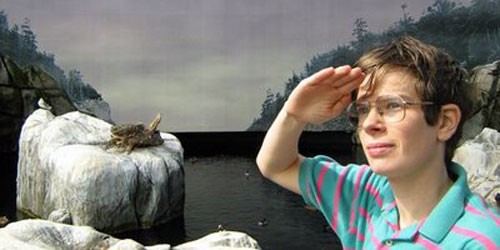 Rae Spoon
2010 saw the release of Rae Spoon's Love is a Hunter, the follow up to his Polaris Prize nominated Superioryouareinferior (2008). Inspired by travels around Europe, the album may have surprised some with its content, but not it's quality. While previous releases had positioned Spoon as a country crooner, Love is a Hunter saw him mix things up by adding more electro and electronic sounds to the mix, as well as a decidedly more pop edge.
Favourite Canadian Record of the year
Crystal Castles II by Crystal Castles
A Canadian record you feel deserved more attention than it got this year
Emma Mckenna Run For It
Highlight of the Year
Getting to film a music video in the Royal Tyrrell Museum in Alberta with dinosaur fossils all around me.
Canadian tips for 2011
Geoff Berner's new album Victory Party out in March on Mint Records.
- – - – - – - – - – - – - – - – - – - – - – - -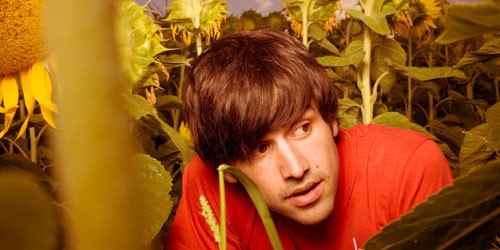 Jake Fairley (Bishop Morocco / Fairmont)
Dreamy melodies, slinky, Factory basslines and big echoey guitars were the order of the day when Bishop Morocco released their debut album earlier this year. The band also remixed Holy Fuck, who returned the favour, remixing the bands single 'Last Year's Disco Guitars'.
Canadian Album of the Year
Caribou Swim
A record or act from this year that more people need to hear
Little Girls
Highlight of the year
Our record release party. We did it ourselves in a warehouse in Toronto. It was a full blown rave with an insane sound system and visuals that we did ourselves. Lots of fun.
Canadian Tips for 2011
Bad Tits
- – - – - – - – - – - – - – - – - – - – - – - -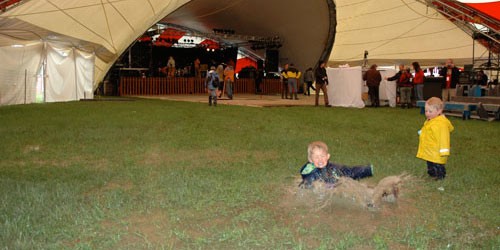 Tim Jones – Artistic Director of Dawson City Music Festival
Dawson City Music Festival is a three day music festival in Dawson City in the Yukon. It has been run by voluneers since 1979. The festival takes place in Mid-July, during which time the sun never sets. Tim Jones is the festivals artistic director.
Canadian Album of the Year
Owen Pallett's Heartland. It's the kind of achievement that overcomes my reluctance to throw the term "genius" around. Heartland is overwhelmingly complex but simultaneously a very easy listen. It shows a singularity of vision and a total compositional mastery that is unparalleled in Canadian music.
A record or act from this year that more people need to hear
Eric Chenaux with Ryan Driver Warm Weather. This album got under my skin like nothing else in 2010. Something about the pacing and the weird vocal treatments are totally compelling; synth washes, dreamy guitars, and a left-of-centre approach to songwriting that sounds like jazz standards played underwater. I can't listen to the album while doing something else – I have to either shut it off or give myself over to it completely. Listening to Eric in the past I've always been tempted to do the former 75% of the time. With this one I can't tear myself away.
Highlight of the year
My highlight of the year was a live performance from tUnE-yArDs at the 2010 Dawson City Music Festival. I was up in the rafters of a gold rush era vaudeville theatre positioned directly over the band. Merrill Garbus' voice channeled Nina Simone and Odetta, but the songs were about gangsters and sounded like Tropicalia. I hate the word "fusion" even more than I hate the word "genius" but this was both, the best live show I've seen in years. Merrill, like Neko Case, is basically an honourary Canadian – the project's roots are in Montreal – so I feel OK calling it my Canadian highlight of the year.
Canadian Tip for 2011
My Canadian tip for 2011 is no secret, but if you haven't heard the song 'Chinatown' – you need to find it immediately. This is simultaneously Dan Bejar's weirdest and best work yet, and if you're familiar with Destroyer, that's truly saying something.
- – - – - – - – - – - – - – - – - – - – - – - -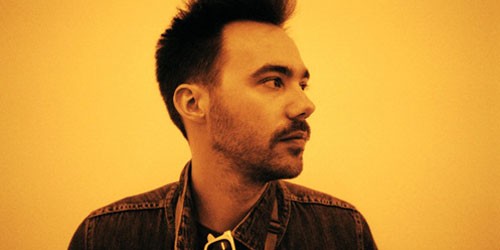 Sebastien Grainger (Bad Tits / DFA 1979)
Bad Tits is the new project from Sebastien Grainger, who teams up with ex-Tangiers man Josh Reichmann for a synth heavy, dirty, sweaty, bleeping, garagey beast of a record in the shape of the Garbage Nights EP.
Canadian Album of the Year
Caribou Swim
A record or act from this year that more people need to hear
Trust
Highlight of the year
Getting drunk in the parking lot then watching my friends' band play in front of a million people.
Canadian tips for 2011
Quit your band, get a job, go to school, you're not special.
- – - – - – - – - – - – - – - – - – - – - – - -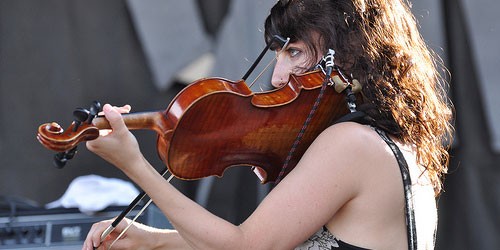 Mika Posen (Timber Timbre)
Timber Timbre's self titled album got a UK and Europe release this year, and has seen the band steadily travelling around Europe with their subtle, haunting melodies . Their year ended with a handful of european shows with Jonsi.
Canadian Album of the Year
Heartland by Owen Pallett. A truly epic album!
Canadian record that deserved more attention in 2010
Snowblink's Long Live. Stunning.
Highlight of the year
Heartland festival in vevey, Switzerland! After doing so much touring overseas it was really nice to join a mini-Canadian music community at this fantastic festival.
Canadian Tips for 2011
Bruce Peninsula! I hear they have something new in the works…
- – - – - – - – - – - – - – - – - – - – - – - -
James Keast- Editor of Exclaim!
Exclaim is Canada's only nationally distributed music publication. A free monthly newspaper, you can pick up a copy for at coffee shops, bars and records stores around the country. James Keast is the editor, and is also a Polaris Music Prize Juror.
Canadian Album of the Year
We don't always have an obvious answer for this question, but this year, it has to be Arcade Fire's The Suburbs. Not only did the Montreal crew have the greatest commercial impact of any Canadian album this year, but they are certainly our greatest ambassadors since the emergence of the Broken Social Scene/Arts & Crafts community. But while I feel like BSS had a philosophical/DIY collective impact, Arcade Fire have had a significant sonic one – in the sense that I'm not inundated by bands who sound like them.
A Canadian album from this year people should know about
All my lobbying couldn't get it enough traction from the magazine or from the Polaris Music Prize, but Brasstronaut's Mt. Chimaera was my Canadian album of the year. Headed by Edo Van Breemen (who also runs Unfamiliar Records, Canadian home to Japandroids, Paper Cranes, Flowers of Hell, Snailhouse), this Vancouver-based pop band boasts unusual instrumentation (like a clarinet) but their songs are pure pop goodness. 'Hearts Trompet' won the Echo Songwriting Prize this year as well.
Highlight of the year
My personal highlight was a summer concert held on Toronto Island (a small island – accessible by ferry – off the southern tip of Canada's largest city) that featured great country band The Sadies along with soul genius Janelle Monae, and headlined by Arcade Fire. The combination of a beautiful remote setting so close to the city with three of Exclaim!'s favourite acts of the year (all three acts topped Exclaim!'s Year In Review issue in their respective genres: country, soul and pop/rock) made it extremely memorable. The very first time I witnessed the Pied Piper draw of an Arcade Fire show was on this very spot in 2004 when they were playing second on a 10-band bill at 2 in the afternoon; this show brought those memories back full circle.
Canadian Tips for 2011
Early 2011 is already looking like a spectacular year for Canadian music. I'm already excited about new albums from Braids, Destroyer, Buck 65, Young Galaxy, the Dears, Hey Rosetta!, Ron Sexsmith, Rural Alberta Advantage, Christine Fellows, Jenn Grant, Geoff Berner, Ken Mode and a Vic Chesnutt tribute album from Cowboy Junkies. And that's just up till March…
- – - – - – - – - – - – - – - – - – - – - – - -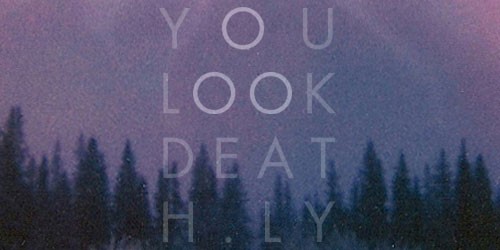 James Mejia (Hand Drawn Dracula/ Youlookdeath.ly)
James is one of the founders of Toronto's Hand Drawn Dracula records. He also contributes to the youlookdeath.ly blog and has produced artwork for the likes of Ron Sexsmith, Wintersleep, Holy Fuck and The Great Lake Swimmers amongst others.
Canadian Album of the Year
Holy Fuck Latin
A record or act from this year that more people need to hear
Bishop Morocco, Postdata, Teenanger, Quest for Fire
Highlight of the year
1. Fucked Up Halloween. Fucked Up played 90′s grunge covers and invited amazing openers including The Sadies (dressed up in full mummy costumes) and Fun as Fuck (Holy Fuck mixed their electro dance and Brian Borcherdt's shoegaze doom into a set they wrote the day before the show).
2. No Age 2am set at Ruins on Queen St. W. After their gig at the Great Hall, No Age crossed the street to Mikey Apples' and Josh Reichmann's boutique and played a full hour set.
3. Holy Fuck Secret Show. After opening for Metric at Toronto's Ampitheatre, Holy Fuck played a gig in the low ceiling basement of Parts & Labour. Loud and fun!
4. TimMccready.TV / HDD daylong BBQ during NXNE with 300+ guests. Throughout the day bands played in the backyard and living room including Bad Tits, Rich Aucoin, Brian Borcherdt and Deloro (Constantines, 100$).
5. The last Wolf Parade show at the Sound Academy in Toronto. They announced "indefinite hiatus" the next day but it was pretty well known at the show.
Canadian Tips for 2011
Austra, Actual Water, Tasseomancy, Trust, Josh Reichmann, Rattail, Foxes in Fiction, Cosmetics, Grimes, No Gold, His Clancyness, Treasure Hunt, also some amazing live bands that are either already in or about to go into the studio: Little Girls, Bad Tits, Metz, Handsome Furs, Brian Borcherdt, Julie Fader… lots more I'm forgetting.
- – - – - – - – - – - – - – - – - – - – - – - -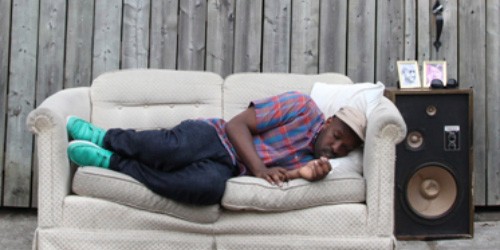 2010 was another stellar year for Shad. The quick fire wordplay, killer beats and flawless rhymes of his album TSOL earned him his second Polaris Prize shortlisting, and marked him as one of hip-hop's finest wordsmiths. He toured with K'Naan and K-OS in North America and The Herbaliser and even found time to go on a camping trip with fellow Polaris Shortlisters Besnard Lakes as part of the National Parks Project.
Canadian Album of the Year
Caribou Swim… a really cool album. Very different from his last, still great. Danceable, great melodies, and sonically awesome.
A Canadian record or act from this year that more people need to hear
Relic the Oddity… thats my boy right there. He's made a couple of really solid albums now but he's still operating under the radar even in the TO scene. Does all the rapping, producing, singing, engineering himself and he does all of it well.
Highlight of the year
Beiber fever… Drake taking over. Arcade fire taking over. K'naan taking over. A lot of Canadian artists had hugely successful years which was great to see.
Canadian Tips for 2011
Watch out for Kamau… brilliant poet/emcee from TO will release an album next year that I'm sure folks will feel. Soulful and heartfelt.
- – - – - – - – - – - – - – - – - – - – - – - -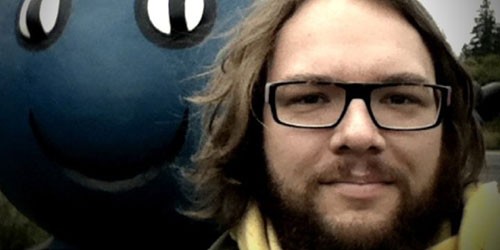 Ro Cemm (TLOBF/ Oh! Canada)
As I said in the intro, it's been a great year for Canadian music one way or another. While both of last years picks saw (Dan Mangan's Nice Nice Very Nice and Evening Hymns' Spirit Guides) saw European releases this year, I'm not going to count them, despite the fact they still get plenty of rotation at my house. Although this list could be very long, there are two records that have really stood out for me, and been in constant rotation since arriving. So….
Canadian Album of the Year
This would be Shad TSOL. Simply some of the best MC-ing I've heard for a very very long time. Teamed with great hooks and beats it's a pretty killer combo. Hopefully he will be back in the UK in 2011.
A very close second was Mount Benson by Apollo Ghosts. Packed full of catchy hooks, whoops and songs that explode into life, I was delighted when it found it's way to the Polaris Prize longlist. A short sharp shock of a record and undoubtedly one of the years best.
A record or act from this year that more people need to hear
Well, I would probably have Mount Benson here as well….alongside Frederick Squire's outstanding March 12. I'm also going to say Hooded Fang's album called Album. It was one of my tips for 2010 last year, and the 7 piece from Toronto didn't let me down. With Daniel Lee's low croon, trumpets, straight forward percussion lines and the occasional gang vocals, this is jangle pop done well. Expect to hear more about them here in 2011.
Highlight of the year
This is where I'm lucky that I get to make the rules…the whole year has been full of highlights – Oh! Canada's road trip in the east of Canada was fantastic, and I would echo Mika from Timber Timbre's sentiments about Heartland festival in Vevey. A few moments that will stay with me: The Wilderness of Manitoba and Leif Vollebekk playing an unplugged set in the woods in the small hours at End of The Road Festival, and the looks of delight on the faces of the audience and the band, witnessing the power of Do Make Say Think in full flow, without a sound limiter, and Basia Bulat's decision to play an unplugged and accapella song to bring her show with Nova Scotia Symphony Orchestra to a close at Halifax Pop Explosion
Canadian Tip for 2011
Many of my tips for the coming year seem to be coming out of Montreal: Leif Vollebekk has been recording a new album with Howard Billerman (Arcade Fire. GY!BE) which I am excited to hear. The Suuns record should also turn a few heads in the early part of the year. It feels like an age since I first head Braids, who will finally release Native Speaker in 2011. And of course, we will be bringing you our tips for 2011 all through the year….
http://www.youtube.com/watch?v=pC5rLU6_nkA