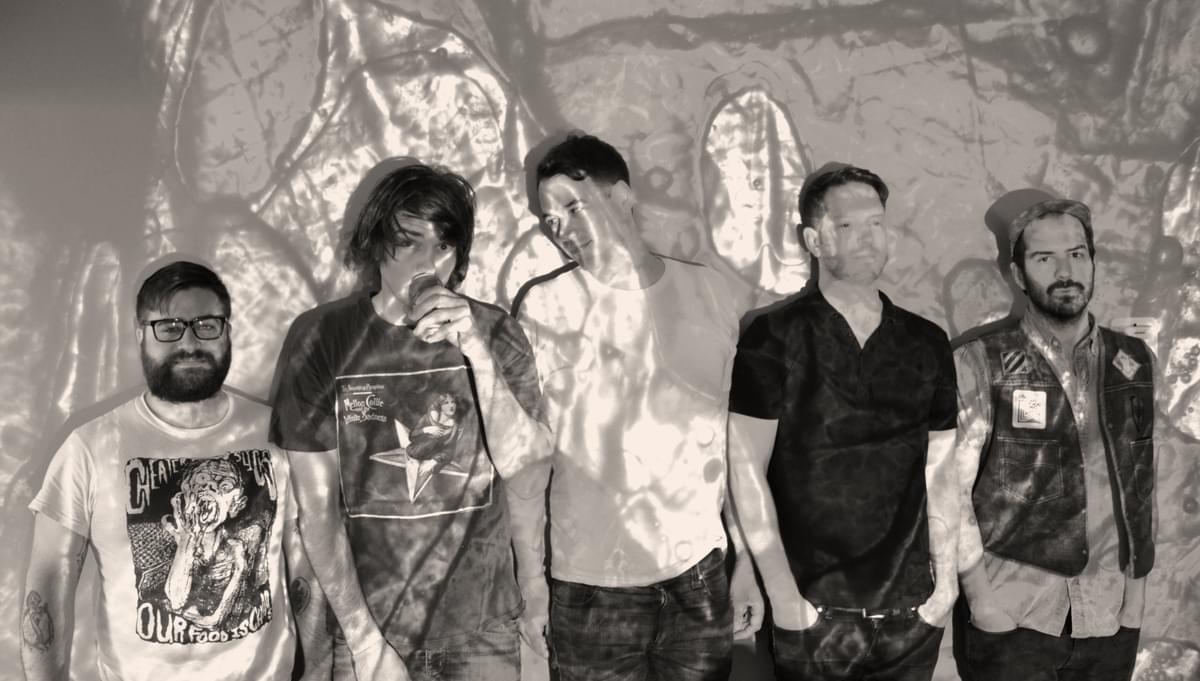 Slow Down Molasses talk us through their new album 100% Sunshine with an exclusive stream
31 August 2016, 10:25
Canada's Slow Down Molasses explore the darker side of indie rock on their latest long-player, 100% Sunshine.
Produced by Chad Munson and mixed in Glasgow by Tony Doogan (Mogwai, Belle & Sebastian), the new record hears the Saskatoon collective mesh shoegaze, dream-pop, psychedelic rock and darkwave across 11 tracks.
The band provides a track-by-track guide to every song on the album - from attempts to slot Joy Division into their music to apparent Oscar Wilde mantras - alongside an exclusive first listen of the record.
Faeries on High
Tyson (singer/guitarist): Near the end of the writing process, Levi (guitarist), brought in a bunch of song ideas and loops for us to pick through and potentially use. This one immediately jumped out at me and very quickly after first hearing it, I knew I wanted to start the album with it. As Levi couldn't remember what, if anything, was sampled, we recreated Levi's original recording in the studio, playing the drums loops over and over and then pasting them back together during the mixing process.
Lévi (guitarist): This song idea was inspired by the question of what would've happened if Dilla and Anton Newcombe made a beat together.
New Release
Tyson: Tony Doogan mixed the album at Castle of Doom in Glasgow and I joined him for the last few days of mixing. With the band back in Saskatoon it definitely took a fair bit to balance everyone's opinion as they heard the mixes, but that also led to one my favourite quotes from Tony: "you can't have a member of the band going on wanting the bass to sound like New Order and another going on about not wanting electronic handclaps. That is a complete oxymoron right there". That kind of captures the final mix well. It's fairly dark song, but a few pop elements managed to sneak in.
Intentions
Tyson: I wrote this song in essentially the length of time it took to play it one night while I was messing around by myself in our jam space. I recorded the guitar part immediately and I was certain the mix of washed-out My Bloody Valentine guitars, bulked up by a driving but restrained rhythm section would be completely obvious to the band. It wasn't. Instead we jammed it for months with it never feeling right. I don't even remember what suggestion (producer) Chad Munson made, but somehow everything finally fell into place right before it was time to record.
Lévi: Playing new, weirdly-shaped chords is akin to that childlike excitement of say, pedalling off on your first bike minus training wheels
Aaron (guitarist/keyboardist): I suggested the addition of the ascending dissonant noise lines in this song, and will admit to stealing the idea from Fugazi's "Full Disclosure". Was it Wilde or Colton who said: "imitation is the sincerest form of flattery?"
Moon Queen
Chris (bassist): One of the most energetic tracks, "Moon Queen" is also one of the most fun songs to play live. We had no way of knowing it at the time when we were writing this in subarctic -40C weather in Tyson's garage, but several of the parts almost demand to be played with high kicks.
Lévi: Most of this song for me is a sustained A harmonic, played by feedback. Sometimes it's best just to let your pedals play the parts for you.
No Riots
Tyson: This is actually the first song I ever wrote, making it 17-years-old and written when I definitely had no idea what I was doing. Despite me always liking this song, it never seemed to make sense to anyone that I was playing music with. I even attempted to bring it to Slow Down a couple times six or seven years ago, but it was summarily rejected by that iteration of the band. In many ways I'm very happy it sat marinating all these years. I don't think any mix of people I've played with are better suited to bring a song like this to life and it's nice break from this album's more raging rock songs.
Aaron: We deliberated on drum ideas for this song for far too long, but settled on a simplified beat that draws from our favourite math rock bands.
Levitation Sickness
Tyson: Speaking of ragers, this is the second song from the album that we started playing live on tour last year. It immediately became one of the best received songs of the set, which got us excited to get further into writing and recording this album.
Chris: A bass part in the song was removed and replaced with a cool low-end synth line by Mr Tony Doogan at Mogwai's Castle of Doom Studio. Not surprisingly, this seemingly tiny hook makes the song sound somehow more gargantuan and elephantine. Thanks Tony.
Lévi: My best attempt to rip off Lee Ranaldo. I believe it to be a success.
Ghosts & Vodka
Tyson: Despite being locally known as one of the finest guitar players and specifically as a guitar pedal wizard, producer Chad Munson recently abandoned his guitar and dove headfirst into modular synths. When we play this live, Jeanette would slyly drop in the the lead line from "Love Will Tear Us Apart" into the breakdown. As much as I'd kinda love to have that the record, I don't know if the mix of reverence and humour would have come through. Instead we let Chad run wild with his modular.
Lévi: This song sounds best on a massive festival PA system- then it is truly heard.
Night Terrors
Lévi: In my mind, the song pays homage to Minus The Bear. Beautifully intricate guitar melodies into a Sandlot-ball games in the summer nostalgic coda.
Tyson: Aaron's first major songwriting contribution to the band. Also the most standard pop-esque song we do, which kind of baffled me as I always associated Aaron with the old punk and hardcore bands he played in. Little did I know when he started playing with us, he's likely the biggest Teenage Fanclub fan in the band, and we all love the Fannies.
Aaron: I accidentally came up with the opening riff to this song when I was fucking around during a soundcheck as we were preparing to open for Swervedriver. Tyson looked over at me with widened eyes and asked, "What is that?" Thank goodness I made a mental note of what I was playing.
Terminator iii Vs Amon Duul ii
Tyson: Obviously we're Mogwai fans. It was one of the big reasons we were excited to work with Tony Doogan, but it wasn't only reason and I wasn't expecting to make this record necessarily just sound like a Mogwai record, but I did have to laugh a bit when we were talking through ideas for this songs mix, and he eventually just sort of sighed said "ah, ok, I guess I'll just put the Mogwai effect on your piano. Then pulled up a specific delay setting to add to the piano track.
Lévi: Where the fuck did this song name come from?!
Flowers
Tyson: Late last year we were asked to contribute a cover of a Galaxie 500 song for a compilation put together by the wonderful shoegaze blog, The Blog That Celebrates Itself. Once we'd arranged this cover of Flowers, we realised it could potentially fit in quite nicely on this album. Once Tony Doogan got his hands on it and began mixing it, it became obvious that it had to be included on the album.
Lévi: Our engineer, Barrett Ross, has one hell of a synth collection. And he knows them all well. At one point he suggested maybe adding some synth to the song. We agreed and asked him what he had in mind. He swivelled his chair around, hit record and played the synth line on the synth that happened to be set up in the control room. I do kind of want to curse him for his casual brilliance, but instead I'm just happy we get to take advantage of it from time to time.
You Made Me A Ghost
Lévi: Ghostly Drone Pop at its finest. Jeans Boots is the gnarliest non-Rockstar you've never heard of.
Tyson: After Tony did an initial mix of this song I was raving to him about how much I loved the drums. In his typical dry tone, he responded saying, "I just thought it sounded like the Cocteau Twins, so did some of that completely fake, big reverb they do on all their drums. Everyone says they want clean, punchy drums, but then they hear drums on a song and say they love them and it's all just fake, huge reverb."
Aaron: Our opus, and one that showcases just how chilling and brilliant Jeanette can be as a lyricist and singer.
Slow Down, Molasses' 100% Sunshine is released this Friday, 2 September via Noyes. Live dates including End of the Road festival below.
August
31 - Sebright Arms, London, UK
September
1 Sept - The Cellar, Oxford, UK
2-4 Sept - End of the Road Festival, Wiltshire, UK
6 - Club Kukuun – Hamburg
7 - Culture Container - Berlin
8-11 - Incubate Festival, Tilburg, NL
16 - Amigos, Saskatoon - record release show
Subscribe for news and competitions