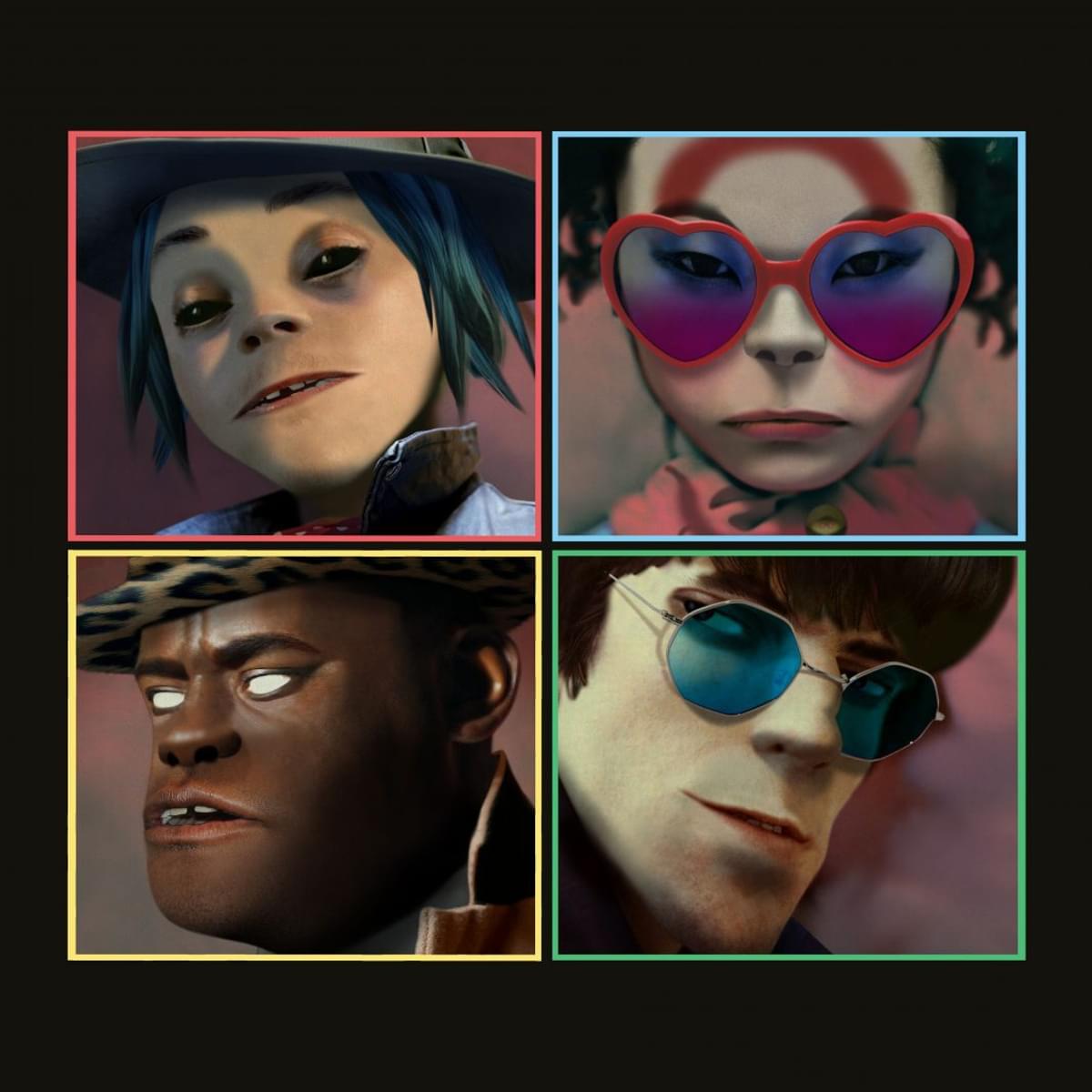 An early invitation to Gorillaz' dystopian party
22 April 2017, 09:00
"What makes us human?" is a question that has plagued philosophers and artists alike for centuries. Is it an innate sense of being inextricably linked to ideas of a "soul"? Or is it a collection of attributes - compassion, empathy, hate, lust, love - which we express and react to?
In the aftermath of Brexit and Donald Trump's ascension to power, Humanz thematically acts as a de facto successor to 2005's excellent Demon Days. But given its creative timeline, Humanz is a remarkably prescient record rather than a reactionary one that examines humanity within its darkest fantasy. It is ironic that the world's most successful virtual band (with the help of some human friends) have released a record that successfully conveys the human condition in 2017.
Gorillaz is a permanently mutating project for Damon Albarn and Jamie Hewlett - a brilliant pop chameleon, which initially served to explore Albarn's musical desires away from Blur and satirise popular culture. The music or "sound" of Gorillaz has always been hard to define as Albarn has often flirted with an array of genres, engaging in pop alchemy.
Regardless of the cornucopia of genres Albarn has explored with Gorillaz, there has always been a unifying constant over Gorillaz's five studio records (The Fall included) - the desire for collaboration. At its most atomic level, Gorillaz was a project born out of collaboration between two artists. This idea then slowly transfigured to initially involve the likes of Dan the Automator and Ibrahim Ferrer on Gorillaz, before expanding its cast list exponentially to the level with which we have on Humanz. Pertinently, collaboration has never been used as a commercial tool but only if it benefits the project. Humanz successfully continues this tradition.
Humanz, on first listen, may for some sound too disparate, thus potentially questioning Albarn's ability as chief alchemist. Yet placed within its narrative - a soundtrack for a dystopian party, the night after our darkest fantasy (in this case Trump's election) becomes reality — its sonic shifts become coherent and truly compelling. As our party proceeds, its ominous undertones become more apparent before the sobering, "Hallelujah Money" dazzles and welcomes the new (petrifying) dawn and provokes the reactionary call to arms, "We Have the Power". Come with us on a journey through the night, as we explore Humanz track-by-track (excluding the spoken word interludes).
Ascension feat. Vince Staples
The breathless and urgent "Ascension" acts as the proverbial clarion call to Gorillaz's party. Soundtracked by wailing sirens and rapid-fire hip-hop beats, "Ascension" bursts at the seams thematically with racial, religious and political imagery, as well as touching upon concepts of nihilism and hedonism. Staples' serpentine delivery slithers between insistent hi-hats and 909 stabs and takes numerous barbed shots at modern-day America. Staples' final stanza, in amongst heightening distortion and sonic tension, proves to be the most devastating - "I'm just playing, baby, this is the land of the free / Where you can get a glock and a gram for the cheap / Where you can live your dreams long as you don't looks like me / Be a puppet on a string, hanging from a fucking tree".
Strobelite feat. Peven Everett
Given that Staples leaves the listener bruised after his combative lyrical assault in "Ascension", "Strobelite" comes as a house-indebted surprise. From the outset, it is clear that Humanz, much like Gorillaz's previous output, is unafraid to traverse genres at alarming speeds. The track bounces gleefully, as Peven Everett delights with a gorgeous disco vocal amongst funky synth leads. His bright vocal however appears deceptive as Everett sings, "Are we just too far, to be as one again / Are we obsidian, is this how it ends?".
Saturnz Barz feat. Popcaan
Not since the likes of "Slow Country" on their eponymous debut record have Gorillaz (or Albarn even) toyed with as much low-end as they do on "Saturnz Barz". Rippling with bass and in possession of a memorable Albarn hook laced with mythological imagery, "Saturnz Barz" marks a fine foray into dancehall with the aid of Jamaican-superstar Popcaan. Popcaan's confessional vocal, which documents personal strife and triumph, maintains his own desire for an introspective narrative within dancehall. Popcaan has previously explored socio-political oppression on "System" and similarly makes reference to the consequences of an oppressive system on "Saturnz Barz" - "the system force mi/fi be killer just like Rodney Price". His acknowledgement however of the controversial dancehall singer Rodney Price a.k.a Bounty Killer leaves the line with an air of ambiguity and arguably could be read as a scathing indictment of a sometimes violent dancehall scene.
Momentz feat. De La Soul
As the metaphorical party approaches full swing, Gorillaz reunite with De La Soul to ignite the blue touch paper with the explosive and hyperactive, "Momentz". Intersected with rebounding lyrical wordplay, squelching synthesisers and distorted vocal samples, "Momentz" is undoubtedly the most playful track found on Humanz. It is an absolute pop thumper, which rockets the listener to a state of hands-in-the-air euphoria upon the final rendition of its ear-worm chorus. Although its bass heavy stomp and child-like breakdown may take some getting used to, "Momentz" is arguably the catchiest song Gorillaz have produced since "Dare".
Submission feat. Kelela & Danny Brown
"Submission", simply put, does not disappoint. A collaboration that promised so much on paper delivers Humanz's bona fide highlight. Glitchy 8-bit synthesisers, which fizz behind effervescent beats, act as the canvas for Kelela and Danny Brown to paint upon with two extra-ordinary vocals. Kelela's plaintive vocal harmonises gloriously with spectral backing vocals, before ceding to jagged, discordant guitars and Brown's distinctive voice. Brown's sharp lyrics - which include themes of greed ("All comes down to the mighty dollar / Greed and lust, abusing power") and hopelessness ("Cause it feels like I've had enough / felt like my soul in handcuffs") - provide an underlying tension that lurks menacingly beneath "Submission"'s effervescence.
Charger feat. Grace Jones
With Albarn channeling his innermost 2D on his vocal performance, "Charger" serves as a chaotic sonic interlude analogous to Gorillaz's "Punk" or Demon Day's "White Light". Grace Jones acts as agent provocateur with both her and Albarn's vocal haunting the angular instrumentation on display. Its buzzing, scattershot guitar loop is held together with bristling electronic beats, as industrious synths whistle and whine in the background adding further texture. Its sonic anarchy mirrors pure party pandemonium with revellers at the peak of their intoxication - disarray abound but yet the world, through their eyes, moves with an intangible haze.
Andromeda feat. D.R.A.M
Unlike the similarly house-indebted, "Strobelite", "Andromeda" possesses a prominent sense of melancholy, and thus acts as an important sonic and thematic pivot for the record. The joyous, care-free party atmosphere, which superficially defined the record's opening half, slowly begins to give way to sobering introspection and the record's more ominous undertones. Albarn's bittersweet vocal, which reflects upon "growing pains" and "good times", juxtapose the bright synth leads and bass whomps that underline "Andromeda". Its title, a nod to a soul club in Colchester that Albarn used to frequent, acts as a symbol of the restorative power of communal experience, music and friendship. He has noted that Andromeda (the club) represented, "a positive thing in a quite grim world", and thus "Andromeda" implores us to find the good in the turmoil that surrounds and "take it in your heart now, lover".
Busted and Blue
Amongst echoing clicks, like flashbulbs in the distance, the arresting and stark, "Busted and Blue" builds on "Andromeda"'s introspection. Although marked as having no featured guest, Kelela (who appeared live at Printworks) emerges to provide an angelic vocal, counterbalancing Albarn's use of distorted, megaphone-vocal effects. Humanity is distinctly astray in "Busted and Blue", lost in a digital realm and the echo chambers of social media, as Albarn solemnly sings, "Where do they come from? The wires that connect us". Thematically, "Busted and Blue" is highly reminiscent of Blur's "Out of Time" ("Feel the sunshine on your face/It's in a computer now"), with both centrepieces not only serving to express Albarn's ambivalence with technology but also acting as moments of poignant realisation.
Carnival feat. Anthony Hamilton
"Carnival", the shortest track found on Humanz, stumbles to fill its short playing time with potent ideas that fully engage the listener. Sonically, it is evident that the threatening melodic seeds, planted within the first half of Humanz, are beginning to fully bloom, as the metaphorical night continues. Yet, although "Carnival" is packed with Waltzer-like synthesisers that frenetically spiral, its instrumentation and vocal motifs are recycled throughout and the track simply does not develop before coming to an abrupt end. This is a shame and acts as a great injustice to Anthony Hamilton, who provides a despairing, soulful vocal.
Let Me Out feat. Mavis Staples & Pusha T
"Let Me Out", with its mix of gospel and hip-hop, could easily be mistaken as a track from Demon Days. Pusha T is electric, as he spits venom that encompasses racial tension, police brutality and inequality. Although Albarn's vocal feels like a slight afterthought, it is Mavis Staples and Pusha T who dominate the track, with Staples playing mother-figure to Pusha T as he seeks to make sense of the world. Like Bobby Womack on Plastic Beach's "Stylo", Staples embodies a transcendent figure as she lyrically touches upon themes of ascension. Hope and resistance however begin to emerge on "Let Me Out". In between its cascading, dark melodies, Staples pleads, "You got to die a little if you wanna live", which potentially alludes to the necessity of strife in order to revitalise political and social struggle. It is evident in the wake of Trump's ascension and Brexit that masses of people are becoming more politically conscious and are evidently primed to fight against political and social injustice.
Sex Murder Party feat. Zebra Katz & Jamie Principle
Much of Albarn's talent with Gorillaz has been his capacity to temper the art of collaboration and invigorate those involved. He has the uncanny ability to see a completed jigsaw before many would have even emptied the pieces from the box. "Sex Murder Party" however contradicts this ability, and is a collaboration that does minimal for all parties involved. Albarn's striving hook lacks vigour, whilst Zebra Katz delivers a listless verse, which paints images of bathrooms lined with "blow". "Sex Murder Party", regrettably, serves as the creative nadir of Humanz.
She's My Collar feat. Kali Uchis
Awash with neon hues and throbbing kick drums, the cinematic "She's My Collar" acts as a pop liaison dangereuse. Wonky synths command whilst Albarn indulges in some witty lyrical word play ("call her"; "collar") prior to Kali Uchis' star-turn. Utilising his favoured distortion effect, Albarn's vocal performance adds to the sense of mystery that shrouds "She's My Collar", especially when its background synths build and subsequently plunges the track into the realms of the noir.
Hallelujah Money feat. Benjamin Clementine
Although deemed on release as the divisive introduction to "Phase 4" of the Gorillaz project, "Hallelujah Money", within the context and narrative of the record, is elevated to a spine-tingling, otherworldly presence. Lullaby-like in quality, "Hallelujah Money" is a devastatingly and upsettingly prescient synthetic waltz that satirically plays flag-bearer for a horrifying new dawn. Mercury award-winning Benjamin Clementine's spiritual but foreboding vocal exclaims worship of money, before Albarn reacts existentially to the new age - "when the morning comes/We are still human/How will we know?". In the face of corruption, greed and social division, "Hallelujah Money" questions our ability to retain our humanity and engage with humanism.
We Got The Power feat. Jehnny Beth
Like the aforementioned "Hallelujah Money", "We Got The Power" benefits greatly from the narrative of the record. Provoked by the beguiling but the inevitably hollow and desolate worship of "Hallelujah Money", Jehnny Beth, Noel Gallagher and Albarn congregate to provide a driving and rebellious rallying call that promotes the power of the human spirit against oppression, xenophobia and inequality. Lyrically, its uplifting message of hope is starkly contrasting to Staples' nihilism on opener "Ascension" ("Them stars falling, don't chase 'em") and thus Humanz narrative and thematic arc comes to a galvanising close.
Get the Best Fit take on the week in music direct to your inbox every Friday