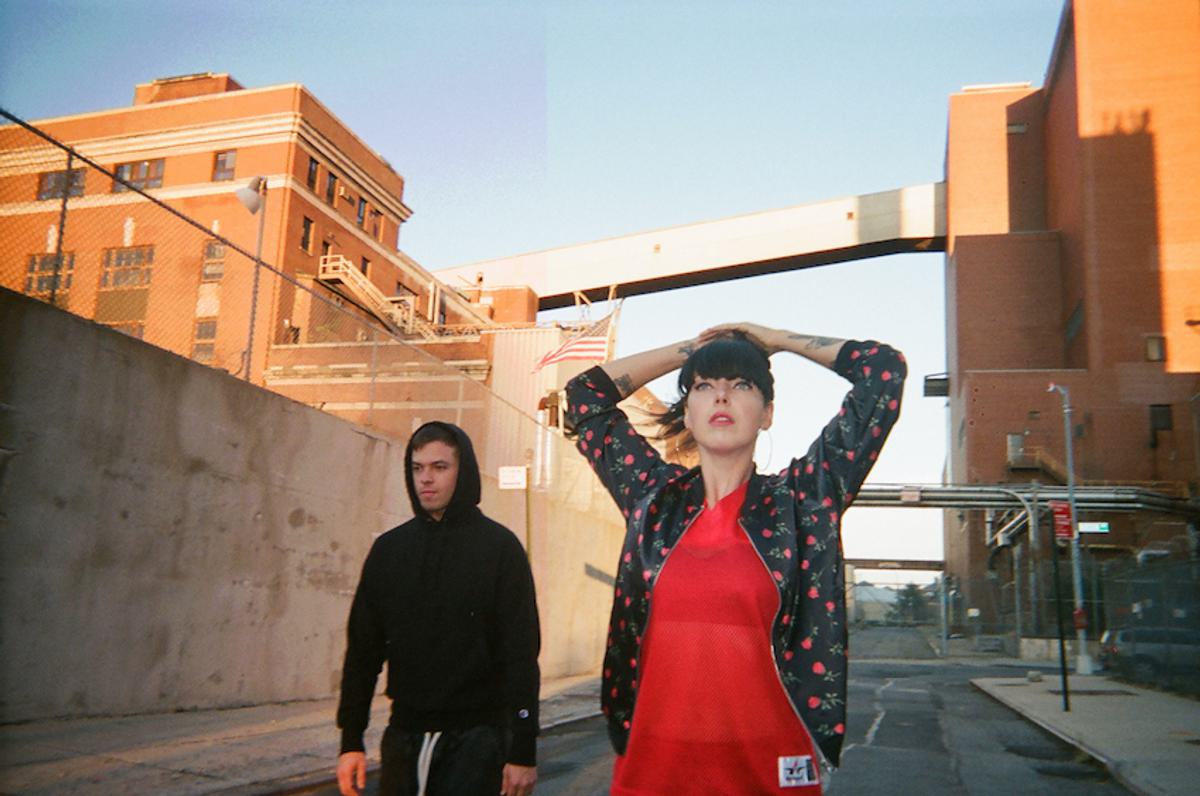 Track By Track: Derek Miller of Sleigh Bells on Jessica Rabbit
14 November 2016, 10:13
With inspirations ranging from "scumbag" Trump to high school dread, it's fair to say that Brooklyn-based duo Sleigh Bells' fourth album is as eclectic as ever. Derek Miller talks us through the new record, brimming with praise for bandmate Alexis Krauss alongside his more self-critical insights.
It's Just Us Now
This is the last track we wrote for Jessica Rabbit. Alexis' chorus vocal is one of my favorites on the record. This song is about loving someone or something more than yourself.
Torn Clean
The title is a reference to a track on the first Poison The Well EP. I kind of ripped off the chords a little and changed the key. I go back and forth on the percussive gunshot sample. Sometimes I love them, sometimes I feel like I just ruined the track completely. Alexis sounds incredible - I could listen to her melody forever. Especially when she hits the "I love both" lyric, it's in this one spot in her range that kills me.
Lightning Turns Sawdust Gold
I don't know about this one. I really love the whole outro; Alexis sounds great and the synths are decent and lush. I wrote the intro piano melody in December 2012 on the Coachella cruise. I met some rad people and we were treated really well but I was in a real dark place on that boat. I got off and started making changes. I still have a lot of work to do, but I'm okay with that.
I Can't Stand You Anymore
One of my favorites on the record. Mike Elizondo shredded us for what we had initially. If you ever have the chance to work with Mike Elizondo, do it! Hell of a guy. He listened to everything and pushed us to come up with better ideas, better melodies, a sturdier arrangement for this one. I'm really happy with the main riff but Alexis owns this track. The bridge melody makes my ears happy. The chorus vocal is great. I feel good about this one.
Crucible
The bridge/acoustic breakdown is good and the vocals are great, but I think I kind of blew it with the rest of the track. I loved it so much while we were making it, then it just went ice cold for me. Maybe I can rebuild something better for a live situation. We'll see. The verse vocals are really strong. This song is about denial. Maybe you can move forward. Maybe you can't.
Loyal For
I love the vocal. The track had the potential to develop into something really special and unique, but I just didn't quite get it there. It just kind of flattens out at the end and doesn't beg you to start it over. Wish I could do this one over. The cello with delay has a nice texture.
I Can Only Stare
Hands down my favorite new song. It has a blend of melancholy and forward momentum that makes me really happy.
Throw Me Down the Stairs
Second favorite track on the record. I ripped off Iron Butterfly for the main riff. Very optimistic and bitter to my ears. The lyric is very deliberate, I mean every word. Alexis sounds like she is being electrocuted. Played this live for the first time a few nights ago in Boston. Sounded really muddy but we will get it there. I love this song.
Unlimited Dark Paths
I love the intro and the outro, I'm on the the fence about the middle part. The outro feels really good to me, especially the melody and the lyric "you can't go back the way you came, full speed ahead." There is a lyric about the loss of "strength and integrity" - that one is directed at me. Spring of 2015 I was really blowing it, not taking care of myself, writing terrible music. I wrote it from Alexis' perspective. I imagined her standing over me, screaming at me to get it together.
I Know Not to Count on You
Actually, this might be my favorite track! The first half makes me feel really hopeful and warm and kind of sad, but not like crybaby sad - it's a good kind of sadness. The second half is the most brutal moment on the record. I wish we could make music that is both quiet and devastating. We tried here.
Rule Number One
The arrangement is obnoxious and demanding, but that's the point. If you played me this in 2010 while we were making Treats I would have hated it. Today it sounds right to me. It's not for everybody, but for those of us who want and need stuff like this it means a lot.
Baptism by Fire
Spent over two years working on this one, so I'm a little worn out on it. Heard it too many times. I'm gonna drop my buddy Rostam's name here - this was his favorite when I played it for him a while back. His ears mean a lot to me so that's heartening. We actually worked on a different version of "I Can't Stand You Anymore" together that we are gonna put out next year it's pretty rad. Rostam produced it, I played guitar, Alexis sang. His drums are sick. We gotta get that out.
Hyper Dark
Cooled off on this one. Alexis sounds good. I like the intro. I like the arpeggiated synth and reverse kick at the end. Lyrics are mostly stream of consciousness - definitely a lot of stuff from middle/high school. Going on dates. A healthy amount of dread. Trophy cases, certificates.
As If
I love the outro. Intense track. Summer 2015 I was listening to a lot of metal and kept seeing scumbag Trump on the television so that might explain the aggression here. It's about coming out of numbness, what you will or won't do to succeed, ruthlessness, sensory overload. I was rereading parts of Infinite Jest which probably inspired the fucked up arrangement.
Jessica Rabbit is out now via Lucky Number Music.