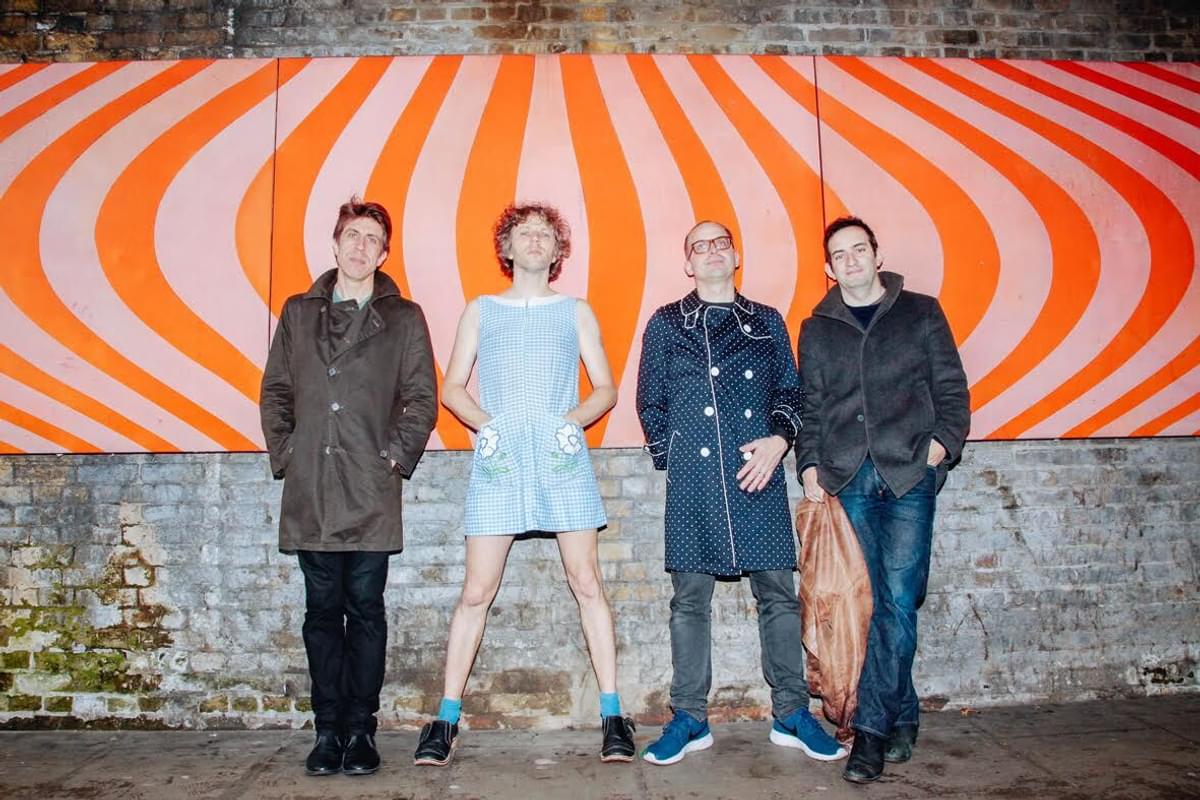 Stereolab, Stereolad and !!!
11 February 2016, 10:00
Nic Offer writes about the story behind Stereolad: the Stereolab cover band !!! will be opening for themselves on tour as, in tribute to their pioneering punk-funk influence.
We asked what it was, and sure enough it was their new at the time LP Emperor Tomato Ketchup. They had just started it. We sat listening and getting jacked on the unlimited refills as the record unfolded. By the 5th or 6th song/cup of coffee we were ecstatic. They had done it, they had pushed forward yet again and really found something new. Rock didn't have to be dead, it could be something malleable - it didn't have to all sound like grunge or Britpop, the only 2 seemingly available options at the time.
Every era has a few artists you can count on, and look forward to each new album as a step forward. You feel a part of it, just being able to get their new album, discuss it with friends and know that they'll weather any sophomore slump, hype or whatever it is that limits other bands. Maybe now it's people like Kendrick, and Tame Impala (will Kanye let us down this week? You may already know by the time this is printed). Each album by the band often feels like a step forward, and a gift that you're thankful to them for.
When I discovered Stereolab, I was a punk with a Motown fixation, so pretty much every song I listened to was under 3 minutes. I remember confessing to a friend, "yeah, there's this new band i like, and they have like 20 minute songs". We considered that hippie shit, and subsequently the enemy. Ah, but the songs were about the enemy - it just took them longer than Black Flag to explain who the enemy was. It was a strange combination at the time: long, motorik grooves with punky british chord progressions and melodies that were sweet but never sickly, tempered by the fact that they pretty much laid out the battle plan for destroying the fascists. But there was more about them that was punk than just the lyrics. Watch them on this live TV show from '94:
They seemed completely out of place from the sort of trendies that show up to dance at those types of TV shows, but sort of proud and determined in what they've found with thrift store instruments and clothes that others had discarded. Synthesizers weren't to be used in that way, and certainly no one was using the old ones at the time. Synthesizers were always meant to be brand new, the most up to date that technology could offer. why would anyone even use those? And if punk was based on 3 chords, wasn't Stereolab in fact punker for using only one chord.
They stole liberally from bands I had never heard of, but were always very open about it. It was through reading interviews with them that I was led to Neu and Can, bands that would have great influence on us. It was through the minimalism espoused by Stereolab and those bands that influenced how we first approached the funk. Other punk bands always overthought funk, tried to fit too many chord changes in and seemed as if they were monitoring the pops and slaps per minute instead of the beats.
I went from playing 2 minute punk songs to the long 20 minute funk jams i thought Stereolab might play if they had been more inclined towards Chic, James Brown and Bohannon. and honestly, that's part of the reason we felt like openly paying tribute to them. Not just as thanks to them, but maybe to show the way forward to other bands. You can do it yourself, with some instruments that are uncool and no one cares about anymore. You don't have to know 3 chords to start a band, just one will do.
So we've been opening for ourselves lately as a cover band called Stereolad, and maybe unsurprisingly, we have sort of punked it up. Maybe it even sounds a bit Hawkwind? We're bringing it to the UK/EU dates this month, come check it. It's been a blast. I had no idea I would enjoy wearing a dress so much, and am even more surprised how fucking good I look in it. So there's that.
!!! tour the UK in February and March, supported by themselves as Stereolad: a Stereolab cover band, including a London headline show at Village Underground.

Get the Best Fit take on the week in music direct to your inbox every Friday