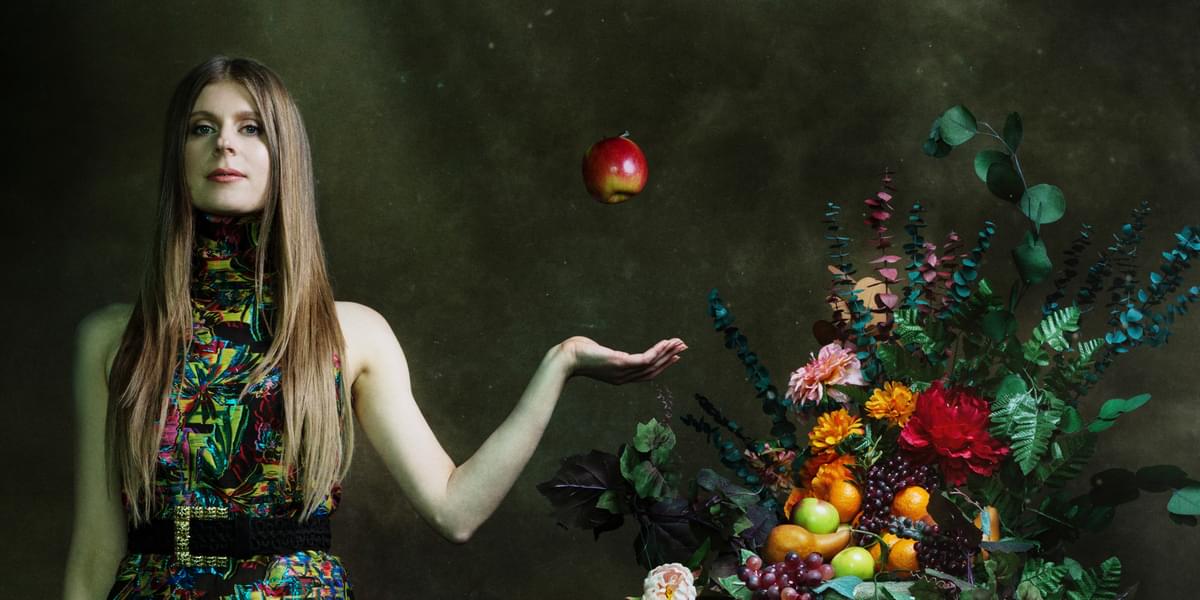 Lydia Ainsworth: how banana pancakes are a catalyst for creation
05 October 2019, 14:00
Experimental pop architect Lydia Ainsworth explains how mastering the art of making banana pancakes has boosted her creative productivity.
About a year ago I was fortuitously introduced to the notion of making banana pancakes through a 30 second how-to video (i.e. a targeted ad on Facebook).
Perhaps you are familiar with this specific type of video: the one in which disembodied floating mime-like hands draw the viewer down a delicious yellow brick road of fantastical culinary chemistry. Speeding through each step with the snap of a finger, those magical appendages captivated me in one of my more impressionable states of mind.
T'was the perfect storm! For you see, dear reader, I had just spent the day attempting to write lyrics to no avail. Within a moment of self-defeat I found myself yearning for nothing more than a giant plate of banana pancakes. How did the Russians discover my weakness? Had they gathered this information from my forlorn facial expression in the lens of my computer screen?
The pancake making video seemed to suggest that the only way to unravel my very tangled mind was to proceed with gusto at the mixing bowl. The following morning I happily obliged. No need to revisit the video, the directions had embed themselves into my soul:
First, the long cast of ingredients:
One egg
One banana
Next, the narrative arc:
"Mix with a fork"
Finally, the denouement:
"Fry in a pan"
Dear reader, do not let the simplicity of this recipe fool you. Like a Yasujirō Ozu film, although the story and the characters may seem mundane and familiar, there is a multilayered emotionality at play here. Allow the narrative to evolve and unfold and you will undoubtedly be rewarded.
What transpired that next morning was a plate of unsightly formless blobs of partially cooked batter. However, something very curious happened later that same day. I was able to crack the code to a very hard-to-crack song. I finished the lyrics and finally felt good about the progress I had made.
Over the past year I have come to learn that banana pancake making is an art, and by practicing this art I am transported to a place of exploration that sets me up for a productive day of songwriting.
I'm proud to say that I'm somewhat of a banana pancake master now. I have experimented with different temperatures of the pan (always heat the pan prior), oils (my fav is coconut oil), ripeness of the banana (not too ripe, please). I have also taken a great liberty and feel confident in saying that adding a half cup of flour of choice can help with flipping. I like oat flour. The ornaments, besides the very basic Canadian maple syrup, might I suggest almond butter, berry reduction or dark chocolate or all of the above at once.
My last and most important tip is inspired by Daniel Day Lewis who famously said, "Shoes are strange things. If you take your shoes off in a situation in which you're vulnerable, you'll feel 10 times more vulnerable." As we all know vulnerability is the seed of greatness. I definitely suggest making banana pancakes barefoot or in socks.
Please send all questions, comments and concerns along with photos pertaining to your pancake making adventures to me on Instagram @lydia.ainsworth
Phantom Forest is out now.
Get the Best Fit take on the week in music direct to your inbox every Friday