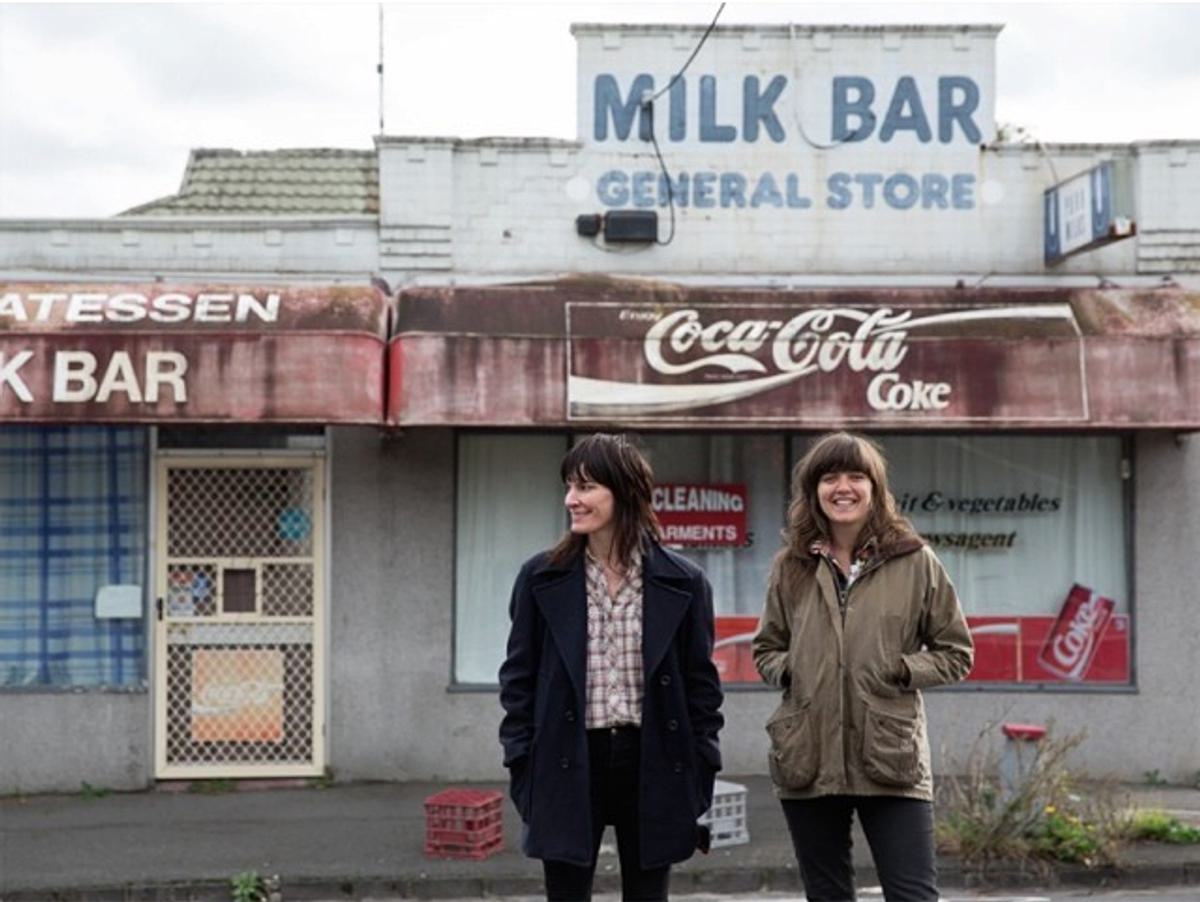 Jen Cloher on the story of Milk! Records
01 December 2017, 09:05
Jen Cloher talks Courtney Barnett, the evolution of Milk! Records and how it has given her more than she could have imagined.
It was an afternoon at the end of a particularly hot Melbourne summer. I remember because we had these giant blinds pulled down outside the windows to keep cool which made the room particularly dark. We were sitting in Courtney's bedroom at her old share house in Thornbury. One half consisted of a double bed, the other, a long desk where we would sit most days working.

"So I'm starting a record label and I'm asking some of my friends if they want to be part of it", said Court.

"Cool babe, sounds great." I replied weakly, trying to sound supportive. Best of luck, I thought.
Courtney had been toying around with the idea of starting a label for the past six months. I'd seen little sketches on her desk. A milk bottle on its side with the words "Milk! Records" inside the spilt milk. I thought it was a cute idea but I wasn't into it. Why would you want to do all of that work? I was struggling enough managing my own music projects let alone thinking about anyone else's.
Over the next few weeks I watched as Court added her friend's bands to the store. She opened a label email account and started posting to the Milk social pages. That same month Courtney recorded her first EP
I've Got A Friend Called Emily Ferris
in a friends lounge room. She drew the front cover, put the milk bottle logo on the back and borrowed some money from her Grandmother Margaret to press 1000 CDs.
People bought it. A lot of people! I watched as Court used Milk to sell directly to her fans. I started to wonder whether she might be onto something.
Before meeting Courtney, I'd been thinking about DIY music making a lot. Australia is a massive country with a relatively small population. It's tough trying to make ends meet as a musician. There are only 25 million people (not even the population of Shanghai) living predominantly along the coastline of this massive continent. Driving from Sydney to Melbourne takes 12 hours and that's one of the quicker trips. The idea of touring Europe or the U.S is a dream for most of us.
"I'm thinking of doing a split 7" vinyl, do you want to be on the other side?" Courtney asked me one day. Two months later and our first ever shipment of five hundred 7" records turned up at her house. One side had "Mount Beauty" from my soon to be released album In Blood Memory, the other Courtney's "History Eraser" from her second EP How To Carve A Carrot Into A Rose. The artwork was by our friend Celeste Potter who used her own blood (kept in the freezer) to paint the cover.
Orders came from Sydney, Brisbane and Perth. Then our first from the U.K and U.S. We'd sit in Courtney's bedroom packing the vinyl into mailers with a handwritten note. "Hey Mark, thanks for your support. We hope you dig the tunes. Love, Milk x ". Courtney would then walk around the corner to the post office where the women behind the counter had come to know her well.
I could see how digital technology was changing the way people were discovering and buying music. As strange as it sounds, it was a revelation to me. You mean you can actually post something online and people will buy it?
Watching the evolution of Courtney's bedroom label changed the way I thought about releasing music. I decided to put my third album out through Milk! Records, which meant taking on the work other people had done for me in the past. I probably didn't do the best job but the album did well. Word of mouth spread and new people started to walk into my shows. They were the first wave of Milk! Records fans - locals as passionate about music as we were.
I slowly fell in love with Milk! Records. It represented everything I had longed for. Independence, creative control, collaboration and community. I felt less alone. More connected. Empowered. We also made money! For the first time in my life, I didn't go into debt making a record. I crowdfunded, only spent what was in my account and stopped borrowing money from my family. That last bit felt really good.
Five years later and I now work most days as label manager at Milk! Records. We have nine bands on the roster, all of them friends who live in Melbourne. The best thing about Milk is that it helped me to stop thinking about myself all the time. I became invested in other people's music, celebrating their successes rather than envying them.