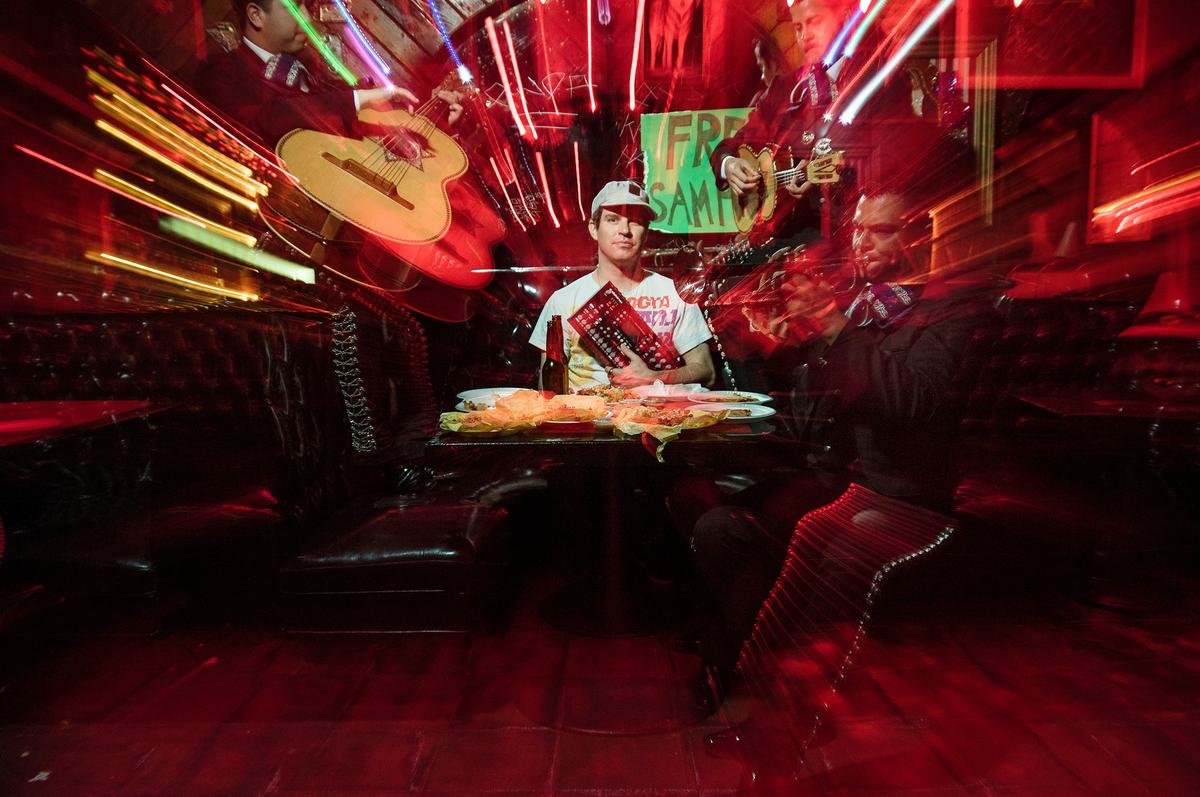 Avey Tare on his love for the guitar
26 July 2017, 10:00
With his new solo record out now, Dave Portner waxes lyrical about finding his love for the guitar, the impact it's had on the Animal Collective sound and his guitar heroes.
I started playing guitar in 7th or 8th grade. My friend PJ Pear showed up at my house with an electric guitar and a bunch of colorful DOD pedals linked together with red leads.
He was the kind of person that never really gave an explanation for what or why he was doing what he was doing, so he just walked into my bedroom that day, set up and started playing E, D and A chords with the distortion cranked. I guess it's one of those moments you remember from your youth where you think, "hmmm this is an option. I could get into this". He just gave me his big grin and asked "what do you think?"
I think I like.
While I will probably not make Rolling Stone's Top 100 guitar players of all time, I do think the guitar has played a pretty integral part in my song writing process, and the over all Animal Collective sound…if there is one, ha. It definitely plays a big part on my new record and I wrote all the songs on acoustic guitar. And while I think it was really just playing a lot with Brian, Josh and Noah that helped me find a sound and style of my own, there are some other rippers that have definitely inspired me a long the way. Here are 7 I've thought of mentioning.
Jerry Garcia, Phil Lesh, Bob Weir: Already this list is off, because the first guitar player is actually three guitar players. But I think it's worth mentioning all of these guys because they amaze me by creating a unified sound with three guitars. As a person that's not a huge fan of the guitar solo (side note my favorite guitar solo is probably Kurt Cobain's in "Heart Shaped Box"), I think The Dead took it to the next level by intertwining three guitar solos into one. It's like a bunch of stairways unfolding and crossing over each other and it grooves.
Steven Malkmus: To this day I wonder what those effects were he used on his guitar in the late 80s and and early 90s. I guess there's a part of me that likes not knowing and just enjoying the sound for what it is. Still sounds just as good as it did then. Up until around '92 or '93 these guys also used a lot of distorted synths and I feel like the combined sound of all the distortion made for one of the most psych rock bands ever. But the combined knack for a good hook and that crispy sound really made his guitar cut through.
Syd Barrett: Syd was so twitchy. It's like you can hear the energy and endless creativity that must have been going through his mind as each song progressed. Every section has a different scratch or slide or flick of the string. In high school once on LSD, Brian played my ear with his finger to Syd's parts on "Lucifer Sam" as we stood outside my house in the darkness. That playing can truly bring out madness, I think. It was really the first time I heard how you can start to break a song apart or shred it like chocolate and then come back to the melody again.
Helios Creed: Chrome is undoubtedly one of my favorite bands of all time. So many good records. The first Chrome I got into in college was the Half Machine Lip Moves CD. The way the guitar consumed me in phase and flange was like grey static syrup. It was really lo-fi but also really heavy, and the way it worked with all the other sounds just set Chrome apart from any other band I had heard. At other points where the drums shatter and the rhythms are tight, the guitar screams like a monster in time.
Gabor Szabo: I could sit around and listen to Gabor Szabo on a sunny day all day long. Listening to his playing is like deciding you want to take a drive but you have nowhere to go and you end up taking so many random turns and getting lost in the scenery that you really have to just turn around and go back home again. His playing with Chico Hamilton is what really puts the smile on my face. I think he was definitely a psych pioneer.
Avey Tare's new record,
Eucalyptus
, is out now on Domino.