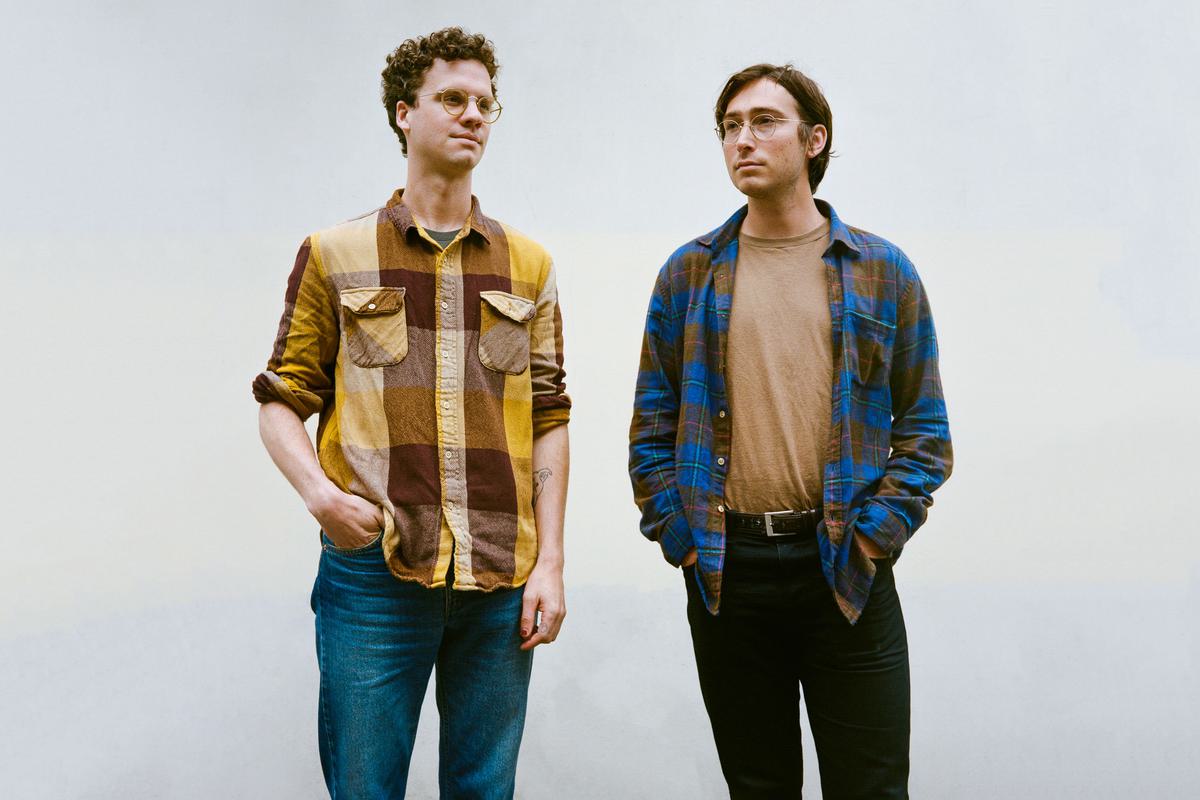 Brothers in Arms
22 August 2019, 08:30
Seeking stability against a background of displacement, Julien Ehrlich and Max Kakacek tells John Bell about the path that led to Whitney's new record Forever Turned Around
For at least two years straight Chicago's Julien Ehrlich, Max Kakacek and the friends who joined them in 2015 to form the band Whitney seemed to redefine the millennial mantra of "living your best life".
Though the Chicago friends had performed in widely touring bands before – not least Smith Westerns, in which they played with keyboardist and forming member Ziyad Asrar – the release of Light Upon The Lake in 2016 and the seemingly instant widespread adoration it received appeared to thrust Whitney into a new plane of existence. And boy did they seem to love it.
Countless friends gave me accounts in those years of meeting various, if not all, members of Whitney at festivals and shows, and their willingness to meet everyone and get stuck in to whatever revelries were offered to them. More importantly, you could see it in their performances too. Be it a support or headline slot, Whitney shows were boozy but still richly orchestrated and tightly executed. They were endearingly happy without being trite. There was a long period in time where Ehrlich would rise from the drums mid-set and make out with bassist Josiah Marshall apparently just for the sake of free-love, though no doubt they knew the effect this would have on their adoring younger fans."Sensitive on the inside, lairy on the outside," The Guardian's Harriet Gibsone put it soon after they had made their mark in the UK in 2016; she was on the money with her snapshot of them ploughing "through every city like kids ransacking a giant sweet shop, the world a Willy Wonka chocolate factory filled with girls, drugs and tequila shots."
I meet Ehrlich and Kakacek back in June whilst they're in London for a few days. It's just weeks away from touring their second full-length Forever Turned Around but from their fuzzy fatigue you'd be forgiven for thinking they'd just got back. "We're a little jet-lagged," Ehrlich admits as he cracks open a cold beer, acknowledging either his glazed expression or the clothes and bottles strewn across the room, and we all laugh. Kakacek is also evidently quietly drained, though is markedly sharper in his expression and quicker with his responses.
Given the speed and intensity at which they were moving both figuratively and in the literal sense, I'm interested first and foremost how they felt when things finally faded and the time came to stop and return to Chicago. "I think we were looking forward to it, but it's hard to realise," Kakacek tells me. "Like when we actually got home, learning how to rest was something we had to do. We were so used to moving and playing shows that being displaced was common nature for us, so it took a moment to figure it all out."
Thankfully their home hadn't forgotten them, and they found a huge support system waiting for them. "All of our friends there feel like my family," Ehrlich asserts. "I complain about it a lot. Like, the weather is awful. It's not just gloomy during the winter like here in London, it's straight up frozen. The winter lasts a long time. I hate it for those reasons, but I really do appreciate the people there. There's a lot of musical history there, but I feel like the people there right now are making history." It's a bold statement, and Kakacek tilts his head at the threat of hyperbole. "Seriously!" Ehrlich croaks through a dry throat, "it's a great music community." "It's different for both of us," Kakacek compromises. "I grew up in Chicago and lived there for like my whole entire life. Me and Julien talk about it a lot and I think his biggest criticism about my life choices is that I never left my home town."
Of course, whilst Whitney were playing shows night after night in Europe, Asia and beyond, great changes were happening in their homeland. A particular performance stands out in my memory in September of 2016. Whitney were supporting Julia Jacklin at KOKO, in north London, just two days after the presidential election results. After their opening track, Ehrlich pulled the mic closer to his face and sighed. Attempting to address the shock and disappointment, he stopped himself short: "Let's just not talk about." The crowd sympathised, retorting with supportive "Fuck Trumps" throughout the evening, and though the band carried on business as usual, inter-band member snogs and all, there was a visible heaviness on the whole group. "Yeah, I remember KOKO," Ehrlich reflects, "it was a weird show. We were so excited to play, but I remember feeling pretty down."
I raise this with them to try and understand the kind of direct, political changes to their home they experienced whilst resettling. Comfortingly, Kakacek focuses on the positive. "Locally the only benefit to the situation is that a lot of our friends have become a lot more active in the political realm – organising events or ways to communicate with congress or just participating in larger protests. I think that realisation of final, true significant change in the political system motivated a lot more people to become vocal about it, when they may have been complacent or less inspired by it before."
Has their frustration impacted or inspired their own songwriting on Forever Turned Around? The answer, Ehrlich says is less black and white. "Now that we've had a little space from the record and have started talking about it I feel like we just made something that does reflect maybe both of our countries right now in the sense of the overall mood, not talking explicitly about politics obviously. but you can feel the mood. It's pretty dark."
As we talk about their experience returning home, a line on the new album springs to mind: "good but strange at the same time.' It's from "Day & Night", delivered in a cadence that feels like it's plucked directly from your own heart, and I ask if this captures the ambivalence of returning justly. "I think 'Good but strange at the same time' would suggest touring Light Upon The Lake," Ehrlich corrects me. "I think we felt a little darker than that when we got back, I do."
"We were on tour for like two and a half years, went back, got this apartment, got a bunch of plants and all these things and thought 'we're gonna live a real life' - and then all of the plants died, and we spent all of our time trying to be out of the apartment" - Max Kakacek
Upon returning to the Windy City, the two friends bought an apartment, understanding the importance both personally and for the band's sake to stay close, have a wholesome way of life and to create some stability for a while. They found a place that was seemingly beautiful, and bought some plants. "It was the darkest and shittiest apartment," they tell me, and ended up adding salt to an already dark and gloomy wound."
Ehrlich believes the mood of the apartment reflected in their production. "We were working every single day on this same song and were just not getting anywhere. There was no sunlight and it was fucking crazy. We pissed off our neighbours and they moved out, honestly. They couldn't stand listening to the same chord progression over and over again." My ears prick up and I ask which song was the cause of all this grief, to which Kakacek understandably begins to diplomatically move the conversation on:
KAKACEK: "I don't wanna-"
EHRLICH: "It was "Friend Of Mine"
KAKACEK: "...OK."
Laughing, they recall with a sense of relief now how difficult some of the recording process was stuck in their dark, damp and static new reality. "Put yourself in our shoes for a second," says Kakacek. "We were on tour for like two and a half years, went back, got this apartment, got a bunch of plants and all these things and thought 'we're gonna live a real life.' And then all of the plants died, and we spent all of our time trying to be out of the apartment."
"The true challenge was trying to find lyrical content that did the music justice. The music changed and challenged us but was the easiest part. We were so upset because we thought it was such a good song and I think we went through drafts of lyrics so many times, because we thought 'this isn't good enough'. And that honestly counts for maybe half the songs on the record, too. Only a few of them truly came together in a flash."
"Friend on mine" finally came together after a change of scenery, taking it to Kakacek's parents' countryside cabin, and then eventually orchestrating it a studio in California. It clearly holds a special place for them both, perhaps because it represents a moment of breakthrough. Listening to it, it feels and sounds like a quintessential Witney song – texturally warm, dynamically diverse and sweetly melodious – but with an added sense of achievement, decorated with their lushest orchestration yet. Were there any times where they questioned if this sound that they carefully sculpted for themselves with Light Upon The Lake was still relevant? "I think the question, 'Is this still cool?' were more where our brains were," Kakacek answers. "Yeah," Ehrlich adds, "that's legitimately what we said. 'Is this still tight?' 'Does anyone still…', you know? I think the answer is probably yes. I mean, we hope it is."
"There are definitely periods of time where you get too much in your head and paranoid and self-conscious about it," Kakacek adds. "Any time you're making any art I think it's part of the process. I feel like if you're making an album or any creative output, if at some point it doesn't make you feel absolutely crazy and worthless then you're probably doing something wrong."
Restlessness is said to be central to Forever Turned Around, something that as we have seen informed its creation and influenced its mood. But I wonder if it was something felt in the peak of touring, if in spite of the glory and partiyng and being everyone's friend was there the very human nagging for something better still? For Kakacek, it's quite the opposite. "To me, at least, it was like there could always be something much worse, and dealing with that anxiety of possibly losing whatever you have that makes you feel better. Instead of 'there's something better out there waiting,' it was more what's happening to me now is perfect and it will eventually not be that way."
There's a pause, and Ehrlich swallows and stumbles a little before telling me, "I remember me just watching me and all of my friends go through low-key addiction issues, but not talking about it much, just, 'this is what we're doing to get through the amount of travel that we have ahead of us.' For us it's like the more that we would fly around, the more that I would feel like I was in some nightmare that I couldn't get out of."
"We're not the kind of band that can write on tour, we need to completely sequester ourselves for a long time in order to write stuff that we like" - Julien Ehrlich
At the beginning of it all the band would use their days off to go to the grocery store in the morning and cook eggs together, an everyday routine than on tour is a luxury. They were some of the best days, they both agree. Towards the ending of the touring, however, days off meant taking acid in the back of their van; "the days that we destroyed our brains the most were the ones we had off shows." Ensuring each show was of a uniformly well-polished and that these rising anxieties not affect their shows, days off became an unwelcome space space to dwell on them. "When you've been displaced for so long," Ehrlich explains, "the days off you basically have to realise the situation you're in. You're trying to numb all that feeling."
It's a moment of stark honesty that neither of them seem to find difficult telling me, and it's reassuring that they comprehend the realities so lucidly. But in case I'm getting the wrong idea, they're quick to assert there was never a moment of doubt in the future of the band. "We never wanted to quit," Ehrlich asserts. "We still don't want to quit, we just wanted to write another album. We're not the kind of band that can write on tour, we need to completely sequester ourselves for a long time in order to write stuff that we like."
"Yeah, we're so grateful to have the opportunity to tour and travel and play for people that the negative effects of that in our lives we accept. We welcome them. It's not 'Oh woe is me, we feel lost and restless,' it's just everyone feels that way and a lot of the album is trying to relate our experiences with people that also feel that way."
Though the joviality that characterises Whitney's sound is still outwardly there, on Forever Turned Around it is stung with a potent melancholy, fitting together not bilaterally but as one comprehensive whole: "Start with the title. It's like an optical illusion, where from one angle it seems negative and from another it looks like a virtue." It's a play of perspective that filters down into the lyrics of each of its songs beautifully: "Now and then I remember there's an end in sight / When it hits me, feels good but strange at the same time."
"I think a lot of the lyrics are contradictions, but they still make sense in a weird way," Ehrlich says. "There is a lot of contradiction, and I feel proud of the way that we used it." Kakacek turns to face his friend. "Yeah, in a few interviews you have mentioned an equal and opposite reaction, considering the two sides to any progress you've ever made. Like the idea of luck for example: the idea is that you will run out eventually, it's just a part of luck. Initially we started exploring them in the first record having poppy and necessarily happy melodies with lyrics that tired to tackle those issues, and that separation is the beginning of exploring opposites".
Indeed, such contradictions are naturally enhanced when complimenting lines such as "Has your heart grown heavy by now? / Cause mine's already on the ground" with the instantly heart-warming melodies that within seconds make you want to put an arm around a friend. Is it ever difficult finding this balance? ""My Life Alone" was the hardest for me," Kakacek admits, "because it felt so happy and so it was hard to internalise. But I think the song that was the saddest musically and lyrically is a song we haven't released yet and isn't on the album, because we're still trying to figure out how to make such a depressing sounding song that still gives optimism somehow."
"We grew up and Julien was essentially a drummer in a band, I was a guitarist in a band, and now the thing that's important to us is using those tools but focussing on songwriting" - Max Kakacek
The title track and album closer feels like one of the most satisfying songs they have ever written, shrouded in a warm timelessness that nods to the likes of James Taylor and Carole King. Perhaps unsurprisingly, much like "Friend Of Mine", the track was also one of the hardest to finish. "We had this whole other hook over that chorus," Ehrlich tells me, "I was obsessed with it, but we could just never figure out the verse and got so frustrated that we almost threw the song away. We were both walking out of the studio and I remember randomly singing that melody but we weren't listening to the song, and Max was like 'Wait a second, I think that melody's really gonna work.' It was borne out of so much frustration, but then liberation."
"He was actually walking out and singing it," Kakacek smiles. "The bizarre thing was that was one of the later breakthroughs of the album, figuring out that song that we'd been working on for so long. That, and "Friend Of Mine" lasted so long that I cannot believe that we didn't give up on them, honestly. But the actual lyric 'Forever came around' came so quickly that it's almost like we were trying to figure out a way to say it for so long. And then all of a sudden he sang it and it was like, 'Oh shit, that's what we've been doing this whole time."
"I've been trying not to listen to the album just to gain some perspective, but the last time I did I thought the last three songs were the most intense music we've put out as a sequence."
"Are you about to cry right now?," Ehrlich interrupts, affectionately teasing though it's clear they share the sentiment. "No," he continues, "but personally I feel destroyed by them, like holy shit this is me looking at such a weird time in our lives! Those three songs feed into each other and tell the story of the record: "Day & Night" is about restlessness and maybe the only song we let ourselves write about tour; "Friend Of Mine" is about the disconnection we feel, substance abuse or just generally not being present in any way; and "Forever Turned Around" is the end of the whole thing.
It's true that the last twelve minutes of Forever Turned Around feel like the kind of dramatic climax that doesn't appear on its predecessor, however popular it may have been. But the overall effect of the whole record is therapeutic and incredibly cathartic, with the songs working together to make a sum greater than its parts. Perhaps an increased attention to the songwriting process helped in this, Kakacek tells me. "We grew up and Julien was essentially a drummer in a band, I was a guitarist in a band, and now the thing that's important to us is using those tools but focussing on songwriting. We switch around instruments all the time when we're recording. The personalities that we push out on the record are more in the songwriting sense than 'I'm the lead guitarist'. That's less important than the song itself, and that's why it's so easy for us to write because our egos aren't involved."
And their personal connection? The two have come a long way from playing pranks on each other from the side of the stage when touring together in different bands, and as they sit in front of me, jetlagged though they may be, it's remarkable how comfortable and equal their dynamic is and how seemingly their answers fit together. As ever, Kakacek is quick to deliver the wisdom. "The strongest friendships are defined by moments where massive changes happen to your life and your friendship will remain".
Ehrlich continues: "Like your friendship is the thing that stabilises the rest of it, and I think that's pretty much what's been happening. Light Upon The Lake happened, whatever that means, but we've held each other together since."
Forever Turned Around will happen, soon, too, and the pair will leave Chicago and their admirable attempts at stability once more, and dive headfirst back into the chaotic displacement where their spectacular new album was formed.
Forever Turned Around is released on 30 August via Secretly Canadian