It's safe to say that most bands don't start their album with a politically-charged Josie Long monologue but then The Spook School, by their own admission, aren't your average band. Even at somewhere as diverse as SXSW (an occurrence drummer Niall McCalmley describes, with characteristic surrealist humour, as like "a revolving buffet at Yo! Sushi with a little conveyor belt going around") they were aware of their own individuality, and revelled in it.
Or, as guitarist Adam Todd adds as an extension of the metaphor, "you could be a really normal bit of sushi, or you could be a bit of fish that makes people go 'woah! I've never been a bit of fish that looks like that before!". Not for the last time during our conversation the pair, along with de facto frontman Nye Todd (absent bassist Anna Cory, forgetting about our scheduled appointment, accidentally spent the evening watching TV and eating biscuits) promptly collapse into hysterical laughter.
Now three albums into their career, the band have long been darlings of the queer community but have been equally successful at taking their core messages about sexual politics, gender and identity outside of those communities and into the wider sphere. For Nye Todd, while those themes have always been a part of the band's make-up it wasn't something that was ever expressly intended, but rather something that happened naturally. "When we started the band, I hadn't come out as trans and at that point...and we just had some songs," he says, before adding with a breeziness that belies the underlying seriousness "for a time when I was too scared to come out as trans I'd just write songs about it instead because I figured that they'd guess what they were about and then I wouldn't have to tell them anything. But it didn't really work, though I suppose we got some songs out of it!" Continuing to muse about the band's genesis, he goes on to explain how "when you're writing music and you're thinking about something 99% of the time it's quite likely that when you write a song it'll probably be about that thing and given that I was thinking a lot about gender and identity pretty much every second then it's logical that all the songs would turn out to be about that."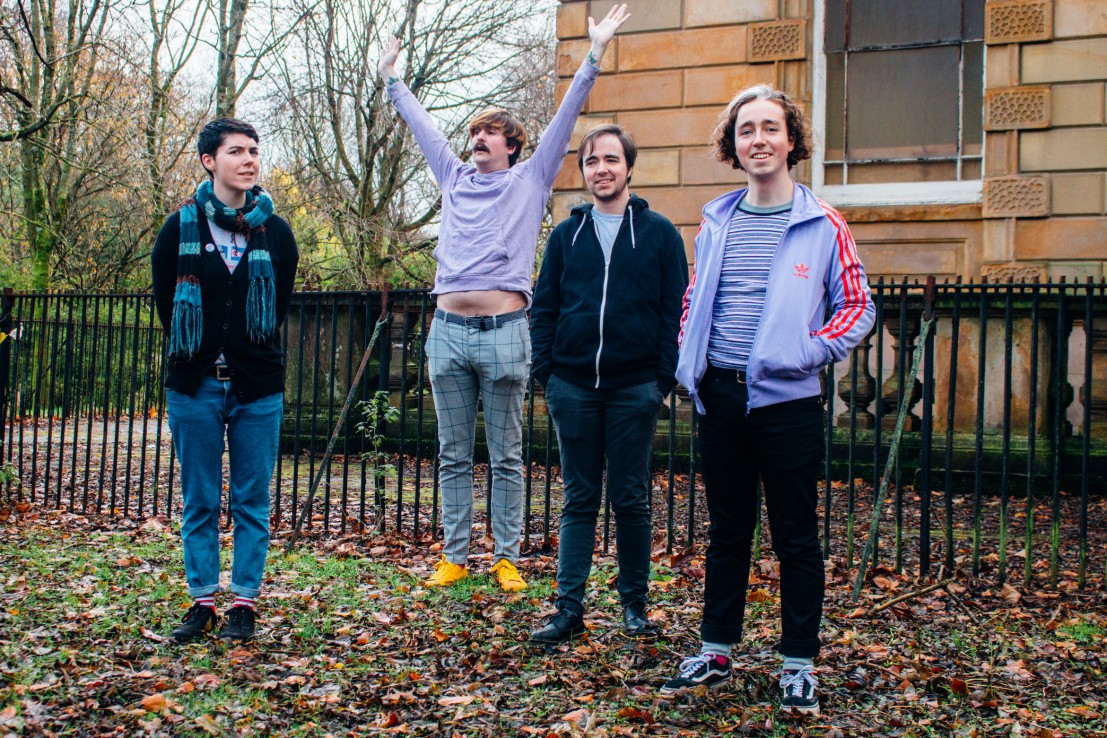 Nye himself has been the first to admit that first album Dress Up perhaps contained songwriting that was too obscure to truly communicate the messages he was trying to convey both about his sexuality and his ongoing voyage of self discovery (not helped, he concedes, by a reluctance to discuss the messages onstage, instead using more subtle cues like fashioning the transgender symbol in gaffer tape on his shirt for gigs). Second album Try To Be Hopeful attempted to use far more direct songwriting, a move that in hindsight he feels was more successful, describing it as "really obvious – it was hard to misinterpret". He also thinks of it as "more optimistic than this one, I feel that the last album was definitely more 'Yeah! We're these people! We're confident in our identities!' whereas this one's a bit more 'Oh god we've got to live in this world and there are all these things and I don't know what I'm doing!'"
That apprehension is understandable. Recent statistics collected by YouGov and LGBT charity Stonewall have shown that in the past year one in eight trans people have been physically attacked in the workplace by either a colleague or customer, a third of all trans people have been discriminated against in a bar or restaurant, and one in four have experienced domestic abuse (and looking at the wider world, in the Americas the average life expectancy of a trans woman currently stands at between 30 and 35). Unsurprisingly, it's a backdrop that's shaped Could It Be Different? as evidenced on the plaintive honesty of Nye's "Bad Year" and brother Adam's immediate counterpoint and ode to the comfort of companionship "Alright – Sometimes" ("and feeling sad is part of being alive...")
"For a time when I was too scared to come out as trans I'd just write songs about it instead because I figured that they'd guess what they were about and then I wouldn't have to tell them anything."
"I don't think you can write songs in a vacuum," says Nye of the album's relationship to the wider world. "I think that we mainly write about our own experiences but obviously a lot of those are connected by things that are happening in the wider world in general."
"With the subject matter that we're writing about, it's impossible not to be political in some shape or form," concurs McCalmey. "It's the the personal experience, and we all exist in the political bubble one way or another and we can't help but be informed by it and react to it as well." For Adam there's a fine tightrope to be walked between writing songs based on personal experience and those that discuss political shifts and societal themes, as he openly details how "I just get worried that if we write something that's really, really overtly political you'll get people who'll say 'who do these people think they are and why do they think the know better than everyone else?'. But then if we focused solely on the personal there would be people who'd say 'how can they be ignoring everything that's going on in the world and just talking about themselves all the time?'. So it's a matter of finding a balance somewhere in between." In response, Nye swiftly quips, to everyone's amusement, "so people can say both things!"
Last year saw another band that first surfaced within queer communities achieve crossover success and critical praise: PWR BTTM. A band on the ascension in the lead-up to the release of second album Pageant and one who The Spook School unashamedly looked up in the early stages of their own career, name-checking them in press cycles for earlier albums and adopting their policy of demanding gender-neutral toilets at shows, PWR BTTM's rise came to a dead halt via allegations of sexual misconduct and predatory behaviour levelled against frontperson Ben Hopkins and questions surrounding the complicity of bandmate Liv Bruce. They surfaced just two days before the album's release, and the fallout was swift. Over a period of eight days touring members left, tour supports dropped out, tour dates were cancelled and their music was pulled from both physical and digital distribution channels. Or, to put it another way, in a little over a week PWR BTMM had been airbrushed out of history, leading some to question what seemed like a disproportionate response compared to one that might have greeted a heterosexual artist.
For Nye, it was a series of events that in his eyes were being driven from the queer community themselves rather than by those outside of it. "It's an interesting one because it seemed driven from the fact that they'd built their reputation around being heroes of the queer community," he begins, "and it was that community who seemed to be pushing the most for labels to drop them and for everything that happened..." Because that community had felt used? "Yeah, because it's a community that's less willing to forget this shit and start listening to a that person once the news cycle has gone away. I think a part of it was that they were one of the first bands from that community who had managed to achieve that level of fame and crossover success, and if you're the first when you fall it's going to be much worse. I feel that it all came from within the community as opposed to from outside of the community punishing them for being queer."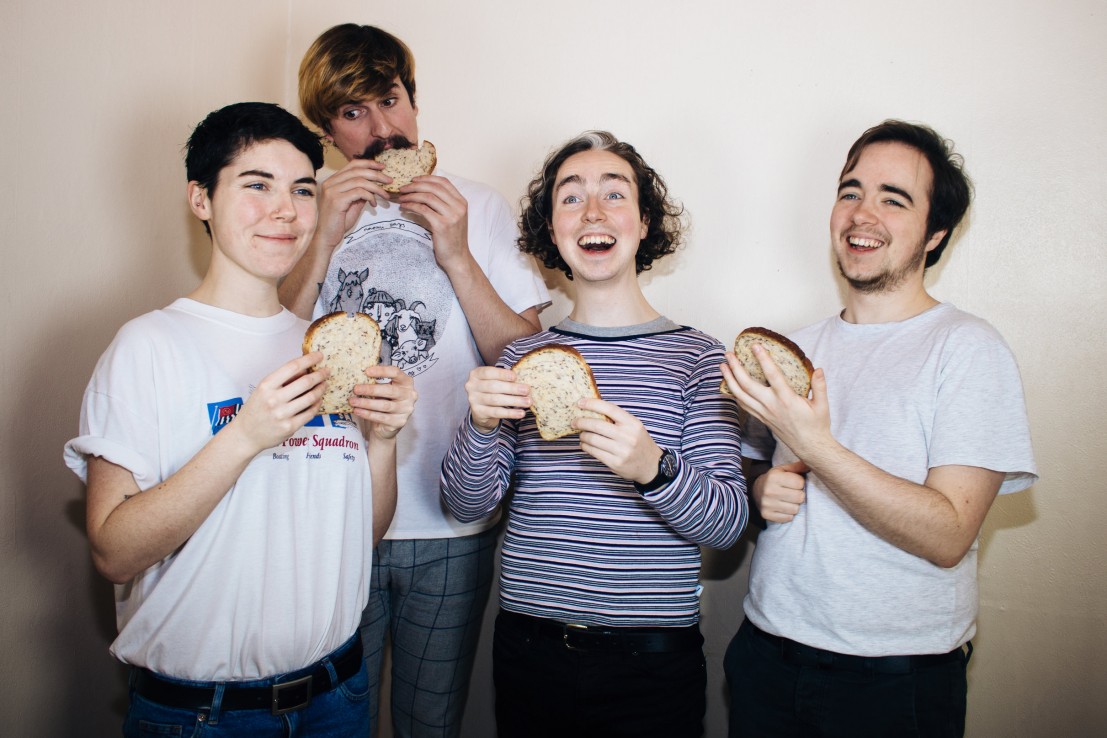 While brother Adam reasons that "it's inevitable that transmisogyny and queerphobia played a role to some extent, especially from people who came from outside of the community" he also concurs that "the speed at which events happened and the way that fans stepped away more shows that kind of dialogue is much more progressed within queer communities. I would hope not too long in the future if someone from outside of these communities did something similar would also receive that treatment."
For The Spook School, it was an event that brought about a period of soul-searching. "From a personal standpoint I find myself being far more rigorous in looking at bands I like," says Niall McCalmley, candidly. "I think there was such a desire to have heroes and the whole saga was a real crash back down to earth and made us realise that everyone is fallible. I had to reassess how I look at other bands. Trust is so important and it's probably something I'm more wary about in my own life, which can sometimes make me a little sad."
"It's important to have people from those queer and trans communities out there in public because there's certainly enough people lining up to shit on them"
Moreover, it's brought about a realisation that they, much like Against Me! in the US and Two Steps On The Water or RVG in Australia, are among the most visible members of their communities and have a certain responsibility as a result, especially given the stigmatising events of last year from the scene's last crossover success. "It's important to have people from those queer and trans communities out there in public because there's certainly enough people lining up to shit on them" says Nye, frankly. "I can remember growing up not knowing what a trans person was – and I'm not that old – so having these people who are more visible and who are speaking out and not letting the conversation be dominated by people who don't know what they're talking about either through ignorance or hatred."
But if there's a certain responsibility in being visible then according to Nye Todd so too, especially given the topics they sing about, is there one of knowing the limitations of their own knowledge and to not spread misinformation as he explains how "there are times when we get asked about things and we do have to steer people towards organisations that know more about the topics and questions they might have. There's a responsibility to be visible to speak out if you can, but there's also one to not give bad advice or to speak about things that you don't really know about."
But if Could It Be Different? was made under the shadows of much-reported instances of transphobia, residual stigma from the fallout of the PRW BTTM incident and pressures of being visible queer artists, then it's not something that has manifested itself on record. The headlong charge of "I'm Still Alive" burns with an underlying defiance, while "Less Than Perfect", "While You Were Sleeping" and "Body" all bursting forth with upbeat pop effervescence (despite the latter two expanding their songwriting themes to encompass abusive relationships and body image). With characteristic matter-of-factness, Nye reveals how it's a facet of their songwriting borne out of reasons that border on the prosaic. "We really enjoy playing live and watching people singing along and dancing, and you can't really have that if they're crying!" he explains, with a laugh. "That steers us towards songs that are really fun to play and songs that are hopefully fun to listen to."
"I've always enjoyed songs that don't match musically and lyrically," adds brother Adam, "like 'Inbetween Days' by the Cure or something like that. It sounds like like a really nice, fun pop song but then you read the lyrics and realise it's something else entirely. I think that's quite a fun thing to do with music."
For McCalmley their melding of serious themes with albums and shows that promote positivity and fun stems from their collective experiences and background in comedy, where punching down is all too commonplace. From the earliest stages as a band, they wanted to make sure that they – and their audiences – had fun without hurting anyone. The creation of an open, welcoming environment that simultaneously invites discourse and fun is something that's fast become something that the band has become renowned for, and he explains how he feels that "it's important for people to feel that whether it's an LGBT subject or just something with a tone of seriousness to it that it's possible to have that discussion while also having fun. It's also creating a safe space for people who might often feel marginalised and expected to live on the periphery. Maybe now there'll be people who see us having these conversations while having a good time at a show and realise that this discourse can take place while also simultaneously having fun."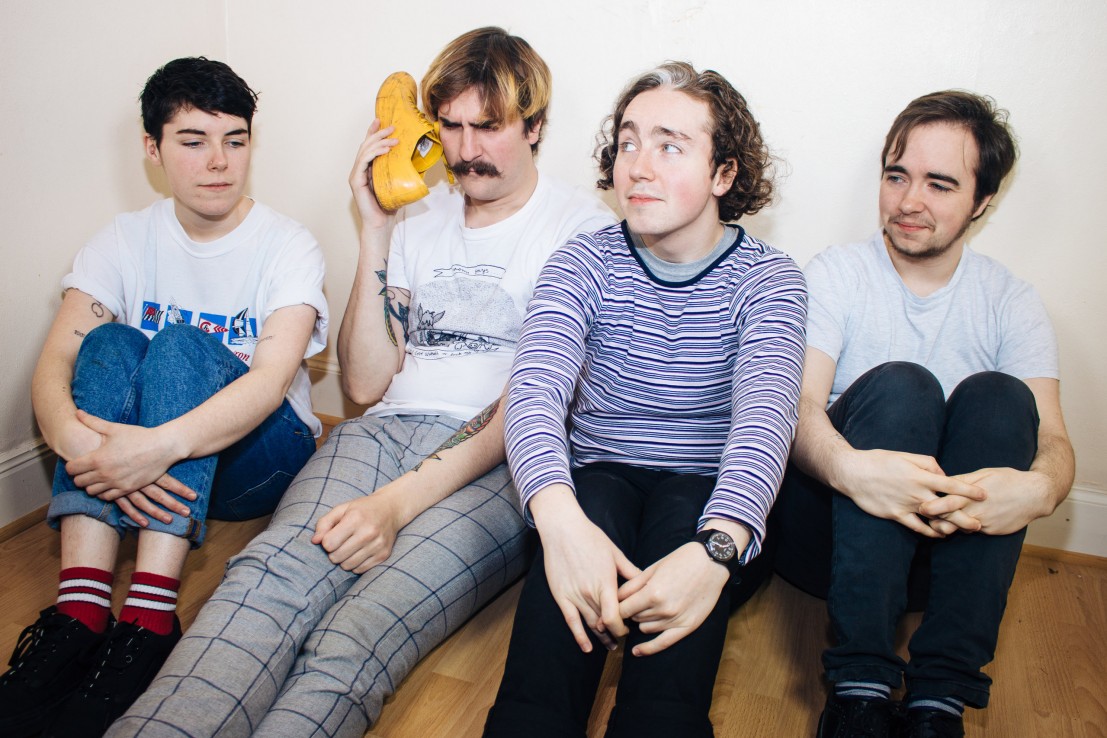 In a world that's increasingly moving towards a culture insularity and selfishness the creation of these communities is something, they all agree, that's becoming ever-more important with Nye detailing how "for a lot of us things are heading in a less tolerant direction in the wider political sense and I you find that these communities are even more important. It's nice to play in queer spaces and festivals and for people to have that space to hang out – it's needed now more than before, possibly"
Perhaps surprisingly given his outgoing, gregarious nature, it's something that McCalmley admits works reciprocally as he talks openly about the touring experience and how "we've met so many wonderful people and been welcomed into so many communities that geographically might be so far from our own. It's heartening, especially when in the media everything seems so pessimistic and terrible, to end up in Brighton or Nottingham or over in the US and you find a group of people you identify with. There's suddenly this feeling of joy and optimism and you realise that you're not as alone as you think you are."
"We really enjoy playing live and watching people singing along and dancing, and you can't really have that if they're crying!"
It's difficult to not to some degree be influenced by The Spook School's positivity, and a conversation with them can leave you feeling as though the world is, and can be, a much better place. While aware of the companionship and comfort their music can bring to people, they're similar conscious of the effect its underlying enthusiasm can have as well. Or, as Nye summarises while discusses the demographic at their shows: "It's nice to be resource for queer people, but also I don't think that's always the case. I'm sure there are also loads of happy queers who just like dancing to music who come along as well!". It's a potent mix that has seen results in unexpected places, McCalmley remaining adamant to having witnessed the on-stage soundman at a festival in recent years duct tape his colleague to a chair to allow the band play on. "I just hope that people pick up on the energy of the record" muses Adam, reflecting on his hopes for the recently-released record. "I enjoy records, especially at a point where I'm really excited about them, that I'll put it on and want to do more with my day."
He's soon the victim of a good-natured verbal pile-on from his bandmates. "You want it to make people really productive!" teases Nye, with McCalmley swiftly joining in to add "You want everyone to go and do their dishes after they've put it on!". Amid Adam's bemused protestations, the other two collapse into laughter. Having made an album that challenges a culture of intolerance and single-mindedness through a rebellious clarion call to unity and a celebration of the power of community, and having once again successfully melded the serious with the exuberant, The Spook School still believe in having a little fun.