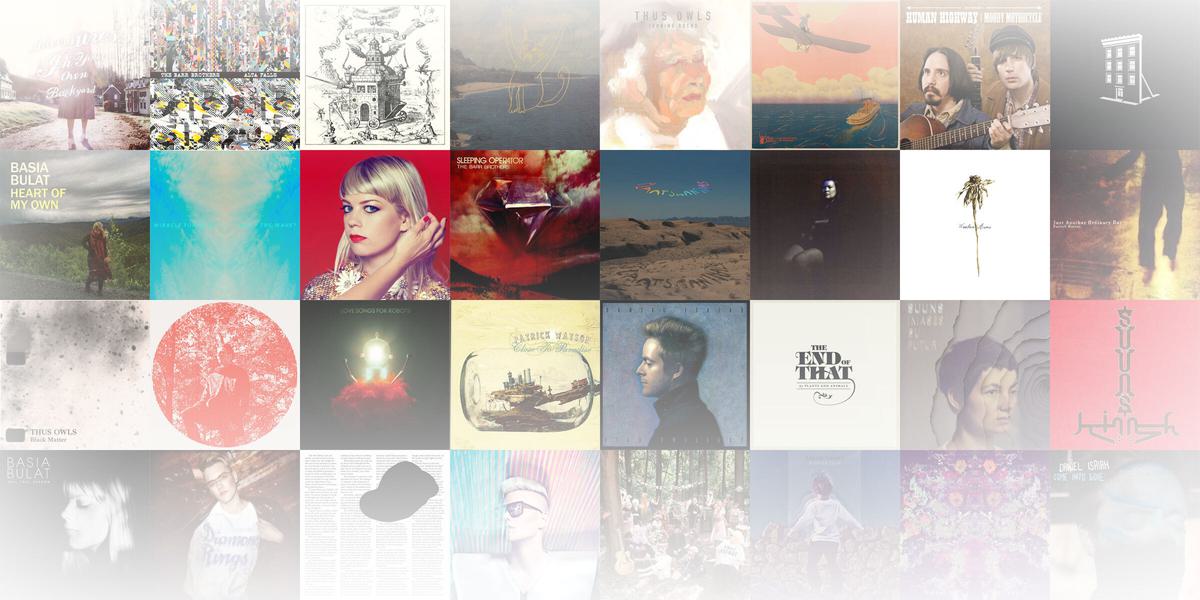 Holding the Keys to the City
08 October 2016, 09:00
Montréal's Secret City Records grew out of the area's musical renaissance and ten years on it's still going strong and giving artists the freedom to take risks, writes Ro Cemm.
2006 was a fantastic time to be in and around the Canadian music scene, especially in Montréal.
Arcade Fire's Funeral had captured the imaginations and ears of many throughout 2005, and turned people's attention to the city and the artists that called it home. It was into this environment that Secret City was born. For Justin West, the idea of running a label was a familiar one: his parents founded Justin Time Records in 1983, releasing jazz and blues records by the likes of Diana Krall and Abdullah Ibrahim amongst others.
"Not everyone knows that we started as a sub-label of Justin Time Records," West tells me, "and that it was pretty much created to release Patrick Watson's album, Close to Paradise. There were of course dreams and hope that it might turn into something beyond that, but, in the immediate and internally, there was unanimous excitement for Patrick Watson as an artist and the new label brand, Secret City Records, facilitated releasing music outside of the jazz and blues that Justin Time was known for. We used their infrastructure, whether that was distribution, staff, or otherwise, to get everything off the ground."
While the two labels eventually separated, the tight-knit community and family spirit remains strong, and the lessons learnt during his formative years at Justin Time stay true today. "I learned a lot about the importance of family, friends, and community – and that business was about more than just making money," says West. "The story of my parents putting me to bed at night when I was very young and then both heading down to the basement to fill vinyl orders (my mom did the invoicing and my dad did the packing) – that stayed with me.
"Even beyond that, it was always very clear that the whole staff at Justin Time were like a little family. And that sense of family and community extended to the artists as well. Justin Time still works with the first three artists they signed in the early eighties – and they are still releasing albums together close to 35 years later. All of that surely had an influence on my approach. It's probably not a coincidence that my wife, Rosanna, handles finance for the label; that the rest of the staff, whether past or present, Andrew, Magali, Juliette, Casey, and Jean-Eudes, are all both colleagues and friends; and that we still work with each of the 13 artists that became part of the family over the last decade, including, after ten years, Patrick Watson (pictured above)."
The label name reflects the values that the people behind it stand for, West tells me: "Just as we at the label put our faith in the artists we work with, they also put their trust in us – it's a true reciprocal relationship. Acknowledging and cultivating that idea gives us a unique strength because we understand that the decisions, successes, and failures, of any person has an impact on the entire community. The more that we think of each other, the better off we all will be.
"The label's name is partly about that self-reinforcing community – and we take strength from this philosophy. To me the word 'City' represents something long-lasting, strong, building, and under constant construction – as well as identifiable in terms of not only type and style, but also as something that appears on a world map. 'Secret' is mostly about being under the radar, humble, and unexpected."
In the first year, the label put out two albums, Watson's Closer to Paradise and Miracle Fortress' Five Roses. Both would be shortlisted for the Polaris Prize, with Watson taking home the award over the likes of Arcade Fire, Feist and the Dears. It was a remarkable achievement for a label just beginning to find its identity. "Those early successes definitely helped to shape the future of the label and … reinforced everything else we were doing. It builds the brand, opens doors, drives media attention, and attracts interest. It felt really great, that's for sure. But I'm very proud of the fact that it didn't change our DNA. Success can too often go to your head and cloud your judgment. I'm not saying that that's never happened to me and that there wasn't any increased pressure, but I can say that overall, through ups and downs, I've made a very real effort to cut through the noise and remain true to who we are and want to be. All of those values that I outlined earlier still guide everything that we do."
"The label's name is partly about that self-reinforcing community – and we take strength from this philosophy" - Justin West
The early success certainly opened a lot of doors for the label and its artists, and each subsequent success for one artist on the label seems to feedback into Secret City as a whole. When Watson was touring the UK in support of 2009's Wooden Arms, he told us of a great local artist we should expect to hear a lot more from: The Barr Brothers. The next time he returned in 2012, the band had released their debut record with the label and were opening for him on tour.
This mutual support and respect runs throughout the roster. Basia Bulat (pictured below) singles out Owen Pallett as having a huge influence on her career: "Not only did Owen teach me how to be a musician on the road, about the performance and how you treat your audience, but he also taught me how to be a kind and gracious host to your support act. He made me feel like I was part of the touring family from the very first day. I've been in a lot of different situations, touring with a lot of different artists and, mentioning no names, that's not always the case! Owen showed me that your tour is your home and you're inviting someone into your home so you treat them like you would treat a guest."
With many of the key players in the Secret City story living in the same neighbourhood, it is clear that the family and community feeling reaches far into the musical and artistic community, drawing artists to it, as Brad Barr explains, "The guys from Plants and Animals, Patrick Watson Band, Daniel Isaiah, and others--amazing bands who make amazing records, bands in whose company we would have been proud to be. Its a very diverse, organic, unique, and uncatagorizable body of music. So naturally, Secret City was the home we were looking for, and are lucky to have found…Its actually kind of difficult to distinguish my life here in Montréal over the last eleven years from the professional relationship I have with Secret City and that community of bands.
"They are very much woven into the same lucid, technicolor collage that has become my life here--these friends, musicians, collaborators, facilitators...its all part of the same continuum, same big, blurry memory. That said, I do remember thinking it was particularly awesome when Justin told me he'd like to see us put out records with longer guitar solos."
Integral to the label's successes has been the determination to play the long game: forming lasting bonds with artists and developing together. Watson has been with the label since the start, Plants & Animals nine years and Bulat six years. "It's a pretty good feeling to see that you noticed that" explains West. "Forming that lasting bond and developing together over the long-term is an important piece for me and a core value of the label. It's why we still work with all 13 artists that have become part of the family over the last decade and it also forms the basis for how we evaluate whether we and the artist are the right fit. Of course you never know how things will turn out, but it's important to go into the relationship with the understanding and belief that we're going at it together for the long-term. It allows us to make the right career decisions, as opposed to choices that may bring short-term gain with long-term consequences."
"So much music lands in my inbox, but it often feels like the stars just align." - Justin West
It's a modus operandi that gives the artists on the label the freedom to take risks, to try new things and to experiment and push things forward, which keeps things interesting. It also feeds into the way in which the label approaches new artists
"I'm not actively looking for something in particular, but there's definitely a gut feeling that guides whether we look at working with an artist or not," says West. "I don't like to put limits on things, but the words unique, different, interesting, left-of-center, and skilled come to mind. That's a pretty wide umbrella, but, then again, so is the roster. It's not necessarily about genres and it's just as much about the person as it is about the music. It starts with that feeling when you hear something special and then it moves to a question of fit - in terms of values, approach, work-ethic, personality, etc.
"Funny enough when we get to that stage we often find out that there were already so many random ties to the label and it feels like we were meant to be working together. That's a very reinforcing feeling. So much music lands in my inbox, but it often feels like the stars just align. Discovery comes in a variety of ways, but my main sources of music are staff, artists on the roster, as well as certain agents and managers."
One artist who has benefited from this approach is new signing Leif Vollebekk (pictured above), who recently played the Secret City London celebration with Basia Bulat. "Patrick Watson's Close to Paradise is one of the most beautiful records I've heard," says Vollebekk. "When I first heard it, I couldn't believe someone was making a record I thought the way records should sound, dark, shimmering, live in a room. And every player in that band is an artist in their own right… I think somehow I've already worked in some way with everyone on the label, in some shape or form, mostly touring. I'd love to record with just about everyone, but I'm a bit difficult to work with in the studio so it would probably be best that I don't put anyone through that."
Vollebekk is clearly impressed by his experience on the label to date: " So far [the highlight is] how un-invasive and supportive Justin has been with my process. He was just like, "Go make a record and bring it here whenever you're done." And then I did. It all happened rather quickly, too."
Fellow recent label signing Jesse Mac Cormack was also drawn to the label because of the roster and their approach: "To me, Secret has all my favourite artists in Montréal. I'm loving the latest suuns record and all the Barr Brothers records…I'd love to play guitar with the Barrs…after one year…I think becoming friends with artists that I admire means a lot."
In terms of releases, the label has been careful to ensure a policy of quality over quantity, putting out two to three albums a year and a handful of EPs. for good measure. 2015 saw the release of three albums and three EPs. It's a conscious decision and one that is packaged alongside an increase in staff and, more generally, more capacity as a label. The key is to increase quantity without any negative impact on quality, not only of the music, but of the campaigns themselves. It's a delicate balance and definitely something that we pay a lot of attention to. And, at the moment, I'm quite happy with where it sits." explains West.
"There's such an incredibly rich history of independents from the UK market and it's been a desire of mine to be part of it, no matter on how small or large of a scale, as it inspires me to be better at what we do." - Justin West
As for what comes next, there is already a strong schedule lined up for 2017. "We have our eyes set on building infrastructure, our network, processes, and systems. It's not sexy, but it's important – and a challenge. So I guess I'd say there's a little bit of 'growing-up' going on at Secret City, but it's all in the spirit of continually improving and building so we can best service the artists we work with."
Although Montréal is so integral to the Secret City story, West insists it felt necessary to include the wider international family that they have developed over the years as part of their anniversary celebrations, hence the multiple locations for parties during the year. "We've put a tremendous amount of energy towards building our international infrastructure," he explains. "We've built a strong distribution network, developed great relationships with our fantastic local press and radio teams, and have now put some real wins up on the board for our artists.
"There's still a ton to do, but I'm very proud of what we've achieved so far. So we wanted to tell that story..whether at home in Canada or elsewhere in the world. London is one place where we've seen some of those successes, but it's also home to so many of the independent labels that I've looked-up to all my life. Domino, Warp, each of the labels that form the Beggars Group, and so many more. There's such an incredibly rich history of independents from the UK market and it's been a desire of mine to be part of it, no matter on how small or large of a scale, as it inspires me to be better at what we do. In Paris we've recently seen some great results and it felt like the right time to tie everything together, whether it's letting people know we've been working with Patrick Watson for ten years or that we're the Canadian label for Suuns.
For now though, there is time to look back and reflect on the last ten years. The release of Secret City Records: 10 Years allows time to sit back and take stock of what the label has accomplished, and some happy memories. Given the history, it isn't surprising that one of the first things West lists as a highlight is the time spent touring with Patrick Watson and his band over the years.
"Other big moments for the label have included Patrick Watson and The Barr Brothers headlining festival slots at the Montréal International Jazz Festival and Festivale D'Été De Québec with crowds often hovering around 80,000 people," he tells me, "or when The Barr Brothers performed on the Late Show with David Letterman and when Basia Bulat performed on Later...with Jools Holland."
Tellingly though, it is the smaller, more intimate moments that have proved to be highlights for him; significant moments in each career with each artists that West works with that give a vision of things to come, or a new path to be followed. "Some recent examples would be Emilie & Ogden at Salle Gesù in Montréal and Jesse Mac Cormack at Komedia in Brighton," he says. "Just the right proximity to the stage and the right spot in the crowd makes all the difference for me. Another one just came to mind – The Barr Brothers at Joe's Pub in NYC blew my mind."
Given West's approach to life, music and business, it is unsurprising that Secret City's final celebration will take place thousands of miles from the label's home on Montréal's Plateau at Reykjavik's 12 Tonar record store, during Iceland Airwaves. The show will bring the festivities full circle, commemorating and celebrating the wider Secret City family who believed enough in them ten years ago to offer Patrick Watson an in-store.
"Since then," West explains "almost all of the artists we work with have played the festival…now, ten years later, we're back at the festival with Jesse Mac Cormack and they're having us in again, not just for the in-store, but for a full party as well."
It's sure to be quite the party, a chance to celebrate what has gone before while opening the door to new ventures, friends and family.
Secret City Records: Ten Years
is out now. Buy it on
iTunes
.