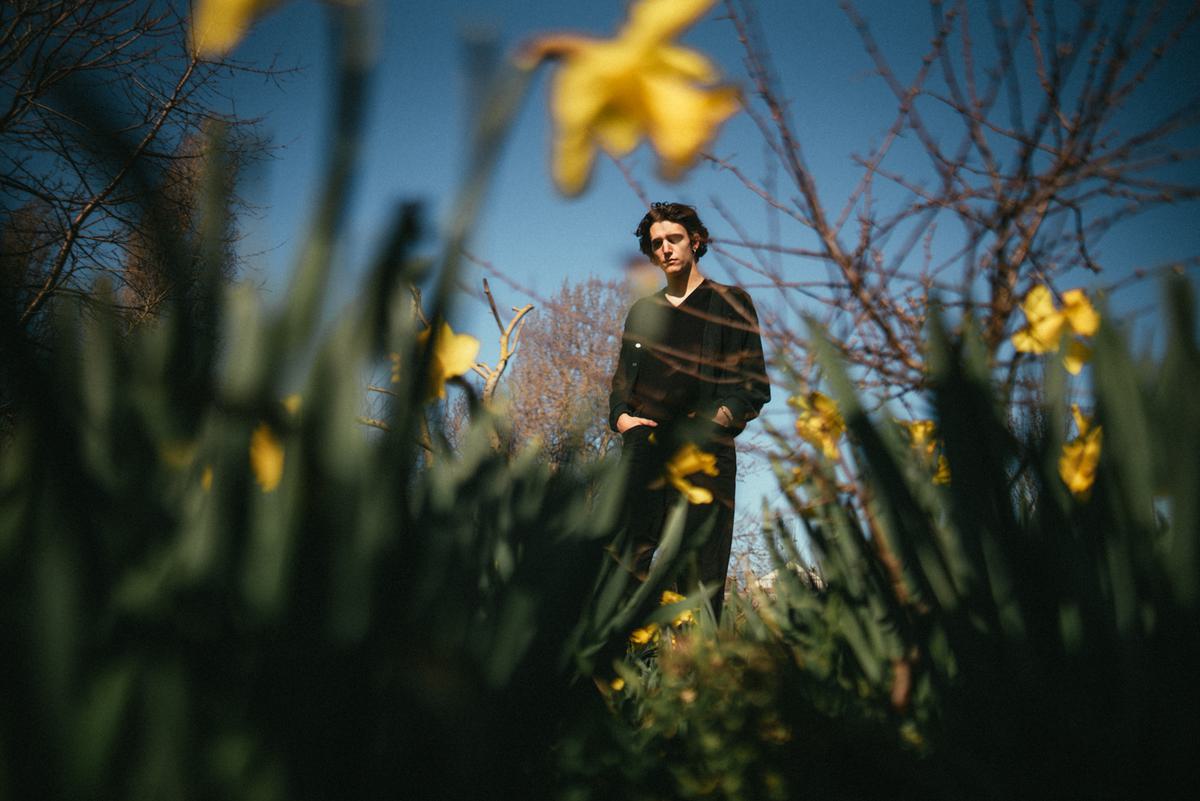 A Place To Call Home
14 March 2019, 08:30
Belgian-Egyptian singer and songwriter Tamino opens up to Elizabeth Aubrey about following his own musical path
It's an unseasonably hot February day in London, spring having seemingly sprung weeks ahead of schedule. "Is it always like this?" Tamino Moharam Fouad – better known as Tamino – enquires, as we sit in a quiet café overlooking London's hazy, sun-drenched skyline.
I explain to the Belgian native, who hasn't visited London at this time of year before, that it's a definite seasonal anomaly and that this time last year, the same skyline was atop with snow. It sets off a chain of thought in Tamino: moments later, he's deep into an emotive anecdote about his last visit to sunnier climes – a trip to Lebanon where his ancestry is rich.
"I was there and I met an amazing musician," Tamino recalls, going on to describe the lush surroundings of Lebanon – also the home of his paternal grandmother – with the same evocative, sensory anecdotal-style found on his acclaimed album debut, Amir. He recounts the occasion of meeting a Syrian refugee who taught him how to play the oud, a lute-esque stringed instrument favoured in traditional Arabic music. The moment, for many reasons, was life-changing.
"He was an incredible oud player who played with so much emotion. He played me a piece about his country, about Syria at war, and he teared up whilst playing. It was a beautiful experience because I have heritage in Lebanon but I didn't really feel at home there. After spending a few days there and going into this guy's house and hearing him playing this music it felt like landing: I was home."
Helping Tamino to find a cultural and musical heritage to call home proved significant. Growing up in Belgium and later studying in Amsterdam, Tamino says he never felt truly at home in either, preferring instead to delve into his paternal Egyptian and Lebanese heritage from a young age. The diaspora of his ancestry meant defining home was difficult until music became a makeshift diasporic space for him, an imagined community where he could safely explore his multiple heritages and identities – both consciously and unconsciously.
"I don't know how it is for other mixed race people but for me, I've never felt bad about it. I've never felt like I had a disadvantage or a struggle, not at all," Tamino explains, taking his time to respond to each question thoughtfully and precisely, his thick brows often burrowed deep in pensive thought. "I've never really felt feelings of nationalism and there are many Belgians who don't have this nationalism either: it's just my way of being. My music definitely functions as a universe that I call home. I just think that I needed this musical place to express myself and feel at ease. For me, it gives sense to life."
There was some unconscious realisation too that his cultural heritage had already seeped into his music, thanks to his chance meeting with the oud player. "He played me some scales and I just sang them. He said: 'it's natural, it's in the blood,' when he heard me sing these Arabic quarter notes." Now his oud teacher, he features on Tamino's album as part of Nagham Zikrayat – a unique orchestra made up predominantly of refugee musicians from both Iraq and Syria. Initially the orchestra got in touch with Tamino because they wanted him to play some songs by his grandfather, Muharram Fouad: he was one of Cairo's most famous musicians and was known as 'The Sound of the Nile.' Tamino plays his grandfather's resonator guitar on stage – a gift to him from his grandmother after he discovered it lying in a cupboard.
"It was very funny that they contacted me because of that," Tamino smiles. "They do these evenings where they play music of great Egyptian artists or ones where Arabic music is played. They wanted to do an evening for my grandfather but I struggle to speak Arabic; also the songs are pretty amazing and difficult so I had to tell them I wasn't ready for it. I was so honoured with the ask but then I returned the question to them and instead asked if they wanted to play on my record. I checked their videos and heard them performing and thought they were amazing. Happily, they said yes."
"I think pain is such a primal, driving force behind creativity because you cry it out"
It wasn't, Tamino explains, a conscious or thematic decision to have an orchestra made up of refugees on his album as part of a wider diasporic narrative that chimed with his own. Far from it, he says. What it did do, though – entirely by accident – was teach him an Arabic style of musicianship that involved reading sheet music closely but imbuing it with an individualism that encompasses varying cultures and styles – a style he found himself using during the making of his debut. It also linked back to a moment in his childhood when he recalled disliking the rigidity of playing classical piano (his first ever live performance was playing piano, aged 14) preferring instead to follow his own musical map.
"I only knew some of them were refugees after we recorded or I discovered it during the recording process. The people I worked with were some of the most loving, warm and hard-working musicians I've ever worked with. They really felt the music and they were all very enthusiastic and kind. Some of them had lost everything: it was so inspiring and humbling to see how one can keep going in the face of all that and keep on being passionate when so much has been taken from you."
"They all know how to read music and they will read from the paper but they will always do their own thing in the end. They will always let their character and geography shine through in what they are playing, which is something that I really love. You really hear individual stories and individual pains and struggles. But in the best art there is melancholy…Take Jacques Brel, he once said, 'why do you make noise? It's because you're in pain…that's when you make noise.' I think pain is such a primal, driving force behind creativity because you cry it out. I think a lot of melancholy comes from pain. It might sound very morbid but I don't think it is: it can be a creative force."
Tamino's wisdom and philosophising belie his mere 22 years. In the opening stages of our interview, he's already referenced Bowie, Bach, and Brel via the Greek myth of Hades and Persephone. He's spoke about a love of Leonard Cohen and Bob Dylan, summarised the history of Arabic music and waxed lyrical about In Rainbows – his favourite Radiohead album. There is neither ego nor arrogance with his well-read intelligence, only humility and modesty from an artist who began writing songs aged just 14; his voice is now often spoke about in the same sentence as Thom Yorke and Jeff Buckley.
"It overwhelms a little definitely because they are such great artists and they have such a legacy already, they've proved their worth," Tamino says, looking down as if deeply nervous and suspicious of such grandiose comparisons. "I'm just starting out and this is my first album so it feels a little daunting. I think the people I look up to the most are the ones who have had a beautifully long career and who are always able to reinvent themselves. I've got so much time ahead of me and so much to prove to myself and others. I'm mostly flattered by people just listening to my songs I guess, that's something I find amazing."
His influences are far-reaching, something he credits his mother for helping him with: as well as having an extensive record collection, she also named him after one of the principle character's from her favourite opera, Mozart's The Magic Flute. "I grew up with my mum and she showed me all this incredible music," Tamino explains, his parents having divorced when he was just three-years-old. "It was always around us. When I was a teenager, I really felt like I had to investigate it and it was probably the first time I really paid attention – certainly in a more conscious way – to the history of music more. She had a whole shelf dedicated to Arabic music and through that I discovered how much I liked Arabic music from the '50s and '60s, what they called the golden era of Arabic music."
There's an apt circularity to the Nagham Zikrayat orchestra featuring on the album in light of this, their name translating as "musical nostalgia." It's easy to see how the rich, vintage sounds of his mother's Arabic music has landed on his debut, alongside more Western influences that his mother enjoyed too – Tom Waits, Leonard Cohen and Serge Gainsbourg, to name a mere few.
"I was attracted to the very rich, beautiful orchestration in Arabic music and they didn't have synthesised sounds yet, which I think is often misused in Arabic music nowadays," Tamino says, explaining how he yearned for a similar musical style in his own music. "Back then, it was just orchestral sounds and it was beautiful. I really invested a lot of time in it – I was a fan, a listener, but I didn't really know what was going on with it. I was singing along with it but I didn't really know Arabic so it was just the phonetic sounds of it all really."
"I started making music aged 14; the more I listened to the Arabic songs, the more it started showing in my own songs. I wasn't really aware of it until I think someone pointed me to the fact it sounded that way. They didn't sound very oriental to me, but people had already started to notice it in my voice or the way I use my voice. When 'Habibi' came out of course I used an Arabic word and sound and I really couldn't imagine any other sound or word than that one." Reconnecting with his father aged 11 proved crucial, his father helping him to translate Arabic songs whilst also introducing him to more musical influences in Egypt as Tamino travelled back and forth to visit him.
The influence is unmistakable: his debut is imbued with extensive Arabic orchestration, as on "Habibi". The song garnered a considerable amount of airplay quickly in his native Belgium (to date it has received over 1.6 million streams on YouTube) before record labels rushed to sign him thanks to an impressive falsetto moment which immediately drew those Yorke-Buckley comparisons. Did the voice come as a result of training or was it something he always naturally had? The latter, is the answer, Tamino recalls, recalling his days at the Royal Conservatory in Amsterdam.
"My main course was singing – I had never had a singing lesson in my life before and now I had someone telling me what I was doing wrong [laughs] without them trying to change my voice. I always sang the way I do." Whilst his training didn't help him "in a creative way" – the practicalities of vocal training did, particularly in not destroying his voice when employing his impressive falsetto on tour. "I wouldn't have been able to perform every night like I do now. It's maintenance, a lot of maintenance training. I think I learned the most from my fellow students, just playing with them."
"There are certain sounds or colours for confidence, there's others for crying, there's ones for something in between, there's a colour and a sound for desperation, longing, humour, cynicism..."
"After high school was like, dead time. You learn a lot of stuff at school I guess but you're not experiencing life in the fullest so when I got out of high school and I moved to Amsterdam for my studies, that was mind blowing. There were a lot of great musicians around me all of a sudden and I was like 'ah, here are the people that like the same stuff as I do!' It was also a time of personal development. If I look at the album now, the themes are quite clear but I never thought in advance about any one particular theme. I think it will always be like that with me – my songs will develop along with me."
Tamino's voice can go from earthy to ethereal, flat to falsetto in a half-beat whilst conveying manifold emotions with both precision and sincerity. For most of us, it would be astonishing to own such an instrument yet to Tamino, it's anything but. "I don't think I have an extraordinary voice. For me, it's just a voice, it's just a tool of expression. I'm very happy it can be pleasing to some ears but I never had some sort of moment of realisation. For me it was just about, 'oh wow I can express myself with my voice in lots of different ways.'"
He takes time to think about his response before starting to paint our table with an imaginary brush and palette. "With the range thing, I look at it like colours – like a painter would use colours. There are certain sounds or colours for confidence, there's others for crying, there's ones for something in between, there's a colour and a sound for desperation, longing, humour, cynicism…and there's all kinds of different ways to use your voice to express yourself in many different ways. 'Why do you sing that high?' people ask me and I simply say 'I need in order to express something,' I just need to."
Tamino's voice sets his music apart, as does his lyricism. Drawing Nick Cave-like on myths, fables and legends as well as his own autobiographical style, his lyrics are often profound, rarely pithy. Whilst the music usually comes first for him, lyrics are clearly something he spends considerable time with, reading widely in his spare time for inspiration. "It is the music first for me. I think I need a beautiful melody to get me to write words to accompany it but lyrics are very important to me. I could never release something where I didn't feel completely sincere…it's also about letting a book or a story in, inviting it into your consciousness."
"I don't necessarily mean to be autobiographical, but to be sincere. It could just be a story, for instance, like 'Indigo Night', which is a narrative song. It's not about me but a boy, a character I created – but it feels sincere. It definitely comes from things I went through as well. There will always be me somewhere in the songs but I could release that song and feel happy about it because it felt sincere and that is what is important to me. I see songwriting as something that leads you, not the other way around." Tamino adds that he didn't sit down to write songs around a theme or an idea, preferring instead to let his imagination lead the way. He paraphrases one of his heroes, David Bowie, saying the best art is that you never quite fully understand.
"In other disciplines it might be different and you may have different skills, but in songwriting, there are no rules I don't think"
"There was definitely a kind of subconscious thing going on. I think songwriting like dreams in a way is an investigation of the subconscious. You have to let things come from there and it's pointing to something higher, you know, not god or whatever, but something you can't really explain. You cannot explain songwriting I don't think – it's one of the only art forms where an older musician might say 'I still don't know, I couldn't give you any advice' about the process of writing. In other disciplines it might be different and you may have different skills, but in songwriting, there are no rules I don't think."
"I wrote the songs and then I picked out the songs that might fit together in terms of a theme – I had to look at the songs and see what they were saying. I didn't have a theme and then write – it didn't work like that. The label wants a story but you can't necessarily always give one." It was the same too, he says, of genre, his album crossing many – Julia Holter-like. There was little thought to genre when he was writing – only influences from the music around him. He returns once again to the influence of his mother here.
"I think it might have actually been a lack of consciousness about genre that made it happen. It was very free and probably that's because of the variety of genres in my mum's record collection. I never quite categorised things. It was very simple - I either liked it or I didn't. I think it's important to know how one's heritage and history happened – I want to know how pop happened, how jazz happened and such. I take time to learn about these things but when I'm making music, I'm not thinking about any of this."
This approach to music making caught the attention of one of his heroes – Radiohead's Colin Greenwood – who came to see Tamino perform live. Afterwards, he got the chance to meet him and took a fearless chance: he asked him to come and play on his album. To his delight, Greenwood readily agreed. He recounts the story with wide-eyed enthusiasm: "With Colin, it happened because of mutual friends who took him to a concert of mine in Antwerp. We knew that he was there so I was nervous of course…afterwards, Colin came up to me and we talked a lot about music. I was very nervous in the beginning but then I just noticed this very gentle, warm soul – a fantastic guy to know."
"It probably seemed like a very bold move from an outsider, asking him to play on my record but yeah, I just did," Tamino says, smiling ear-to-ear. "I think I only gathered the courage to do so because of that meeting and because of how lovely he was and how sincerely he was about liking my music. I remember him telling me how much he liked 'Indigo Night' in particular so I remember asking him to play on that song. It was amazing – him coming to the studio and making up this bassline which improved the song so much. He joined us at some concerts too."
On the day of the recording, Tamino explains how nervous he was – something he was surprised to find in Greenwood too, despite him being one of the world's most acclaimed musicians. "It was crazy because we were all excited and happy. When he came in, he was a bit nervous actually. I don't think he had recorded with people other than his band and engineers for a long time and this was in Antwerp and a new environment."
"What I appreciated is that he really wanted it to be perfect – he kept saying 'again, again, again' on the takes. He nailed it after the first time in my opinion – I think we even used most of the first takes – but he kept on, wanting to do it perfectly. You could feel like he had spent a lot of time with the song and that he had really invested a lot of time and creativity within it to find the suiting melody in there."
The experience left a mark and instead of writing alone – his preferred method – he's now more keen to explore other collaborations. "I'm trying out a bit of writing with other people but it's very new for me because I've always been used to sitting in a room by myself, spending a lot of time readjusting things until I think it's right. I like to work with people who do something that I don't know a thing about. I listen to a lot of hip hop and so many rappers are just lyrical geniuses and great performers – like you can write a great lyric and not perform it well – to do both is something I really admire. Rapping is not something I could do myself but to work with someone involved in that would be fascinating I think."
Tamino has quickly carved out a uninhabited space where his unique blend of cultural art-pop impresses and inspires. Whilst it can be abstract, it never alienates – thanks largely in part to its relatable lyrics. "In the beginning, it was a dream of mine that the music would resonate. Right now, I'm very grateful that it does with some people," Tamino says, his humility still apparent as we draw to a close. He's excited for his upcoming tour, more writing and more musical discoveries – personal and geographical.
"I always feel small towards my music – I never take it too personally, it's not me – it's the music," he says, pensively, before he returns to matters of music and home. "I think music is always a friend, music can be both a friend and a place. I've heard lots of people tell me that the music makes them feel less lonely or that something of themselves is reflected in the music – maybe a certain kind of pain or melancholy that is shared, or a place to call home."
Tamino plays a show at Earth in Hackney, London on 23 April