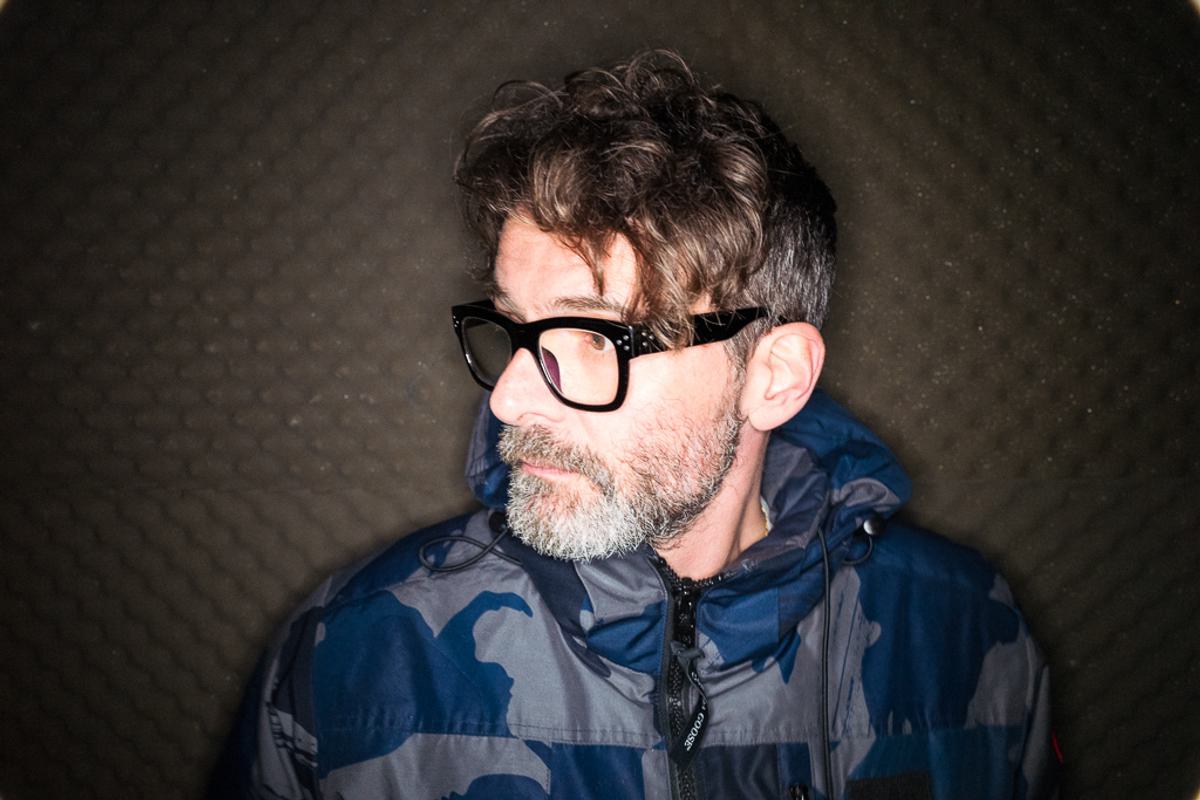 Fields of Love
24 August 2020, 14:30
British musician and producer David Gledhill brings together voices new and old, turning his passion for discovery into a celebration of the lost as SOULS.
David Gledhill is a champion of the underdog. Buoyant with workhorse tenacity and many hours of therapy, the only thing that really seems to bother him is the thought of injustice, of a voice never heard or talent never allowed to shine. It's what drew him to field recordings, the thrill of discovery and the chance to set things right with his project SOULS.
Originally from near Sheffield in Yorkshire, Gledhill took musical inspiration from his father who trained at the Guildhall School of Music and Drama and went on to work as a music teacher. Always preoccupied with playing the piano, Gledhill took to music as a way to win his father's attention. "I do distinctly remember about the age of five thinking, well maybe if I do music things, maybe he'll notice me more. Music was never easy for me, it was always really hard. I've only got good at it in the last five years. I'm like the Kevin Keegan of the music world, I've had to work so hard at it," he laughs.
Speaking to Gledhill, he's amiable, self-deprecating, and refreshingly open, something he puts down to his years in therapy and passion for the practice. "I almost feel like it should be law that everybody has therapy," he enthuses. It's something that's intertwined with his work, music as an escape, a treatment and catharsis. "Music's just therapy for me, it literally stops me from going crazy and it's saved me so many times," he continues. "I just always have that feeling that someone's gonna pat me on the shoulder and say, we know you're shit at this and you need to stop doing this. So I just try and keep going as long as I possibly can."
Gledhill is a prolific creator and collaborator. Across his career he's played in countless bands and initiated countless projects, from Slo-Mo to Skint and Demoralised to a classical piano endeavour under his own name that saw him releasing a single a week. "I've been a glorious failure at this most of my life," he laughs. "I think I've had something like ten record deals, so I've managed to dupe lots of major record companies to give me lots of money over and over again."
His most successful outing prior to SOULS was duo Skint and Demoralised who married upbeat indie with part spoken, part sung, on the nail lyrics about life and love that had an early 00s kitsch and an endearing realism, Gledhill partnering with poet Matt Abbot. "I met him when he was seventeen and I was just completely blown away," Gledhill explains. "It was that whole Arctic Monkeys time so we were kind of on trend if you want to use that phrase. And then Mercury just signed us for a ridiculous amount of money, and then gave me a ridiculous amount of money to record the album and produce it. So we went and used Amy Winehouse's band, The Dap-Kings in New York, and the whole thing was just utter madness. They dropped us before they even put the album out. God knows how much money they spent. Then we took the album and put it out on an indie, and Skint and Demoralised now has become like a little cult thing."
SOULS began in 2011 when Gledhill's first wife's cystic fibrosis was progressively worsening. He began to escape into an expanse of field recordings he'd found via Scottish label Document Records. Captivated by the voices and the unadulterated power and talent, he started sampling and splicing, immersing himself in a distant world.
"I didn't know anything about field recordings until I started listening to the Document Records compilations," he explains. "It was only when I contacted Document to discuss paying for samples that I started to look into the whole history of field recordings and it's quite incredible once you start researching it all."
The man behind the recordings was Alan Lomax, an American ethnomusicologist born in Texas in 1915. Passionate about the folk and blues traditions, he travelled across the US and Europe recording artists and is credited with discovering and championing musicians like Woody Guthrie and Robert Johnson. "Alan Lomax and his family being these middle class intellectuals going round and doing these recordings is one thing," says Gledhill. "My particular personal interest has always been more on the actual artists, the actual people that are singing and just spending days and days listening to thousands of these things and just constantly being amazed that you could have that kind of talent, but nobody knows who you are. That nobody literally has a clue that you ever lived, you ever existed, but you had this amazing gift and nobody knows about it. That's the bit that always blows me away."
It's not only Gledhill's musical ear that's piqued by the recordings, but his passion for the underdog, for celebrating the unknown. "I'm a fan. For me some of those field recordings are right up there with some of the most incredible things I've ever heard," he says. "The idea that somebody just sings something and they're not trying to make money or get famous or any of those things we associate with today. It just blows my mind. They're so real, they're so honest, in a way that nothing is anymore. My hope has always been that people will then go and listen to more field recordings and read about it and get more involved in it."
"I don't want to be someone who is taking these things and paying no attention to what they are or where they've come from."
The majority of the recordings that Gledhill uses are from black artists in the US, most likely recorded in the 1930s and 40s. It's also likely that these performers were poor, some were imprisoned. It's an issue that Gledhill is sensitive to, especially in the climate of this year's white awakening to structural racism. "Not a lot of music people go near these field recordings and have much to do with them," he explains. "So even though it makes me feel a bit uncomfortable that I'm white and I'm middle-class and I'm not American, I still feel like more of us need to be shouting about these field recordings because some of these singers have more talent than any singer that's living today. Some of them are just unbelievable and it still blows my mind that most people are just completely unaware that they even exist."
In light of this, Gledhill began a relationship with The Saturday Morning Project, a group of prominent black creative directors who advise American businesses on ethical practice, avoiding cultural appropriation and how best to donate to causes supporting black communities. "There's always been that thing for me of I'm a white, middle-class man from the United Kingdom who is using these field recordings who obviously would have been black people whose lives were probably not that great. And so there's always been a middle-class guilt for me, there's always been an uncomfortableness to it. It was nice speaking to Keith from The Saturday Morning project because he was like, you're championing these things and you're wanting to use them and you're wanting to help people find out about them. So then it was more making sure we weren't doing anything that was wrong. I don't want to be someone who is taking these things and paying no attention to what they are or where they've come from."
Together they discussed curating an exhibition at the National Museum of African American History and Culture in Washington. While plans may have been scuppered due to Coronavirus, it's still something that Gledhill would love to participate in and hopes to accomplish in the future.
"The biggest frustration for me has always been trying to research the singers and just coming up against dead ends all the time," he explains, audibly annoyed. "There's a song called "Bad Girl" on the first album, the girl's called Ozella Jones, and she was recorded in prison in 1936, but then just couldn't find out anything more. Why was she in prison? Did she leave prison? Did she die? It sends you a bit crazy because you can become so emotionally involved with their voices that you wanna know what happened to them, but it's very hard."
The Library of Congress in Washington acts as custodians for over ninety-thousand field recordings, most of which Gledhill has now made his way through. "There's this amazing wealth of music and vocals, and it's folk music at the end of the day because most of these people are singing songs that have been passed down from generation to generation," he enthuses. "Sometimes I feel like i'm the only person who cares about these recordings, but I don't think that's true."
The process of how the recordings were made is also something that fascinates and infuriates Gledhill in equal parts. "Alan Lomax and his family, they would know that they were going to a particular town and then that town a couple of weeks beforehand would put up posters and then people would come from miles around to be recorded," he explains. "But then Alan Lomax was notorious for only writing down the names of singers he thought were any good. And the unknown singer on [past SOULS single] "I Wait For You", her vocal's probably the best I ever heard, but nobody thought she was good enough to write her name down, which still keeps me awake at night."
You can't really discuss field recordings used as vocal samples without mentioning Moby. On his 1999 album Play he brought field recordings into the public consciousness. Twenty years on you can't do a crossfit class without hearing voices from the distant past. The record, which sold over nine million copies, broke history as the first album to have all its tracks used in film, TV and advertisements. "He has been the most successful person to use field recordings and he made an awful lot of money from using them. I haven't made an awful lot of money from using them," Gledhill admits. "But I think that the time now is probably different to when he was doing it, I think things are more sensitive now and I think we need to be a lot more aware about where these things are coming from."
"I'm a fully functioning human being now who's living in the world. It's just about being more responsible now and thinking more about what these field recordings mean and what the whole SOULS project means and I can't say I've got all the answers. I just want to try and do the right thing as much as I can."
However, money was never the driver behind SOULS. Born from a dark time in Gledhill's life following the death of his first wife, the fact the record was released and has found an audience is something he takes distinct satisfaction from. "It's also how you measure success," he continues. "I probably get a message every day from somebody in the world who's just discovered SOULS. Like yesterday, somebody from Bolivia sent me a really sweet email asking me questions and I'm like, that's the best bit. Because often people will have listened to my track commentary so they will know that I was going through a very difficult time and people find something in that, and I love that because a lot of the people that have messaged me are having mental health issues and then they're listening to SOULS and it's helping them and I'm like, that's just brilliant."
The origin of SOULS is no secret and Gledhill speaks freely about his first wife, Tracey. It's a process many people who have lost someone close can relate to, and listeners often approach Gledhill for advice and compassion. It's something he's learnt to handle carefully. "There's definitely shame that people carry with depression and anxiety and all these things," he says. "I try not to set myself up as any kind of expert because I'm not. I always try to say to somebody, you should probably go and speak to a professional about this."
The first SOULS record was never supposed to see the light of day. Gledhill made it selfishly as a catharsis, "100% for me," he says. However, as he looks to release his second album Soon this week, he finds himself in a different place and with that comes a different approach. "I'm not in that bereavement window anymore, I'm a fully functioning human being now who's living in the world," he says. "It's just about being more responsible now and thinking more about what these field recordings mean and what the whole SOULS project means and I can't say I've got all the answers. I just want to try and do the right thing as much as I can. Obviously the main difference with the second record is we have some living features like Big Zuu (pictured below) and RoRo, so that's been the most enjoyable part of the second record for me, getting new artists that I admire to get involved."
The record itself is as eclectic as it is ebullient, showcasing accomplished production that jumps from rugged rock n roll to electronic pop to trip-hop. The switch between genres is never jarring with the field recordings acting as hooks, allowing the record to flow. So thick in character and soul they hold their own in the mix of tracks, feeling astonishingly current, but not without plenty of effort on the part of Gledhill. "Some of these songs on the second album, the version you're hearing is probably my twentieth attempt, because you're writing music to an already established vocal," he explains. "The first record there was no real process, it was just all emotion, whereas the second album is me coming out of that, meeting my wife, having a kid and how that's changed me. The whole thing has just become a totally different animal, but it feels more of a celebration, I think."
As well as the usual SOULS fare, albeit somewhat more upbeat, there are featured vocalists from the twenty-first century. "When You Get on Top'' features the spoken word poet Joshua Iheden while "Glory" showcases Barbadian singer and MC RoRo. "That's been my favourite part of the whole album," smiles Gledhill. "On some of them there wasn't really enough field recording to flesh out a whole song. "Glory" was always one of my favourite field recordings, but obviously it's a very short lyric so I wanted to find an amazing singer/rapper to go on that."
And then there's "We Will Walk", the first single from the record which features West London rapper and presenter Big Zuu. ""We Will Walk", I probably started in 2012 on the first album, but we never wanted to release it because we always wanted to get a rap on there," Gledhill explains. "Big Zuu is one of the most amazing characters I've ever met or worked with. He's an astonishing human being and lyrically he's just incredible. We met at the studio and he was like, I don't really want to do it now, and we just spoke for four hours and I told him my life story and he told me his life story and then he was like, I know who you are now. And then he went away and wrote it."
The track itself feels like the centerpoint of the album, rich in emotion and atmosphere, you can feel the intensity and elation behind it. The process of working on tracks with a living vocalist added an extra layer of complexity for Gledhill, blending the past and present with his elastic production. ""We Will Walk" has always been my favourite field recording and my favourite song and when I knew Big Zuu was up for it I just made sure there was enough space for him," Gledhill smiles. "It's a process, but that's what I love about it because I've become good friends with Zuu now and I think my life is genuinely better for having him in it. That's what I love, that you can make these new relationships with people because of this project. And it's nice because his next single, I've produced and co-written with him, and I never thought that I would end up working in that world of music. I've got a real appreciation of that world and the music he's making and that a lot of his peers are making."
However, for all the new challenges and camaraderie, Soon has proven itself a difficult second record, somehow more so than debut album Release in 2016. "It was easier because my head was in an easier place, but weirdly I think that made it harder," Gledhill explains. "When you're making music and you're grieving and you're in pain, you have a real fuck you attitude to everybody and everything because you're just literally trying to get through the day. In a weird way I wish you could bottle that because it's great for creativity. You don't pay attention to anything, you're just literally a force of nature. Whereas with this record, it's like making music in the same way most people have to make it. And probably analysing things a bit more, which I hate. The thing that I will always cherish about the first SOULS album is that there was no analysing of anything. It was just pure, unadulterated, selfish creativity."
And once the world rights itself again, Gledhill is considering taking SOULS out of the studio for its first live performances, keeping the same spirit of the undiscovered and auditioning unknown singers to join the group and bring the music to life. "I've always loved the underdog, and my late wife Tracey was an amazing singer and musician. I think that was always a big part of SOULS was me finding these artists that nobody had paid any attention to. It's quite a selfish thing because it does make me feel good, makes me feel better about myself. I don't want people to look at me, I want them to look at these other people. There's nobody else to stick up for those field recording artists, to champion them. The one thing field recordings prove is that there is talent on this planet that we are completely unaware of. Just imagine some of the singers that are alive right now that we don't know about. That's quite an exciting idea, I think."
Soon is released on 28 August via One Two Many