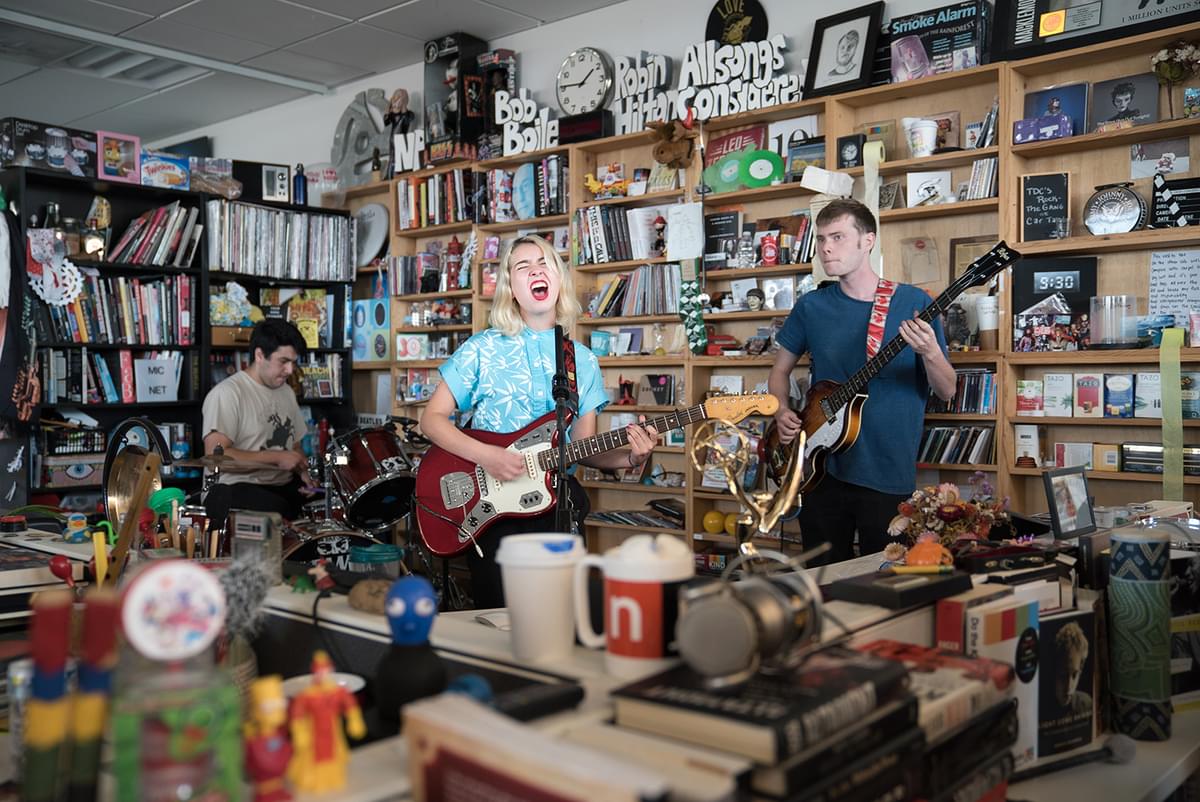 Growing Pains
02 January 2018, 10:12
Meet the Maryland 18-year-old who's determining her own path to slowcore stardom.
"I hated every single person I played with," Lindsey Jordan sighs down the phone. "I got treated pretty poorly. Everyone was nasty, everyone was alt-right. It was very frat-bro even when I was eight."
Jordan, the singer, guitarist and principle songwriter of Maryland indie rock trio Snail Mail, is recalling her experiences playing on a boys' ice hockey team. The sport is her other love besides music. It has become something of a litmus test for navigating a turbulent music industry, riddled as it is with sexism, greed and sexual misconduct .
Despite no longer playing ice hockey, Jordan remains a fervent follower of the sport. She applies much of the discipline and determination learnt from her athletic years to her music career.
"The thing is, I run into horrible dudes in music too," Jordan admits, speaking from her suburban home in Ellicott City.
"Any kind of 'dude' thing is not on my horizon. I'm just not interested in it."
"What I learned from having to make myself independent on the hockey team is if you really love something enough then it's important to just isolate that experience. You don't have to have camaraderie. You don't have to be one of the boys."
Jordan worked "really hard" to ensure that hostility didn't ruin her passion. But in 2016 she gave it up. "It just became a little too much because I wasn't really enjoying my time on the team. I was sort of a loner anyway so I just – I had made it my goal to be really good, and it's sort of in the same way with music.
"The boys in my band (drummer Ray Brown and bassist Alex Russell) are incredible and a lot of the guys we play with are so, so sweet and awesome. But my biggest concern is pretty much always myself...becoming an artist that I'm personally proud of. So any kind of 'dude' thing is not on my horizon. I'm just not interested in it."
This resolute and precocious stance has served Jordan and her bandmembers well. Snail Mail was formed in early 2015 off the back of an opportune moment to play a local festival. Jordan's friend, Angie Swiecicki, from the post punk band Post Pink, was playing at Baltimore's Unregistered Nurse. Swiecicki offered to help Jordan get a slot at the festival if she formed a band.
After quickly enlisting friends Ryan Vieira on bass and Shawn Durham on drums, Jordan had two weeks to galvanise the group to play what was supposed to be a one-off show. She had been a guitarist since the age of five but this was her first band. "I didn't really have any plans or desires to play anything after that," she explains, "but then it just started going really well."
"There's been like lots of growing pains that have come along with this process of...all this Snail Mail stuff. But I definitely feel like I know who I am."
Snail Mail played the festival alongside Priests, Sheer Mag, and Screaming Females. Washington DC punks Priests were so impressed with the band that they proposed releasing a cassette on their label, Sister Polygon.
The aptly titled Habit EP – a collection of Jordan's bedroom songs written out of "old habit" during her high school years – was released in July 2016. The band (Brown and Russell having replaced Vieira and Durham) got to work, busying itself with gigs in DC and Baltimore.
Habit EP opener "Thinning" perfectly encapsulates the oft confused soul-searching of adolescence. A lo-fi lode of jangly, open-tuned guitars and scrubby drums sit behind Jordan's mumblings of certain uncertainty. She darts between wanting to waste the entire year "just face down/and on my own time" and spending the rest of it asking herself "Is this who you are?" while feeling "gross" about it all anyway. One imagines that the restlessness in "Thinning" – its lyrics "hot head and dreamless sleep" – sprouts from suburban boredom. But the song's propulsive rhythm and anthemic guitars exercise an opposing force: excitement and resolve.
The dichotomies so vividly expressed in "Thinning" stem from Jordan's own grappling with identity, which she admits has "sort of flip-flopped."
She continues, "I feel like a completely different person now than I was when I was 16. It's been sort of hard, there's been like lots of growing pains that have come along with this process of...all this Snail Mail stuff. But I definitely feel like I know who I am. I know what I like and I know want I don't like, and I guess I know where I want to be."
If Jordan's ice hockey games with belligerent boys harboured a youthful stoicism, so did music.
To this day Jordan spends a dedicated "95%" of her free time improving her guitar technique and learning other people's songs.
When she was eight years old she faced hurdles beyond the ice rink: a summer rock camp that was full of "nasty" boys. "I didn't even realise guitar was like a 'boy' thing, you know? That was until I went to rock camp...and everyone was a dick, and also a boy."
"I realised I think I might as well just be the ultimate gay girl."
But she soldiered on, honing her classical and jazz guitar playing, and writing the music and lyrics that would later become Snail Mail's first songs.
Was there ever any mistreatment by girls while growing up?
"I have always had like really great, awesome friends that are women," Jordan answers. "They always seemed to think it was cool. I always dressed like a boy but I still just always hung out with girls. I was never really ever the 'tomboy who liked hanging out with girls' kind of person, but I always dressed like a dude and I always played hockey and guitar."
She brings up how being "super gay" meant that she established something of a firm understanding of herself by her mid teens. "I did grow up in the Catholic Church so there was definitely some self-battle there but my family was never shitty about it or anything.
"I've never really been in any situations with women who have a problem with anything I do," she adds. "I can't even think of someone ever being like 'oh Lindsey's gay, I wonder if she has a crush on me?' It's just always been very chill. No one really ever made it harder for me, I think just because it was sort of obvious. I realised I think I might as well just be the ultimate gay girl. Maryland is pretty blue."
​"After you experience enough – all the stuff that you have to go through as a woman in music – it's good to hear about other people's experiences..."
Jordan's friends have been party to hearing her experiences of sexism and sexual harassment in music. She is understandably hesitant to speak frankly about it.
"I have a ton of friends who are good men who play music but it's sometimes like...." She trails off, laughing a little nervously. "After you experience enough – all the stuff that you have to go through as a woman in music – it's good to hear about other people's experiences and to surround yourself with people who just know how you feel."
And surround herself with musical women she has. Ex Hex's Mary Timony, formerly of Helium and Wild Flag fame, was her guitar teacher.
"Mary was really, really helpful," she says, "especially when Snail Mail was starting because she answered questions about the things I didn't understand. She's kind of like an open tuning virtuoso. Honestly, just watching her in Ex Hex and Helium reunion shows is incredible. She's like so talented and awesome and a wishing well of wisdom."
Jordan never spoke to Timony about sexism in the music business ("but it's everywhere and it's rampant," she adds), though she clarifies that the support from friends – both male and female – has helped foster a positive environment from which to grow as an artist.
Matador Records is the right fit for Jordan's band; Snail Mail is intent on preserving its artistic vision. The group's rapid rise in the last two years has seen record label A&Rs hankering for them to sign on the dotted line.
Jordan soon found herself making "careful decisions" about which deal to ink before settling happily on Matador in September 2017. "They're really hands off and they've just been nothing but helpful and resourceful," she says. "Everyone is so cool and chill. I'm really happy with my decision because nobody is really in my business at all."
The label, whose past and present roster boats fellow slowcore acts Arab Strap and Cat Power, is also home to one of Jordan's favourite bands, Mission of Burma, and, of course, Timony's band, Helium. "I listen to a lot of punk," Jordan says, "and I love Mission of Burma, Sheer Mag, Helium, Psychic TV." She also cites Red House Painters and Sun Kil Moon as major inspirations.
"There's this insane pressure to make your music be something that ultimately represents you."
These influences trickle into Habit. The chiming, melodic guitar work particular to Red House Painters' early material is littered across Snail Mail tracks like "Slug". On "Static Buzz", Jordan and co. adopt a clanging barrage of noise more akin to Mission of Burma. Still, Snail Mail's brand of what Jordan calls "heavily guitar-inspired indie rock" stands somewhat alone. Few other bands are crafting music with such aplomb so early into their careers.
And Snail Mail's ascent shows no signs of stopping. "Thinning" has racked up a healthy 1 millions streams since it dropped on Spotify in 2016. Last year, the band toured with Girlpool, Priests and Waxahatchee. This year they release their debut album. Assured she may be, but does Jordan ever bulk under the pressure?
"Yeah. I mean, I never had any sort of anxiety until Snail Mail started to be, like, a 'thing'. It's definitely there, especially with writing because you know there's this insane pressure to make your music be something that ultimately represents you. You want it to keep getting better and you don't want to rush it. You want everything to be good enough in your own eyes."
She explains that binging on TV is an inevitable, passive distraction in the wake of touring. "It's really hard to catch up on sleep and relaxing when you've been grinding for a long time. I kind of got into a Netflix wormhole after we finished the [debut] record because it was just such a time of high stress. It went on for so long.
"There was never a time that I wasn't making notes or freaking out or calling my producer. Or just being there working on it or travelling around for it. And once it was done I needed something to do with myself that didn't require any energy or emotion. But I definitely don't like it."
A voracious reader and frequent cinema-goer, Jordan instead favours devouring novels and horror movies beyond music. Her love of scary films has put her on a constant quest for a horror film that makes her truly feel something.
"I think [horror movies] all suck and that's almost my favourite part about it," she explains, "and I just like to be disgusted. I think I've found a good one though: The Killing of a Sacred Deer. I went to see it with a friend in the middle of the night and then I drove back home to Maryland. It was a really weird ride home."
Discussing these rare moments of downtime prompts questions about what's next for the band.
"We're releasing our record next year and we're about to be on tour for so incredibly long," Jordan says. "I really like touring, it's one of my favourite things. It's just a lot of the other aspects of it kind of suck for people, at any age, but it's a little weird to be 18 and dealing with a lot of the stuff that people who are like 10 years older don't even know how to deal with."
Jordan expands a little more on her experiences with the music industry.
"There are good people and there are definitely bad people and there's a lot of getting swayed – stuff you don't want to end up getting into," she says. "[There's] lots of pressure coming from lots of different directions and it's really, really hard to steer clear of it.
"It hasn't been all that bad, there's been so many amazing people who are always there to answer my questions. But the main thing that sucks is figuring out what you want and how are you going to get there, and not letting yourself get distracted or bogged down by all the shit." Jordan's unswerving, unwavering ambition comes to the fore again.
"My ultimate goal is to keep making songs that I'm proud of and just taking as much time as possible to do it. You know, making sure everything's as natural and as pure as it possibly can be so that I don't get burnt out by the time I'm 20. Because it's a crazy and insane world with music – there's so much stimulation all the time and I think it really kicks people's asses.
"There's lots of like really high highs and really low lows," she concludes, "so I'm hoping I can sort of grow into a person that is good at taking the punches and not have some insane burnout moment."
All things considered, Snail Mail will surely power through.
Habit EP is out now on Sister Polygon Records. Snail Mail plays The Line of Best Fit's
Five Day Forecast
with Soccer Mommy and Honey Harper at a sold-out show on Friday, January 12. Tickets for remaining shows available
here
.
Get the Best Fit take on the week in music direct to your inbox every Friday