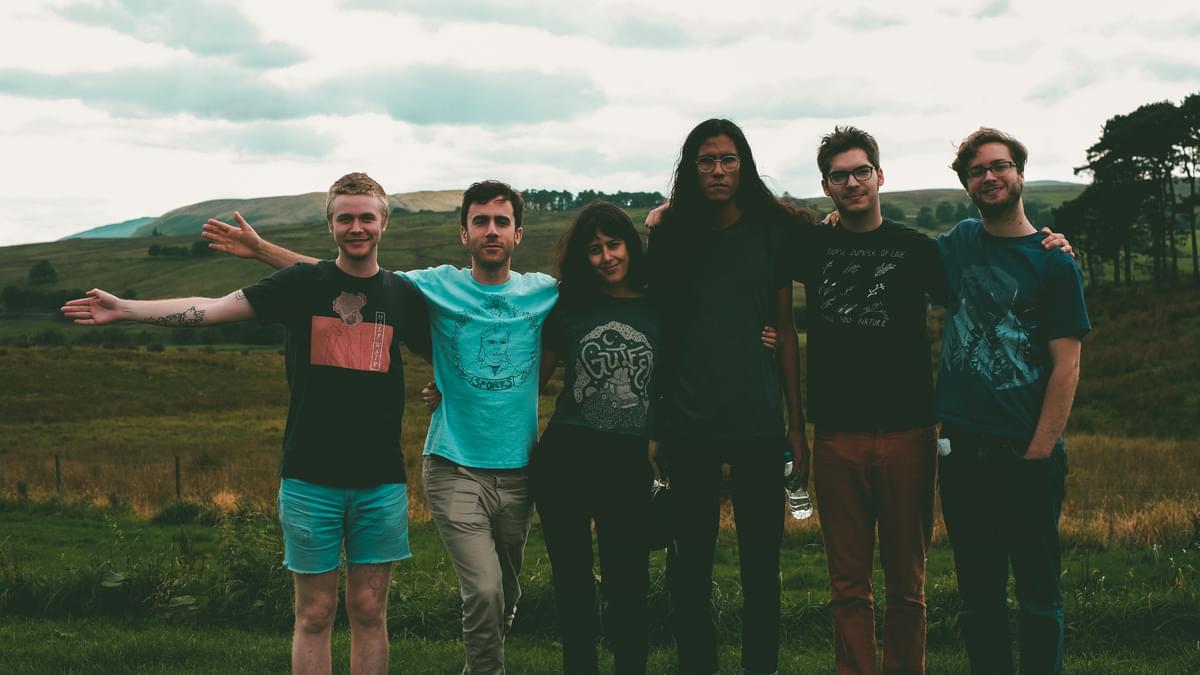 Hometown Heroes
29 September 2016, 12:00
Pinegrove reflect on the nurturing environment of their hometown Montclair and look ahead to the next generation of bands making waves from within.
Pinegrove's latest album Cardinal is an exploration of home; not the material, bricks and mortar type but the kind of home that exists in all of us. An incredibly introspective record, frontman Evan Stephens Hall provides a pit stop in a world that often runs too fast, narrating universal themes that bring us back to ourselves.
It's an album that brings comfort in loneliness, providing a hand on your shoulder when the shadows of your past begin to take hold. A bittersweet nostalgia that ripples through your foundations, Cardinal is a flicker of light when the future seems murky and formidable.
For the band, home is Montclair; a town in New Jersey under the ever-present shadow of New York City, at only an hour's drive away. Before their show at Cardiff's Clwb Ifor Bach, band founders and best friends Hall and Pinegrove drummer Zack Levine enthuse about Montclair's support of the arts, singling out Serendipity Cafe – a student run, volunteer-led organisation that focuses on monthly concerts for local bands and artists. "It's a place for young people to be that's safe and drug and alcohol free," Hall continues. "It teaches you pretty much all of the aspects of participating in DIY; you learn how to book a show, how to run sound and the cultural expectations of respect. It was a really powerful experience for us and most of the bands who came up through Montclair, at least performed at Serendipity Cafe, if not volunteered there too. It's part of the reason, if not the main reason, why there's such a large crop of good bands that are coming out of there."
"If there hadn't been Serendipity Cafe in Montclair, I'm not sure we'd be talking about it as a town as a super supportive one towards bands or towards art," Levine continues. "Once a month: a place to play, a reason to have band practices, learn how to be a respectful audience member – Serendipity t-shirts say 'respect' on the front – so it's really great." The reveal that Serendipity Cafe has just been kicked out of their meeting space, with a petition set up to show that it's an institution that, as Levineputs it, "is truly the reason or at least the primary reason why so many musicians have come out of Montclair".
Like a lot of kids who grow up in Montclair, Hall and Levine eventually made the move to New York City. Whilst the new environment agreed with Levine , who ended up living there for the past five years, Hall found he was unable to focus on songwriting. "It's so expensive that I had to work all the time and when I wasn't working, I was tired and I didn't have the energy for it and yes, it is a very sensory experience there," he explains. "It's loud and chaotic and visually busy and y'know, you have to keep your wits about you whereas I can be as spacey as I want to be in Montclair, just bumbling around the park and it's a safe place, it's a mellow place typically. There were some aspects of New York that just didn't work for me as a writer; I want to design my life to make it possible to write well and the conditions at that point were not right."
"I liked living there but until you reach a certain point, it's incongruous with striving to be a professional musician and living in a city like that," continues Levine. "So that's why I'm back in New Jersey and that's why most of us are at this point, back in our hometown." With Levine moving back into his parent's house – "I don't even have a room there any more so I'm essentially living on the road" – the band now practise in his parent's basement; just like they did every Tuesday in middle school.
Pinegrove are at the stage in their career where home is an eight-seater van; travelling across their home country then Europe, then back to the States again. "I do love travelling; my perspective on home is changing a little bit, now that we've toured so exhaustively," says Hall. "It has maybe re-emphasised my sense of home; this is one place that I really know and it's not my first time there and I recognise all the sounds. I just know the way it works and that's a very comforting thing."
Being in such close proximity with each other over the course of these months is bound to have an effect on their friendship but as the pair continue, it's clear that it's only strengthened what was already a strong foundation. "It's interesting doing something with your best friend that turns into such a serious commitment with so much to do all the time for; we're travelling together, we're spending the majority of the year driving in the same van every day but it's all sort of revolving around the show tonight, what do we have to deal with today with the next project or this decision or that decision so a lot of what we talk about now, is band stuff," explains Levine.
"There's a little bit more riding on it maybe," continues Hall. "We are band mates, we are business partners, we have an LLC together; I think it's really been a great experience to make so many big decisions together and to have the important discussions. I trust Zack a lot, I ask him for advice all the time. The band has been an exponentially bigger commitment recently and so we haven't spent as much time at home. Those just go hand-in-hand there and when we're away, this group is our family and our home."
The meaning of 'home' can shift through each excursion in life; right now, Levine says it's a place where he can fully relax, a place where "you can truly do your thing and not have to worry about other factors or other people." Evan however, ponders this question, taking time to pause before saying, "I don't know exactly what home means any more but I know that I miss it."
As talks turns to bands coming out of Montclair, Levine comments on the inevitability of their formation. "There are a lot of kids that are interested in music because there are a lot of musicians who are having kids; musicians who work in New York that commute and live in Montclair which our parents definitely did," he explains. "And so there's a cool group of adults who like to hang out and play music together, who like to talk about music or write about music and a lot of them have kids, so there's a good environment for young musicians." With such a fruitful scene, Hall and Levine have no trouble in picking out some of their favourite young musicians making a splash in their hometown and beyond.
Forth Wanderers
Hall: Super good songs, I love the tangly guitars. I love the way the record sounds. Sam [Skinner, Pinegrove guitarist] mixed their recent record.
Levine: They're so good. Not to sound like old people from Montclair but they're so good considering how old they are also. Ava, their lead singer, I think just graduated high school this year. Thinking about what we were doing – not only with our lives but with our musical lives, like we knew we wanted to be musicians but we did not know what DIY and a DIY music scene was or even what touring was at all. When we graduated high school we just used to play shows around our town basically. So, it's incredible how young they are but even age notwithstanding, if they were any age, their songs are great.
I think they have a pretty polished five-piece sound, they're all great musicians and great players. I love how Ava's voice works with Ben's guitar parts and how those interlock and their lyrics are so good and catchy. This is good stuff. They got popular fast; I think everybody kind of "gets" their deal and they're getting some recognition for it.
Hall: I think that maybe, the younger people figured out DIY, I don't know, that all has to do with the internet which came around after we graduated high school so there you have it.
Cold Foamers
Hall: They are just about the most abrasive and the most melodic that they could be yet still be both. They've got, again, really interesting guitar interlockings which I think you'll find is a pretty common theme with Montclair bands. Also a lot of these bands tend to be, sort of mid-tempo, melancholic, brainy compositions but like "pop" for sure. Melodically focused music that is a little bit melancholy and a little bit down-tempo but still fundamentally party music. Cold Foamers are right in there.
They're a very unpredictable and a kind of shambly band. The first album All Cold Everything, was produced by Alex G and it's got his hallmark on there too. Like lots of these strange sounds, it's all very unwieldy but very cool.
Levine: It's very grimey and dirty; I think I shied away from them at first – just having heard them described like that – because that's not generally the kind of stuff I find myself listening to over and over but their songs are just great and they're so cool and interesting. Cameron, the lead singer does so much with his voice, it's really all over the place, in such cool and unpredictable ways. They rip live and they're a funny group of people, they're a lot of fun.
Tawny Peaks
Hall: They're currently defunct but have made two just immortal records. Tawny Peaks were Sam's [Pinegrove guitarist] old band and Dexter who plays drums in Cold Foamers plays drums in Tawny Peaks too. Again, just some great songwriting, there's some very smart lyrics, they especially dug into that in their second album. Lyrics are something that I listen out for of course; I think that songs should operate on as many levels as they can and specifically the more entry points there are then the more levels you can enjoy them on.
Levine: Sam also has his own project now called Sam Skinner. There will be music released under Sam Skinner sooner-or-later. His solo stuff is really amazing, so anyone that likes Tawny Peaks or Pinegrove, you're going to dig that. So that'll come out soon.
Hall: I'm playing drums on that album and singing a lot too.
Levine: It sounds so good. I don't want to make the announcement about that band so I don't want to say too much! Just stay tuned for sure.
Half Waif
Hall: That's Nandi's [Pinegrove pianist and vocalist] project. And Zack and Aidan both play in it too. It's again, melodic, mid-tempo, emotional. Now this music, I think focuses a little bit more on the beat; I'm tempted in a way to say that it's electronic and there are a lot of electronic sounds but there are also organic sounds too and that's part of what makes it such a compelling listen. It's just a universe of sounds and it's always tickling your ears.
The songs are so great. Great textures... great atmosphere. It is noticeably percussive, that's another thing about it. It's like moody and cerebral but it bangs too.
Gifts
Levine: Gifts is Aidan's [Feliciano, Pinegrove's bassist] project. Aidan plays guitar and sings – neither of which he does in Pinegrove. The songs are incredibly emotional with really great melodies. Gosh, there's an EP and then a 7-song album with some more stuff coming out soon I think. It's just really good stuff.
Get the Best Fit take on the week in music direct to your inbox every Friday