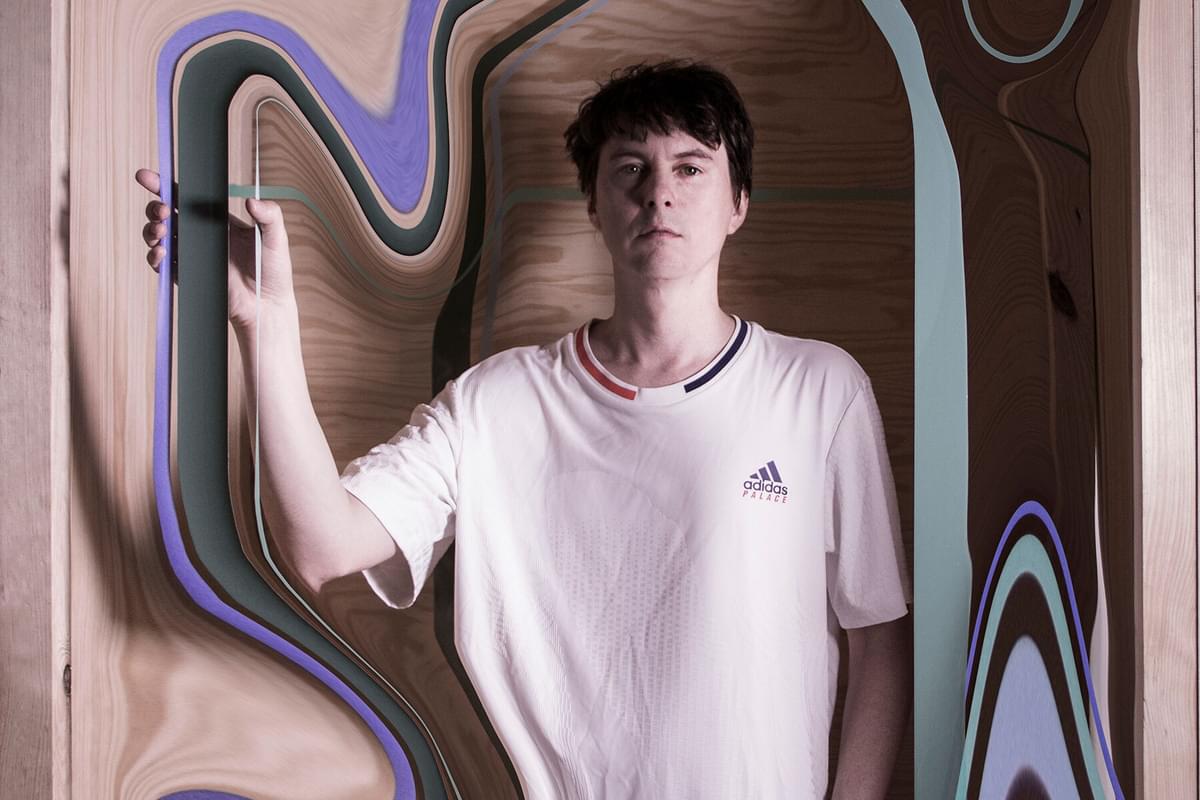 Beyond the Here and Now
08 February 2019, 08:00
Noah Lennox - aka Lisbon-based artist and Animal Collective alchemist Panda Bear - delves deep with Brian Coney to explore the seismic shifts, gut feeling and hyper-modern production that went into the making of his curveball sixth solo record Buoys
"I feel like demanding people's attention was the way the past couple of records were. With this one, it feels like the inverse of that." Noah Lennox - best known as Panda Bear - is speaking to me from his "kind of piece of crap, makeshift apartment studio" in his adopted home of Lisbon. Having relocated to the Portuguese capital from New York City back in 2004, the psychedelic pop trailblazer is every bit as present and sedate as his new album.


Across nine songs - each as carefully-crafted and cunningly sophisticated as the next - it's a release that sees the Animal Collective founding member and solo artist team up with long-time friend, musician and producer Rusty Santos for the first time since 2007's blissed-out Person Pitch. Even for someone who has spent the best part of two decades making lysergic-dappled, experimental pop in his very own vision, the sixth Panda Bear album feels like a bold leap into unfathomed depths.
From the first aqueous squelches of lead single "Dolphin" to the incandescent open space of "Home Free", Buoys exudes big transitional energy. But for Lennox, who has long been a whiz at filtering wide-eyed, even childlike wonder via spectral, multi-layered compositions, a central aim was to create an album that would - according to official gist - "feel familiar to a young person's ears". "When I said that, I kind of meant both children and teenagers," he tells me. "In a lot of ways, I feel like I made the album kind of thinking about my own kids, specifically. I have a 13-year-old and an 8-year-old, so I guess not babies, but there's certainly a range there."
"One of my favourite things about music is how it can transport you," he adds. "Or how it's almost like this magical device that kind of removes your thinking from the here and now and puts it in a different space. I'm treading lightly here because I'm wary of talking about, like, sacred music and stuff like that, but there is definitely something about it that does lead me to that place, or at least gets me tiptoeing towards that sort of zone. I feel that that's sort of the target for me, usually, when making my music - to try to induce or lead the listener to that place."
Thanks to the skeletal textures and berceuse melodies on songs including "Crescendo" and highlight "I Know I Don't Know", a strong meditative quality sits centre-stage on Buoys. Working once more with Rusty Santos, who co-produced his 2004 album, Young Prayer, as well as Person Pitch and Animal Collective's 2004 classic, Sung Tongs, the album is a feat of refinement and - not least for an artist so synonymous with crafting dense, prismatic soundworlds - restraint. But did it feel like a huge lunge into the unknown early on? "Yeah," Lennox says. "It did, for sure. I had some reservations about it at first, but I guess after spending a couple of months with the songs, and spending so much time really trying to get it right in the studio, it sounds really straight-ahead to me now. But, originally, it did feel sort of foreign, in a way that I found exciting. That kind of thing isn't everyone's cup of tea, but I came around to it pretty fast."
"I knew that the new thing was going to be different by design," he continues. "I can't say that I had a really specific, crystal-clear vision about what the thing was going to be and how to execute that. It was more like there was three or four aesthetics, particularly on the production side of things, that I knew that I wanted to stay away from. And so I figured that in the absence of those things which, and I hesitate to say it, had become signature, I was pretty sure that this new thing would be a dramatic change."
"As far as hyper-modern production, I feel like it's a way of saying that it kind of resembles a bunch of contemporary music, but it also has elements to it that also feels really alien to that stuff."
One listen to Buoys after a playthrough of 2011's Tomboy and 2014's Panda Bear Meets the Grim Reaper (both of which were co-produced by Spacemen 3's Pete Kember AKA Sonic Boom) reveals seismic shifts in the realms of pace and tone. At the heart of that is what's been referred to as the album's "hyper-modern production", which incorporates the use of auto-tuning and a mindful resistance to layering vocal tracks. For Lennox and Santos - who has recently worked with trap and reggaeton artists including Chilean DJ/vocalist Lizz and Portuguese musician Dino D'Santiago, both of whom make appearances on Buoys - this break into unexplored territory proved both conscious and catalytic.
"One of the aesthetics that I feel defined the previous three albums was the way that I would produce vocals, insofar as I would stack a lot of them, and do a lot of harmonies and stuff like that," Lennox says. "It almost felt like dust or a cloud in the production. I really didn't want to do that on Buoys. I tried on [2018 EP] Homies to get away from it, but couldn't find a technique or a system that really felt pleasing to me. So, when I told Rusty that I was looking for a really direct, up-front, single vocal take, his suggestion was to go with the auto-tune. That was the first step of it. After that, it sort of became about building this sort of lattice of vocal stuff, upon which the auto-tuned vocal would sort of sit. "Dolphin" was the first thing where that seemed to work"
"As far as hyper-modern production, I feel like it's a way of saying that it kind of resembles a bunch of contemporary music, but it also has elements to it that also feels really alien to that stuff. So, I think hyper-modern is really just another way of saying that. It's the optimistic slant."


Despite largely closing the book on the heady, multi-dimensional magick of earlier efforts, and not to its detriment, Buoys still accommodates a few nods to the past across its 31-minute running time. "There's a very concrete link to Sung Tongs," Lennox says. "Dave (Portner, AKA Animal Collective founding member Avey Tare) and I were doing a bunch of the Sung Tongs shows this past year or so. I had to practice the acoustic guitar, because I hadn't really done that in a long time. So, I retrained my hand and tuned the guitar to the Sung Tongs tuning, which took a bit of work figuring out. In between the time we spent practicing for that tour, I started writing material for Buoys. I think I tuned it up a couple of frets, because my guitar would always go out of tune due to being tuned so low on Sung Tongs. This time around, it kept it a bit more solid in terms of how the wavering of the pitch would go."

"I feel like there's a lot of links to Perfect Pitch," he continues. "Rusty working on both of them is obviously the first part of that, but also the crying noise by Lizz on 'Inner Monologue' really made me think of 'Bros', so I was on board with that immediately. I guess Perfect Pitch felt like the start of something new, or a dramatic shift for me creatively, and Buoys kind of reminds me of that."
Like much of what he has turned his hand to in the past, whether as Panda Bear solo, in Animal Collective or alongside fellow sonic conspirators, among them Daft Punk ("Doin It Right" from Random Access Memories), Bradford Cox of Deerhunter's Atlas Sound project ("Walkabout" from Logos) and Zomby ("Things Fall Apart" from Dedication), Lennox's meticulous alchemy on Buoys well and truly rewards an attentive ear. This isn't an album to fill sweaty, loud rooms or soundtrack busy, late-night soirées. Nor is it an album likely to seep in or burrow deep with many people unconcerned about listening via a sub-standard sound system. Every inch gossamer and deft as it is studied and sparse, Buoys is there to be sought out, turned up and mindfully heeded.
"My M.O. previously was just to make the thing so dense that your attention couldn't wander, because there was always a new sound introduced or some way that the sound would be morphing to keep your attention there."
"That side of it was a choice," Lennox says. "It was also a decision that was made for us, in a way. My M.O. previously was just to make the thing so dense that your attention couldn't wander, because there was always a new sound introduced or some way that the sound would be morphing to keep your attention there. This time it felt like the inverse, where instead of having tonnes of elements in the arrangement, it was really about taking just a few elements. I kind of knew this when I'd written the songs. They were really based on, as you say, a skeletal foundation. It became about taking those simple elements and engineering them in such a way that the subtleties of the way they change would seduces somebody's attention, rather than demand it."
Having befriended Lennox and Dave Portner in New York in the early 2000s, California native Santos was later recruited to record the record that would become Sung Tongs. The album - the band's fifth full-length - marked Animal Collective's breakthrough and swiftly saw interest in Santos' studio handiwork skyrocket. The winding history between Lennox and Santos, and how it threads through both of their careers to date, is something that undoubtedly informs the curious duality of newness/familiarity that runs through Buoys. Having told me that he usually follows his instincts "for better and for worse", working with Santos - just like he did with Pete Kember on albums four and five - is always an opportunity to approach things a little differently.
"The process felt different this time," Lennox says. "Previously, it felt like the music was coloured by Rusty and Pete's perspective pretty intensely. On Person Pitch, I'd done all the production before meeting with Rusty. I think we mixed those songs in six days, but I'd already made recordings of them. Tomboy is another example where I had made the recordings and even put out singles, so it had kind of already formed in a way. But, ultimately, Panda Bear Meets the Grim Reaper and now Buoys is really more collaborative. And I think for the better."


Owing to his being over 3,500 miles removed from where they formed in Maryland, Baltimore back in 2003, Animal Collective released their first full-length sans 40-year-old father-of-two Lennox last year. Though met with a somewhat tepid critical reception, Tangerine Reef nonetheless carried with it the same boundary-warping spirit that has always poured forth from the band, regardless of exact formation. But it's Merriweather Post Pavilion - Animal Collective's nigh on eulogized ninth studio album, which turned ten in January - that has been on the lips of fans as of late. Of course, the fondness surrounding it is nothing if not fully warranted. Equal parts ecstatic and iridescent, it felt, thanks to its genre-mangling innovation and myriad sonic trapdoors, akin to critical mass.
Having been in the headspace of finalising Buoys when the doting retrospectives started to trickle in, how did Lennox view the sudden spike of nostalgia for the album? "Things move pretty fast," he says. "In some ways, making that album and writing those songs feels really far away from me, but in other ways they don't. When I think about teenagers, going from 15 to 25 - a lot happens in that span, so the nostalgia makes sense to me in that context. It's such a powerful time and I would wager that for most people that's when stuff, whether music or art or literature, hits them the hardest. I wonder if some of us long for that time when something could really impact us in that way. For me, I kind of feel like Merriweather Post Pavilion was the point where our perspective on things and people, in a broader sense, were aligned. We ran parallel for a moment."
Back in the here and now, with two eyes fixed on the horizon, Buoys is representative of something much bigger than a cursory listen on bad headphones or the rose-coloured longing for another record will ever reveal. With fresh Animal Collective plans afoot ("I can tell you that we're planning to get together to work on stuff in the summer," Lennox says. "As for shows, I think it's possible.") it doubles up as an opportunity to be present and revel in how, with Lennox, wide-eyed, even childlike wonder will always be accessible, so long as he stays true to what compels him to seduce the listener out of the here and now.
Buoys is released on 14 February via Domino
Get the Best Fit take on the week in music direct to your inbox every Friday