When we meet he's holding a copy of As You Like It. Evidently, having spent the last three years falling in love with Byron he's now catching up with Shakespeare (he's also reading Hamlet simultaneously). Aesthetically Jones seeks inspiration in all forms of art, not just music - an approach that proved to be central in the creation of 2013.
Jones left his band Race Horses after eight years in 2013 and decided to take a break. He headed to Rome, a path previously walked by many a Romantic poet, and explored the worlds of painting, sculpture, poetry and literature, yet found himself returning to music. He tells me that quite unintentionally he found that the experience of Rome reinvented him. "I suddenly got interested in the softness of Romantic poetry and then I got interested in sculpture. I was listening to Monteverdi and I was like "I love Monteverdi, I want to do that' and it would come out in a song."
"In the past, people would always do covers and reference things freely but I think now we look up to music of the past without having the confidence to do new things and always try and hide our sources."
Jones is unequivocal about the fact he didn't go to Rome delberately to fine inspiration for a new musical direction. "Not consciously in any way. I did something bizarre, I loved being in a band but I ended the band. I went on holiday and I literally made it my mission to follow anything I was interested in, every idea I had in my imagination I ended up trying to make and that's what led to these songs."
There's a line in the song "Rome" - "It was the worst thing of my life / It was the turning of my path" that details how his experience of the city shaped 2013. ""Rome" is my favourite song on the record; it came out very naturally. I suppose it's that thing of trusting being lighter - that song is really light - it felt like a turning point for me and a turning point on the album as well."
Not being in a band meant Jones didn't have a fixed musical palette so he decided "to go wild and let my imagination go where it wanted to and then bring the songs together as a collection over a period.' He views the album very much as "like collecting objects into a whole, that's why there's flowers on cover, it was like 'that song, that song, that song' and putting them together as a whole."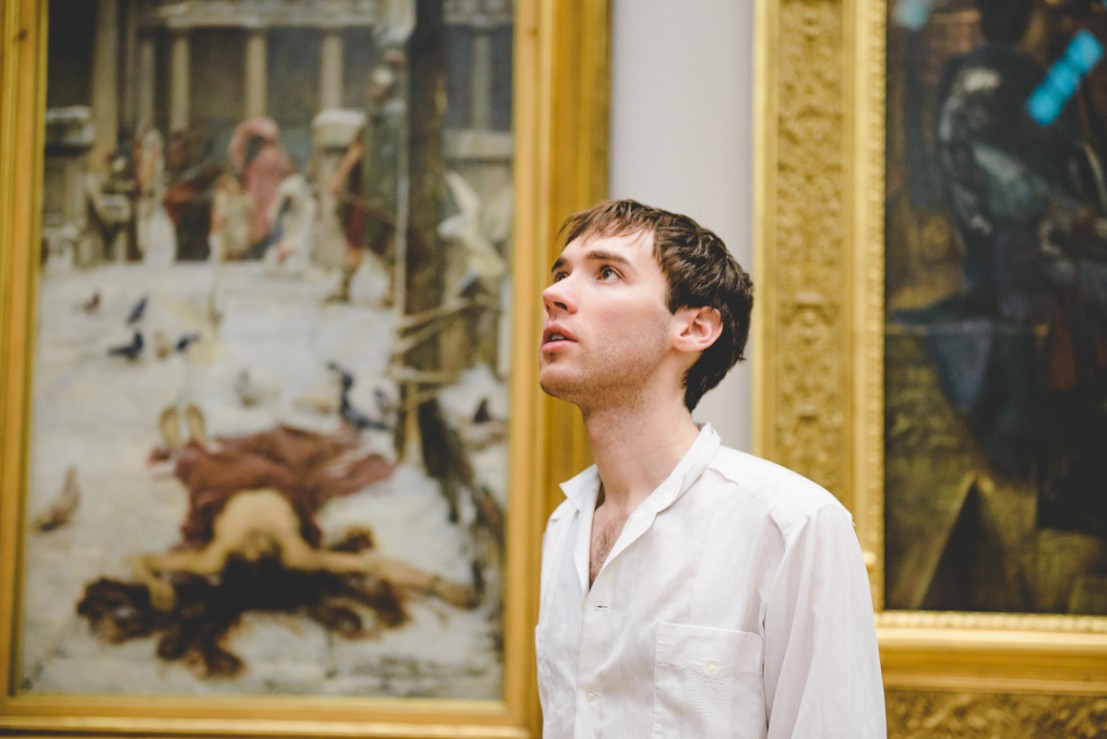 For a record put together in a piecemeal manner – he assembled a 30-piece orchestra and a brass section through friends of friends, made field recordings of poems and birdsong - the end result is amazingly cohesive despite its stylistic diversity, effortlessly moving from the brass beat-pop of "How to Recognise a Work of Art", to the hymnal "Don Juan", the space-rock of "Strange Devotional" and the baroque "Olivia." If John Keats made a record in 2016, my money would be on it sounding like 2013: poetic, lovelorn, brave and obsessed with nature, yet unfailingly romantic.
If that conjures images of old-school academia, it shouldn't: Jones' approach to writing is incredibly modern. One of the most striking things about 2013 is the use of songs by other artists to enhance his own writing, an method akin to sampling in hip-hop. Jones embraces the past rather than revering it to the point where it's too venerable to utilise.
"When I wrote "Strange Emotional", it's the same chords as "Rebel, Rebel" and I thought, 'I really like "Rebel, Rebel", so I'm going to cut the start onto my song and that'll be music'," says Jones. "I got really excited by using stuff. In the past, people would always do covers and reference things freely but I think now we look up to music of the past without having the confidence to do new things and always try and hide our sources. I really liked the idea of going 'I was writing this song and this really silly riff got in my head as I was going to a karaoke bars with my Italian friends."
I tell him I hear other musical nods, including the melody from Carly Simon's "You're So Vain" on "Don Juan" and on "Rome" there's Cat Stevens "Wild World". "Absolutely, yes. It's weird and this is a sacrilegious thing to say but when I hear the intro to "Rebel Rebel" it's familiar beyond the point of something that feels borrowed. If it's going to be authentic it should be other people's music and my music and that's what the modern world feels like to me, it's a mess of the past. I think those things come through like osmosis, rather than thinking about it and conceptualising about it."
The antithesis to his way of thinking is to be found in the video for "How to Recognise a Work of Art" which sees Jones cast initially as an art collector and then the subject of his own self-portrait, constantly surrounded by characters looking for a piece of art but with no idea how to find one; tellingly it also features a Kurt Cobain impersonator. Despite the video's focus on the art world, the song is a subtle dig at musical dilettantes. He says he laments the emergence of style over content in music, where musicians base themselves on the template of classic artists rather than coming up with new ideas.
"So many things look like things they aren't. I think we misunderstand the past a lot, for me Nirvana are one of the best bands I can ever imagine, but people tend to take the wrong things and then build a weird modern time, where everyone's an impression of someone else." The more he talks about it, the more exasperated he gets. "It's insulting; it's insulting taking things from the past and just trying to take the cool aspect in a really marketed way. It's so depressing and means nothing. It's easy to be seduced by things that look like things but they might be the opposite of those things in spirit and my own battle is trying to find a way to break that shit down."
"In Italy seeing people in contemplation in the day, going into churches and praying was bonkers for me, coming from here which is really material in certain ways, people talk about food, sex and music but no one really talks about God."
Given that Jones' artistic philosophy also utilises music from the past, where's the difference in what he's doing? "That's just a part of what I do, I pull things in and I think there's a difference if something feeds into the music you create and you decide what to put where."
To this end he also sees his raison d'être as being opposite to the art world, which he feels has "an obsession with originality and authenticity, where everything has to be completely new and bear no relation with the past" which jars with him. "I think there's something really nice about tradition, there's something very old-fashioned to me about this idea of the individual, but the idea of being something completely original, that's not to do with anyone else… there's something quite cold and arrogant about that."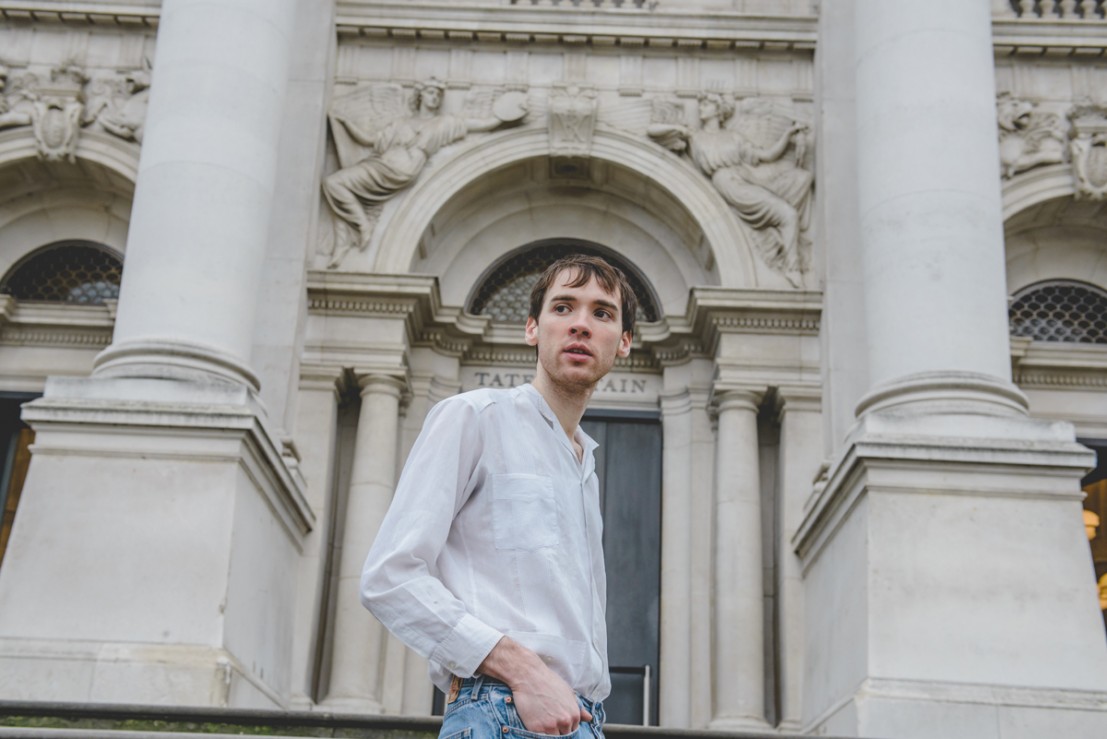 The musical linage of classical composers is much more to his taste. "A lot of the most revolutionary music was building upon the past, Beethoven was a disciple of Mozart and Haydn, Stravinsky was a disciple of Rimsky-Korsakov, Debussy listened to Stravinsky. Schoenberg thought of himself as a musician of that line and he was appalled when people thought his music bore no resemblance to that tradition."
One of the most important things for Jones as an artist and musically is a sense of what he describes as 'warmth' - a spontaneity rather than contrivance. "I think the mistake that people often make and I make myself is thinking that things have to be completely constructed and intended in order to be, often the lightest things have the most depth." He cites Ella Fitzgerald and Nina Simone as examples. "You can see vulnerability; it's not a calculated impression of themselves. They're constructing something but there's joy there, there's warmth there, they're funny and it's profound as well."
This description reminds me of one of 2013s highlights, the heart-wrenching "Olivia", its context summed up in the line "Broke white girl singing "Sweet Home Alabama", old man on an old piano, playing Mozart, J.S. Bach, Beethoven's 'Appassionata'". It's beautiful, musing on dreams, yet tinged with sadness.
"A lot of the most revolutionary music was building upon the past, Beethoven was a disciple of Mozart and Haydn, Stravinsky was a disciple of Rimsky-Korsakov, Debussy listened to Stravinsky..."
"What excited me about "Olivia" was this idea in the world of now that an old man on his own, a pianist, puts in an advertisement to find a page-turner and then this girl turns up, who's maybe 18 or 21 and she's in a completely different tradition, she sings karaoke. He falls in love with her, I don't think she falls in love with him and it's that modern incompatibility of life, how an old man playing a Beethoven Sonata and a girl who goes out clubbing can find something, those crossing of worlds, of the beauty in cheap things and refined things, how things go from one to the other, that's the beautiful thing."
The song "Love" tackles even bigger themes where he muses on and compares God to various things, including a tree and a bee. It's quite surrealist but also very tender, is it specifically about a sense of God or something broader? "I just tried to draw a parallel between the fact the smoke a city makes obscures the stars; it just naturally drew me to thinking that God doesn't exist in cities. I don't have a fixed agenda with it, but in Italy seeing people in contemplation in the day, going into churches and praying was bonkers for me, coming from here which is really material in certain ways, people talk about food, sex and music but no one really talks about God."
There's a sense of striving for redemption in the song, with words like "Higher and higher, lead me in love"? "Without believing in something, magic or love, without falling in love, you see the world as a bunch of parts and stop seeing things in a magical way. That's the connection with stars in my mind, if you create a really industrial society that makes so much smoke, you can't see the stars anymore."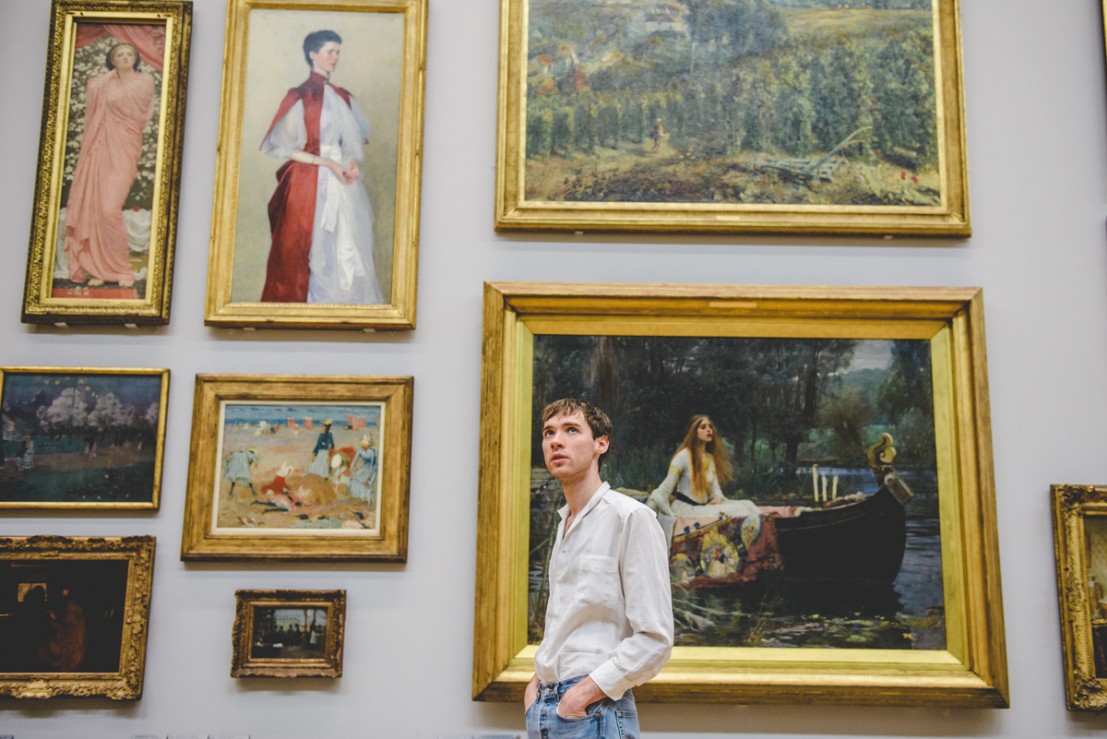 I ask about the field recordings on the record, including a reading of Tasso's poem Io son la primavera by the mother of a friend of his and their significance for him. "It felt like a part of my time there, in the same way as when I bumped into a Japanese accordion player called Hideshi on a bridge. I wanted to recreate my path, whether that's where I'm taking on a persona like on "Featured Artist" or just my feelings like "Rome". I think in a way I always wanted to do a moving voice." He explains "I wanted to really freely wander; I imagine the album like a walk somewhere. I could have made twelve versions of "How to Recognise a Work of Art", some people do that and that's fine but that's not my personality. I wanted to show multiple sides of one face. I wanted to get the complexity and variety that's in a whole person on the record."
It emerges that as well as ideas of artistic expression, there's also a political raging at play on 2013. As he talks about the gestation of the song "Refugees" Jones suddenly becomes very vexed. He wrote it in an unusual state of 'fast and angry' after watching the Ken Loach film The Spirit of '45, finding inspiration in the fact that the government of that time "actually gave a shit, not just about profit, and that really shocked me."
Seeing Aneurin Bevan starting an NHS that looked after poor people, an idea Jones thinks "is crazy now, that rich people should help and subsidise poor people, it's something I agree with and it's mental to me that actually happened. So I wrote the words, "Get up, switch off your television." Not just being a passive spectator, but when your ability for change is suddenly awoken by something and acting on that. The whole record is that thing of change for me all along really" He then adds "Sorry to get heavy!"
The summer will see him play a raft of festivals. The songs of 2013 are simultaneously intimate and expansive; you can picture them played at small venues with him and a piano just as much as at festivals with his band of players. "That's how I feel, I love playing impromptu things and I really love playing big stages, it doesn't feel like a sell-out thing, that's the weird thing about being solo, you're half going on as yourself and you're half going on being music. I supported Richard Hawley last year and I got really excited about, and used to, going into a room full of people who didn't know any of my music. I really loved it. That's my favourite thing in the world, to play it live."
He played a secret session for Best Fit at last year's End of the Road festival that saw him rearranging the songs in true Renaissance artist style and he tells me that this fluidly helps him to find new nuances within them. "I think with this record the songs can take it, the identity with of a lot of them isn't completely fixed. The Ramones songs rearranged would sound terrible, because it's so much of that group! Whereas the interesting thing of being on my own is it's not me being part of a group, it gives me a freedom."
Being on his own, with musicians he can draft in, dependent on how he wants to play the songs, seems to suit Jones down to the ground. "It's the right way to be for me, all the best bands I can think of are young, there's something about the nature of being with four other people in a group that if there's ego involved it can't withstand time, with The Rolling Stones, I wish they hadn't withstood time!"
It also helps him to feel a sense of continual artistic movement. "I think the moment you start looking back you're in danger, because you start to see yourself with outside eyes, when you start turning into a journalist as a musician then you're buggered basically. You should just be 'I'm interested in this now, I'm not interested in that anymore', it should be steered that way rather than 'I did a record people liked', because the moment you start looking that way you're not being yourself are you? You're being an impression of yourself."
As we put our coats on to face a cold and wintry London evening, Jones's closing sentence returns to the nature of authenticity and artistry, neatly summing up the artist he is today.
"Paid In Full" by Eric B and Rakim reminded me I really trust people who are honest in their weaknesses and their strengths. If you're just honest in your weaknesses then you're trying to get sympathy and if you're just honest in your strengths then you're a prick you know? It's strange with songwriting strengths and weaknesses because in a way they don't exist, you are what you are and often the weakness is the flipside of the strength. I always go after my weaknesses, but if you were to correct all your weaknesses then you wouldn't have your strengths, it's a balance isn't it? I think you want people who can't help but be themselves."
Quite so, whilst it's possible to learn how to recognise a work of art, only an artist knows how to create one which is exactly what Meilyr Jones has done with 2013.