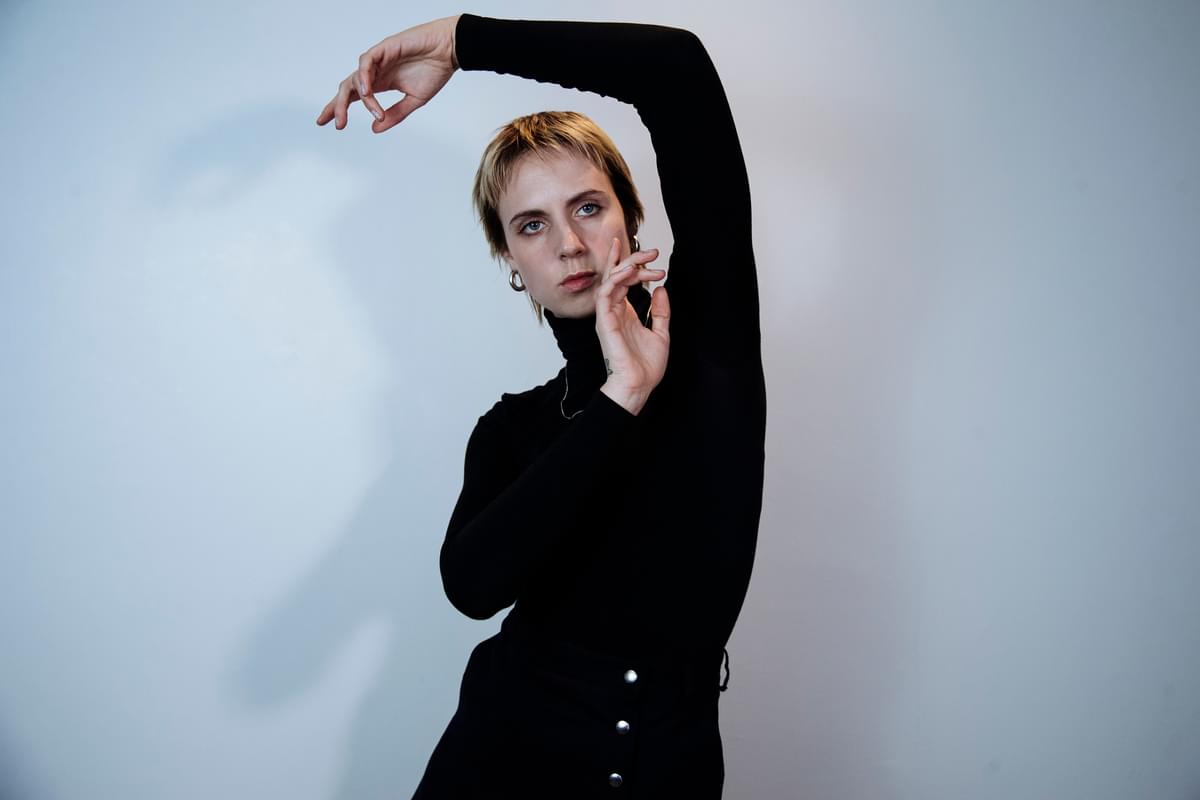 MØ's journey to Neverland
26 October 2018, 08:00
Her new album Forever Neverland may court eternal youth, but MØ won't allow herself the luxury of denial. Denmark's hottest export explains the paradoxical nostalgia at the record's core to Pip Williams.
Olwen, the protagonist of Monica Hughes' award-winning teen sci-fi novel The Keeper of the Isis Light, is a young woman living alone on fictional planet, Isis. Her only companion – following the death of her parents in a freak storm (of course) – is a robot named Guardian. Despite her solitude, Olwen is content, and as she sits surveying the beautiful deserts of her home planet, she tells her android associate that she would love for that moment of beauty to last forever. Guardian responds with all the tact and diplomacy you'd expect from a soulless hunk of metal: "stasis is death."
Such is the paradox at the heart of Forever Neverland, the long-awaited second studio album from Danish megastar Karen Marie Ørsted, known to the world as MØ. Propelled to fame by the global success of her feature appearance on Major Lazer's behemoth of a hit "Lean On" – briefly the most streamed song of all time – the expectation of a follow-up to 2014 debut No Mythologies To Follow cast a long shadow across MØ's upward trajectory.
"I put the second album up on a pedestal," Ørsted admits. "'Lean On' was the best thing that ever happened in my life, but all of a sudden I was in a really new position. 'Lean On' became such a big success and introduced me to a much more mainstream audience, but coming from an indie-pop background I had a little bit of an identity crisis!"
In the crucible of this identity crisis, Ørsted and her team forged one of the record's most important thematic touchstones: recent single and – according to Ørsted's Twitter – one of her "absolute favourites", "Blur".
Its taut electronic production bridges the gap between the Eastern-influenced dance of "Lean On" and the howling rawness of No Mythologies To Follow's multi-tracked backing vocals. Whilst Ørsted's recollection sounds for the most part upbeat, there's nothing subtle about "Blur"'s plaintive chorus lyric, characterising some of Forever Neverland's most essential themes: "Let me out, I'm lost in the words/Don't know how I ended up here/Trapped in a blur."
"I remember going to the session," she reminisces. "I was so jet-lagged! It was like therapy writing the song: creatively feeling lost, but creating a song while feeling that way. It was a paradox."
Like Olwen, alone on Isis, Ørsted found herself trapped by the very thing she longed for the most. Stasis is death, yet perpetual youth – or the illusion thereof – is a cornerstone of MØ's creative identity. Indeed, the Danish word "mø" – as well as standing for Ørsted's second and third initials – translates to English as "maiden", whilst MØ's handle across the web is the unambiguous @MOMOMOYOUTH.
"Neverland to me represents someone who's very fucking lost. It's really sad if you don't want to grow up!"
In this vein, Ørsted's references to Neverland run far deeper than a sheen of glossy pop fairy dust. Despite the charm of Peter Pan and his Lost Boys, her interpretation of Neverland is unexpectedly bleak.
"You want to escape and be young forever, but it's a super dark thing to think about – to be stuck in time," Ørsted intones. "Being nostalgic, looking back at youth and wishing you could stay like this forever, the dream about escaping, blah blah blah… if you do that you're doomed, in a way. Neverland to me represents someone who's very fucking lost. It's really sad if you don't want to grow up! It's this weird paradox that's living inside me."
Given the spotlight trained on her since "Lean On"'s explosive domination of the charts, and with it the public consciousness, the creation of Forever Neverland was a very different experience to that of its predecessor. While No Mythologies To Follow crystallised the essence of Nordic electro-pop so well-received in the early 2010s, "Lean On" marked a sea change. It opened Ørsted's world out into something far more expansive than the "dark little cave" in which her debut record took shape.
"No Mythologies To Follow is darker and more icy," Ørsted explains. "Forever Neverland had this sun injection – a weird injection of Los Angeles – which I kind of love and kind of don't love."
In album closer "Purple Like The Summer Rain", Ørsted croons a downtempo ode to those California vibes. The track's lyrics echo the album's introduction, bookending Forever Neverland with a melancholic, glazed depiction of the hazy, dreamlike Los Angeles inhabited by the rich and famous. "Take me all the way to California/They'll be making hits on every corner," Ørsted pleads, with wide-eyed naïveté. As she hits the chorus, her Neverland paradox rears its ugly head once more.
"This is what I wanted all my life, no one can take it/Pour me all the wine and let me picture that I made it/This is what a universal fairytale is made of/Sugar in my veins," she sings.
Like much of Forever Neverland, "Purple Like The Summer Rain" eschews subtlety for clarity of message. An (admittedly slightly ham-fisted) spoken word bridge hears Ørsted yearn: "To be a child again/To not have to worry/About the responsibilities of adulthood." Is it any surprise she's tapped a well of inspiration in the city St. Vincent dubbed "Los Ageless"?
"L.A. has been my real life Neverland," Ørsted says. "Not in a bad way – I love Los Angeles – but it's its own little bubble. It's stuffed with musicians and actors and artists having this youthful energy and searching for their dreams. I'm not saying that they're all in denial, but there's this certain beautiful but weird glow surrounding Los Angeles."
Fame and Los Angeles may have sparked an identity crisis but elements of the album creation process remained echoingly familiar to Ørsted.
"I forgot how much work even just mixing and mastering is – it takes forever!" she exclaims, lamenting the immersive, time-consuming return to album preparation.
"I definitely had that moment of, 'Right, it was like this when I did No Mythologies To Follow as well.' I hadn't forgotten! But all that work, even just going into listening to mixes and stuff, it's time so well spent. You want to be able to look back and be like, 'I was there all the way.' I feel like I gave my all – I'd be sad if I didn't! There are a lot of aspects, and me being a bit of a perfectionist, it takes a little longer than I would have loved it to. I'm very eager."
Ørsted describes the new record as, "Karen, only four years older than the last time she put out an album," but sonically there's a growth from previous releases: a slight change of direction.
The record's production is tighter and slicker than before. In some places it's less interesting, in others far more. "Beautiful Wreck" is saved from formulaic tropical pop boredom by judicious vocoder application, while "Imaginary Friend" glimmers with touches of harp reminiscent of Ceremonials-era Florence. Executive producer ST!NT hands the reins to Illangelo (The Weeknd) on the latter, but for the most part his leadership results in a cohesive, hit-heavy tracklisting that still showcases much of Ørsted's signature peculiarity.
"One is always searching a little bit – it's not like I'm ever like, 'this is me! This is my sound!'"
"Someone said to me that this album is more pop," she says. It's an unsurprising observation, yet not something she'd been consciously aware of throughout the creative process.
"It's probably true!" she continues, "but I'm happy, I feel like I was genuine, I feel like it was me, but I also felt that it was not too polished. It has a meaning, but it's also accessible for – hopefully – a bunch of people. It's always a balance, and it can be tough.
"In the beginning, I thought this album was only going to be about sessions, sessions, sessions. Figuring out a nice balance and finding a new executive producer who could be my partner in it. It's nice to have some solid partners in crime. Once I get close to someone I want to stay close with them!"
Building a trusted network of fellow musicians, producers, and friends has always been a key element of MØ's success. Her collaboration with Diplo neither began nor ended with "Lean On". His wizardry sparkles on MØ's dazzling early single "XXX 88", while Forever Neverland boasts his contribution on the massive "Sun In Our Eyes".
Diplo is by no means Ørsted's only long-running musical partnership. She mentions the charismatic Swede Elliphant, a fellow Major Lazer collaborator, expressing disappointment that their hectic schedules have kept them apart over recent months. Whilst Elliphant might not have found a slot on Forever Neverland, Ørsted is adamant that they will work together again in future.
In Elliphant's absence, the new record certainly isn't short on boisterous female energy. Charli XCX delivers a flawless vocal on "If It's Over", returning a favour after MØ guested on both her Number 1 Angel and Pop 2 mixtapes. Compared to Charli's tracks – "3AM (Pull Up)" and "Porsche" – both high-octane, sugar-rush pop songs heavily influenced by the exaggerated sound of electronic label PC Music, "If It's Over" is surprisingly understated, with the voices of both artists blending in almost unnerving similarity.
"It felt so right!" Ørsted exclaims of the collaboration. "I consider Charli a friend and a colleague; it just made so much sense. We've been working on a bunch of stuff over the years, but also been touring together. I thought the song was so right for her."
In addition to Charli, Ørsted enlisted vocals from a Neverland native: Los Angeles-based singer and producer Lorely Rodriguez aka Empress Of.
"I've known Empress Of since 2013," Ørsted tells me. "We started our careers around the same time and both played South By Southwest – that's where I met her. We've been following each other ever since, and she worked on my song 'Roots'. I didn't know if she was going to be up for this, 'cause she was working on her album, but she was! I always wanted to work with her officially.
"I would love for her to produce for me, but I love her singing so much. Don't get me wrong, it's so amazing that she produces everything herself, but I was like: 'come and sing, girl!'"
Considering her choice of collaborators, it's no surprise that the making of Forever Neverland was soundtracked by the work of other female soloists.
"At the moment I find myself constantly listening to other female solo artists' albums," Ørsted says. "I'm re-listening to all Tove Lo's albums, and all Lana Del Rey's albums, and Santigold, and Tove Styrke."
I ask what it is that draws her to this eclectic selection of musicians, noting that all they really have in common is their gender. It turns out that this uniqueness is exactly what appeals. "I think individuality is so important. That's what excites me," Ørsted says. "When I'm listening to other solo female artists, I love when you can hear it's them. I want to hear about them, and I want to know about their universe and all their lyrics and their sounds. I think it's so important to have that individuality."
As our interview nears its end, Ørsted chats with her team about plans for karaoke that evening. She threatens to sing Lana Del Rey, despite knowing cinematic melodrama might not be the most popular choice, and is quickly reassured that the team's private room should save any embarrassment. For the most part, however, covers aren't something on the MØ agenda.
"I have forever faith in the youth...I feel like the younger generation come from a place with social media and globalised, open minds and much more liberal views"
"In the beginning of 2017 I started to feel like I had found my voice again," Ørsted reflects, as conversation turns to her own individuality as an artist. "One is always searching a little bit – it's not like I'm ever like, 'this is me! This is my sound!' – but I felt I had come down from the pressure after a big hit.
"It has been really good for me to learn about letting down my guards in a writing session. In the beginning it was so hard for me to be vulnerable and to be myself, and to dare to speak up in a session. Sessions push you to want to be a better writer because these other people inspire you. I think that's a really good thing. I have also now learned that it's okay to write on your own every once in a while. I am definitely the kind of artist that needs both to write on my own, and to write with other people. I need to digest what I learned in the session, and try to bring it out myself, and vice versa. The bounce back between those two things is working out!"
Even though all of the songs on No Mythologies To Follow were written within one and a half years, Ørsted felt as though it was summing up a far longer period in her life. By contrast, she describes Forever Neverland as "a snapshot of where I feel like I am right now.
"I'm already changing, though," she laughs. "We all change every second of the day. I'm excited for new times, but right now I'm excited to go out and play [the new album] live."
Though easy to miss at first listen, Ørsted's sonic snapshot extends far beyond the personal.
"Living in a time where politics are so much a global affair, we're connecting all over – things like Trump and Brexit affect everyone in a way. Everyone's speaking about it. It's good to be globally politically aware. In Denmark there is the same right turn that we see everywhere. It's all over the place, and it sucks so much. It's fuel on the fire for me. I want to get more into it so I can be a bit more outspoken.
"I am starting to feel responsibility more and more, which is – I guess! – a good thing. I feel like I'm politically aware, but I want to educate myself even more.
"My only fear would be to preach about something that I didn't know enough about. That's my biggest nightmare: to be very outspoken about something but then not know the actual facts. If music is a way to get through to a younger audience and let them know that political issues matter, then that's great, but I have that need, that urge, to know 100% what I'm talking about."
Here, Ørsted pauses to acknowledge the knife-edge balance she walks as an artist, particularly as one moving in such a club-friendly, dance-influenced direction. Hedonism and escapism play a huge part in MØ's current heady, bass-driven sound, but Ørsted recognises that – like Neverland – no dancefloor can provide endless respite.
"Denial is not a good thing! That's what people are doing these days with politics. There's the fear of where the world is going with this drastic right-wing change. Everyone seems to collectively want to escape, but that's not the right thing to do: to hide behind your screen.
"I have forever faith in the youth," she continues. "I feel like the younger generation come from a place with social media and globalised, open minds and much more liberal views. This is just all the old, rich people. I think the youth is gonna come and win over at some point. That's what I hope, at least! Maybe it's all going up in flames, I don't know! The youth are not to be underestimated."
Ørsted's final picture of a revolutionary youth is one quite different to the naïve, unburdened characters inhabiting Forever Neverland's perpetual clubland. Again, it's a paradoxical worldview: one that upholds opposing narratives as she flits between dreams and reality.
Perhaps MØ and Olwen aren't so similar, after all. Karen Marie Ørsted reminds us of the truths that many of us struggle to reckon with. Whether we like it or not, sometimes we have to grow up.
Forever Neverland is out now via Sony.
Subscribe for news and competitions