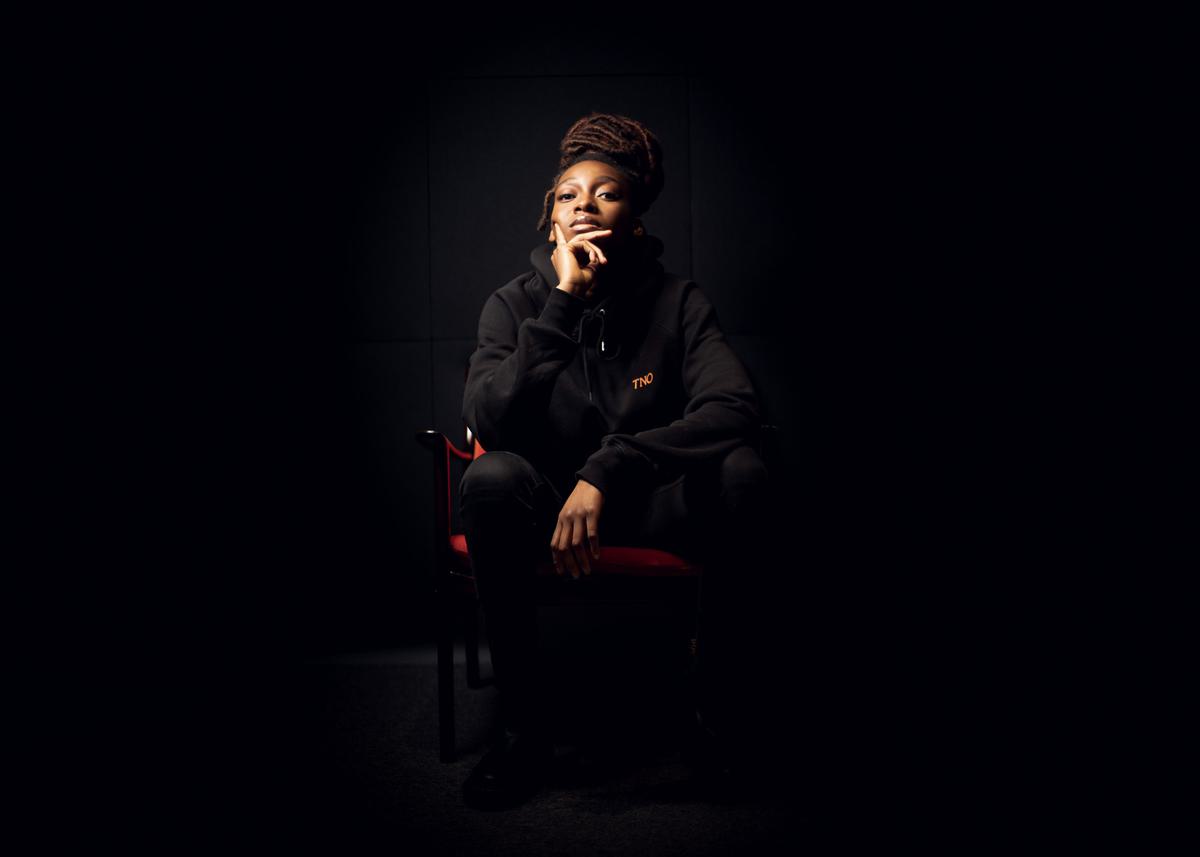 The evolution of a boss in a fucking dress
20 December 2019, 11:00
Little Simz talks to Will Lavin about GREY Area - our record of the year - and where she's planning to take her career next.
To say that the last nine years have been busy for Little Simz is an understatement.
Since the release of her 2010 mixtape, Stratosphere, she's toured with the Gorillaz, featured in Apple ads, had her name shouted out by Stormzy during his headline slot at Glastonbury, graced an array of magazine covers and starred in the latest series of TV drama Top Boy. And as if that wasn't enough, her most recent album, GREY Area, was shortlisted for this year's Mercury Prize.
"It makes me wonder what's next," Simz says, stirring a cup of hot tea as the two of us sink back into a sofa at her management's London office. Instead of reflecting on the time that has passed, she's more interested in looking to the future: "What's going to happen in the next nine years? If that's where I was nine years ago and this is where I am now, where am I going to be when I'm 34?" Good question.
One thing's for certain: the next few years are going to be an exciting time for Simz. With so many new accolades added to her resume this year alone, it feels as though her career is about to finally go stratospheric. Yet it's something, Simz reveals, that she thought would have happened some time ago.
"I didn't really feel like things had changed for me until this year," she admits, regardless of any prior achievements. "I spent a lot of time feeling like no one knew I existed. And no one did know, which is fine, but I was always like, 'When is my time gonna come?' I thought it would have happened a lot quicker but the more I think about it the more I know it's all about perfect timing."
Contrary to her original belief, she only needs to look at someone like Missy Elliott to know that her career is actually a lot further along than she initially thought. MIssy's breakthrough moment came in 1997 when she released her debut album, Supa Dupa Fly. She was 26-years-old. Simz is 25 and has already made quite the name for herself. Just ask Kendrick Lamar, who, back in 2015, said that she "might be the illest doing it right now."
Immersed in music from a young age, Simbiatu 'Simbi' Ajikawo was born in North London in 1994 to Nigerian parents. Her name, Simbiatu, means 'blessing,' something she believes has encompassed her whilst on her quest for success. "I've been very blessed," she says. "I count my blessings every day and I just feel grateful. I feel like someone's looking out for me. Something bigger than me, something bigger than all of us has really got my back."
It was around aged seven that Simz became infatuated with hip-hop. First discovering Missy Elliott, the Virginia rapper/producer's wacky music videos and creative rhyme schemes provided a gateway to a whole host of other artists that Simz would go on to study. From 2Pac and Lauryn Hill to Jay-Z and Nas, it was after listening to these greats that she herself would turn her hand to music.
Beginning with Stratosphere in 2010, her debut mixtape was followed by three more, including 2013's Blank Canvas. "I go back on the odd occasion and listen to my old Soundcloud songs," she says. For someone looking forwards so much, what is it about looking back that interests Simz? "I didn't really take in the fact that I've been documenting my life all this time," she continues. "It's like reading my diary or looking at old photos. I kinda hear it in the same way as when you smell a scent or something and it reminds you of a person or a place. It's like a time capsule. I just remember what I used to be like back then, how I used to dress, what I was into. It just all comes back. It's been a hell of a journey."
"I think it's super important to have people around you that are motivating and inspiring you to continue to push and do what you love..."
But that journey might never have happened if it wasn't for the fact that she had such a sympathetic and patient next door neighbour. On "God Bless Mary" Simz recounts how, during her rise to fame, she would record at all hours of the night knowing that her music was seeping through the walls into her neighbour's home. Yet, for whatever reason, Mary didn't complain a single time.
"She could have caused all kinds of trouble," Simz remembers. "She didn't say a thing - and I know that shit was annoying the fuck out of her. I know that when I was coming home late and I'd see her at her window having a cigarette she was probably saying to herself, 'Okay, I'm gonna be up all night because I know she ain't going to sleep. She's coming home to make music.'"
Many of those nights included inviting friends over. But instead of just being there for the sake of being there and adding nothing to the creative process, they had a purpose. They were her "musical hub": a group of talented, likeminded people she surrounded herself with in order to inspire and learn from.
"I think it's super important to have people around you that are motivating and inspiring you to continue to push and do what you love, even if you're not getting paid for it," she explains. "We weren't getting paid for anything, but we just loved music and we always wanted to create and always wanted to write. Having those people that I could bounce ideas off of was so important. If I didn't put myself in a situation where I was surrounded by musicians that played instruments it wouldn't have given me the incentive to go and wanna learn how to play the guitar."
While Simz has gone on to work with a plethora of big names, including Kano, Michael Kiwanuka, Yuna and Damon Albarn ("The fact I can call Damon Albarn my friend is mental," she says), the best advice she's ever received actually came from her producer, Inflo (who she calls Flo).
"I've been given so many pieces of advice, lots of which I've completely ignored, but [he] told me to trust the process," she says of the London producer. "And it's something that I've always known to do because I've always continued on. But the reason he said it to me was because when I was making GREY Area it was the first time I had ever doubted my musicianship."
With self-doubt rearing its ugly head, Simz wondered if her latest album was perhaps too much of a creative leap. "I just remember thinking that because it was so different from any of my other stuff that maybe people weren't going to like it, or even get it," she remembers. "I thought they'd be like, 'She's trying to be too different or too out of the box.'
"However, I liked the music and he just instilled in me to continue to trust that instinct. I believe I'm someone who has good taste in music. I know I have a good ear when I hear a beat or when I hear a riff or a drum pattern or whatever it is. I just trained my ear basically. But yeah, this time around I had a lot of self-doubt. I know it sounds cliché and I don't even like saying shit like this but it's the realist."
She also doubted whether or not she should have toured with Albarn and Gorillaz: "I thought, 'Damn, did I just open up for the Gorillaz on an arena tour?' Was it too premature? Should I have made the GREY Area and then gone on a tour?' These were all questions I asked myself." It's evident that Simz can be very critical of herself – and it's because she cares.
If Simz did decide to step away from music to pursue another avenue, be it because she felt unworthy or because the industry was beginning to grind her down, what would she do instead?
"I've always liked literature," Simz replies, her wide smile mirroring the one on the face of the Cheshire Cat in Alice's Adventures in Wonderland, the same Lewis Carroll classic that inspired her second album, Stillness in Wonderland. "So if I didn't do music I'd probably study literature at university and do something with it."
On this year's GREY Area, Simz has deliverd her best work to date. Leaving behind the manifold concepts found scattered throughout her previous projects, she focuses more on simply being human and expressing herself in the best way possible; it's the most candid she's ever been on record. Tapping into explorations of self, modern relationships, self-empowerment, trauma, and family – to name a mere few of the themes she examines - her slick wordplay and ever-changing delivery illustrate her perceptiveness. It's like a coming of age moment for the 25-year-old.
Influenced by the likes of J. Cole, Kendrick Lamar, Kano and Lauryn Hill, the album was nominated for this year's Mercury Prize. The judges said the 2019 awards were about celebrating the "striking diversity of British and Irish music-makers" and their "shared purpose in exploring issues of identity and belonging at a time of division and disagreement", all with "passion, insight, ambition and heart-stirring optimism." It was the very definition of GREY Area.
With much of the album made up of live instrumentation it's not a surprise to learn that The Roots were also a big influence. "They've always inspired me," Simz says of the Philly group led by Black Thought and Questlove. "I feel like now is the right time in my life to showcase this type of influence."
"I knew that I wanted to work on real live music," she says, before going into a bit more detail about the album's production. "I just didn't know that it was gonna have that much of a presence on the record. I thought maybe on a few songs we'd put some live strings here and there but we ended up playing 98% of the record live."
"I just knew I had some shit to say. I just needed to vent. I wasn't writing it and thinking that this person was gonna hear it or whatever."
The quality control on GREY Area is another thing that sets it apart from a lot of other albums. Instead of lining up a bunch 'hot' tracks, throwing them against a wall and hoping some of them stick, it's a cohesive project that needs no skipping. Effortlessly playing like a complete body of work throughout, it'll sound just as good in 10 years as it does today, which Simz puts down to nostalgia.
"I listen to some of my favourite albums and they take me back to a place, like a certain piece of music represents a time in my life," she says. "There are even some albums I don't listen to because they might have been something I listened to with an ex-partner and they end up being too much for me to go back to. But it's because of this that I'm into full bodies of work and really investing in an artist, not just in terms of money but their story, their journey. I like to grow with an artist."
And a part of growing with an artist is being able to understand and relate to their personal experiences - something GREY Area is littered with. One that sticks out in particular is when Simz reflects on a past relationship on "Sherbet Sunset", and through song she tries to work out exactly what went wrong: "I ain't even mad at you, Chuck, I'm just mad at me / Should've known better, mummy taught me better strategies / Still it burns, guess it's a blessing and a curse / Life goes on, this another lesson learned / Mind switched on, you can hear it in a verse, right?" she raps, showcasing a more vulnerable side to her music. It's not often we've been allowed to peek behind the curtain of her love life. What brought about this change?
"I just knew I had some shit to say. I just needed to vent," she explains. "I wasn't writing it and thinking that this person was gonna hear it or whatever." She pauses for a moment. That wide smile of hers reappears but this time it has more of a coy undertone to it. "Tell a lie," she continues. "I did think, 'Ooh, I've said his name.' I had my best friend in the studio and I remember I turned to her and I was like, 'Do you think that's a bit much? Do you think I should swap it for boy or whatever?' And she was like, 'No, it only makes it more personal to you. Phase all that other shit out, don't watch nothing it only makes it more personal to you.' So I did and it was so freeing."
Elsewhere on "Sherbet Sunset", Simz raps: "Everything that I've enjoyed in life, I'm a survivor of / Making sure to understand the small print 'fore I sign it off / You was meant to be in my Grammy speech, your entire loss." Besides being a reminder to her ex that he could have had a front row seat to success had he not dropped the ball, it also highlights Simz' unflinching self-belief. Her mention of a Grammy shows just how far she thinks she can go.
"It's gonna happen. I've no doubt," she confidently states. "I don't know when but I just know it's gonna happen like how I knew a lot of things were gonna happen. The direction I'm heading in, the way my mind is set, the things I'm focused on, the things I wanna achieve and how much work I'm putting in is gonna amount to that. And that's not to say that's it after I get there, that I can chill. Nah, we don't take our foot off the gas, we keep going. But it is something that I've dreamt about for a very long time and I do see it. I do visualise it."
Redressing the balance of a male-dominated industry is another theme found sprinkled throughout GREY Area. Not afraid to tackle things head on, Simz is fearless as she reports from the frontlines of a sometimes misogynistic profession. "Fuck those who don't believe / They will never wanna admit I'm the best here / From the mere fact that I've got ovaries/ It's a woman's world, so to speak / Pussy, you sour / Never givin' credit where it's due 'cause you don't like pussy in power," she spits unapologetically on the rapid-fire rush that is "Venom".
It doesn't stop there either. Probably the most prominent line on GREY Area comes on "Boss" when the hook screams: "I don't need that stress, that stress/ I'm a boss in a fucking dress!" Stamping her authority on the game in what sound like size 13 Doc Martens, Simz pulls no punches as she gives critics the answers to their questions about what it's like being a woman in the rap game.
"I just think there's more interesting things I'd rather be discussing than the fact that I'm a woman in a male-dominated industry."
Simz says she understands why she's constantly asked those questions - even if it does bore her. "They wanna understand it firsthand from someone that's experiencing it right now," she says. "But at the same time, I've already put it out there. I talk about it in the songs. I just think there's more interesting things I'd rather be discussing than the fact that I'm a woman in a male-dominated industry." Could one of those more interesting things be a new album? Maybe, but there's nothing concrete at this stage, says Simz - although she admits she's been laying down a few ideas.
"I've got ideas but I've always got ideas," she laughs. "When I went on tour we set up a little studio on the bus so I was in there most days just putting ideas down. That's what I do, sometimes I just make little demos and I won't even acknowledge them until I'm ready to get in the studio. Then I'm like, 'Oh shit! I forgot about this one.' I make little voice notes and sometimes I'm not even speaking English, I just lay down an idea for a flow."
Simz has always been a fan of music regardless of genre, so it's no surprise that as I'm digging for more information on what her next album could potentially sound like she throws a curveball from left field. "I was listening to an indie rock alternative album the other week," she says. "I ended up feeling really inspired by it." Revealing that the album she's talking about is by Bristol rock band IDLES, she adds: "But I might not dive into that until my sixth album."
Aside from the music, Simz reveals that she's actually studying right now. She might not be sat in a class flicking through pages as a teacher watches on, but in the comfort of her own home - or tour bus as is more likely the case - she's teaching herself a new discipline altogether.
"I'm trying to learn German," she says, evidently pleased with herself. "I kinda fell in love with Berlin and it just inspired me to wanna learn the language. It's difficult but I have a lot of friends out there that have been helping me.
"I like that it's another way for me to push myself. It's like learning an instrument. I think to myself that if I can teach myself guitar, if I can teach myself piano, drums and all these things that I've done then I can 100% learn another language. I know it's going to be different now because my brain's not as much of a sponge as it used to be but I'm looking forward to the challenge."
The main reason for wanting to learn German isn't because she's planning on laying down an album in an alternative language - although I wouldn't put it past her that she could do it - it's actually more to do with personal achievement. "It's about me stepping outside the box and doing something I've not done before," she explains.
Regardless of her next move Simz has already made a dramatic impact on today's culture. She joins the likes of Stormzy, Skepta, Wiley, Kano, Stefflon Don, Dizzee Rascal, Giggs, Ghetts, Ms. Banks and so many others in shaping the identity of Britain's youth - one that is now recognised and adopted in countries all over the world. But is she aware of the moment and how important it actually is?
"Maybe," she answers wistfully. "I don't know if that's a good thing or a bad thing. I don't know if I should be super aware of it or not. I feel like I don't want to be distracted. I don't want to let these things get in my head like that. I know it's great and I'm so grateful and so appreciative but I just think in the same breath it's very easy for you to just be like, 'Yeah, I'm just having dinner with Drake,' and get too comfortable. I don't ever wanna get like that. Yeah, that's sick but guess what? I'm trying to do this and go here."
Sweeping any self-doubt that she may have been holding onto under the rug, Simz puts an exclamation point on her pursuit of prosperity: "I'm just trying to continue to push because I've always had that within me and it's led me here. My formula is working so it's just about staying hungry and not getting content."
Now that's how a boss thinks.