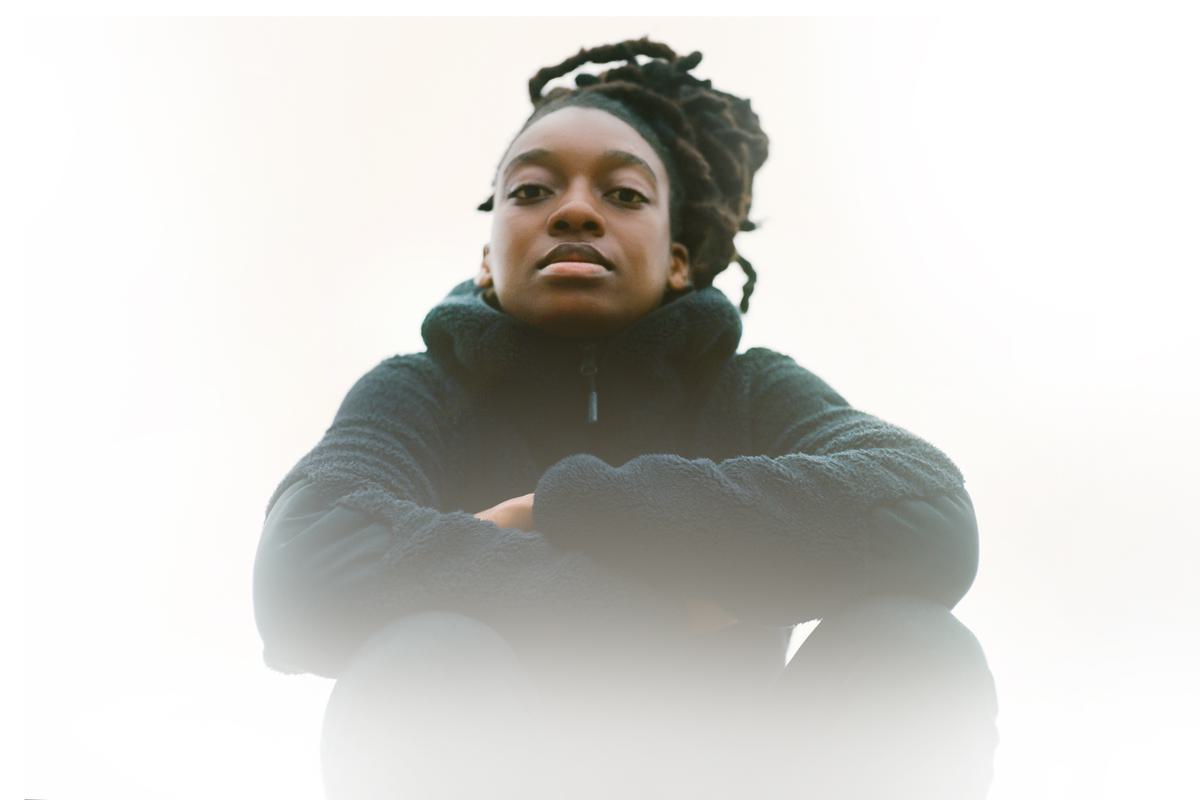 Little Simz is tackling life's grey areas
28 February 2019, 07:30
As she drops her third album, GREY Area, Little Simz explains to Charlotte Krol how she tempers the uncertainties of mid-twenties adulthood with bold, honest songwriting.
GREY Area is an apt title for Little Simz' third album. The record finds the 25-year-old hip-hop wunderkind at the intersection of a quarter-life crossroad. Because when you've already toured the world with pop and hip-hop titans, released reams of acclaimed music, and have been co-signed by the world's greatest living rapper, well, what's next?
"Essentially, this is what the album's about. It's one big grey area. Nothing is black and white. Nothing is set in stone," Simz says.
It's not the only time that Simz, whose real name is Simbi Ajikawo, debates life's twists and turns during our conversation. There's an uncertainty, she says, that's symptomatic of this period of adulthood. "I think the more I speak to my friends and people in my age group about it, the more I realise we're all going through it," she says.
"Some people go through it silently and some people are a bit more vocal. I think I was someone dealing with it to myself silently until I started opening up and was like, 'Oh, so you're going through it as well? Oh, sick.' I mean, not sick! But just that I don't feel so alone in it."
GREY Area arrives after a couple of years of intense highs and lows in which Simz has played sold-out headline shows, collected MOBO nods, and joined Lauryn Hill on the hip-hop queen's recent anniversary tour. Simz talks of "life-changing" experiences, including a tour with Gorillaz in 2017. "A lot has changed. My life is changing in such a drastic way. Just being in that environment with Gorillaz, around legends – it definitely changed my perspective on a lot of things."
But the peaks met the troughs. "I think, personally, the more I was on the go and away from home, the more I missed out on family and friends," Simz explains. "I guess I just found it a bit hard to keep that balance of work and personal."
Simz thinks that she possibly overwhelmed herself in 2017 for her second record's promo cycle and other collaborations, which spun her into a "constant state of anxiety" and "just being down."
"Obviously people see you on stage, and they live through your social media, but there's a lot that goes on behind the scenes," Simz says, addressing the facade of a 'glamourous' music industry. "There's a lot of moving parts, a lot of hard work. I took on a lot. I think it kind of affected my physical and mental state a little. I hadn't given myself a moment to just breathe. I felt like people expected a lot from me, and I was just giving and giving and giving and burning myself out."
The antidote was throwing herself back into making music once the tours were over. "I really took time and just got in the studio and worked. I kinda needed that; I kinda needed that time to cleanse and be stationary. Hone in on my thoughts and focus everything."
Simz is grateful, for herself at least, that creating music is both a passion and a coping mechanism. "Some people will go through stuff and, I dunno, turn to substance abuse – whatever it is they need to deal with certain things," she says. "But I'm lucky enough that my outlet was music, getting in the studio and being able to write about these things. After I'd written the album I did feel a sense of clarity and like, 'Ok, I know where I'm at at now. It feels like I'm normal again. I'm functioning like a human being as opposed to a robot.'"
Perhaps this is little surprise; those familiar with Simz' back catalogue will know that she's a prolific writer. In the space of nine years she's released four mixtapes, seven EPs, and – including GREY Area which drops this Friday – three studio albums. To date, everything has been released on her own label AGE 101.
Growing up, Simz was a keen, precocious performer. She was showcasing her talents in drama classes from the age of nine. By 11, she was playing her own music at Islington Academy. In her teens she secured a role on the CBBC superhero show Spirit Warriors and later a role in E4 youth drama Youngers. Then she turned back to music. In 2013, aged 19, Simz released her fourth mixtape Blank Canvas, premiering it via Jay-Z's Life + Times website.
Simz' debut record, 2015's A Curious Tale Of Trials + Persons, was a concept album about fame replete with role-playing characters and Simz' pithy rhymes. Its 2016 follow-up, Stillness In Wonderland, displayed musical vignettes about navigating life's uncertainties via a rich tapestry of R&B, electronica and jazz. On the latter record's track, "Wings", Simz spits: "This the type of music that ain't never going to sell? / Well, what if I prove you wrong?"
"I'm tapping into the more musician side of me as opposed to just the rapper side...I play instruments so I'm listening to things with different ears now"
Is she trying to prove naysayers wrong? Simz has no doubt produced some of her most impactful, immediate material to date in GREY Area. In "Offence" it's clattering beats, contorted synths, and jazz flutes bolster incredible affirmations: "I'm Jay Z on a bad day / Shakespeare on my worst day." Meanwhile, "101 FM" is an engrossing tale of Simz' life story over a looping, pentatonic video game 8-bit hook. "Boss" has the bluesy snarl and stomp of Kanye West's "Gold Digger". In fact, she namedrops West later in the song: "Learnt from 'Ye then went and touched the sky n****" Throughout the record Simz equips artistic self-belief with sturdy mechanics.
"I think it was all a natural progression to be honest," she says of these brasher sounds. "I didn't go into writing this album thinking, 'I want this to reach more people.' I mean, obviously I want it to reach more people, but I want to make music that this time round is going to transcend. It was more that, for me, I wanted to be more experimental and try new things."
Part of that experimentation has come from working with her longtime friend Inflo, a London producer who's worked with Jungle, The Kooks, and Michael Kiwanuka.
"I was lucky enough to work with someone who allowed me to [experiment]," says Simz. "I feel he got the best out of me on this record. He's great at that. And there were times where we clashed where I was like, 'I can't do this', and times I'm sure where he was like, 'I can't do this', but we persevered. He's someone I've known since I was like nine years old so we've always had that relationship and that chemistry. It was sick to be able to get back into the studio with him years later."
Simz, who describes the writing and recording process as "a true collaboration", adds that GREY Area is her most musical work to date. She's picked instruments up more than ever this time. In the past she's been stuck with the label "UK female MC" or "rapper" (a mistake she once corrected The Guardian about).
Really, Simz is an artist in myriad ways. She raps, writes lyrics, composes, produces, and 'dabbles' with the drums, guitar and bass. 'I'm tapping into the more musician side of me as opposed to just the rapper side," she says. "I play instruments so I'm listening to things with different ears now."
She admits that she's "still got a lot to learn" but has felt a "deep love for instrumentation and melody, not just writing lyrics" which is pushing her sound in a new direction away from pairing beats and rhymes. "I've kinda taken it a bit deeper and I think as my music progresses, people will hear more of that."
Working with session musicians has exposed Simz to new environments that she says helped shape the sound of GREY Area. Also, she reiterates, did the tour with Gorillaz, which "opened up my palette in terms of musical scope" (feature spots on the band's 'Humanz' tour ranged from Pusha T to Kelela, Vince Staples to Kali Uchis).
"I'm very confident in what I do and I know that I believe I'm great at what I do but at the same time there's a part of me that's quite shy and insular"
But Simz was on her own journey of discovery of "worldly music" during this period. She listened to lot of Nigerian funk and Fela Kuti. "I think without me even knowing, my head was just in that space going into making the record," she explains. "Though once I was actually making it I wasn't listening to that music 'cause I l don't like to listen to other people's music when I'm creating my own. I don't want to get distracted."
There's a duality with Simz; she has sheer confidence in her craft but admits it's pared back in her private life. GREY Area exhibits much of this. Where "Offence" and "Boss" are big fuck yous to anyone standing in her way ("I'm a boss in a fucking dress / N**** stay in line") songs such as "Therapy" and "Sherbert Sunset" show her vulnerable side. Is this interplay of contrasts a reflection of her personality?
"Yeah, 100 percent. That's what I've been trying to tell everyone," Simz answers. "I'm very confident in what I do and I know that I believe I'm great at what I do. But at the same time there's a part of me that's quite shy and insular. That's also me as well. It's like a balance isn't it? The ying and the yang that's all that makes Simbi. And I think that as I get older and I continue to go through life you might see more of that or less of that. It just depends on the person that I continue to grow into."
On "Sherbert Sunset", Simz unloads a barrage of tales about a devastating break-up at the hands of an unfaithful lover. She raps beautifully about how, behind the scenes, she's a "sensitive soul" who had dreamt of thanking her lover in a future Grammys acceptance speech. Elsewhere in the nocturnal, slo-mo funk jam she reveals that she's secretly been "down a lot", smoking too much weed "to take my mind off" things.
"It's a personal reflection, it's a true story," she says. "It something that happened to me recently. And it's like, with these songs it's never me, you know, shitting on the person or dissing them. It's just more so that I'm just trying to understand; I'm just trying to figure out where it went wrong. And even more so just heal from it – that was my way of healing, you know?
"No one knows that I went through that. It's not like I'm out there on social media blasting the person or whatever the case. I just deal with it and then I write about it. I didn't even want write that song. It was Inflow who was like, 'Yeah, say his name, like just say what you've got to say and just get it out.'
"And I was like…." She sits back on the sofa, inhales sharply. "There are some things I will talk about on record and there's some things I purposefully feel like I just want to leave alone, especially because I don't know that I've actually dealt with it. It's going to be telling when I have to play these songs live because then I guess I'll know how I truly feel about it. Sometimes if you've not dealt with it it's like opening up a wound that you've not let heal. So, we'll see."
"I'm quite an emotive writer but on GREY Area it feels like I went deeper and spoke about things that were a little uncomfortable for me to talk about"
The other aforementioned song, "Therapy", hears Simz recall returning home, alone – "my system on overload" – which she nurses later with a few drinks at a bar. An argument over the phone with her beau compounds with a mind riddled by anxiety and a body jetlagged by working in "different zones". Later, Simz brings the titular subject into focus. Has she ever been? "I've never been to therapy but I've always just heard a lot about it and been advised that I should go. But I've decided not to go – though that might change soon," she says.
"When I wrote this song I envisaged myself on a couch, speaking to a therapist. I pictured the room and envisaged what it would be like, with someone crossing their legs and listening to me with a timer on the coffee table and me just pouring out, kinda thing. And me feeling like this is just a big waste of time. And I can't understand that if you're human and I'm human – you deal with shit and I deal with shit – I don't know how you can help me with my issues. You don't even know me."
But Simz admits that that view is "maybe coming from a very jaded perspective – not really understanding much," adding: "It was just my views on it in that moment in time, if that makes sense?"
Much of GREY Area plays out like a digitised diary. This isn't a novel move from Simz. A Curious Tale Of Trials + Persons and Stillness In Wonderland carry plenty of her personal missives – be it in her own voice or a fictional representative. But this latest record feels like her most direct yet.
"I think all my records have been, though I think more so on this record," she says. "Obviously I'm quite an emotive writer and I write from a very reflective standpoint. It's all very personal. But I definitely tapped into more of that [on GREY Area]. It feels like I went deeper and spoke about things that were a little uncomfortable for me to talk about. And just being aware that that opens me up to being a lot more vulnerable – everyone's going to know my business.
"That's nothing new. I've been doing that since [the get go]. I guess it's understanding that every time an event happens in my life, I might be dealing with it low-key but then I go and write about it and just tell everyone anyway. But I feel like this is a lot more personal and direct."
The subject of feeling "normal" again after writing GREY Area, and the message of uncertainty in the album title, sifts up questions about identity. Has Simz been less sure of it as she's got older?
"Uh huh. Things that I thought I was into [it] turns out I actually don't really like." She trails off. Such as? "Like, I went through a mad stage where I was just smoking bare – just smoking a lot of weed. It's like, 'Actually, I don't really....I'm not that into it.' I can smoke and be cool but the way I was going at it was…you know what I mean? I still smoke but I'm just saying that that intensity and who I was surrounded with at the time, it's like, I can't just be on my friend's sofa every day, smoking."
Asked if that doesn't help with anxiety, she says: "Exactly that. Not [using it] so much as a coping mechanism. I don't wanna feel like every time I'm stressed out, I feel like I need to smoke."
Simz, who lives alone not far from her mother in Holloway, has instead learnt how to manage her downtime; smoking when she wants to just "chill with it sometimes" and not relying on it to make her feel better. "I can have a zoot if I feel like it, in that sort of way, you know?"
"Once upon a time, writing a third album was a goal and playing arenas, and now I've done that. You kind of move the goalposts a bit: a next challenge, a next goal that you want to accomplish."
She is "more than cool" with her own company and knows that striking a balance of seeing family and friends against her own time is important. "I have siblings but I kind of grew up alone because the gap between me and my middle sisters is quite wide. So I kind of spent a lot of time growing up by myself. At the same time my mum's a foster carer so I've always had kids in my house.
"But I'm someone who definitely doesn't mind their own company. I'm good with that. I don't need to speak to my friends every day. They know I love them, I know they love me. I live alone, so I'm just chilling. People come visit me when they have time and I go see whoever when I want to see whoever."
She adds that "no one takes offence" when she's back home from touring and hasn't immediately got in touch. "'Oh you're back in London, you can't think to see me?'" she mimics. "They just appreciate that I would want some time to myself."
Self-care appears to have taken a more prominent space for Simz in the wake of exhausting herself a couple of years back. It's evident on "Selfish", featuring Cleo Sol, which hears Simz prioritise "self loving".
Among the need for to get back to writing after touring Stillness In Wonderland, Simz also felt the need to revise how she spends time on social media. "I think social media does play a huge part in people's mental states. But I think I'm at a point where I've been learning how to use it to my advantage as opposed to letting it use me.
"Now I'm not so infatuated with it. Like, I understand how it can get the better of someone. [But] I know how to navigate it and manoeuvre it in a way that works for my benefit. When I was writing the album I completely came off social media. That was a conscious decision. I didn't want to engage with the outside world like that. I didn't want to know what people were doing."
With that came avoiding the news ("I'm just a very emotional person and sometimes when I read things I realise it doesn't do much good for me. It depresses me"). To maximise the writing process for GREY Area Simz says that she was "very much focused on myself, on my music, saying what I needed to say."
Indeed, citing tracks "Offence" and "Boss", Simz explains that she wanted her new songs to feel like statement pieces.
"I definitely wanted [GREY Area] to feel a lot more gripping. And just because I'm a female, don't ever think I'm going to do this cute stuff. I'm not just gonna be cute with it all the time. It's real rap. 'Boss' has a '90s, sort of hip-hop underground feel. It was more of a statement. I guess it's kinda difficult to make that stuff cut through 'cause everything is like, I dunno, digitalised…."
Is she referring to the algorithmic, box-ticking nature of music in the streaming age? "Yeah yeah, exactly," she says, "so it's going to be a bit more difficult for a boss to cut through all that, you know what I mean? That being said, people who love it, love it. And that's who I'm focused on. I'm not really concerned by the other stuff."
Her confidence flares up again. So what's on the horizon? Grammy awards? "Yeah, for sure. Definitely. I feel like there's certain goals that I've not quite achieved yet. Once upon a time, writing a third album was a goal and playing arenas, and now I've done that. You kind of move the goalposts a bit: a next challenge, a next goal that you want to accomplish."
Talk turns to her label and whether she plans to stay independent. "This is the thing, right. I'm not trying to be 'captain independent'. One day I might actually turn around and sign a deal." She not so sure that her peers would like that, though. "People would pop out of the woodwork and be like, 'I knew it'.
"It's not like I don't like labels. I think there's this misconception of me trying to be this rebel. It's not that, it's just more so that I've been someone who's had a very clear vision from the age of nine. I've known what I want to do and who I want to become. I've not necessarily mapped out the route I'm gonna have to go on in order to get there but I know what I'm willing to compromise and what I'm not willing to compromise. All the stuff I've been offered – I've not been willing to give up what I've worked extremely hard for in order to take that. So just know that if I ever do a deal, I've done it right.
"I believe that I'm someone who makes music for all different types of people, from all walks of life, so nothing can really hold me back from what I'm destined to accomplish. Nothing. Not where I'm from, not anyone who tells me anything. It's all on me."
At this juncture, Simz might still be figuring out exactly who she is as a person. But she damn well knows who she is as an artist.
GREY Area is released on 1 March via AGE 101