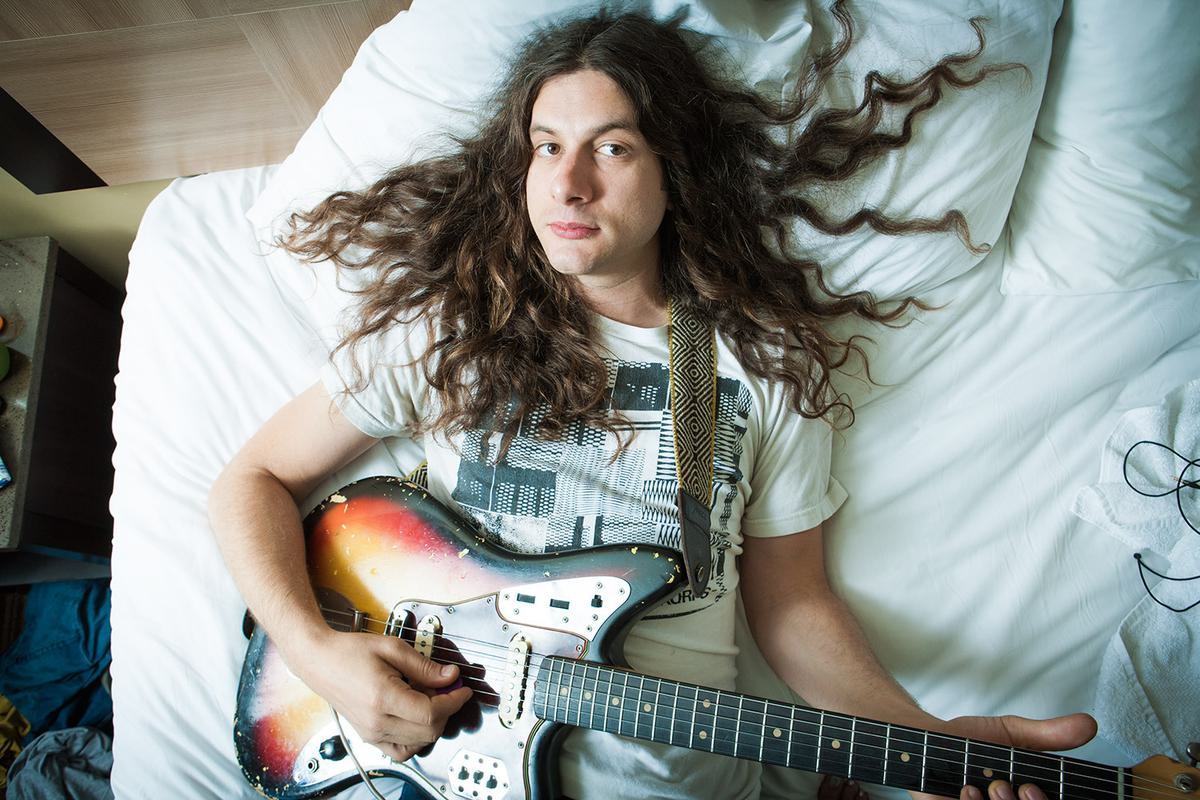 The Couch Trip
24 September 2015, 11:00
Kurt Vile's new record sees him channel melancholic existentialism and self-reflective sentiment like never before. Emma Finamore gets under the skin of Philadelphia's greatest son.
"I don't wanna be a 'man'," chuckles Kurt Vile, his long hair dipping forward as he laughs. We're in a quiet Hackney pub, catching up before he plays a show under the railway arches around the corner. I've just asked him what he thinks of Kim Gordon describing him as a "boy/man" in the promotional bio she wrote to accompany his new LP, b'lieve I'm goin down.
"That's cute, I like it," he continues. "I'm 35 so if she calls me a 'boy/man' then I take that as a huge compliment, 'cos it's Kim, and 'cos it's a 'boy/man' - I don't wanna be a 'man'."
To put it into context, the line in question reads: "Kurt does his own myth making; a boy/man with an old soul voice in the age of digital everything." And Kim's right (of course) - it's a soulful, melancholy record, at times existential and self-reflective, often quiet and calm.
I wonder if opening track, "Pretty Pimpin'", its video featuring ever-increasing versions of Vile, creating a creepy kind of claustrophobia, has anything to do with this sense of "myth making"? Of fame (we meet literally four days before 'Kurt Vile Day' - an official holiday in his hometown of Philadelphia) forcing him to stand outside of - and look back at - himself?
"'Pimpin' wasn't about being famous," he says. "It was more like the opposite. I was definitely feeling down when I wrote it, like 'Who am I?'
"But I always like to flip the darker, serious stuff with a snarky joke, like saying 'Yeah, but I'm still lookin' good - pimpin'."
The track certainly plays with the idea of identity and confusion: "I woke up this morning / Didn't recognise the man in the mirror / Then I laughed and I said, 'Oh silly me, that's just me.'/ Then I proceeded to brush some stranger's teeth/But they were my teeth"."
Then, as mirrored in the video, our narrator splits in two, flitting between "I" and "he", and by the song's outro these two selves have both regressed to boyhood: "I woke up this morning, didn't recognize the boy in the mirror."
But we shouldn't be fooled into thinking it's to do with growing older, or a yearning for youth, says Vile. "We got so many pitches for that video where people thought it was all about getting old, and they wanted to just show me ageing," he says.
"And I'm like, 'I don't want that - me getting older and uglier!' That's not what it's about - it's about psychologically burning out and wondering, 'Who am I?'"
He sounds like he's had quite a few misinterpretations of his vision lately, and is starting to take more of the creative direction into his own hands: "I guess this is the first record where I'm really conscious to make everything look the way it feels in my head, or the way the record feels, like just get the image across the right way."
Vile's the one who found the director for the "Pimpin'" video, Daniel Henry: - "The kid that did it did a really cool video for this song writer that I really like, Luke Roberts - he has two records on Thrill Jockey - "Unspotted Clothes"? The video's amazing and the song's really good." - and had a clear idea of the psychedelic dreamscape he wanted to create for second single, the louche but insular "Life Like This".
"I feel like in the past I just went along with things, took people's word for it and hoped for the best," he says. "But I've learned that when somebody's telling you it'll be good and you have a gut intuition that it won't work out? It usually won't. You should just follow your instincts from the beginning, or else you'll just be back cleaning up the mess you could have avoided in the beginning.
"Videos aren't easy work. It's a pretty long process but once it comes out it's really rewarding," he says. "What I'm really good at is making albums, you know? Making the songs in the moment, and then finesse them until they're just right and tailored to my mind."
It's not surprising that song-writing, crafting tracks, at times very isolated undertakings, are where his strengths lie - Vile is someone who seems to value being alone. He's been in London a day and a half already, but has spent it by himself in his hotel room watching movies (a documentary about Apocalypse Now and Spring Breakers, if you're interested). Kim Gordon's LP bio quotes him as saying: "I wanted to get back into the habit of writing a sad song on my couch, with nobody waiting on me."
This couch is a recurring leitmotif; in press releases, in previous interviews, on the album and during our conversation. It looms large in Vile's creative life, both figuratively and literally, and seems to represent something precious; a calmness and quietness, a peaceful alone-ness rather than isolation.
"That's my good girl / My whole world / Turning on the couch / Close that cute mouth / And kiss me," he sings, on the LP's most intimate track, 'Stand Inside'. "We're gonna live in a house together / With your knee on the couch and my guitar singing / "Oh my god I love you. I love you."
I ask him about that couch, and the importance of the sad song. "I guess when I said that, I was thinking about the songs I've written throughout my life, that I write late at night, on my couch," he says.
"They're usually relatively sad or melancholy. When you're sad you feel the most, out of any emotion. You could write an angry song, that's an intense emotion too, but I don't write angry songs.
"The sad ones are when my best songs come out."
"When you're sad you feel the most, out of any emotion."
I ask if that's when, like he sings on "Lost my Head There", songs can sort of "walk" out of him, when he's so un-self conscious, so free, that it just kind of happens? "Totally!" Vile says. "With the best ones you're like losing your mind - literally, emotionally or psychedelically - you can lose your head when you play in the moment."
The way he speaks, and the way the record sounds, it seems like Vile's trying to go back to something simpler, something he misses. He's also returned to the banjo on the LPs second track "I'm an Outlaw" - the first instrument he learned to play. "I've gone back to it a lot over the years," he says. "But for whatever reason not many banjo tracks have made it onto records. They're still in the pot, somewhere."
It was vital then, when trying to bottle this sense of late-night isolation and simplicity, that the recording process was right. "I find with those songs if you sit on it too long by the time you've got there you've sort of performing it rather than really feeling it - you've lost something," Vile says. "So I try to keep it insular and relatively casual, to capture that thing."
To do this, he planned the entire recording process around spaces that would allow it to happen. Kim Gordon describes it like this: "A handshake across the country, east to west coast, thru the dustbowl history ('valley of ashes') of woody honest strait forward talk Guthrie, and a Cali canyon dead still nite floating in a nearly waterless landscape."
But Vile is a little more practical: "I didn't just pick places that I emotionally romanticised, they're all logistical reasons. Athens is where my drummer Kyle lives, he'd been building up his home studio for a while.
"Instead of having a proper producer I wanted to keep it insular; every space I went to I was in someone else's natural element, so with Kyle that's where he lives, and it's his studio, and it's just in a house in the country so you're sort of isolated with limited distractions." It was the same in LA with "Stella and Farmer Dave", and of course back in Philly with his beloved couch and warehouse rehearsal space, the Redroom.
That's not to say the various locations - from Georgia to Brooklyn - didn't have an impact in other ways though. Vile says the music recorded in LA has a "laid back party vibe" to it, and he talks about the infamous Joshua Tree in almost spiritual language.
"In the Joshua Tree desert there's nothing blocking your peripheral psyche. It's beautiful and intense and sort of mystical."
"I jammed with that band Tinariwen [a Malian rock collective] beforehand so that got me in the right headspace," Vile smiles. "And you're in the Joshua Tree desert so there's nothing blocking your peripheral psyche. It's beautiful and intense and sort of mystical... I definitely felt those vibes."
It wasn't all heady mysticism though; in New York he felt like it was all going wrong. "We'd got a load of really cool stuff from LA and Athens, and back to New York we thought we could mix them or get them close, but it just felt like a really big job," he remembers.
"Those were my roughest sessions, but "All in a Day's Work" was recorded there, and it's one of my favourite songs."
With such a geographically wide-reaching recording process, and then a record to tour at the end of it, I wonder how Vile manages to handle being a father and husband? "I do always go back to check in, not because I have to - although technically I guess I do - because I want to," he says.
"But they know it's for the greater good, not that it's always easy. It gets kind of intense when I'm working on a record, and I did get stressed out this time round. I wasn't throwing chairs at walls this time though..." He laughs with this, his hair tumbling forward over his eyes.
"I feel like the last two records were totally 'dad records' in their own way, this is more of a 'life record'; which obviously includes my family but more of a broader spectrum, the ups and downs of my life."
I ask him if anything - lyrically or musically - is off limits now that he's a dad? "I don't think about at the time of writing, but obviously I wouldn't want them to take things the wrong way. Like if you're singing about taking pills or something, they could just ask and you'd be like, 'Yeah, asprin! Vitamins!'" he chuckles again.
"This is the first record where I'm really conscious to make everything look the way it feels in my head."
Him and his bandmates have a list of joke album titles they put together during b'lieve. "Ok these are the funniest ones," he says, cringing slightly as he scrolls through his iPhone. "My bandmates get it but... they're all pretty bad, dumb, honestly."
He reels them off: "A.D.D. Clusterfuck" as in "Attention Deficit Disorder Clusterfuck"; "Not Cool, Bro" (my personal favourite); and "Off the Wagon and on the Horse". Vile laughs the most at this last one: "That's like, really black humour, 'cos you know, 'horse' can be 'heroin'."
There's that dark humour again, and the contrast between "normal 35 year old guy", and father, and husband. Kim Gordon perfectly sums up these conflicting sides of Vile and how they're mirrored in b'lieve: "It's a weird, accepting, mature record, acknowledging the inherent immaturity of being a person whether father, husband, partner, adult, musician, not perfect, but compelling for its understanding... that's life though."
b'lieve i'm goin down... is out on 25 September via Matador. Buy on iTunes or Amazon.