She even has a new biography ready for lazy hacks like me, which declares that as a baby her first words uttered were, "I can do it." I call bullshit. "That's what my mum told me!" she counters defiantly over our covid-classic Zoom call. "Maybe it was like a cute thing that she told me, I don't know. Maybe she fabricated the story. Maybe it wasn't my first words, but I think it was my first phrase. This is true, believe it or not, she said that when she'd given birth to me that the midwife said, 'Oh you need to have a firm hand with her, she's a stubborn one'. I think I would say I'm stubborn," she concedes.
JONES grew up in Aldgate, East London, in a council flat with her mum. "It was just the two of us against the world," she says. She was surrounded by the concrete grey of the City and a disproportionate amount of retired neighbours. "It was kind of strange to grow up there, there weren't too many other kids around."
At least indoors there was the record player. Her mum was a big music lover and was always playing records for Jones, everything from old soul, to classic RnB, to 80s pop and rock. "I say sometimes that music was kind of put into the womb by mum because it was always on," she smiles. "And that's probably where I started to learn to sing."
There's certainly a soulful lilt to her voice, and her harmonies have the raw power of early 90s RnB dreams. On debut album New Skin tracks like "Melt" and "Hoops" are effortless glides of rich, charismatic songwriting that not only showcase Jones' smooth vocals, but subtly hook themselves into your subconscious.
Singing was Jones' passion all the way through primary school. "I loved it," she grins. Performing in school assemblies and the choir, she even had her first taste of a recording studio. "They started doing this thing where we'd record like, assembly CDs," she laughs. "I remember going to my first ever music studio in Eastbourne to record. When I hear it back now it's quite funny because they're quite religious songs. I remember feeling like Mariah Carey with the headphones, it was a big deal."
As well as Carey, Jones took inspiration from some idols closer to home. "I loved the Spice Girls back then," she enthuses. "I think I wanted to be Baby Spice or Ginger Spice, either of the two. Not Scary Spice strangely, I didn't identify with her at the time."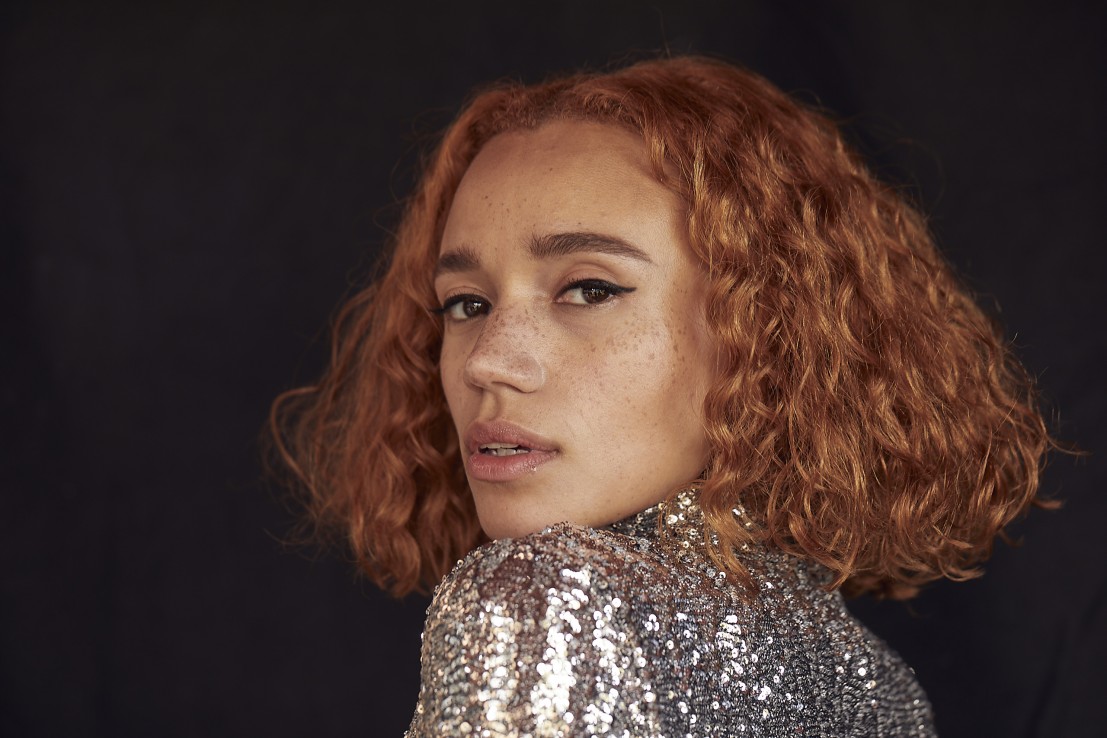 Not satisfied with being a bonafide recording artist, Jones also learnt violin throughout her primary school years. But upon moving to secondary school she found the music programme lacking and dropped violin to learn keyboard instead. "It wasn't the best school," she says. "It was just purely academic and the teachers weren't very inspiring. It was a bit depressing the whole thing."
However, to replace the creative void left by her graduation, Jones found the Brady Arts Centre in Whitechapel, an Arts Council Funded community centre that had free after-school classes and courses. "That was where I think I wrote my first song," she smiles. "And did these little performances and learnt a tiny bit of music production, like very, very basic stuff. And that was brilliant because I didn't have a great time in my secondary school. I definitely experienced bullying and things like that. And I didn't really feel like I fit in so when I found this Brady Arts Centre I was like wow, I actually get on with all these people and I'm doing something I love. It was really path-changing for me."
On leaving school, Jones knew what she wanted to do, and she knew how she was going to achieve it. "I went to the University of Westminster for one year. I kind of had a game plan. I knew I didn't want to do the full degree, I just wanted to do one year. I had no idea about the music industry at all, all I knew was that I liked singing songs and writing, so I kind of wanted to learn a bit about the industry. Of course, on my application I didn't tell them I only wanted to stay a year. It was music business, a bit of industry theory like how a record label works, how a publisher works, and a tiny bit of performance. But it was kind of theoretical and I got a sense that I couldn't really progress my artistic side while doing that, so I just had this sense that I needed to leave there, go and learn how to perform, and then just go out and do it and try and sort of make it!"
She enrolled at The Institute of Contemporary Music Performance in North London for a one year high diploma, the main impetus being to overcome growing stage fright. Despite years of performing at school, going solo still terrified Jones: "Singing in a choir is very different to just you with a microphone in front of an audience, so I used to push myself to do open mics and things, but I really struggled. I felt many times that that was going to be the reason why I wouldn't be able to do the career, because I just couldn't simply perform.
"So that's why I left University and took a performing arts course, because I thought, I'm shit scared of doing this but the only way for me to get through it is for me to consistently keep performing and get out of my comfort zone. So I was super nervous, like my heart was in my throat. It was really hard. It was confronting a fear, like someone who's afraid of heights, it was kind of like that, but it didn't solve it. My battle with the nerves was on-going."
Even after completing the course at ICMP, Jones was still plagued with performance fear. "It was a real journey and a real battle to feel comfortable, but my stubborn nature was a thing. I was like, I'm not giving up, I can do this, I'm gonna say yes to this show even though I feel sick. Yes, say yes until it feels... like fake it until you make it mentality."
It wasn't until she did her first tour, supporting HONNE in the US, that she felt a breakthrough. "I really remember having a lightbulb moment. Because the fear I'd been listening to was I can't' do this, I can't make it through this set, I can't sing it, I can't be in tune, I can't perform. But doing the tour every day, when I was tired, when I was jet lagged, just knowing that you had to put on a show. That taught my brain, oh I can do this. And the moment I realised I could, that's where everything changed."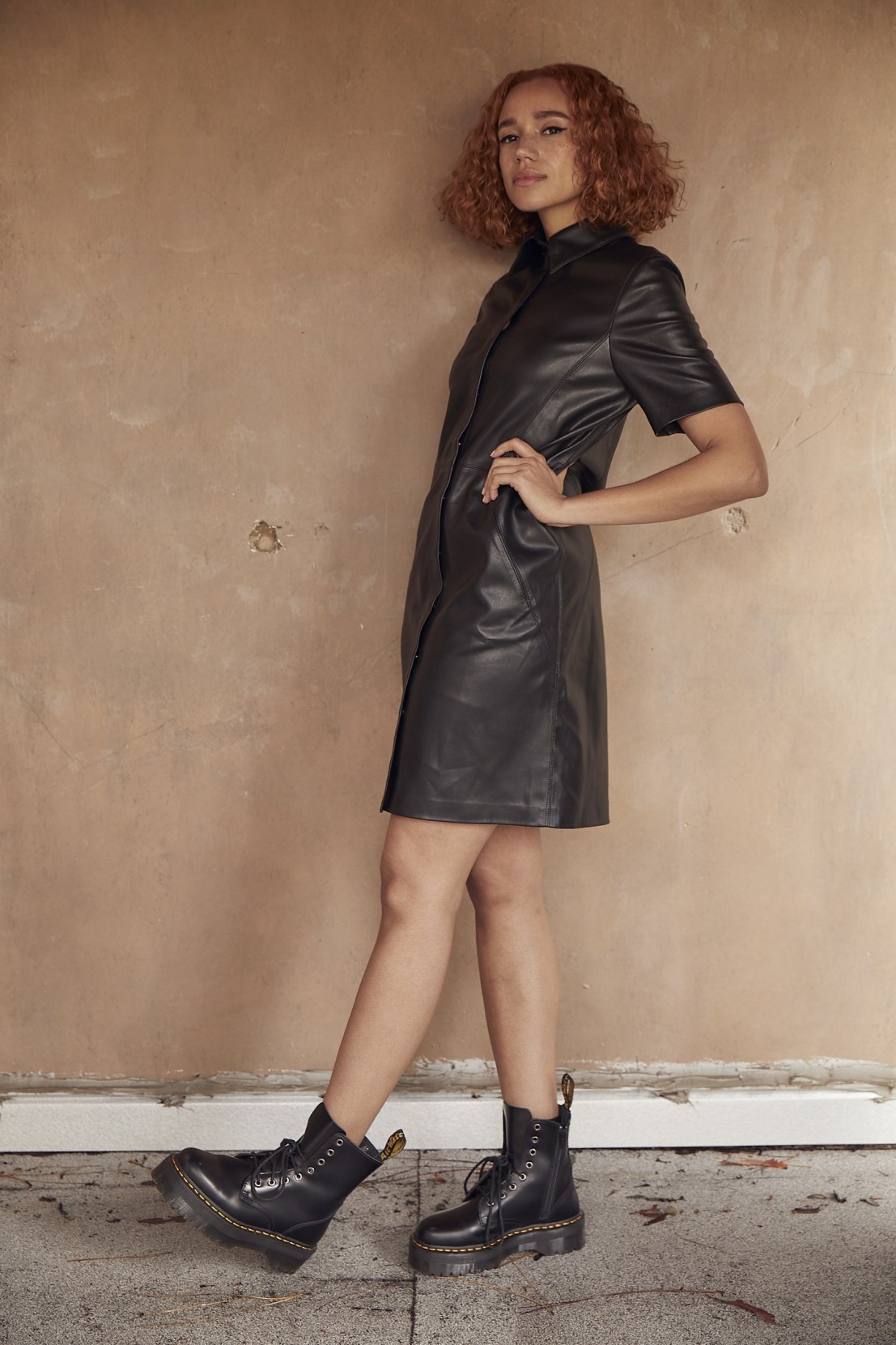 Jones' journey from ICMP to touring North America is probably an anecdote they now recite at the North London college, and certainly one that reads like a music industry fable; 'Successful pop singer discovered in Soho Slug & Lettuce.'
"I had a residency at an open mic in Soho" she recounts. "It was called The Sunday Service I think. I don't think it's still running but it was in the Slug & Lettuce. They had a bar downstairs in the Soho one so I'd go there every fortnight. I wasn't discovered, but I met my first proper music industry person there who became a friend and then introduced me to my lawyer who was the first ever person to sign me, and then I met my label 37 Adventures and my manager."
"It is a valid path," she laughs defensively at my disbelief. "I guess industry people do go there to scout. I remember doing open mics and a scout saying they were going to come and they never came and the disappointment of that, so it's a real thing, believe it or not."
During this whole time, from the Brady Arts Centre to the Slug & Lettuce, Jones never stopped writing her own music. "I loved it. It was therapeutic," she sighs. "Like, now when I write songs sometimes they are just my therapy and sometimes I'm writing a story and creating something that doesn't exist or exploring a theme, but back then they were really just autobiographical. This boy doesn't love me… why?! I was learning and I was very in love and still am very in love with the process."
From those early tracks grew her first release, the single "Deep" followed by the Indulge EP on the newly formed independent label 37 Adventures, run by industry savant Alex Bean. Jones became one of the success stories of the label, their careers growing in tandem with each other. "It was a very close team and Alex is incredible, she's superwoman. I guess it makes sense that we all went up on that journey together," Jones smiles. "I went from being in my bedroom dreaming of doing these things to actually having a team of experienced people that were helping me, putting out my music and helping me do artwork and promoting me, so it was a great experience."
And on that first release they did manage to bag Jones one tiny bit of publicity in the shape of a slot on Later… with Jools Holland. "Yeah, I mean that happened. Not so bad for an indie label," she laughs. "I think that was my first TV performance so that was very surreal. I remember I had the flu on that day and I woke up like, for fucks sake. Why today?! But I just covered myself in Vicks and ingested all manner of things and got through it."
And who else should be on the show that night but her arch nemesis in a Google search, Sir Tom. "He was funny. I remember we were sat on one of those little round tables together. I always remember this feeling because I was there so excited to just be there, sat across the table from him, and he didn't look fazed at all. He downed a pint in one, from my memory. And also he made the JONES joke. He was like, I don't remember exactly how he said it but he was like, Tom Jones, JONES. I wish I could remember what he said." It's not the greatest anecdote. "I'll have to make something up next time I tell that one."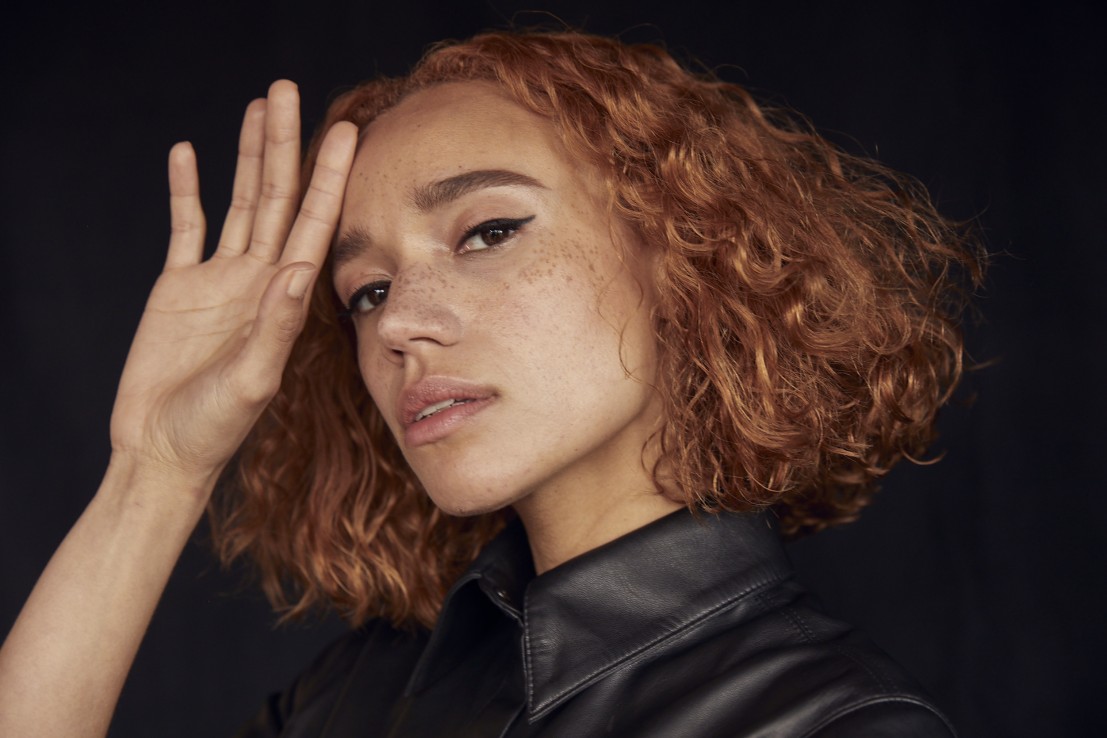 If you watch her performance on YouTube, a sparse and emotive turn of "Indulge", then scroll down, the top comment reads, 'I am so glad Sam Smith made me listen to her.' Another surreal highlight in Jones' early career came in the form of unsolicited praise from the "Stay With Me" singer. "I've never met him," she promises. "I just saw a notification one day which was really lovely, super sweet and like a wow moment. Just one of those internet things that can happen."
Another magical internet moment was Jones' lead vocal on Claptone's 2018 track, "Ain't a Bad Thing". "It was all over email. I haven't actually met them," she explains of collaborating with the mysterious producers. "It's fun to wear a different hat sometimes. It's like allowing yourself to maybe say something different or just try on a different genre. I would love to do more weird collaborations. My dream collaboration which I'm putting out into the universe would be to work with Kevin Parker of Tame Impala, that's the ultimate dream collaboration. I'm just putting it out there, if you don't ask you don't get."
Working on new material, one important collaborator has been producer and musician Paul Dixon - better known as Fyfe - who Jones has worked with across her upcoming record. "I think we met about two years ago and the first session I had was where we wrote "Giving It Up". So it just worked instantly and he's such a lovely, down to earth person, so talented, our musical tastes are very aligned, so it's just worked really well. He's been the main producer across all the songs."
As well as working with Fyfe, Jones wrote with a duo called Lovesick as well as Spanish musician Gizmo Varillas, but she purposefully kept the circle small. "I really wanted to keep the writing process quite concentrated and I really have enjoyed exploring my creativity with Fyfe because you build a relationship with someone, there's trust there," she explains "I feel like I can bring him really rough ideas and he'll understand what I'm trying to do. I didn't want to work with lots of different topliners as much as I did on the first record. I don't know, it's like an evolution. I feel like I learnt so much from that process, but then I really have found my own voice in taking more control of that this time."
For someone who's a self-confessed introvert, the process of songwriting with others and sharing very personal creations must be difficult? "I think in the beginning, yes," she agrees. "In the beginning, yes, when I haven't worked with someone before it can definitely be hard and a bit scary. I mean, I've definitely learnt how to do it so it's a skill I have. But I've found I enjoy working with fewer people and forming deeper connections so I can write lyrics that are even more meaningful to me. But it was a wonderful learning curve."
And now here we are, Jones has returned to release music into a very different world. New single "Giving It Up" has an instant vibe. It's sweet, but not saccharine. There's a nostalgic nod to the 90s RnB that shaped her, but it still feels modern. The lyrics are smart, but not smug. And that chorus, once it's in your head it's never gonna give you up. It certainly has Jones feeling upbeat. She grins, "I'm excited. It's been ages. I hope that it'll be received with love in the world. But I love it, I'm proud of it."
We can expect more to follow as Jones begins her journey working with BMG, her new label and one much bigger than her previous family. "It's a different process, there's lots more people and lots more ideas, but I mean, I guess we'll see how everything feels when we're out there. I definitely feel really excited about getting to work with all the different teams and hopefully we can spread things even further than before using the lovely foundations that I've set up already. I have always really liked the people that I work with. I liked the people at 37 Adventures and had a good relationship with them, I really like the people that I'm working with at BMG, it's just about nurturing the relationship as well, and they're all just people underneath the companies they work for."
Having been away for so long, this feels less like a return and more like a re-establishment. "So I'm told, yes," she sighs with mock rolled eyes. "No, definitely - the world moves so fast, so much has happened since the last release I did. I'm different, my hair colour's different, I'm a different person! I just need to say hi to the world again and share what I've been up to and share the new visuals, and I don't think the sound is a million miles different. For me it just feels more defined. I've spent a lot of time crafting it and tweaking this and tweaking that. Lyrically I think it feels more me than ever. I'm excited but also nervous about that because there's nothing to hide behind. But oh well, it's what I've signed up for."
The video for "Giving It Up" is a simple but fitting accompaniment showcasing Jones in some striking wardrobe, lip-syncing around LA's beauty spots at the mercy of the weather. "One of my favourite quotes is, 'If you wanna make God laugh, tell him your plans,'" she deadpans. "Oh yeah, you wanna go to LA to film a sunny video? Hahahha, I'll give you rain and I'll give you coronavirus and no one on the streets. That was what happened. It was weird because it was at the beginning of lockdown and people were scared to be out. I got it done in the last possible bit of time I could have gone. There was no traffic, which was amazing. But it was very weird. It was very eerie, very very eerie."
Something tells me neither a bit of rain nor a global pandemic can hold Jones back. "I'm really happy with the video," she smiles. There was no need to give up. Everything worked out just as Jones planned. Maybe she's not stubborn after all, maybe she's just always right.