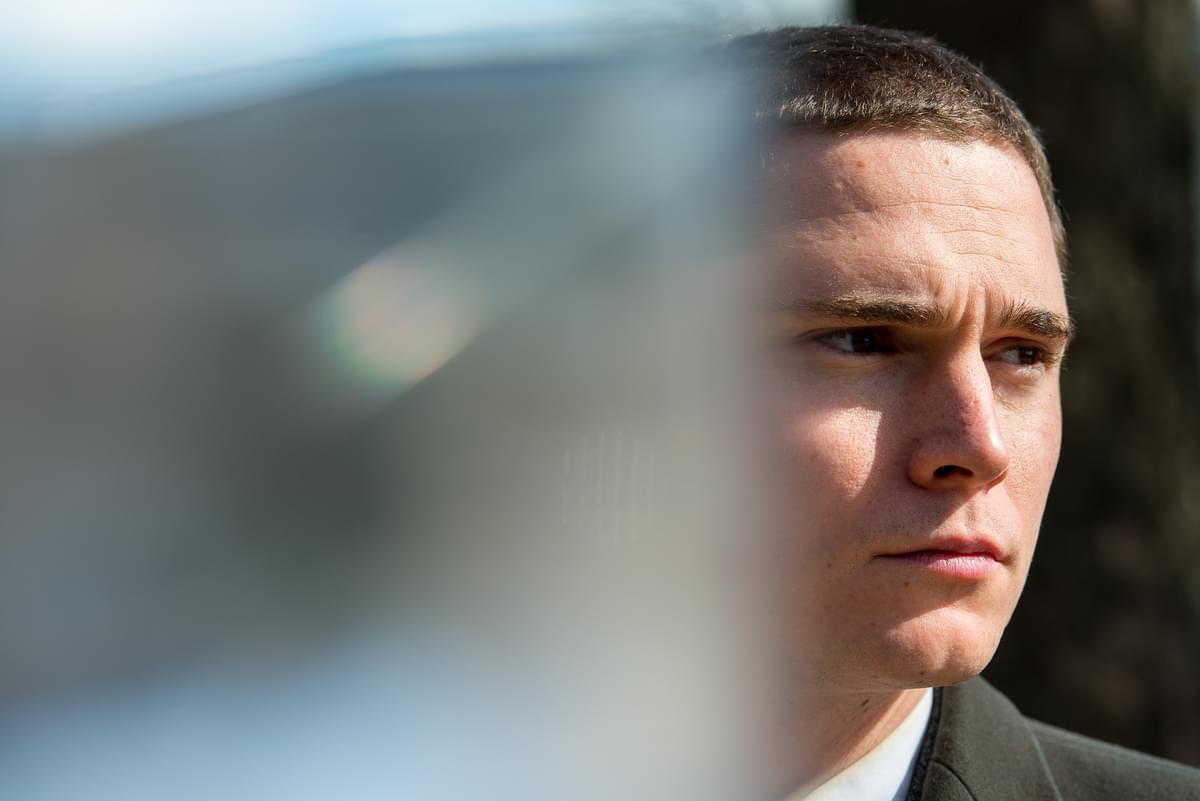 Hope and Her
29 March 2018, 08:30
Her's Victor Solf tells Emma Finamore about the tragic loss of his bandmate – and dear friend – Simon Carpentier, and how the painful process of completing the album they started together gave him the hope he needed to go on.
"It was one of the most intense moments and feelings of my life. It was really, for me, the beginning of this feeling of duty."
Victor Solf is reflecting on a performance at Rock En Seine festival last August. He was performing songs created by his band – Her – but his bandmate, old school friend, and the person he'd created these songs with, wasn't on stage that day. Simon Carpentier – the other half of Her – had tragically lost his battle with cancer a few weeks before, so Solf was on stage alone. "Simon told me I needed to perform at this festival and talk about Her," remembers Solf. "Play the songs and sing the lyrics."
Fast-forward to March 2018 and that's what Solf continues to do, releasing music and playing live to the band's growing fanbase: it's his duty to his dear friend's memory and what they created together. The bare bones of the French duo's self-titled debut album had already been completed when Carpentier died, and it was one of his final wishes for Solf to complete it. Doing this was no easy undertaking – for a whole range of reasons – but the two artists' shared a love of combining old and new to create their own brand of contemporary, electronic soul, so they both knew what sort of LP they wanted to create.
"We're all about mixing the soul sounds of the 60s with a more modern electronic sound. To find our own sound," says Solf. He cites Otis Redding and Marvin Gaye alongside contemporary artists like FKA Twigs and James Blake as being sonic influences on him and Carpentier – a mash up of old and new, analogue and digital, classic and contemporary. The mellow groove of "Blossom Roses", for example, uses electronic production but creates an organic-feeling soundscape. This mixed approach to creating and recording was there throughout the creation of the album.
"It always started with Simon and I electronically doing demos and stuff on computer," says Solf. "Then we'd work with musicians – we'd record live with no computers, everyone in the same room, then after that we'd have the demos – that are very electronic – and the live recordings – which are very organic – and try to mix them together. Then we can really know if the song needs to be organic like 'Union' [on their first EP #Tape1], for example, or if it needs to be very organic, like "Five Minutes".
"It always takes us quite a while to write lyrics because we're not English or American - we're not writing in our own language. But it actually gives us a bit more freedom, in a way."
Solf says this space between themselves and the language they write in frees them to speak with a sort of simple honesty and sentimentality they would find hard in their own tongue. There's a romance to using language not quite your own: any cynicism or irony disappears in the gaps, lost in translation. Solf says they wanted to put this unashamed honesty and romance at the centre of their music. "It was very important for us to have really intimate lyrics, and very soulful lyrics, because we were influenced by bands from the '60s and then by people like Ray Charles and Marvin Gaye, and Al Green."
This simple soulfulness can be seen in the lyrics of album opener, "We Choose": "Our wings are broke / But we'll keep on gliding / I think I think we could do anything / Our wings are broke but we'll keep on gliding / We refuse / To be the one dying"
This track is a significant one for Solf, the first the duo wrote as HER, and the last to feature Carpentier on the recording. "It was a statement about keeping hope and holding on to what you love," says Solf. "We were working on music every day, and the song spoke to that choice to keep going. People might've thought since that last project ended [the band they had together before HER] that we would just quit. We didn't"
"I've been inspired a lot by women...it was very natural for me to talk about women and embrace femininity."
Lyrics and message are clearly important to Her. "It's really because of the lyrics that we called gave ourselves this name," Solf explains. "After we'd composed maybe 20 songs, we realised that we'd mainly been talking about women, femininity, love...so it felt really right to call ourselves Her.
"I've been inspired a lot by women. I was raised by women: I only lived with my father until I was nine years old, then after that I was raised by mother, my grandmother and my aunt. It was very natural for me to talk about women and embrace femininity. And of course now that I'm married I am inspired by my wife."
Naturally, Her have been influenced by many female artists too: Solf talks about the likes of SZA and Solange ["I listened to her album a lot in 2016, it was maybe my favourite album of the whole year, as well as Kanye West"] alongside less mainstream artists like jazz singer Melody Gardot. "She composed a song called 'You're My One and Only Thrill', she has an amazing voice. This reminds me a lot of Simon. For me it's a really important song. It really helped me a lot last year."
And 2017 was a time when he needed plenty of help. When Carpentier passed away – having asked his friend to release their album without him – there was still a long, tough road ahead. "The album was finished in terms of music and lyrics, but it didn't look like an album," remembers Solf. "It was really disorganised. There was still a lot of work to do. I had to go back on Simon's computer and find vocals and guitars. It was kind of messy and a lot of work to take everything and put it in order.
"What I really wanted to achieve was to create an album about Simon and I. That's why I decided to put some of the songs from the previous EP on there too." Tracks like 'For Him', 'Blossom Roses', 'Five Minutes' and 'Swim' were included for the absent member of HER as much as for Solf, and four more songs still needed working on after he passed away. "I was sure that Simon would have loved to have those songs on the album," he says. "So that was a very hard process for me. We also needed to go back into the studio and work on tracks. That was very intense."
Despite the painful process, it was also a healing one: "Everything was so unfair, and I felt so, so powerless, that if I felt I could have some power – in the album and in our music – it helped me a lot."
"To talk...about Simon and I, to be able to perform, and to be able to show our work...for now I just want to be focussed on that and to finish. I feel i'm not finished yet."
It also took a certain amount of putting himself in the shoes of his lost friend; going through his computer, reading his words, hearing his voice. "It was a kind of duty for me to finish this, because Simon wasn't able to," says Solf. "Maybe even one month before he passed away Simon was still working on the album, still trying to finish songs like 'Neighbour' or 'On & On'... so for me it was really my duty in honour of him and our friendship, and what we created together.
"I didn't even think about it or think about how I felt – i just needed to do that. For him and for me."
Having a purpose, a goal, sounds as though it helped Solf find a path through the initial pain and shock of his loss, even the process of releasing and promoting an album. "Of course it feels really strange but I feel also very proud to be able to talk to you now," he says. "To talk to you about Simon and I, to be able to perform, and to be able to show our work, you know? For now I just want to be focussed on that and to finish. I feel i'm not finished yet.
"The album needs to be out, I need to finish the tour, and maybe next January I will try to think about all that and about what I want to do next. For now, I just want to be focussed on the moment. Because I still have a chance to talk about it."
"Simon became so wise towards the end, because he knew how precious life would be. it was amazing to live that and to kind of be a part of that, and now I want to continue that."
The "it" he refers to is hope, life love: three things that come up over and over in our conversation – "These are so important to us," says Solf, always including Carpentier his statements – despite speaking about the sadness of losing a close, old friend: all the in-jokes and memories shared with just one other person, only for them to suddenly not be there.
"That's the spirit of the album – it's a very positive message, and full of love," says Solf. "That was what Simon was like, and I want to be like that too. He became so wise towards the end, because he knew how precious life would be. it was amazing to live that and to kind of be a part of that, and now I want to continue that.
"Even if his body is not here anymore, if his music is, and his spirit is, and the album is, then that means a lot."
This is when Solf talks about performing alone at Rock En Seine last August; a sort of turning point for him in his grief, when he realised the strength of his sense of duty to Carpentier, who had passed away just weeks earlier.
"He told me I needed to perform at this festival and talk about Her, play the songs and sing the lyrics," remembers Solf. "I decided to do my duty, not to stop and think about how I felt - that would be too hard. Not doing his memory justice would have been the worst feeling, it was impossible for me to do that.
"The only question I asked after the show was, 'Did I do enough? Did I honour him enough? 'Was it too much or too little?'Our label was there, our agent, our manager, and when everyone told me that I hadn't said too much or too little, that it really felt right...it meant the world. And of course the crowd was so – I don't know if it's the right word – but very gentle. Completely on my side, no judgement - you know what i mean? – we shared something. For me it was one of the most intense moments and feelings of my life. I could tell that they understood the whole message of the album. It the most intense feeling, a very special moment for me."
Carpentier knew the tracklisting and was happy with that, and Solf thinks – hopes – he would be pleased with the end product, but that duty to do right by his friend's memory is with him always. "These are the questions I'm asking myself every day: the live performances, the album, even the interviews – am I speaking correctly? It feels impossible that...well, I'm just doing my best."
"Simon and I had a very competitive relationship...we were always trying to improve ourselves"
One thing Solf knows Carpentier was definitely proud of is signing to Island Records: "It's kind of a dream for Simon and I." When they were 20 they came for a trip to London staying at a friend's house, jamming and making music. "We were just acting like teenagers, really," remembers Solf, laughing. "It was the first time we'd made music together. A lot of stuff started in London, so being able to work for Island Records it really means a lot, it's amazing.
"Island have been really nice with Simon, they sent him a package from England with lots of iconic food, and Simon really appreciated that. So we're kind of close now, and I'm thrilled to see them again when I'll be in London."
Solf is taking the duo's songs on tour, and speaks with excitement playing venues like New York Rough Trade, and London's Jazz Cafe. The record itself was created in a nomadic way, all over the place: – "We worked in Paris, in Brittany where we come from, Germany for 'On & On' and I even finished the album on tour – in other cities like London."
When I mention that my highlight from the LP is bonus track "Shuggie", with its shimmering, dreamy intro and laid back groove, Solf tells me that it is especially significant. "Simon used to call himself Shuggie on social media," he says. "Because he was such a fan of Shuggie Otis [a psychedelic soul artist who performed with the likes of Frank Zappa and Etta James] – a very cool guy. Maybe my favourite track is 'Good NIght' – it was a time when me and Simon lived in different cities, so we learned to finish songs on our own. We had a very competitive relationship, we were always trying to improve ourselves – this song was the first time in our friendship where I sent him lyrics and he said they were good. It really became 'our song', we worked on it in lots of different ways. It's a real 'musicians song' too, with a saxophone and a lot of different vocals. I'm proud of it. It's an intense song for a musician.
"And I really love the spirit of the song – it's really talking about hope and life."
A refrain that repeats throughout this treasured song is "Don't lose hope", one that Solf carries with him now, as he continues what he and Carpentier began together. "I feel very lucky. We feel very lucky," he says when he thinks about the coming tour. Maybe one day he will refer to Carpentier in the past tense, but for now – in life as on this debut HER album – his dear friend is still very much here in the present, by his side.
Get the Best Fit take on the week in music direct to your inbox every Friday