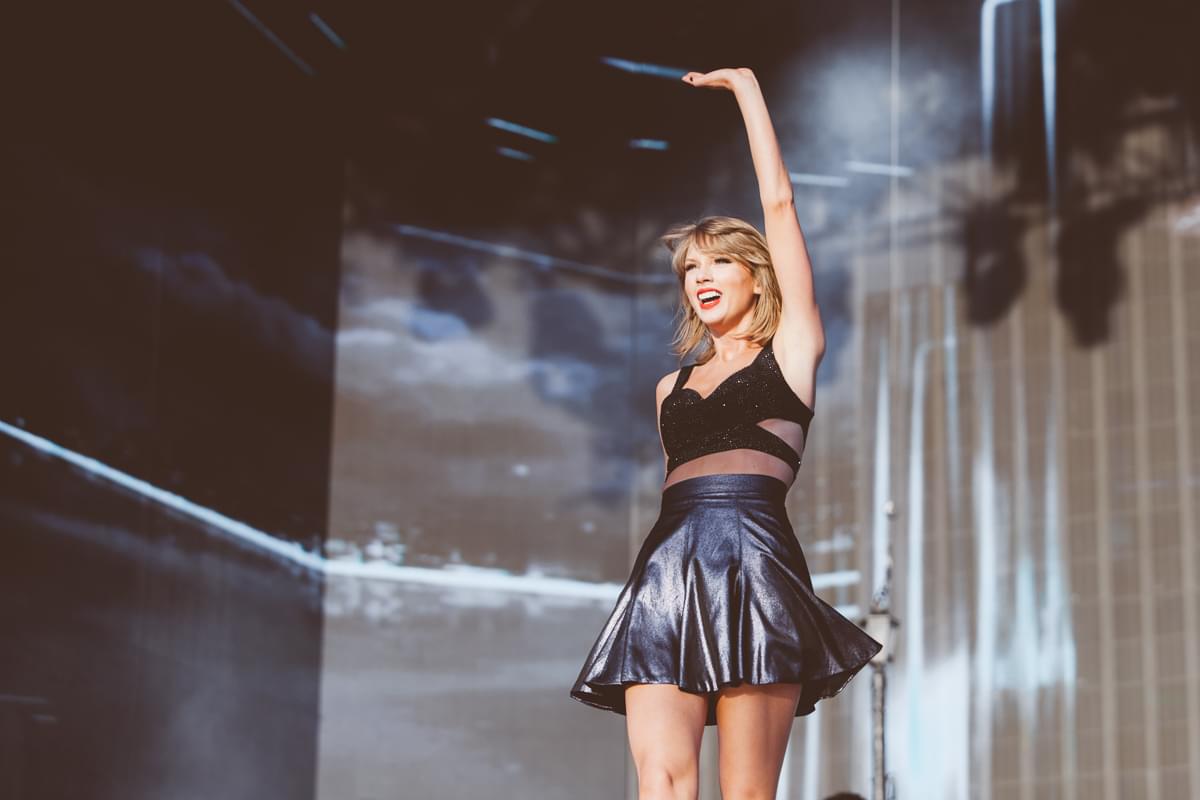 Have We Reached Peak Pop?
18 August 2015, 10:45
Even if it is the end of pop's imperial phase, it's not the end of great pop, writes Michael Lewin.
Pop music is surprisingly similar to sport. The similarities run throughout: obsession over stats and chart positions; armchair theorising about strategy and direction; devout and inexplicable obsession with a thing that, to a layperson, is almost identitical to another thing which you absolutely despise with a hate that is good and true.
Pop and sport are are both forms in which the rewards for success are astronomical, while failure is at best ignoble and swiftly forgotten; at its worst, iconic and crushing. I mention this because I grew up loving sport (because I am from the north east, and that is how one survives there), and so it was an easy transition to become a pop obsessive. I find the greatest pleasure in both forms is watching someone at the peak of their powers in brutal domination of all around them. Pet Shop Boys' Neil Tennant called it the imperial phase. In sport, it shows up in a sort of relentless inevitability where the remarkable is expected, yet still delighting. In pop, I think it's the absolute rightness inherent in every action a popstar takes, when every little thing they do reaffirms what makes them so very brilliant: a chorus; a rhyme turn of phrase in a song that drops satisfyingly, that can even become cultural currency; a change in direction just when things might have got stale. Even a tweet.
We've been blessed recently with an astonishing run of absolutely brilliant popstars in imperial phases. Starting probably with Beyonce, it's run through Gaga, Rihanna, Katy Perry, Kanye, and Taylor to name but a few. Astonishingly, they're all still at it. (Gaga excepted, of course. And Rihanna is caveated pending whatever happens with R7.) I mean, really, as pop fans, we don't know how good we've had it. I can't think of another run of solo popstars as genius as this since the the 80s, when gods-amongst-us like MJ, Whitney, Prince and Janet were in their pomp.
I have a theory as to why we've had this remarkable run of omnipotent popstars. It's not just been the quality of the music. Their rise has roughly matched the rise of social media, and all those stars are in various ways absolute masters of the social media news cycle of spectacle. The release of the tiniest bit of information about a new album, song, video - each maximised to #internetbreaking effect, and the message furthered by armies of lunatic fandoms. Gaga was the first to harness it fully, and it's become ever more sophisticated (perhaps to the point of inanity, or meaninglessness) in the intervening years. These omnipotent stars in the firmament have been all the more powerful and domineering by their nearness to us, just a tweet or a 'gram away.
"Omnipotent popstars are in various ways absolute masters of the social media news cycle of spectacle."
In January, Popjustice asked which artist would have their imperial phase this year. I had a few guesses (please, finally, at last - Charli.) But after seeing my two favourite popstars headline shows in England on the same night, I found myself wondering whether we'd actually been living through one of pop itself's imperial phases, and whether that imperial phase was about to come to an end.
Here is one side of seeing Taylor Swift in Hyde Park: I had a fucking great time. I got drunk on rosé, it was super sunny, the show was high energy, flawless, joyful. I took a friend who hadn't really listened to Taylor before or indeed been to a proper pop show. He had a fucking great time too.
I love Taylor Swift. Last time I saw her, I almost couldn't breathe through my swollen throat crying to "All Too Well". There are countless videos of me doing my own routine to "Shake It Off", which I am currently taking out an injunction to supress. I sing it to myself if I ever feel down. I am a fan.
Taylor's superstar super power has always been her accessibility, her realness, her one-of-us-ness. Her believability. The country music lyrical and narrative schooling, her always-true-feeling delivery and phrasing, and the sheer brilliant directness of the songwriting, made her the most engaging of all the stars around, perhaps ever. The goofiness, the openness, the rumours about her love life (apparently "all true" ;)), we lived with her and through her. To summarise it, it's a kind of affable, bff bonhomie. And her lived media persona always reinforced this.
"Taylor's superstar super power has always been her accessibility, her realness, her one-of-us-ness."
Recently, of course, she's miss-stepped. But that wasn't the first time; I've had a growing feeling for a while that she's lost contact with that affability. It's started to become a bombastic bonhomie, an ever present reminder that she's literally best friends with the whole world. The "Bad Blood" video cameo announcements were a complete fiasco, by which I mean it became tedious and the video wasn't particularly brilliant after all that effort.
So, leaving aside the pure ebullience of the Hyde Park show, which was totally entertaining, you could see examples of this slippage between persona and projection everywhere.
Perhaps it's inevitable that the 1989 tour would be this way. The brilliance of the record, the pristine pop flawlessness of it, is also a drawing of the curtains on the availability of Taylor the person. The access we seemed to have up to and including Red is now blocked off by a new, monolithic and glorious Taylor, now a simulation of the available down-home Taylor of before. Live at 1989, the songs fly at you with relentless energy and polish, incredibly enjoyable, but no longer Taylor in person, just Taylor on the big screen. They are devices for affecting, telling you how to feel, not earning your response but forcing it. Something missing at the heart of it; that something being Taylor.
When the music pauses, and she brings her charm to bear, she reinforces that misplacing of her accessibility. Videos of HAIM, Lena Dunham, Karlie Kloss and others during costume changes goofily discuss Taylor as best friend - her ur-role, her defining characteristic. She never needed to tell us she was the idealised best friend before. She just was. Here, she needs to trot out VOD of famous people reminding us, in case we've forgotten.
When she actually, literally trots out her various famous friends - Cara, Karlie, Kendall and the rest - in a megalomaniacal runway show of popularity proving during 'Style', it feels... superfluous. It's an unnecessary flex. Combined, the two things do the opposite of reinforcing her attainability and affability - just like the songs here performed live. They give shape and suggestion to what we should think - Taylor's still like us, with us - but in fact they create a final and unbridgeable distance between us. Here, finally, Taylor ascends to the firmament of stars, unreachable. It's a hugely enjoyable show, but you feel slightly like you've lost a friend.
Kanye West, Glastonbury 2015. Photo by Siamak Amini.
The other big headline show that night was, obviously, Kanye West at Glastonbury. I love Kanye for the opposite reasons to those I love Taylor for. I love Kanye because he is unreachable. I love him because he does not and has never pretend to give a single shit about me. I love him because he is brilliant. The man has changed hip hop production a good three to five times, almost with every album. And he would still rather be a fashion designer.
Kanye's mastery of the social media cycle is obviously not his bonhomie; it is his bombast. His unfettered Kanyeness, his belief in his own greatness, and the satisfaction of seeing his self-belief being proved right whenever he does anything. Yet there seems to be doubt in his actions now too. Glastonbury proved it. He didn't rise to the challenge as he so often has. Like Pitchfork pointed out, he might be about to drop a brick, and it seems to have shaken him.
"I love Kanye West for the opposite reasons to those I love Taylor. The man has changed hip hop production a good three to five times, almost with every album. And he would still rather be a fashion designer."
In one of those moments of symmetry beloved by writers who are grasping for some sort of order in the world, both Ye and Taylor ended their shows by literally raising themselves up above the crowds. Just after her promenading of her super model super hero coterie, Taylor rose above us on a big catwalk and performed the rest of her set beyond us, out of reach. Not one to be outdone, Kanye went much, much higher on a platform to perform "Touch The Sky" and made his infamous (and correct) "greatest rockstar in the world" pronouncements. As low hanging fruit go, the metaphor of both of them requiring a lift to elevate their performances is etc etc.
What was my point again? Well, two swallows don't a summer make, and two slightly off-key shows by a pair of popstars doesn't mean the entire edifice of pop is about to come crashing down, and nor do I want it to. But seeing those two shows, I couldn't help but feel slightly like this unbelievable generation of brilliant popstars that we've been lucky to witness are finally coming a bit unstuck. From the R7 debacle, through the last minute hail mary beyonceing of Beyonce, to the suicide-by-jazz-album of Gaga, the popstars of pop's social media-era imperial phase have gone awry.
That's fine. It's probably something to do with gravity. They'll probably all still make great records. But their omnipotence and dominance, I think, is on the wane. And they probably won't be replaced by stars of the same magnitude, in the same way, ever again. If I really have to say it clearly, I might ask: have we reached peak pop? (Sorry.)
So, let's be grateful for what we've just received. It's been unprecedented. It's been brilliant. And if Taylor says something a bit off on Twitter now, or if Kanye's next record is indeed a brick, let's not churn out a thousand hot takes, and hot takes on those hot takes. Maybe let's move on. Even if it is the end of pop's imperial phase, it's not the end of great pop.
And if you feel a bit sad, think of it this way. We've still got the best to come from Miley Cyrus. Miley Cyrus, there - less now a popstar, rather a demented Dadaist cartoon, a deconstruction of absolute celebrity's tendency to crazy absolutely; Miley Cyrus with her pig, Miley Cyrus cursing Robin Thicke with her ass, Miley Cyrus making a concept album with the Flaming Lips. Miley Cyrus, genius. Oh, and, Charli XCX.
Get the Best Fit take on the week in music direct to your inbox every Friday