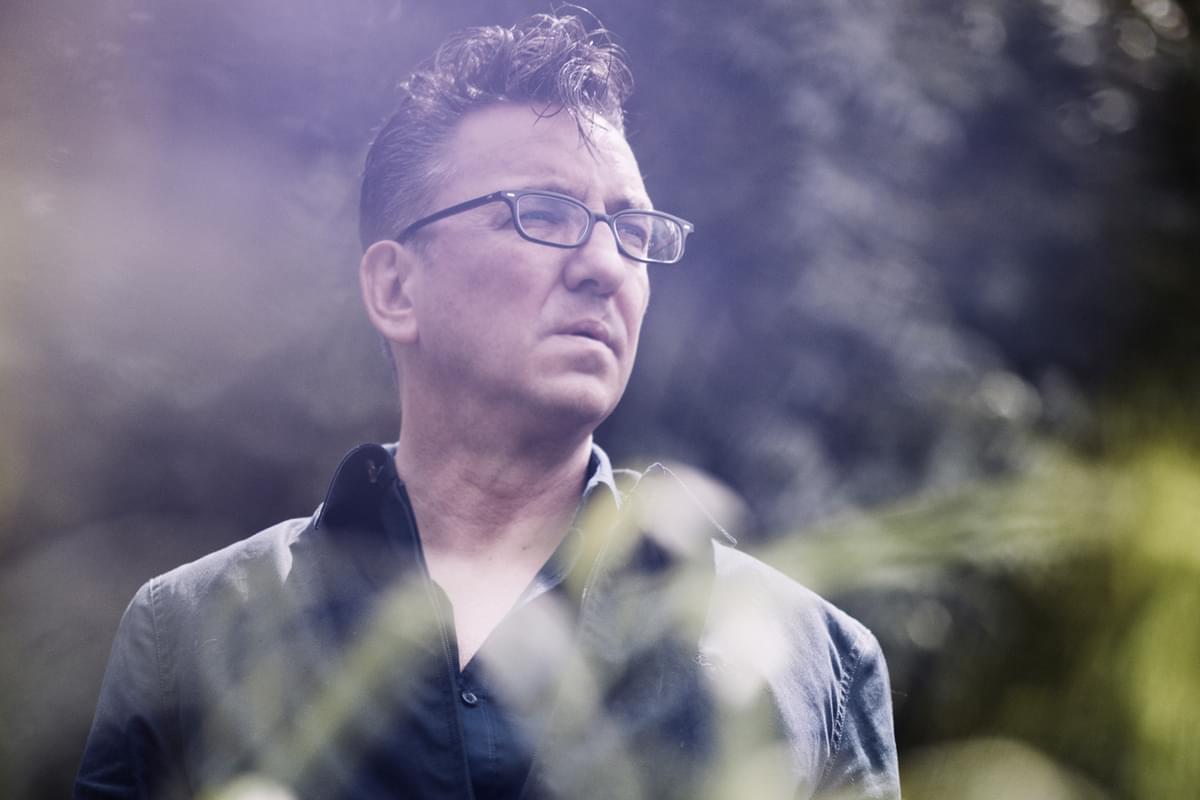 Halcyon Daze
19 October 2015, 09:00
On his latest record, Richard Hawley once again drew locally for inspiration. He talks to Emma Finamore about Sheffield and the folk traditions that permeate Hollow Meadows.
"Hiya, you alright love?" says a comfortingly warm Yorkshire voice. I already feel like I've known Richard Hawley all my life. "The kids have just got home from school, so I'm all good."
So far, so average dad, but Hawley is far from it: the Britpop stalwart found musical fame in the mid-nineties with Longpigs, moved on to Pulp, and since the turn of the Millennium has been forging a place in the nation's hearts (and the Mercury and Brit Awards nominee lists) as our resident psych-folk crooner; proudly hailing from Sheffield but with a Roy Orbison baritone that, frankly, anyone would take home to meet the parents.
He's just released his eighth solo record, Hollow Meadows, after a three-year hiatus – laid up with a broken leg and then a serious back injury – and is off on tour at the end of October. For such a hard-working, prolific artist, you can tell he's itching to get back to what he does best – playing. "I'm feeling a bit teenage about it all actually," he laughs.
"I'm just excited to play live, it's when all the talking stops - like when you see boxers talking a good fight, and then it's time to get in the ring. With all due respect, I'm sick of talking about it all."
It's the adventure into the unknown that appeals most to Hawley about taking the record on the road: "Sometimes you think it'll be a good gig and then it might not be so great, but then you'll be playing somewhere that seems quite dull, and ends up being legendary. And it's the not knowing that I like.
"I'm an old post-punk indie kid really, I like the fact that any minute it could all go horribly wrong and fall apart: it's only us keeping it together and any second it could go tits up. I don't really like things to be too safe."
As is customary for Hawley, the new LP draws heavily on his hometown of Sheffield. He tells me Hollow Meadows is a "really ancient place" - an old hamlet on the edge of the city, originally "Auley Meadows", from which it's thought the Hawley name originates: not in a landed gentry way, he tells me, more just a family that has lived and worked in the place for centuries – since the 14th century, to be precise.
The main building standing in Hollow Meadows sounds like a macabre place, straight out of a northern gothic novel; it started off as a hospital, originally built for "the unwanted" as Hawley puts it, the children of well-to-do families: "rich people would sort of 'secrete' them away," he says. Later, he tells me, it was a hospice for World War I and II shell victims, then as a hospital for the mentally ill, even later as a truants' school.
Hawley says it was built by the enforced labour from the city paupers. "It's got a pretty dark history," he says. "Anyone that people wanted shut away and hidden, in one way or another, seems to have been sent to this place, it really intrigued me.
"And then to find out that's where my fucking family are from…it seemed to be the absolute, definite title for this record, it just seemed to fit entirely with everything going on in my head."
"I'm an old post-punk indie kid really, I like the fact that any minute it could all go horribly wrong and fall apart."
Moving away from the eerie Hollow Meadows, Sheffield as a whole has permeated the new record "fucking massively," he tells me, and it sounds like he attributes the town – at least in part – with helping him recover from his recent bout of injuries.
He wrote the songs while he was laid up, very isolated, the prospect of surgery hanging over him and being told he may never walk again: "Your mind can play fucking funny tricks on you at times like that, I tell you. So I just tried to think positively - it was really scary."
He talks about the greenness of the city he loves, and the healing qualities of it.
"We don't have a steel industry anymore but we do have this quite ironic by-product," he says, telling me that timber was vital to steelmaking, so Sheffield's forests were protected during the city's industrial years.
"100% green belt, the Peak District and national parks. Ruskin described Sheffield as an 'ugly picture in a beautiful frame', but I think he was wrong - I think it's all beautiful. But then I would say that."
He asks me to imagine I'm him lying in bed staring out of the window at the trees, and describes how each morning he'd watch a murder of crows (only a Yorkshireman can use this collective noun without hint of pretension) fly from one forest to the other, and then at the end of the day flying back.
"When you're lying there in bed, the crows can seem like the highlight of the day, and what that had was a calming effect," he remembers. "We live at such an insane pace that this took me to a place I hadn't been to in a very long time, which was from another era in a way, before the tyranny of the mobile."
So this time in bed was a disengagement of sorts, a stepping outside, a slowing of rhythm: "It took me ages to accept it, and now a lot of the tunes on the record are about accepting things as they are, rather than trying to change them" he says, thoughtfully.
"I don't mean in a 'throw in the towel' kind of way, I mean seeing the three-legged dog chasing the ball and not thinking 'Oh, poor dog,' rather to look at it and think it's beautiful, just as it is. That's the only metaphor I can think to describe it." It's a powerful image, and one of many times during our conversation that I'm taken aback at how lyrically Hawley speaks.
But while the conceiving of Hollow Meadows was in isolation, the recording process sounds like a bit of a party, and a distinctly Sheffield party at that: Jarvis Cocker plays bass on "Nothing Like A Friend", and the Hick Street Chip Shop Singers (featuring Slow Club's Rebecca Taylor) lent a hand. Sheffield folk star Nancy Kerr plays fiddle and viola on "The World Looks Down", "I Still Want You" and "Nothing Like A Friend".
Hawley's next-door neighbour and close friend Martin Simpson, who plays slide guitar and banjo on "Long Time Down", seems to have been especially important during the process. "He's a fucking phenomenal guitarist," says Richard. "We've just became dead close, the adventures we've gone through – musically and otherwise – needed representing in some way, so that's what we did with this record."
When Hawley talks about working with Nancy and Martin he conjures up an image full of warmth, the three musicians sitting around the table together, just playing: "We'd be over at Martin's house and the songs almost seemed written for them to appear on. I didn't style it that way, but that's how it turned out.
"I've travelled the world playing in bands trying to find something, and when I got fucked off with that I realised it was all at the end of my street."
The folk tradition permeates Hollow Meadows even further than featuring folk artists: "Heart of Oak" explores and plays tribute to the people in Hawley's life who've influenced and nurtured him, most specifically British folk icon Norma Waterson, who he met seven years ago. He was making a documentary about the British Isles, relating it to artists, musicians and story-tellers, and to the ocean: "How we've been shaped by what the sea has given us and what it has taken away."
Hawley visited the home of Waterson and her brother – "He was still alive then, bless 'im" – and the two siblings sung "The Bay of Biscay" in their living room. Hawley remembers lots of hot tea and warm, homemade mince pies in front of the fire.
"It's an old folk song, you should look it up – it's beautiful," he says, his voice heavy with emotion. "And when Norma sings it a cappella, it's a mind-fuck. Her voice alone could floor anyone, she's such a force of nature, as a singer and as a woman."
Hawley had recently lost his father – a musician and songwriter as well as a steelworker - and was beginning to feel like he'd also lost a connection with people of that era and their music, and that Norma helped him reconnect. The lines "When you sang Bay of Biscay / The whole world it drifted away / And the wind it sighed / Throught the hearts of oak" are a tribute to her and that precious moment.
Hawley says "Heart of Oak" is about mentors too, women especially. "The fantastic women who brought me up taught me to think right, basically," he remembers. "Because most of the men were away at the steelworks we were all brought up by women. And the matriarchs in our family – my mum, my grandmothers, my aunties and stuff all used to sing together, all sorts – pop songs, folk songs, they just wanted to sing together."
He counts himself incredibly lucky to have had this experience: "Do you know the greatest gift you can give someone? It's time. And all those women gave me that, it was just something they shared instinctively."
Hawley remembers going down the pub with his dad - "an amazing man, he didn't get the same chances that I did, because he had to go to the steelworks to feed his family" - and his mates on a Sunday afternoon: "A semi circle of old blokes, long dead now, ranging from about 60 to 90, and they'd all sit telling stories. And I would sit there completely and utterly fucking enthralled."
"Do you know the greatest gift you can give someone? It's time."
In true folk tradition they would regale each other with tales of another time. "I could listen to that shit all day," says Hawley. "It wasn't out of a book, it wasn't off a documentary, it was this beautiful poem. I could weep it was so beautiful.
"And that's what 'Heart of Oak' is, it's about all those people, and how precious they are."
It's truly moving to hear Hawley speak about his family, and the working-class Sheffield life they inhabited, but it was always something he wanted to escape, at least in part. "I became a musician to avoid having a fucking career," he says.
"After the steelworks closed down I wasn't having any of that 'employment' shit – I watched those men work for a corporation for 25 or 30 years and get fuck-all out of it. I always vowed I would never work for the man: whatever hole I dug for myself, the shovel would be my guitar; I said that from a really young age."
He has a visceral, vivid memory of the strikes that sealed this resolve: "Seeing those great men link arms and walking into police charges – that really affected me as a kid. I've got hairs standing up on the back of my neck just thinking about it, I could break into tears at any minute. I just thought, 'I'm not working for those fuckers'.
"And I had this beautiful gift, this music, given to me by my family, and I thought I shouldn't squander it. Any loaf of bread or tin of beans on my table, I wanted that to have been bought with money I made from music. Whether it was playing in working men's clubs or pubs or whatever: it had to be that."
I wonder if his family disapproved or didn't understand his choice to turn his back on the sort of life they had led, and the answer is a resounding no. "My dad completely understood," says Hawley. "They just didn't have a choice, people from that generation didn't have any choices. There were no gap years, or shrugging things off, none of that shit. If you didn't work, you didn't eat. The end."
"People don't talk about certain things anymore: basic Socialism, basic kindness. These are words those fuckers should have tattooed on their souls."
When I mention my Italian immigrant grandfather, and how his early life was similarly restrictive, Hawley tells me about the Italian and Polish communities in Sheffield, established during and after the Second World War: "People talk about 'the battle of Britain' and all that, when most of the best Spitfire pilots we had were Polish Jews. That's why I despise fucking Farage – I don't know what creates people like that, it's certainly not the country I love."
He totally supports Jeremy Corbyn's recent nuclear warhead comments, and is appalled by what he sees as a Westminster that puts economic growth ahead of human safety: "They don't stand for me, they're not my kind. People don't talk about certain things anymore: basic Socialism, basic kindness. These are words those fuckers should have tattooed on their souls."
He's glad Corbyn is reopening up the social debate, which he describes as a "stitched up old wound". "We need to look after the majority not the minority. We could talk about this shit forever Emma, unfortunately there's no beer involved," he laughs.
We even do bit of a Socialist book swap – something I never imagined when I was listening to Pulp as a teenager – I recommend Eleanor Marx: A Life by Rachel Holmes, about Karl Marx's youngest (and totally incredible) daughter, and he tells me about what he's currently reading, "I really dig this book": Owen Jones' The Establishment and How They Get Away With It.
Hawley talks about how he has hope for the future of this country that he so clearly loves, because the young are getting excited about politics again. "They've been disconnected from politics for so long," he says. "But now they're thinking about their own futures, because of the bullshit from those fuckers in Westminster – whatever party they're from, you couldn't put a Rizla paper between the lot of them. Corbyn seems to have reignited something. He's saying things that are very youthful, and I love that.
"Thankfully I'm a rocker, so I'm always gonna have two fingers sticking up to the man in one way or another."
I may not have known Richard Hawley all my life, but I sure as hell wish I had.
Hollow Meadows is out now via Parlophone. Buy on Amazon or iTunes.
Get the Best Fit take on the week in music direct to your inbox every Friday