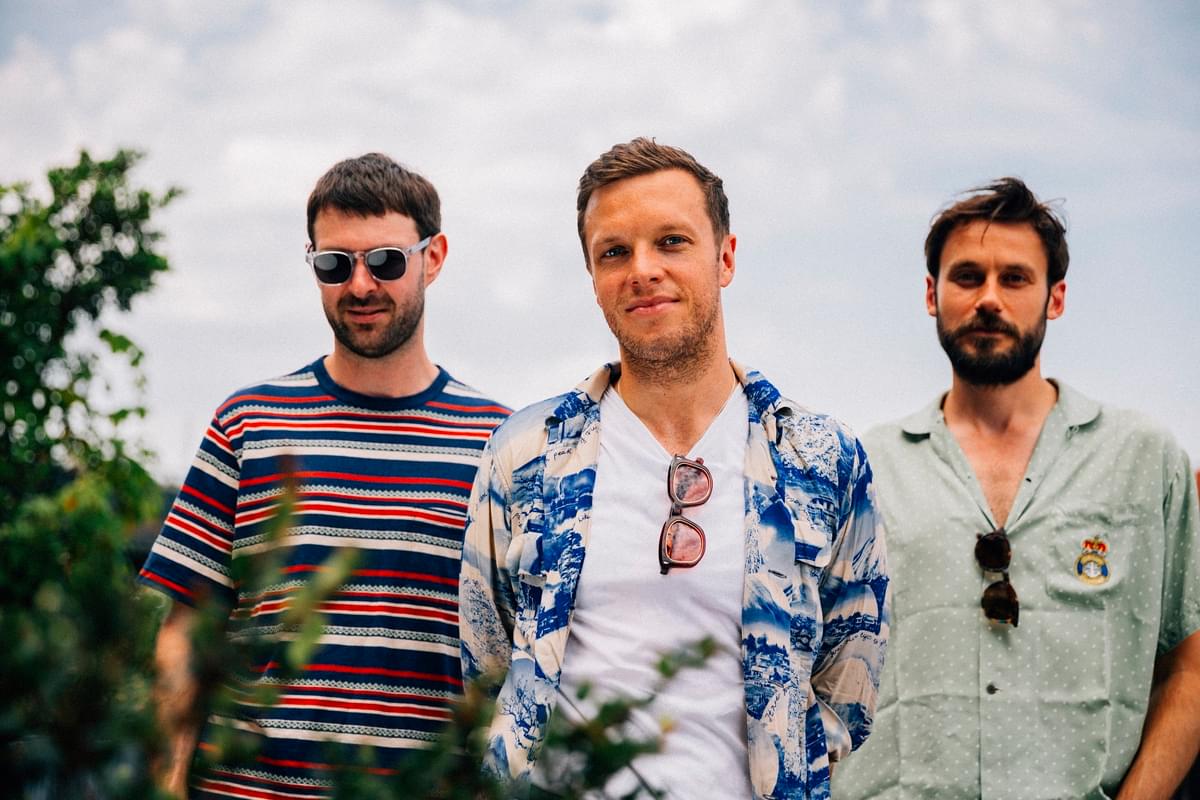 Comeback kids
08 August 2019, 07:38
Noughties giants Friendly Fires open up to Dannii Leivers about rising from the embers after a seven-year break
Friendly Fires guitarist, Edd Gibson, is sipping from a tumbler of red liquid comprised of equal parts gin, vermouth, and Campari. It's a curiously hardcore choice of beverage for 11am on a Thursday morning.
"It's hot, so I feel like anything goes," he shrugs with a grin, and he might have a point. I've met with the band at a swanky cafe bar in central London on one of the most sweltering days on UK record. It's already 34 degrees, and if that wasn't a good enough reason to start drinking before noon, then the deafening success of the band's ongoing renaissance is certainly cause for celebration.
After taking a seven-year break, Friendly Fires are back with third album Inflorescent and, somewhat bizarrely, it feels like nothing has changed. Today is only the band's second day of press since they announced their return last year with the release of their first single in eight years, the glimmering, tropical 'Love Like Waves'. In 2018, they embarked on a series of comeback gigs that culminated in a sold-out show at Brixton where the band were welcomed like Balearic, hip-gyrating heroes.
Not long after Gibson's alcohol steeped cocktail arrives at the table so does his bandmate, vocalist Ed Macfarlane, repping a long-sleeve [US veteran hardcore band] Youth Of Today tee and looking impossibly tanned after the band's recent mini-tour in Australia. He's followed a little later by drummer Jack Savidge who, seemingly impervious to the heat, orders a hot coffee. "I'm enjoying it a lot more this time around," shares frontman Edd Macfarlane. "When we first started doing press, you just have this idea that this will only last a couple of years. I think I've just come to terms with the fact that this is what we do now. We're in a band."
"When our booking agents booked the Brixton show, I did think it was being a bit ambitious," admits Macfarlane, when asked if the band were ever concerned they'd left their comeback too late. "I was like, 'Personally I think it's too big.' But it was the right decision to make. I was really apprehensive and nervous. Part of me thought, 'Are people still going to appreciate me dancing around the stage or will people think it's stupid?' But that wasn't the case at all."
"It was a very warm vibe, probably more than warm," interjects drummer Jack Savidge, remembering the love in the room that night. "It was passionate. When a show is sold out it's hard not to feel confident about it. There's not going to be a smattering of people. I think that's the most nerve-wracking thing, say you're at a festival and there's a thin amount of people on the floor, then that's more nerve-wracking…"
Gibson jumps in, shaking his head somewhat disbelievingly. "Seeing how much you still mean to people is incredible. It's something I wouldn't have counted on or assumed by any means."
"Part of me thought, 'Are people still going to appreciate me dancing around the stage or will people think it's stupid?' But that wasn't the case at all." - Ed Macfarlane
"Leeds [University] was the warm-up show before Brixton," continues Macfarlane. "Seeing people on other people's shoulders, seeing the looks on their faces… it was emotional. I was glad to have the Brixton show done. It felt good to say we're back and then just be able to focus on what we need to do."

That night at the show, they were relaxed, and most importantly, excited about the band's future, a stark contrast with seven years ago when physical, creative and mental burnout caused them to abruptly slam the breaks on.
Although Friendly Fires emerged in 2006, during the neon glare of the nu-rave movement where bands like Klaxons, Shitdisco, and CSS were smashing together synths, indie guitars and glowsticks in front of packed clubs, their own endorphin-fuelled pop utopia has never been bundled in with that ill-fated scene.
Side-stepping its demise completely, by 2011, they were on a razor-straight, upward trajectory, building themselves a reputation for carnival-esque, hip spasming shows, that carried them around the world. They dropped two albums, 2008's jittery, disco-inflected self-titled debut and its hedonistic follow-up Pala in 2011 where Macfarlane's conga-style dancing earned its own section on his Wikipedia page, complete with a shrieking quote from an American punter: "He's shaking it like I have NEVER seen it shaken before. He's stuntin' like your daddy up there." In 2012, the band played three glorious nights on the trot at Brixton Academy. Then… things went silent.
Up until that point, the band had been on the road almost much constantly since 2006, even squeezing in the writing sessions for Pala amongst further touring. And although they had teased a "long, expansive, drawn-out" and "psychedelic" third album was in the works, behind the scenes, the trio were physically knackered and it was beginning to show in the music.
"We did some stuff in 2013 and 2014 but it just didn't really hit the mark," says Savidge, sipping his latte. "It didn't really work. The songs were just … ok." "I felt like they just didn't capture the spirit of what were about as a band," says Macfarlane. "It got to the point at the end of that [the tour cycle for Pala] where the idea of going into the studio and having to do it all again didn't feel like we'd write a record that would have some honest, positive excitement about it."
From our conversation, it's pretty clear that Macfarlane - especially - had been desperate for a break. Had he fallen out of love with Friendly Fires and the music? "No, I didn't fall out of love with it," he replies. "But physically, for me, it's pretty demanding. I just stopped realising what I really enjoy about being in this band. And that is playing positive, upbeat music for people who just want to come to a gig where it's a really inclusive vibe, where everyone gets to celebrate and dance together. I became too preoccupied by how good my performance was and just lost the path. We did the three shows at Brixton for Pala and I just remember feeling like they were good gigs, but going straight home after and not feeling like I'd enjoyed it."
"I stopped realising what I really enjoy about being in this band. Playing positive, upbeat music for people to celebrate and dance together." - Ed Macfarlane
The band had grown up together in Hertfordshire, all three going to public school, discovering post-hardcore bands, house and techno and playing music in Macfarlane's mum's garage from the age of 14. But even their closest of friendships would be tested by being constantly in each others' pockets.
"I don't know about the other guys, but I needed a bit of separation to get back into the right mindset and to capture the spirit of what I felt on the first and second record," says Macfarlane. After a moment Gibson concedes. "I think we needed a little time apart from each others' faces."
"It's a thing that we all hold quite dear," says Savidge carefully. "So for it to not be really existing, it's going to inevitably be a, not really a sore point, but…"
Gibson pitches in. "If you have a favourite piece of music and it's just played at you, it's going to lose its shine. I guess when [you're] not able to hang out just as friends, it's like, 'Ok, I've got to see these guys again for the next two years' - it's going to change your friendship."
The band now agree that taking that time out proved to be the best thing for them all, confirming that the break had been a unanimous decision, and although the atmosphere around the table never drops below jovial, there's an insinuation that not everyone had expected the break to last as long as it did.
"I think it was healthy to take some time before jumping back into the studio, but I was certainly keen to write sooner than we managed to," admits Gibson. "But what you want and what's the best thing for you can be two very different things. I realise now that if we'd released a third record without having anything to write about, or having any time away to realise what the world is outside of Friendly Fires, we probably wouldn't have been able to get a great third album out … if we could actually get anything out at all."
Gradually, the band started to rebuild their friendship, hanging out more, going clubbing and swapping music. In 2016, they started writing together again back in Ed's parents' garage where they'd cooked up their debut, recorded with just one laptop and a microphone gaffer-taped to a stand. Around Christmas 2017, they wrote 'Love Like Waves'" and everything changed.
"There was writing that had been going on, off and on for about a year," explains Savidge. "There were songs around in the autumn of that year, stuff like 'Can't Wait Forever' and (stand-alone track) 'Tijuana' was coming together. But "Love Like Waves" was the one that felt really good and really complete."
"There was an element of fear on my part," admits Macfarlane. "[During the break] I didn't feel good enough to want to write really uplifting positive music. I don't really know when or why things started changing but it probably came from us hanging out more and being back in that garage space. Perhaps it's just 'cause we're sharing more music together, or chatting about other things that aren't music. We just wanted to make sure that when you got to the end of the track it leaves you full up. Some of the tracks we did before 'Love Like Waves', didn't have that magic about them. Then we put 'Love Like Waves' out, and it was like, 'Now we have to write a record'."
The reaction to 'Love Like Waves' which the reviews described as "strutting into their new era" was massive and instantaneous, giving the band that extra push of confidence they needed to launch a proper comeback assault.
"There was a Plan A and a Plan B," says Savidge. "Plan A was do some shows for the ten-year anniversary of the first album. Plan B was do a new record and do it properly and we chose Plan B. I don't think, for any of us, the idea of doing a ten-year anniversary of the first record was very exciting."
"There was also an element of now or never…" admits Gibson.
We're so happy they took the leap. The band's third album, Inflorescent is the sound of a band rejuvenated. Working with producer Mark Ralph, who's handled the decks for Years & Years, AlunaGeorge, Rudimental and Rag'n'Bone Man, these 11 slices of Club Tropicana-flavoured dance-pop are indebted to 90s and 80s electronica, aimed at the club and are so drenched in summer, they ought to come with a free Aperol Spritz and a giant, flamingo-shaped pool float.
"I don't think, for any of us, the idea of doing a ten-year anniversary of the first record was very exciting." - Edd Gibson
"I'm not really a massive fan of indie music full stop," says Macfarlane. "Our influences have always come from the dance world. We've done a cover of 'Lack Of Love' (by Charles B and Adonis) and now we're starting to play it with the excitement it needs. I've been listening to a lot of Brazilian disco and Brazilian AOR. There's definitely a lot of references to that on the record. We sampled a track by a band called Banda Black Rio, which we've played live a couple of times. I feel like a lot of the music suits the positive feel that we try and encapsulate."
During their long hiatus, although Friendly Fires seemed dead in the water, the band members continued to be active. Over the years, Savidge has remixed bands from Foals to Childhood to Au Revoir Simone, and for the last few years has been playing live drums for slick and funky South London vocalist Love Ssega. Gibson has been seen performing with ex-Klaxon, James Righton's Shock Machine along with Metronomy's Anna Prior. Macfarlane has lent his vocals to numerous collaborations, most notably working with Disclosure on their track 'Defeated No More' from the duo's debut Settle and performing in their live show, an experience the frontman admits was "daunting".
"What we offer is completely different," he says, referring to Friendly Fires' newly streamlined live show. "If anything, we've had to tone back our lights because we don't want them to overpower what we do as a band which is very physical. You see bands like Disclosure and you're like 'Bloody hell, we're going to have a million lasers but that isn't what we're about.'"
"There's certainly an arms race in that world to present something quite arresting," agrees Gibson. "We really enjoy the performance aspect and [the production] should just aid that, as opposed to taking over."
That sense of simplicity has carried over into the new album where warped beats and tropical chimes are given the space they need to writhe and breathe. It's testament to the band's newly developed sense of songwriting, which finally now has the confidence to let their vision shine through.
"In ways it's pretty reflective of where I am, more so than the other two records," explains Macfarlane. "With the first two records, there was an element of creating scenarios in my head. I feel like with this record, it sounds lame, but it's more personal."
"The second record was great but it's a very densely rich arrangement experience," says Savidge. "The songs didn't need to have layers upon layers upon layers."
"The first two records were more escapist," adds Macfarlane. "They were about wanting to be someone better than who you are. I think on Pala, even on the title track, there's an element of nihilism about it: enjoy yourself while it lasts because it won't last forever. Whereas with Inflorescent, there seems to be, it sounds kinda cheesy but, an element of self-betterment and coming out of your shell. We put "Can't Wait Forever" right at the top of the record because it's about overcoming your fears."
"With Inflorescent, there seems to be - it sounds kinda cheesy but - an element of self-betterment and coming out of your shell." Ed Macfarlane
Back in the day, the band's interviews brimmed with tales of mayhem, of helicopter flights around Christ The Redeemer in Rio, hanging out with Duran Duran and working with their heroes. In 2011, they played two from the top to a massive crowd on The Other Stage at Glastonbury, bringing out a troupe of Hawaiian dancers for their single 'Hawaiian Air'.
"That was massive," laughs Savidge. "The thing that always sticks out in my mind about Glastonbury is seeing loads of flags…"
" I don't know if it felt like a [career] highlight for me because I can't even remember any of the show!" admits Macfarlane. "I think I was in this really focused, meditative state but when gigs are like that, they're at their strongest."
Right now, it seems like the band have quite literally come back in and picked up where they left off, but there's no doubt that they're aware of the challenges that lie ahead with a whole new generation of fans to win over.
"I like having to prove myself on stage," Macfarlane continues. "It's been a joy doing some of these festival shows where a lot of the audience don't actually know who we are. When we did Citadel, it was kind of a weird vibe. There were loads of young kids there, probably waiting for Bastille, but I enjoy trying to get a reaction out of people who might not want to watch us. Confusion or just people thinking, 'What is this guy doing?!' Or even people actively thinking that we're shit. I quite like that. I like provoking reaction from the crowd I don't want people to be stood there twiddling their thumbs."
Although Macfarlane told DIY magazine back in January that "there is still a place for our band," there's no getting away from the fact that the world Friendly Fires have re-entered is vastly different, darker and more dangerous than the one they left eight years ago. Right now, a plethora of bands, led by Idles, are capturing the zeitgeist by talking straight about politics, mental health and societal disillusion. In comparison, Friendly Fires' response to the new world order is simple – come, dance and leave your cares at the door.
"I don't want to be presumptuous of what the people want but I think there are people who are probably looking for something positive in their lives, especially at the moment," says Macfarlane. "I feel like that's what we try and offer. We want people to come to our gigs and feel, to come together even just for a moment."
Inflorescent is released on 16 August via Casablanca Records/Polydor.
Get the Best Fit take on the week in music direct to your inbox every Friday