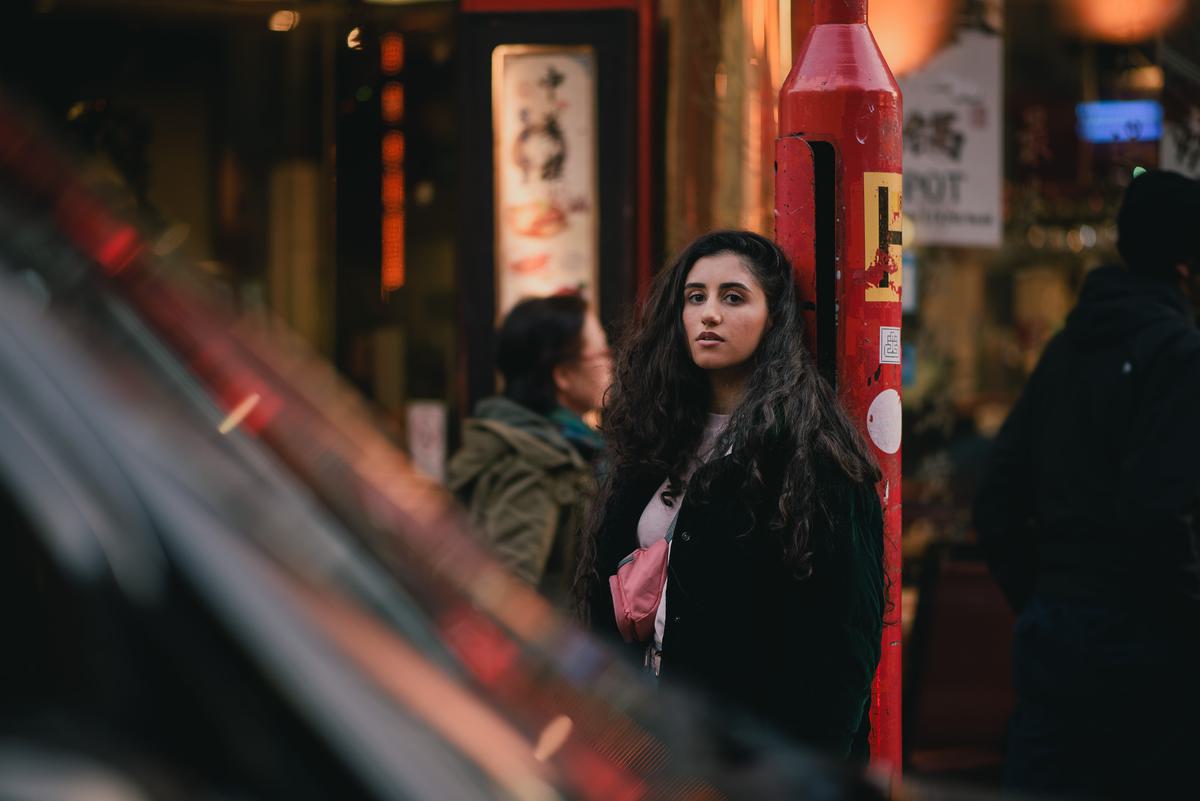 Dutch Courage
14 February 2018, 22:45
Prodigal pop talent Naaz wanted to make the music she heard in her head real - but she had to overcome the cultural challenges of her Kurdish background to do it, she tells Nick Levine.
When she was six or seven years old, Naaz Mohammed got so excited watching an episode of Idols, the Dutch equivalent to Pop Idol, that she started bouncing on a sofa at her family home in Rotterdam.
"I'm going to be a singer one day," she told her conservative Kurdish parents, unwittingly sowing the seeds for a future battle to win their approval. At the same kind of age, Naaz was already dabbling with songwriting, though she wouldn't have called it that at the time. "First I wrote a lot of stories in little books, then poetry, and then I started turning poems into melodies," she tells me when we meet at a busy cinema café in London's Soho. "Then I realised, 'Oh shit, I'm making songs!'"
She doesn't turn 20 until June, but Naaz carries herself with the composure of someone older. She's confident without drawing attention to herself, uncommonly self-aware, and speaks articulately in the flawless, American-accented English of a European kid who grew up watching US TV shows and movies. There's a bit of chatter behind us and Grace Jones jams like "My Jamaican Guy" are playing in the background, but Naaz doesn't feel the need to raise her voice at all.
Serenely she shares her musical journey, telling me she grew up listening to whatever her brothers were into at the time, which ranged from Eminem's rap hits to bolshy bro-rock like Oasis and Red Hot Chili Peppers. At 13, she taught herself some basic guitar and piano skills purely so she could improve her songwriting, and two years later her brothers downloaded FruityLoops so she could produce music as well. Naaz says she still uses FruityLoops now, but prefers to write her songs a cappella while sitting alone in her bedroom.
"You're so limitless if you make music in complete silence," she tells me, "because there's nothing in the production or chords that can stop you from going wherever you want to go with your melodies or even the meaning of the song. I've never felt like I was dependent on instruments to create music. Music isn't just the kind of songs you hear on the radio, and there's not a protocol for what is and is not music. I believe that everything can be turned into music." Naaz says she practises what she preaches by using "a lot of environmental sounds" in her songs: keys rattling, the tap of a spoon on a teacup, even her brother gaming in the next room.
After making a song in her bedroom, Naaz takes it to the Amsterdam studio of production duo Soul Searching, who've become her regular collaborators. "They help me to sonically improve it," she explains. "They keep it as it is, but take it to the next level. The aim is never to change my music, because I don't believe you have to be an amazing technical producer to really create your own sound." The result is music that has the intimacy and idiosyncrasy of so-called "bedroom pop", but none of the smallness that can sometimes hobble this genre. Listen to Naaz's latest track "Loving Love": it's rich, textured and filled with emotion. It also gives you the instant thrill of nearly every great pop song; one play and it slays.
"I know what my sound is - I can hear it in my head but I don't know how to explain it to people, so I realised I might as well just create it myself."
But for a while, Naaz wasn't so confident in her ability to produce her own music. She convinced herself she was simply a singer-songwriter and began travelling to Amsterdam to make tracks in traditional-style sessions. It was an experience she found frustrating, both creatively and practically. Because Naaz wasn't allowed to make the hour-long journey without one of her brothers as a chaperone, she couldn't get there nearly as often as she wanted. And once she was in the studio, she didn't always click with her collaborators. "In music you never know if you're making friends, or just making opportunities for people," she says, once again sounding wise beyond her years.
Thankfully, she eventually had a kind of eureka moment. "I know what my sound is - I can hear it in my head," she says. "But I don't know how to explain it to people, so I realised I might as well just create it myself. And that's when I made "Words". That song is very minimalistic, and not necessarily because I wanted it to be. I just didn't know how to make it sound more full because I was so new to producing."
Nimble, big-hearted and infectious, "Words" would become Naaz's debut single, dropping last May and winning lots of praise online. It was a super-validating moment for an artist who says she often had to suppress her passion for music in order to fit in. "I think a lot of times when people ask you in school, 'What do you want to be when you grow up?', you're expected to give a realistic answer. Like a vet or a doctor or something that can actually be achieved by going to school. Every time I would say, 'I want to be a singer,' people would almost be like, 'Aww, it's so cute that you think you can do that.' I grew up with people treating it like it was a joke. So after a while, I started to think, 'Maybe I don't want to become a singer, maybe I do want to become a dentist because everyone tells me that's what I should be.' But then as I got older, I realised no, that's not going to make me happy. I think gradually I got to the point where I realised people can laugh at me all they want, but they're not going to stop me doing this. I came to realise this is what I want to do - and it's the only thing I want to do."
While dealing with the dismissive attitude of her peers, Naaz also faced disapproval from her parents. "I'm a Middle Eastern girl, so the idea of doing music was just completely unacceptable," she recalls bluntly. "They saw it as a world of predatory men, a world of sexual music videos and drugs. The way they saw it was: if you become an artist, you're just going to end up an alcoholic who sleeps with everyone."
Naaz says her parents' initial disdain was really rooted in fear. "They didn't want their daughter to end up in a world that they think might break you. They didn't want me to feel pressure to be 'good enough' all the time, because that's kind of what the music world is about. And they also worried because it's not a solid career. It takes a lot of courage and bravery to do music anyways, knowing you're not sure it's going to give you a living. [Their reaction] came from a place of love. They didn't want me to be hurt. But if you're not hurt, you're never really going to recognise the good things in life.
"Everyone needs to have their own identity which is formed by the good and bad experiences that you have in your life. I think you should let your kid trip and fall sometimes, so they learn how to get up again themselves."
So, how did she go about persuading her parents she should be allowed to continue with music? "It was something that happened gradually," Naaz says before pausing. "When my family saw I was doing music, it caused a lot of fights. It would be like, 'Music's not your thing, school's your thing!'" But their resolve softened when she posted a track online at the age of 15, and it led to her getting a manager. He was a Kurdish man, someone they could relate to who didn't fit the stereotypical image of music industry 'shark'. Naaz impressed her parents further by releasing a song to create better awareness of the Kurdish community at a time when her people were being stigmatised, ignorantly, because of ISIS. Four years on, Naaz says her parents are "just so supportive" of her music. "My mum knows all the lyrics even if she doesn't understand them!," she adds with a laugh.
The biggest misconception about her music, Naaz says, is the idea that it's straight up happy. "I think it's more hopeful, optimistic, reaching out for happiness. It's dreaming out loud." She tells me a poignant story to illustrate her point. "I used to get bullied a lot in high school because I stuck up for a girl who was being bullied. Obviously, then her bullies came for me. It was pretty tough and eventually I became, like, very quiet. I didn't really want to make friends or even talk to anyone because I didn't trust anyone any more. I felt like I wasn't accepted anywhere - not at home, not at school. So I thought to myself, 'I'm never going to tell anyone who I am or what I do or who I want to become.' I'm just going to say I'm 'up to something'. They don't need to know what it is; I know what I'm doing and that's not enough. That became my song "Up to Something", which was a song that gave me a lot of strength back when I was in high school. It was like, 'Yeah man, I'm up to something!' But it's only now that I really am 'up to something', I'm doing music every day! When I actually wrote the song, it was more a dream of what I wanted to become."
"I would not feel OK if Tove Lo said she doesn't like my music! Same with Lorde, you know. They really inspire me a lot..."
Naaz says her life is defined at the moment by strange contrasts. One day, she might be preparing for a gig or flying to somewhere like London to do an interview. But 24 hours later, she could be back in her bedroom at her family home, alone, working on new music. The next step is to drop her debut EP and presumably grow her fanbase. But she says she doesn't really care how people react to her songs, as long as they make people feel something. Naaz will concede that a couple of opinions do matter to her. "I would not feel OK if Tove Lo said she doesn't like my music! Same with Lorde, you know. They really inspire me a lot - I don't necessarily mean musically. I mean their way of life and who they are, how they navigate the music industry."
As our time together draws to a close - Naaz has to jump in a taxi to the airport - she explains why the usual barometers of pop success are kind of irrelevant to her. "You know, it was really, really tough for me to be able to do this in the first place - to be allowed to do it. I don't measure my success by looking at streams or how many people think I'm cool or anything like that. I measure it by the fact that I achieved something that seemed so impossible to me. My biggest achievement so far is the fact I'm actually able to do music. For so many people that's just a given. 'You wanna do music? OK, go ahead, try it.' But getting the opportunity to try this is a big deal for people who don't have instant support from their families or their culture. I'm so proud that I'm just getting to try."