His latest album Telling the Trees - the fourth solo long player from the Scotsman - is testament to a career which has developed and pushed him far away from his musical roots, found the singer a way to tackle his chronic depression and collaborate with friends old and new. An incredibly talented guitarist pulling together folk, flamenco and improvisational music in a way which is structured, yet untethered to any genre.
"I might get more excited about the food than the questions to be honest…"
RM Hubbert utters these words in the downstairs of the wonderful Eusebi's Deli in Glasgow's West end just as a trough – and it is that big – of freshly baked focaccia, soft and bursting with olives, peppers and artichoke is placed in front of us. He's got a point, to be fair. A generous start laid on by David Cairns of the Glasgow Collective, an organisation aiming to rejuvenate the city's East End through the arts.
As we peruse the menu, we both light upon "Yesterday's Lasagne". Can it literally be that? Hubbert applies some logic: "Anything mince-based is better the second day," he reasons. "I made a fucking awesome chicken soup the other day. My girlfriend is ill just now and I made a soup with a whole chicken…it was good."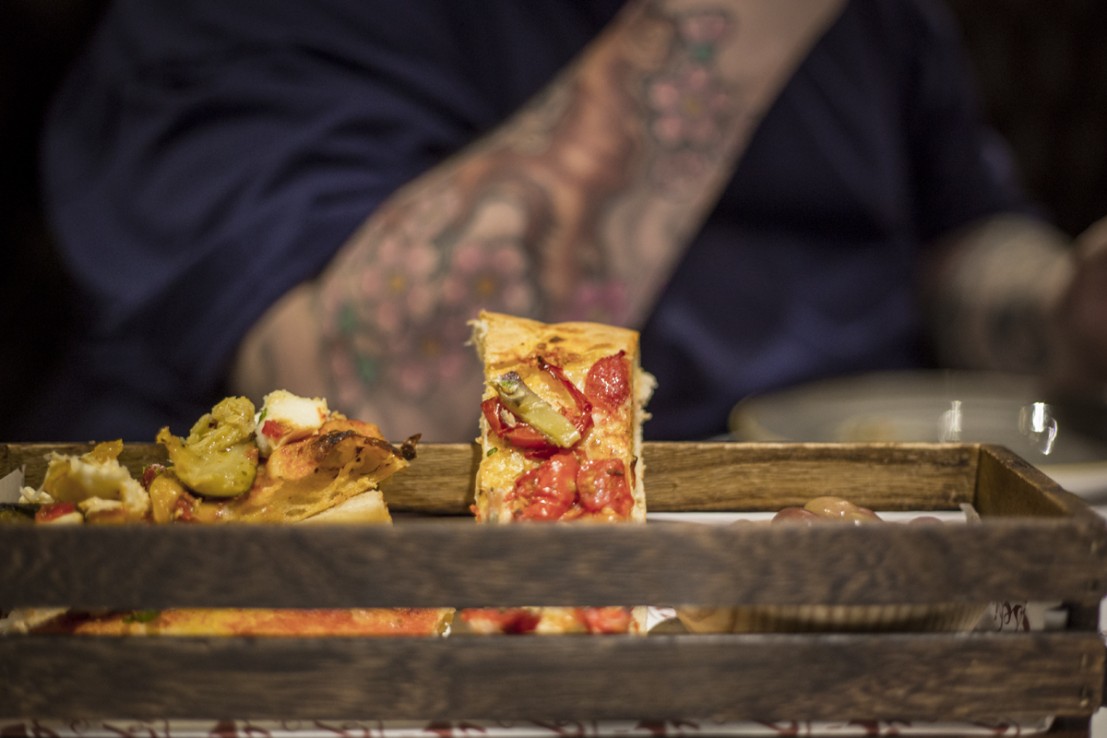 He continues: "I've got really into cooking in the last couple of years….I probably take about four times as long as I actually need. I kind of like pottering about the kitchen like that for a few hours." I ask if, like with the songs which made up his albums First & Last, 13 Lost & Found and Breaks & Bones (commonly known as the Ampersand Trilogy) cooking acts as a therapy to cope with whatever the day throws at you. "I think anything that you have to focus on can do that [act as a therapy]," he agrees. "You forget about yourself for a while because you're trying not to burn a sauce or make pasta into mush. Anything you can concentrate on can work in that way."
First Main Course: Ox cheek ravioli; brisket of beef braised in red wine, served on polenta
After making music with Glaswegian post-rock act El Hombre Trajeado, the band split in 2005 and Hubbert took some time away from music. In the period between El Hombre finishing and his solo career beginning, he was dealt a series of blows. First, his father died of cancer shortly after a diagnosis, then Hubbert lost his mother to a brain aneurism before he himself was given a retroactive diagnosis of depression. After years of post-rock and hardcore, Hubbert took up flamenco guitar. I ask if this was a method of coping with all the events in his personal life, or a way to try and completely remove them.
"It was originally to remove it," says Hubbert. "Absolutely. I mean, I accepted it was happening. He [Hubbert's father] got a very late diagnosis so he only lived for three weeks after it…but my mum was a nurse and she'd seen scans for about two months before so she knew what was happening. So it was pure escapism. It was a total arbitrary choice to learn flamenco as well. I'd never listened but heard it was difficult to learn. I bought a load of records and got on YouTube to learn techniques. I spent three or four hours a day just trying to learn this…the therapeutic aspect came after, a couple of years after actually. My mum died of a brain aneurism and I threw myself back into playing…well, I was never actually playing I was just doing technical exercises."
"There was a good three years when I just stopped doing music…." Interrupting, I ask if this was due to depression. "No…our last album [as El Hombre Trajeado] took so long to make and we'd actually decided to make it the last one," says Hubbert. "It took four years and it was no surprise. What I did realise later on was that music was helping me with my depression without even realising. So it became much more evident with my parents gone…..I was really bad at talking about what was happening, and always have been. The diagnosis I got for chronic depression was retroactive; I had my first proper depressive period when I was fifteen and had them every few years since then…I just hadn't known what to call it."
Not to generalise, but the west of Scotland male isn't great at talking about, or expressing their feelings unless it's about football or rage. So by playing music, delving into these technical exercises, it was a way to get through something without talking about it to his friends. "Oh yeah….that wisnae happening was it haha!" Hubbert laughs at the idea of talking through his feelings. "When I started playing again after my mum died, I'd got really strong with the technical stuff and so had got bored with it. A lot of the flamenco playing is in the right hand, left hand stuff is really boring, really boring. That's where the feeling comes from, and the energy and the passion. The left hand is really strict and conservative. So I'd put the guitar into an open tuning so I didn't have to bother with the left hand. Through that, that's basically how the first RM Hubbert album came about. I'd start to fanny about with the open tunings and that's where the songs started. I realised that writing was making me feel a bit better. It felt like it was a more successful attempt at communicating what was going on. The reason I wrote those songs was because I couldn't find the words for it. I originally tried to write words for it but it wasn't right."
"£150 a head that meal cost, for chicken and chips and some scallops. One hundred and fifty fucking quid…it was good, though!"
There's a pause here as we finish off the focaccia, all that's left is a pile of olives – but Hubbert won't be eating them. "Do you know, that looks delicious," he admits. "I look at it and I try one….but it's no' happening. I'm gonnae be 42 in a couple of weeks, my olive window has passed."
The conversation turns to food for a while, and I get to find out a little more about Hubbert's childhood and the role food played in it. Before we get to that, though, he gives me some background on his rather interesting parents.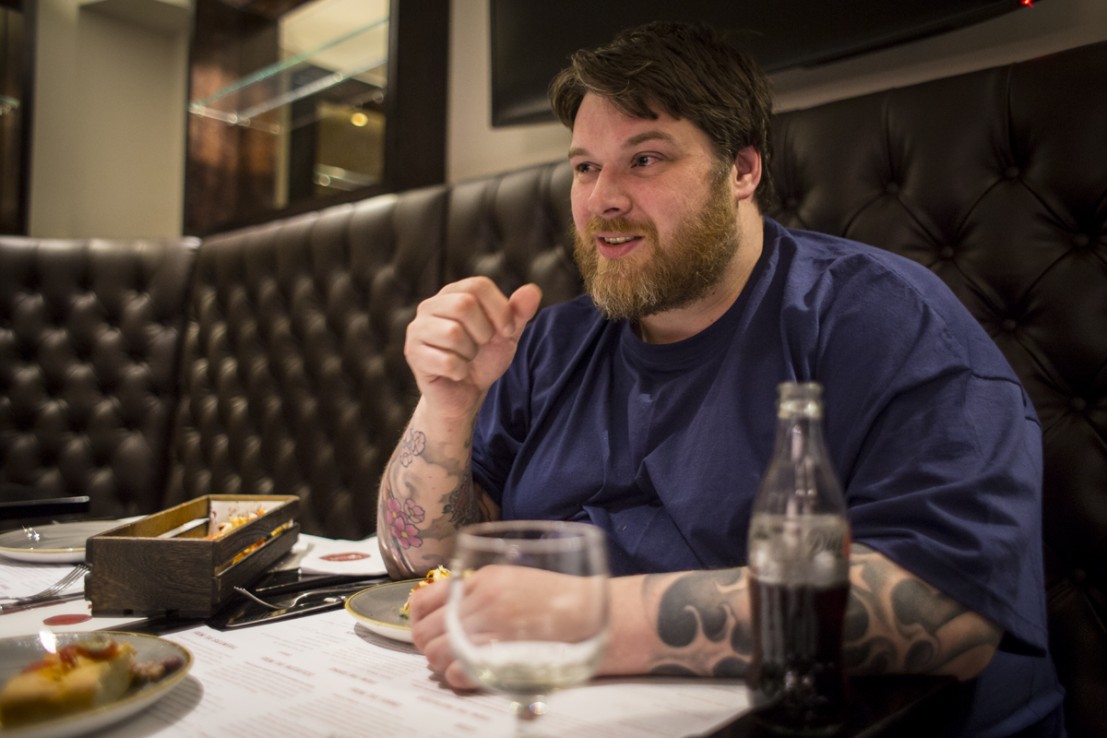 "I lived in a scheme called Darnley [south-west Glasgow] until I was eight, and then we moved to Mount Florida," begins the singer. "The house which we lived in…whoever bought the plans for the scheme bought them from a South African company, not really thinking flat-roofed housing in Scotland might not be a good idea. One day I came home from school to find our roof had collapsed. My mum was there and there was money everywhere! It turned out my dad, not being the most trusting of sorts, had been stashing money in the fluorescent lights. He stashed it everywhere, we found so much after he died. There's a story of him going mental at my mum after she loaned our stereo to the neighbours for a party because he'd left £3000 in the speakers! My mum and dad came from very colourful backgrounds; they always told me they'd met at the Barras [the market around the Glasgow venue, the Barrowlands Ballroom], at the dancing, which I thought was so sweet and nice to feel a shared experience in that hall. But it turns out they met because my mum had a stall and he collected protection money from her."
The Hubbert family would only ever see each other as a unit at mealtimes. "It was kind of weird growing up because my mum would work the nightshift, so she'd be there during the day for me and my dad would be there at night. So it seemed like they never saw each other – the only time they did was at dinner. Either of them made dinner, to be honest. Usually my mum, I guess."
As a child I could always tell what day of the week it was by the meals we had. Monday was leftovers day, normally the sausage, egg and chips that weren't eaten at the weekend. Friday, being from a Catholic family, was fish day and Saturday – eventually once we became more adventurous – meant lasagne. I wonder if Hubbert had the same routine: "We never had that structure," he says. "My dad liked tripe and I couldn't fucking stand tripe so we'd never eat the same things. Actually, I went to an amazing restaurant with Mogwai while on tour. It was this restaurant in the South of France somewhere. We'd all saved up our per diems for this day off; it was Rick Stein's favourite restaurant in the world, quite rustic but very expensive. They came round with three starters, and one was tripe. It was fried tripe, not boiled in milk like my dad used to make, but I was like 'if there's going to be one place in the world where tripe isn't mingin' it's going to be here…' It was totally mingin', I started to gag. £150 a head that meal cost for chicken and chips...and some scallops. One hundred and fifty fucking quid…it was good, though!"
Hubby continues on with the family mealtimes: "My dad would cook on Saturday mornings, he'd make a fry up. That's the only time I remember him cooking, actually. Oh, he'd make me porridge but I didn't like that. We didn't share a lot of culinary tastes!" And as for his own attempts in the kitchen? "I started cooking quite early," he reveals. "I was an only child. It was not sophisticated…probably involved Dairylea. I did make a lot of omelettes, something simple like that. I don't think I was particularly fussy, actually. I did really like my dad's mince and tatties…there was a lot of meat and two veg. I remember really clearly the first time I had pasta was at nursery school – we learned how to make pasta and then got to eat it."
Second main course: Parma selection; three Umbrian prosciutti, classic aged 18 months, L'umbriaco cured in red wine, Sella Dante preserved with balsamic, melon jam, focaccia
Pasta. Something I didn't see until I was a teenager, but yet not necessarily because of a poor diet or from eating more "traditional" Scottish food. Frowned on in the 1980s as something low or for the working classes, most restaurants in Glasgow will now charge an arm and a leg for tradition. "I don't think it was that traditional Scottish food was bad at that time," says Hubbert. "I just never got the opportunity to have it when I was young. There was no time in the house, we would eat oven chips and shit like that…anything you could get from Farmfoods. Crispy pancakes, stuff that was fast and cheap, working class food. There was no time to prepare something…shove it in the oven, go have your bath and come back and it's ready. Food wasn't a big deal in our house growing up, we weren't well off but I never remember going hungry."
As we sit in a fantastic restaurant eating delicious food, it's clearly a pleasurable experience to be enjoyed at a leisurely pace. It wasn't always like this, though. "When I was growing up, food was fuel," admits Hubbert. "And we'd eat fast – any spare money my parents had went towards holidays, they loved going on holiday. My mum was more adventurous [on holiday]; she'd order paella and fucking love it. My dad was very much off to the British pub to get whatever shit they served up. I also remember the various cunning strategies my dad had of how to pack as many buffet items into my pockets as he could manage…so we didn't need to buy lunch haha."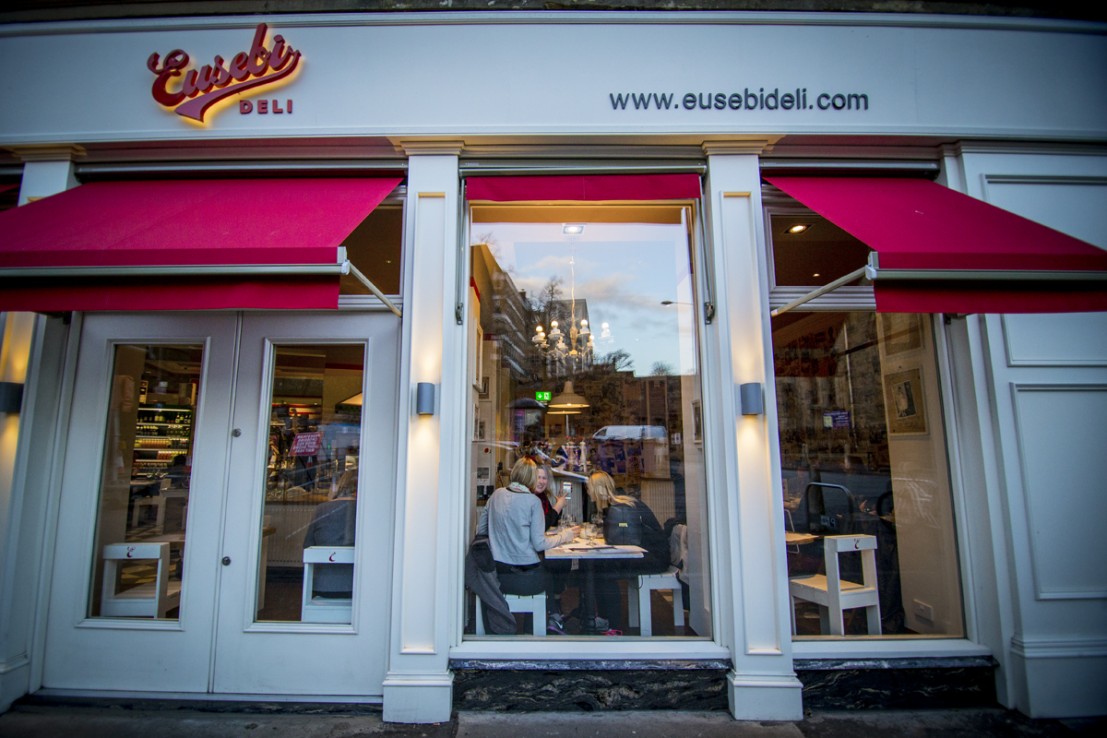 Do you remember being taken out for dinner when signing to a label?
"I don't remember actually. I think Chemikal bought some cakes from Greggs. I think that sums up the state of modern music, really. I wouldn't let a label do that because ultimately you're paying for it all anyway…in a very literal way. It goes on your account!"
What and where was the best meal you've ever had?
"That meal with Mogwai was very good, but it was tempered by our innate Scottishness…'fucking chicken and chips, fucking one hundred and fifty quid…' The first band I was in, Glue, I joined them when I was 17 or 18 and we started touring Europe. We'd play these squats in Germany and Holland, or these arts centres…little DIY tours – we had to do them by mail. We did one show in the middle of the Italian countryside. A tiny little village in a tiny little restaurant. It was the owner's son who had booked us and gave us a load of money. The food was insane, just traditional Italian food. Actually, the very best bowl of soup I ever had was on tour. When I was away with Bill Wells and Aidan Moffat, our van died in Italy. We were stuck in this village for a week; there was a really nondescript café where locals would go and get drunk during the day. I had this chicken soup there which was just INSANE. It was so simple: just rice and pasta and chicken in a clear broth. It was so good."
Is there a difference between eating in the UK and eating abroad?
"Generally touring in Europe the food is amazing; it's incredible how different a bit of bread and cheese can be in some parts in the world. My rider is pretty simple: bread, meat, cheese. But the difference between getting half a loaf of Warburtons and some Red Leicester and getting a freshly baked baguette and some Camembert is a wide, wide street. That's my gauge, I don't give a fuck about the show anymore. What's the state of the bread and cheese?"
Food played an important part in the development of RM Hubbert, not just as a solo artist but in helping to cope with his chronic depression. Before the Ampersand Trilogy took shape, Hubbert began a series of shows which eventually became known as "Will Play For Food". Rather than being hard up for a dinner, the singer used it as a therapy tool:
"I wasn't begging for food. I remember the Sun phoned up when I started getting a bit of attention, looking to speak to this musician who was begging for food…" he tells me, slightly exasperated at the memory. "That wasn't the case – there are much better ways of begging for food! I'd started doing shows again, and I found it was easier to talk about my depression from the stage to strangers. I could let little bits out when I was more guarded with the people around me. Not many people were coming to the shows; there was a show at the CCA [an arts and events space in Glasgow] where I played to about seven people…I must have got paid like eight pounds and my decision was get a taxi home or get something to eat…and a little idea started to blossom."
He continues: "It ended up as the dinner was a way for me to meet people before the show. The show was the least important part, it was more about people getting in touch and me going to their house and doing a show. I was very specific about what that meant: I would treat it like I would a concert. It wasn't me playing at your birthday party, it wasn't everyone taking a turn on the guitar. It was sitting in silence, listening to my show. Because of how intense that was – my shows are a lot funnier now – it was all about having some type of catharsis. I would have breakthroughs while I was talking, it was all new, was all fresh."
I say that as a way of making a breakthrough, it's a pretty fucking intimate way to go about it. "That was the thing, it was really fucking intense!" laughs Hubbert. "They were sitting as close to me as you are, and of course the music itself is very emotive. But when I'm telling people about my parents dying and my long history of mental illness….people would be crying, but it was a very rewarding experience for me! I'd feel like I'd connected with those people. That's what I craved, that's why I still do it. It's about forming connections, even if they were temporary. The food bit came after that, just a way to soften the blow. I'd say I'd come and do a show if you invite some friends and make us all dinner….dinner would come before, always. That's the rule. It was good, and there was some great food as well. But as I became more popular there were one or two which were a bit weird."
"This is the first RM Hubbert album which isn't about making me feel better. It's more about finding out what a load of my favourite musicians think of me!"
After a while, Hubbert had to call time on the dinner and a show: "It's when it went from one person liking my music and inviting their friends who had no idea who I was…to a room full of fans," he explains. "I think I wasn't getting an extreme reaction out of it and I wasn't talking to new people. It just didn't do what it was supposed to do."
Over our main course – and second main course – we get round to discussing the original reason for our interview, Hubbert's magnificent new record Telling the Trees. It's an album of collaborations with entirely female artists, featuring the likes of Kathryn Williams, Helen Marnie of Ladytron, Kathryn Joseph and Eleanor Friedberger. Some of the guests you would feel are obvious bedfellows, some – like Sarah J Stanley's abrasive electronic project HQFU – not so much. Yet Hubbert and his array of conspirators have made an album that's surprisingly cohesive. What's striking about Telling the Trees is how it feels like a mirror image to 13 Lost and Found. Hubbert agrees: "That's exactly it. The way I approached everything on 13 Lost and Found, I tried to do the opposite. Most of the fulfilment I get out of this is the writing and recording, and I don't want to repeat myself. 13 Lost was all about reconnecting with old friends. I'd got in touch with the people but most of them I hadn't seen in five or ten years. And the first time we actually met up again was in the studio writing a song, the idea being trying to capture that reconnection."
This time, Hubbert made sure the connection was purposely broken. He explains: "With this, I wanted to do the exact opposite. I still haven't met Rachel Grimes actually; by the time I'd finished the record I hadn't met her or Eleanor Friedberger. Weirdly, I hadn't met Sarah [Stanley] who lives down the road and I'd barely met Martha Ffion or Helen Marnie. Actually Helen and me didn't meet until after we'd written the song."
If it wasn't for the knowledge that Hubbert used those flamenco exercises for a particular purpose, you'd almost regard Telling the Trees as an exercise in being obtuse. The results prove him correct to have undertaken this task: "I did it in a very deliberate way. When someone agreed to be on the record I'd go away for a few days and do nothing but listen to their music," begins the singer, "and then I'd write a piece of music for them immediately afterwards. I'd send it, and everyone got the same instructions. In retrospect, I think I made it as difficult as possible for them to do it: 'here's a piece of music written for you, it's mostly structured and nearly finished. In saying that, feel free to do what you want. Take it apart, change the length, throw it out entirely, and add whatever vocals or instrumentation you want…just don't ask me if you're allowed. Don't tell me what you're doing.' In the way that the meaning of the collaboration on 13 Lost was to join us together, this one was supposed to be all about them reacting to what I'd sent. So it's this weird thing where what I sent them was a reaction to their music in the first place, and I wanted them to react to that with as little influence for me as possible."
I ask if Hubbert either tried to predict what the collaborator might expect from him, or by locking himself away with their music did it mean he wrote something in the style of the artist: "Yeah sometimes, or I tried to write something which I thought they would write," he reveals. "The interesting thing was that while I was writing all of those pieces there was a bit in the back of my head going 'I know what she's gonnae do there. This is where the build-up will be, that's where the little flourish she does will be.'" Did that happen? "Not once! Every single one came back totally different to what I expected."
It would be hard for Hubbert to confirm my next question about the process but I ask anyway…did it feel like any of the artists write something in the style of RM Hubbert? "Probably, which is really interesting!" Hubbert seems intrigued by this idea. "I imagine that's exactly what happened, I've not actually asked them yet. Every single song had a little bit in it where I went 'fuck, that's amazing'. When you write music as a solo artist, getting surprised is a novel, brilliant thing. "
Hubbert also had to deal with other, more worrying aspects of the process: "It was a strange feeling of absolute excitement and terror every time an email would come through from one of them with a wee attachment. You have to live with these songs for the rest of your career so ultimately it was a trust exercise from both of us. I asked them to do something because I trusted them. That element of letting go was really scary, but also liberating." It's a shared experience but not together…"Yeah which neatly summarises the whole album. It's this weird, shared experience but utterly isolated."
Having spoken about using his own music and song writing as a therapy, I'm curious to know if spending time with nothing but another artist's music for company has the same effect on Hubbert's mental health "No. I enjoy it…but it very rarely takes me away from anything," he states. "I don't really need it any more, I don't use music in that way anymore. This is the first RM Hubbert album which isn't about making me feel better. It's more about finding out what a load of my favourite musicians think of me! It's only one minor step away from self-involvement. The first three albums had very definite purposes of being a voice for me."
Dessert: Tira Mi Su Del Giorno
On Telling the Trees all the collaborators are women, and that was an intentional move once more from Hubbert: "Again it's mirror image of 13 Lost and Found. There are three women on 13 Lost, and three men on this one. There's Barry Burns and Jim Eno [Spoon drummer, and producer] and myself. I didn't even know Jim played on it until the mastering. He recorded Eleanor and added some drums. I thought it was Eleanor playing the drums. It was as deliberate as that. When I started making a list of people I wanted to work with it was all women. I hadn't really thought about it, it was just the music I had been listening to at the time. I started to come to this idea of the mirror image and realised that there were very few women on 13 Lost. It had never crossed my mind, but it made sense to keep going in that direction."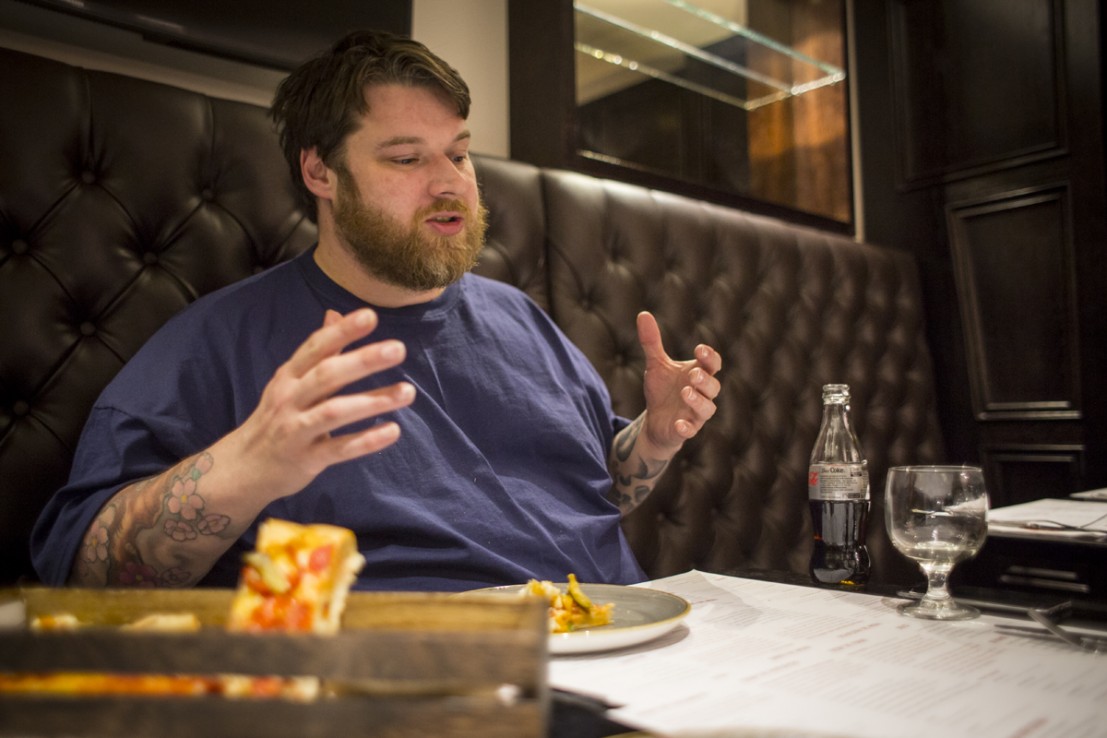 The record opens with "The Dinosaur Where We Fell In Love", on which writer Anneliese Mackintosh performs some spoken word verse. It's a stark beginning, with Hubbert's twangy and sparse playing making the track feel scorched and dry. Rather than an ending, the track plays out like a beginning. "Okay, this is not the end of the world, this is the dinosaur where we fell in love" says one half of a couple who yearn for each other, for something else in the world other than a dreadful something which is overcoming the pair separately. "I loved her writing," says Hubbert of Mackintosh. "We performed together at a literary event and I really loved Any Other Mouth, a collection of short stories she published. I think she was one of the first I asked to be on the album, although that song was the last to come together."
It opens the album as a rebirth, a way for this couple to overcome their self-loathing and mutual march towards extinction. It also sets the tone for everything that follows. "It was designed that way," affirms Hubbert. "Once I had the first few collaborators in place I started writing with a mind to where it would be on the album. One of the things on 13 Lost and Found which I was really paranoid about and which Alex Kapranos was a huge help with was making what's essentially ten different bands, sound cohesive."
"Understanding depression doesn't mean it goes away but at least you can recognise it's happening…and sometimes it's okay just to let it fucking happen."
While more hinted at than explicit on that first song, a majority of the collaborators seem to follow suit in terms of theme. It's most obvious on the songs performed by Kathryn Williams and Kathryn Joseph. The former speaks of love being "as selfish as the sea…as selfish as me" on "I Can Hold You Back" while fellow SAY Award winner Joseph sings "the way that your mouth betters me" on "The Dog"…both seem to be fighting against feelings of self-loathing, taking positives from the small shafts of light which break through on both desolate tracks. Hubbert agrees that there's a theme: "Absolutely, that's a very good point," he says. "Those themes come up quite a few times on the album. I dunno if that comes from them trying to do something that I would like or that we have much in common. I asked both Kathryns under the exact same circumstances, actually; I'd never met them but knew their work and loved it. In both cases we did a show together and in both cases we ended up in tears at each other's shows."
We talk of Joseph's honesty in her music and how she holds nothing back: "I don't think she's able to do otherwise," says Hubbert. "It's so honest and I don't think she has any idea how important her music is."
Hubbert reveals a little studio detail which came to light during the recording of "The Dog": percussion via Jospeh's stomach. "Kathryn sings really quietly so you have to turn the gain up on the mic," he explains. "It actually happened again on [BBC Radio 3's] The Verb where we had to stop recording because her tummy was rumbling…and we ate so much food on that trip! When we came to record that song I wanted to add a little Sparklehorse-y weirdness into it. I love what he [Mark Linkous] did with really simple, sad songs and I wanted to do an homage to that. We realised on the vocal track there was this weird rumble which turned out to be her stomach rumbling. So we ran it through some valves for distortion to get this whale noise. I like to keep that stuff in – all the creaks and wee grunts and stuff. I love it sounding like you're a foot away from the music."
"The Dog" is also the only track on Telling the Trees to feature Hubbert's singing voice, appearing on a rare recorded outing. "I wasn't going to sing at all, actually. It was just after Kathryn had done her take…the more I listened to her words the more I liked the idea of part of it being…not quite a conversation about coming to the end of a relationship. I think it was the idea that the couple were having those exact same thoughts without telling each other. It's also a very sparse arrangement, so there was a musical reason, but mostly I liked the idea of the other partner in the relationship having the same realisations. A lot of the songs are about realising someone isn't right for you but it doesn't make you adore them any less, or not want to be with them. I like that the other person has that self-doubt but you don't see it."
We return to the subject of music as therapy and the fact that Telling the Trees was created without being for that express intention. Hubbert has moved on and moved away from First & Last: "I'm not precious about writing anymore," he tells me. "The writing doesn't do that anymore, the touring does that. That helps me. The shows make me feel good about myself – they're a bit more light-hearted than they used to be, but I'm also a bit more light-hearted than I used to be. I still touch on all that stuff but I'm also aware a lot of people have seen the shows through the years."
"My audiences tend to grow quite slowly and organically so a lot of people are on their third or fourth shows. I don't get anything out of telling those stories if I know people aren't hearing them for the first time. There just isn't the same reaction back. The whole purpose of me opening up in that way is to try and form a real emotional connection with those people, and the music cements that. If you already know the story, the bond has been made."
I say that Limmy, the Scottish comedian, appears to have taken a similar path in terms of therapy. He has been open about giving up on his medication, replacing it with various things like healthy eating, baking bread or going long bike rides….does Hubbert still take medication for his depression? "No, I haven't for years," is the reply. "I tried a few different antidepressants. They all did their job but they all…it felt like a holding pattern for me. Then I realised if I just ate healthily, exercised and did the shows that did the same job. I also totally lost my sex drive. I don't miss the medication but I sometimes feel like I could use it again."
Alongside the guitar therapy, Hubbert also underwent some professional counselling. "I did a lot of therapy, and that did a lot more good. The closest I've come to killing myself is when I did CBT, it was fucking terrible. The more traditional Jungian, Freudian stuff was a lot more helpful. NHS management prefer CBT because it's a prescribed course of ten or twenty sessions. I had the luxury after my mum died of not having to work. So for three years it wasn't a big problem if I didn't work, I could just concentrate on getting better. CBT is great if you need to function normally and you have responsibilities – it's all about recognising patterns and stopping them."
"I had the luxury…well, ultimately it fucked my marriage so maybe I didn't have the luxury hahaha! But I didn't have to worry about getting up in the morning and I could spend the time figuring out why I felt these things and working it out that way. It takes longer but it's a far more permanent solution to the problem. Understanding it doesn't mean it goes away but at least you can recognise it's happening…and sometimes it's okay just to let it fucking happen."
Hubbert appears philosophical and completely relaxed about his depression, and perhaps that's why Telling the Trees sounds as accomplished as it does. It's music for the sake of music, and nothing else. "After I did all that, I accepted the depression for what it is," he says. "It's going to come and it's going to go, but as long as I can see it coming…if I'm on tour, good. If I'm not then I can see it coming and do something about it."
Cooking, eating, music….Hubbert is open to many more things to manage his life. "I don't freak out as much as I used to when I'm not writing, because I can generally do it to prescription when I need to," he states with a smile. "I do more sophisticated things now that it's more of a tool, to help me feel better about myself or latterly, to pay the bills. It's no different to a good set of knives for a chef. It's also really stressful doing that stuff, it's not a hobby anymore. I play videogames now, or cook…or just go down the beach."
The man across the table from me will play songs from Telling the Trees on stage at the Art School a few days later, sitting on a stool casually chatting with the audience and cracking jokes. I watch and realise he is no different from the man I've just spent an evening with talking about therapy, depression and music. Completely at ease with his life and lot – someone to be completely fucking jealous of, someone to admire and to strive to be like.
A Huge thank you to Eusebi's Deli, David Cairns and the Glasgow Collective for hosting the interview and providing a meal free of charge. You can read more about the work of the Collective here.