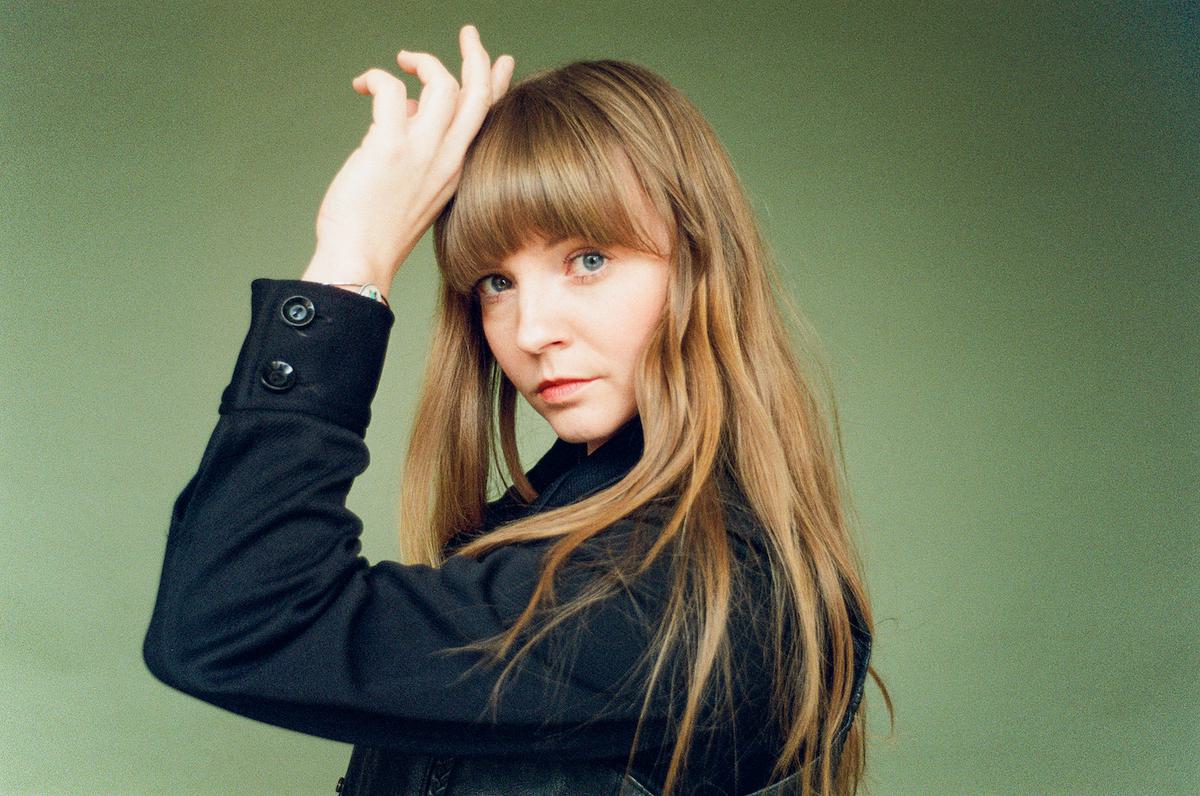 Different kinds of sadness
24 July 2020, 08:30
Singing fearlessly sad songs about broken hearts for over a decade, Courtney Marie Andrews tells Jof Owen about making the most heartbreaking record of her career to date.
"I love a good ballad and I love a good cry", Courtney Marie Andrews admits, laughing. "So it makes sense that I've made a lot of sad records."
She laughs a lot. For someone who writes such sad songs, Andrews spends a lot of the time when she's not singing those sad songs laughing and being hilarious. It's probably just as well, because she's going to be talking about these particular sad songs and the break up that inspired them for a while to come.
Following on from the gospel tinged full band folkiness of May Your Kindness Remain, the songs on Old Flowers revisit the more intimate moments of 2016's Honest Life. It's an understated masterpiece and her most fully realized album to date. Produced by Andrew Sarlo (Big Thief, Hand Habits), and written by Andrews about the end of a nine-year relationship, it was recorded in Los Angeles with multi instrumentalist Mat Davidson (Twain) and Big Thief's James Krivchenia on drums. The orchestration is simple and restrained, sitting unassumingly to the side, allowing the spotlight to fall on Andrews' remarkable voice, exposed and vulnerable as it powers its way through these extraordinarily sad songs.
She began lockdown by quarantining for a week with Sam Evian, Hannah Cohen and Kristian Mattson (The Tallest Man On Earth) ~ pictured above ~ in Evian's home studio in the woods in upstate New York. An unlikely end of the world bunkering that charmed a freshly isolated home audience with an adorably ramshackle live stream on YouTube. Once she'd returned home to Nashville, and the album was frustratingly put back from the beginning of June to the end of July, Andrews filled the space left in her schedule by embracing poetry and painting, and by streaming cheerily upbeat live performances from her house.
BEST FIT: So, you seemed to have a pretty fun start to being in lockdown. How did you end up quarantining in the woods with Sam Evian and Hannah Cohen?
COURTNEY MARIE ANDREWS: So I was on tour with Tallest Man On Earth, and it's a week that we'll all remember. But that week when it was like, "oh, this is real, and all of our gigs are cancelled". We thought it was the end of the world. Everybody thought it was, and they stocked up like it was the end of the world. We made some jokes about making a record. We were saying, "oh that'll be our before quarantine record, and that'll be our after quarantine record". Then I just said "why don't we actually do that? What do you think?" So then we drove to New York from Chicago. Totally last minute, within a 24 hour period, we drove to New York to quarantine with Sam Evian and Hannah Cohen in their cabin upstate and made some songs. And then we realized that quarantine wasn't just a two week thing...
Thinking back about the live session you all did together reminds me of that time. It almost seems like a more magical time early on when it was kind of fun in a weird, but also slightly terrifying way, just because everything felt so different to ordinary life. Lockdown meant we had to stay in and we didn't have to go to work, and watching that live stream is such a nice memory of that weird time. Did you record any songs while you were there?
Yeah. There's a lot of songs. I'm not really sure what'll happen with it. I think there's a lot of cooks in the kitchen trying to decide what to do with it and which songs to put on it, and because I was releasing a record this summer we were just worried about releasing it at the same time and all that kind of stuff. But I hope some of the songs see the light of day because it was such a funny and memorable moment in time where we were all together in this cabin. It was really special and magical. I think there'll definitely be some songs released.
We were just all hanging out and recording and all going through this initial scary time. We all had high anxiety too, because none of us knew what was happening. We kept joking about, saying what if we're going to have to start our own community out in the woods when the world ends. Having lots of those conversations like that.
So the four of you are starting afresh with the human race?
That's what Hannah Cohen jokes about, that the four of us we might have to repopulate the human race. It might be down to us! A Swede, a couple of New Yorkers and a hardy Arizona girl. It's not a bad start I suppose.
After you came back from the cabin in the woods, and the album release was delayed, you ended up writing poetry and painting. Can we expect anything else to come out of that now?
I come from a very artistic family. I grew up with my mother painting and my uncle paints, so there's a lot of crafts people in my family, they do a lot of visual arts - nobody's musical - but my mom makes South Western jewellery out of spoons that she finds, it's a lot of weird stuff like that. So I always shied away from it, and then in quarantine, I was just exploring different creative outlets and I wrote a lot of poetry and I made some mosaics and then I thought I should try a painting and I did it and I just love it. Oh my god, I love it so much. The first painting I shared wasn't very big actually. It's just maybe a 9" by 12" canvas. It's pretty small, but I just got some big canvases and I'm trying to decide if I want to do the artwork for my book. We'll see though. I'm not confident enough. I've always felt this, but when you grow up in a family of visual artists who it comes so naturally to, I feel like you kind of feel like there's always a deeper judgment.
I was always a weird musician, this girl that nobody really knew what I did, you know. It was easy for them not to judge me. But, I don't know. I'm still very shy about it.
And now you're finally getting to release Old Flowers. When did you write all the songs for the album?
Pretty much all of 2019 I was working on the songs. So, I moved to Nashville on the first of January that year.
Is that a year after the owl?
Yes. A year after the owl.
Should we talk about the owl?
Yes. Let's talk about the owl.
What happened with the owl?
So my mother lives at the edge of the desert in Arizona, and we were visiting her for the holidays. We were in the backyard on New Year's Day and a perfectly formed Great Horned Owl drop dead at our feet. And it was very intense and shocking. My ex-boyfriend and I were sitting with this Great Horned Owl sitting at our feet, and we live very close to a reservation and in native spirituality that's a really bad omen. Basically terrible. It's not good.
And so the first thing going through my mind was that it was a horrible omen, and we discussed the omen quite a bit and then because we couldn't afford the taxidermy, my mother just had to put it in our garbage bin. Which felt really strange, to place this beautiful rare Great Horned owl fully formed, with no cuts or anything, into a bin. It just dropped from the sky in a super strange way.
But the craziest part about the story is I started dating my ex-boyfriend 10 years ago on New Year's Day. The Great Horned Owl dropped dead at our feet on New Year's Day eight years later, and then a year after that we broke up on New Year's Day.
Wow. That's so crazy! What are you doing on New Years Eve, the night before all these New Years Days?
Well, the year we started dating I almost cancelled this tour where I was going to go up and play in his town in Seattle. But then he flew to me on New Years Eve, so that I could continue the tour. And then we started the tour and that's the year we started dating. But usually it's not a lot. It's just I have this crazy, weird spiritual thing now with New Years Eve and New Years day, where I think that it predicts my life.
Obviously the album is about your breakup. Having written all these songs, is it weird having to talk about your break up all the time now?
Um, yeah, I certainly didn't take into consideration the interview part. No.
I was just thinking about that before. Imagine if we just bumped into each other somewhere and straight away I was asking you about your break-up. It would be so weird and insensitive, but that's what you have to do with everyone I suppose.
I know. I've been thinking about that a lot, because I was obviously just telling the true story of the record and how it came about, but the interview part has been really strange because I feel like I say it all on the record. You know, it's such a nuanced record about love and vulnerability and heartbreak, but I touch on every aspect of it. So talking about it in interviews is always funny. I feel like the Great Horned Owl story and the carnival dream story are easier methods of discussing it, because I don't want it to feel like a therapy session.
A lot of your records seem to deal with heartbreak and vulnerability and sadness in some way, but what makes this one more personal do you think?
I think with May Your Kindness Remain I intentionally tried to write that album from other people's perspective, so I think that's different, and of course there's still a lot of personal things on that record, but I tried to veil my personal life a lot. But with this record, when you leave a nine year relationship it's kind of all you can think about. So I just kind of said fuck it. You know, this is how I'm feeling. I would be lying if I wrote about anything else right now.
I don't suppose you've really had a chance to sing these songs live yet, but now I'm worried about you going out and having to sing them.
I played them at the five shows I played this year, but you know I've always had this feeling about songs, that when you write something it's not yours anymore. I think you can drum up as many emotions as you want about songs and about how that song made you feel when you first wrote it, but you sort of become almost like a vessel for it you know. It's less about your attachment to the song and it's more about portraying the story for other people to feel attached to it. So I don't feel that feeling every single time I sing them. Sometimes I do, and on certain days certain songs have actually more meaning for me but I've learned to detach myself in some ways.
If you moved out and began all over again at the beginning of 2019, where did you end up writing all the songs for this album?
I worked on some of the songs in Bisbee, Arizona, which is this wild place unlike anywhere else and it's my favourite town in the whole world. It's a little town I've been going to since I was a kid, but mainly when I was a teenager. It used to be the biggest city in-between St. Louis and San Francisco. And it's a weird, funky little mining town. Once the mine shut down it became abandoned. Then hippies took it over in the 60s and 70s and started squatting, and now it's literally just a town of old hippies, and musicians and artists, and every wall is a mosaic. And it's just basically a bunch of desert hippies in a historic mining town with old saloons.
It's kind of a perfect place to shoot videos too, because it's not very busy and it's only 10 miles from Mexico and just off the beaten path enough and not super over populated, so we did the video for "It Must Be Someone Else's Fault" there. I've always been drawn to modern movement and I'm a big fan of Marlee Grace, the choreographer for the video. So we recorded the video there and had my favourite dancer, and we wanted it to be like a lineage of every stage of womanhood from young to old, where the movements represent mistakes, and also growth. And so in some of the shots the little girl will do the same movement as the old woman or I'll do the same movement as the little girl, and it's just sort of highlighting these consistencies throughout our lives.
I wrote a lot of this record in Portugal though. I was actually writing with this English songwriter, not for my record but for his, and I asked him to extend my ticket so I could have this whole journey in Portugal. I just love Portugal so much, it's probably like my favourite country. I wrote a bunch of songs there. Drank wine in Fado cafes and tried to be super romantic and stuff. And it worked. I wrote some great songs there. I'm just so inspired by Fado music. It's really sad and emotional and tells the story a lot. Even though I can't understand Portuguese.
I mean obviously the record is very sad, but did you end up having quite an enjoyable year writing it?
Yes; this is a super sad statement, but by the end of my relationship I stopped learning how to love myself and I just didn't know how to enjoy my own company. I just lost parts of myself that I didn't know I'd lost. You just do. It slowly erodes you and you don't even realise it. So that year was really sad, but there were also such beautiful moments everywhere. I mean, that was the year I played with John Prine. It was the year I spent time in Portugal. I guess it was a very "romantic" year, despite it being very sad too. But also I got to know myself a lot more, which was really nice. So.
Are you happier now?
Yeah [laughs]. I mean, as happy as somebody like me can be. It's a very sad year for different reasons now though. There's like a world sadness - which is different, you know?
How easy was it to try and make these really sad personal songs work as recordings without losing any of their intimacy?
Mat Davidson from Twain was my collaborator on this record, sonically. He plays so many instruments and I love it. It would be just him and I in a room and it was almost like we were just playing the songs to each other. It was just him and I, and it was just a really special recording process. He's very sentimental and very good at putting the right things on songs, but he never plays the same thing twice. So he's an inspiring person to be in the studio with. We had a lot of back and forth and a lot of strange late nights.
The way we did it was unlike any record I've done before. The producer Andrew Sarlo is really into this new method where you do sets of songs, and then you switch instruments on a song every time you do a new set. So there was a song where I would just play the wurli and Matt would play bass and we'd sing, but we'd only play that once and then we'd play a different song. Then maybe Matt played piano this time and I just sang on the floor. Sometimes I would just lie on the floor and sing my take. It was like all about creating new experiences and playing in different sets so you're not trying to get the perfect take every time. Traditionally you try and get the perfect tape of the song and then you move on to the next song. But we were recording the songs over the course of two weeks, in different positions and on different instruments. Then we listened to them later and decided what the magic take was. So there's probably like 15 versions of every song. Some versions I'm on guitar, some versions I'm on piano, some versions I'm playing the marimbas. There's lots of different versions.
If you're not going to be able to promote and tour this record in the usual way you would maybe until next year, do you think you'll just move on and start working on the next one?
I hope I'll start writing for something else in the fall. I mean, I'm only just releasing Old Flowers now so it feels weird to start writing again but I'm trying to get myself ready, at the same time as trying not to force it. Usually, the way that record cycles work, you're so busy that by the time you finally get around to writing the next one you're pretty much always ready to, but this time it's weird because it's just coming out now but this interview might be the height of my promotional schedule! I've actually kept very busy during it all, which has been really good but it does still feel weird to just release this record and then not even be able to process it in an audience sense. I don't know. I don't know what's going to happen. [laughs] We're all just rolling with the punches here.
Old Flowers is released today via Loose/Fat Possum