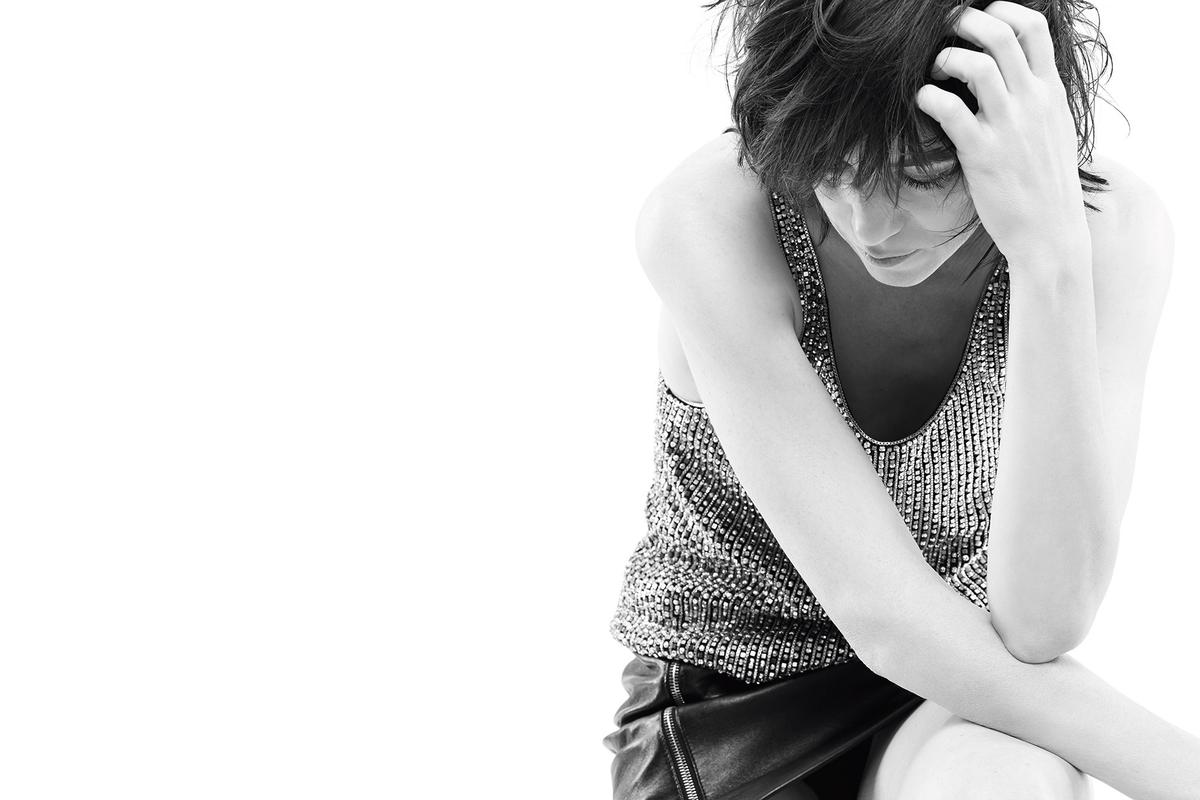 Relocation, Reinvention & Rebirth
20 November 2017, 21:00
France's coolest daughter Charlotte Gainsbourg tells Emma Finamore how her latest album helped her deal with loss, grief and ultimately, herself.
Gainsbourg. The name is about as close to royalty as the French get. But Charlotte – daughter of Serge and Jane, star on screen and record, who's been in the limelight since childhood – has been quietly relocating and reinventing herself, far away from the weight of that name, far away from family, and far away from Paris.
Rest – the product of this dislocation – is an album of escape and ultimately of hope, but one that's full of ghosts and grief too. Charlotte's sister – photographer Kate Barry – died in late 2013 after falling from a window. It was presumed to be a suicide, and a tragedy that propelled Charlotte to New York, to start life (and the record she had begun writing) anew.
It was a newness she needed, personally and musically. "I was coming to terms with my 'French side'," she says, in a west London hotel, sipping tea and tucking her slight frame up on a sofa. "Going to New York was a way to get distance, to look at my English, UK culture, and at my French culture as something that was really 'me'. When I'm in France I judge myself too quickly, so I can't do anything. I'm always looking at myself. In New York I could just do things."
The album she was writing was a new process for her – songwriting, leading, while on previous records she'd always been working with collaborators as equals, a process she describes as "going to work, then going home and things happening without me". She talks about directing, having that same feeling her father had, whose approach to his work she says was "like a conductor".
Charlotte had wanted to write for herself since 2006's 5:55, a record made with Air, Jarvis Cocker and Neil Hannon, but hadn't had the courage. She made IRM with Beck in 2009, and then embarked on a long journey, trying to write for herself. "I was frustrated," Charlotte says. "I had ideas and themes I wanted to talk about, but I was very dissatisfied with my prose…the words didn't sound good enough."
New Zealand songwriter Connan Mockasin – with whom she toured her live album – was the person who helped her break through. They spent time together on a small island off the coast of Brittany, writing together. "He had the patience to sit with me, with a guitar, and wait until I figured out my words," Charlotte remembers. Through his patience, the environment of the island, and delving into her diaries that she's kept – "Although some of them didn't make any sense" – she was able to write a handful of songs, and at least break that creative barrier.
Still unsure of what she was getting across, still unsure of the lyrics, her label suggested she write with other artists. "They were lovely, sweet people," she says. "They took my words and they'd come back patched up a different way and…I was unpleased. I didn't like it. It was too perfect. It all sounded 'nicer' but less 'me'.
"I understood quite late that what I like is the imperfections, with all the words I'm sort of unsure about in English, and then with the French that resonates in a different way."
It was at this point in the writing process that her older sister died, and everything changed. "I really flew away from Paris," says Charlotte. "I didn't feel like I could carry on living there." She moved her whole immediate family (her long-term partner Yvan Attal and their three children, Ben, Alice and Jo) across the Atlantic, and in escaping the familiar and the family in France, she found space – space to speak for and to herself in her lyrics. "I had such pleasure just expressing myself, and talking to myself. It [writing in New York] was so intimate that I didn't even think about the people who would listen to it once it was done. I had less judgement over what I was coming up with."
"New York was like a rebirth – I just escaped...I left my mother behind, I left my little sister behind. They're grown ups but it was still a very selfish move."
Musically and personally, New York was clearly a turning point. "It was like a rebirth – I just escaped," remembers Charlotte. "It was hard, I left my mother behind, I left my little sister behind. They're grown ups but it was still a very selfish move. But that was it." She felt for her children it was the right move too – "Before that they were having a zombie for a mother" – and it gave her neutral space in which to grieve and heal, away from Paris, a place so bound up with family and memory.
"It was new to be able to open my eyes and see a new environment," Charlotte says. "To learn to live in a different way – to not have things that you know, that you're used to. To just invent new things. And concentrate on what was essential at the time: my children – taking them to school, making them dinner, just very simple things – and the album."
She speaks about her songs almost as if they were children too, precious beings that need to be protected and nurtured – "I didn't show them to anyone, anything could have stopped me." – for fear of outside influence creeping in. "It was very fragile," she says, "To be able to express sadness, grief of course, with anger and all sorts of unusual reactions."
Because of her nervousness about allowing any outside sounds in, Charlotte didn't listen to music for four years: "I'm too easily influenced." It sounds like a relief to finally have open ears again, and Charlotte says she loves Spotify – it's perfect for someone who gets "bored easily". When she came out the other side of the album-making process she started devouring already well-established music that was brand new to her.
"Only now I'm discovering people like Frank Ocean," she says, laughing at how ridiculous it sounds. "And it's totally new to me. I'm ashamed to say, but it's a real discovery, a real whack in the face. Spotify is such an incredible tool."
The album's title track "Rest" was a big part of the creative turning point. "I was very much in a blurry state," Charlotte remembers of creating it. "The song feels surreal and naïve and spontaneous, sort of childish. And that's the way I felt at the time."
The track's title means "stay" in French and alludes to Charlotte's childhood favourite, The Snowman, as she whispers, "we're walking in the air" in English, and sings in French over simple, muffled, nursery-rhyme-like synths. Here, she could be seen as speaking with her absent sister, imploring her to stay, while on another track, 'Lying With You', busy drums and angular synths frame lyrics about Serge Gainsbourg's death, his body, and the haunting sound of coffin nails.
The lyrics to "Kate" are naked in their grief: "I waited until it rained / Memories stir me up," Charlotte sings. "A time on hold / On the way to school (…) A look over the shoulder / Eyes lined with kohl / You were disappearing."
"I don't feel I'm calm, although I give the impression that I am, and I'm not loud…so I wanted something the opposite of quiet and too well-behaved."
Charlotte says she needed a contrast between the lyrics so close to her heart and the music, to put some distance between herself and the listener. She also wanted to create a body of work at odds with the perception of herself back home. "I wanted something that was the total opposite of what you thought I was," she says. "Because I have to deal with this image – that is also part of who I am – of myself. I don't feel I'm calm, although I give the impression that I am, and I'm not loud…so I wanted something the opposite of quiet and too well-behaved.
"I realised that in the end because I wrote those lyrics, and they were very personal and intimate, the only way I had some protection was through the music, because it was the contrary to what I was saying."
The melodies she wanted to create this contrast were inspired by film soundtracks, she says – horror films, mainly – that she encountered as a child or adolescent, when her brain was like a sponge soaking up the sounds. Charlotte saw Jaws when she was just four years old – "The atmosphere and angst, it's part of my bones." – and devoured classics like the Psycho, The Shining, Carrie...anything with an atmosphere. "Something strong, to do with anger, excitement, fear," she says, revealing that 'other' side of herself, in opposition to the demure, quiet French girl of her public persona.
During this time, the record's producer, SebastiAn – who's worked with the likes of Daft Punk, Beastie Boys, and Bloc Party – was still based in Paris, but would travel over for sessions. "It was very, very intense," remembers Charlotte. "He came at moments, these intense moments, then head back to Paris The writing was intense, and I loved being able to listen to Seb's melodies over and over again."
The way she speaks about creating Rest – in spite of the sorrow and tragedy it came out of – was almost like a holiday romance, doomed from the off to end, and one that Charlotte struggled to let go of when it was over. "It was hard when I realised it was finished," she says. "I didn't want it to end. I wanted to stay in that story. It was difficult."
Once complete, she turned her hand to the visuals, making her own videos – like the collage-esque video accompanying "Rest" – and took great pleasure in it. "It felt daring," she smiles, "not knowing if I had the courage to even pretend I had an idea. I actually enjoyed being in the uncomfortable position."
And this makes sense when looking at Charlotte's other career as an actress. Throughout the album process she still making films – "Films don't wait for you," she says – namely, Lars von Trier's dark two-parter, Nymphomaniac (2013-14), after having worked with him on the rest of his 'Depression Trilogy' – 2011's Melancholia and 2009's Antichrist.
[After we meet, Björk's allegations that the Danish director sexually harassed her are published (ones that he denies) on the set of 2000's Dancer in the Dark. Charlotte has confirmed publically that she had not experienced harassment from Von Trier.]
"There are barriers that you want to cross and because you have an awkwardness and a shyness, you don't collaborate well with yourself. You need to be pushed into edges where you're uncomfortable."
"I'm a Lie" on Rest shows us an anxious and nervous Charlotte – "My awkwardness, it's all mine / Temples throbbing with anxiety" – how does this marry up with the actor making Nymphomania? "They mix up," she explains. "I know they're in opposition, I know they're in contradiction, but it makes sense. It's because I'm shy that I need to push myself. Sometimes it's easier to be pushed by someone else, like a Lars Von Trier, or like my father when he did 'Lemon Incest' [the 1984 track that she sang on scandalised the public and was accused of glamorising paedophilia and incest; the video featured a shirtless Serge Gainsbourg and Charlotte in shirt and knickers, lying on a bed] – it was a provocation, I was pushed.
"There are barriers that you want to cross and because you have an awkwardness and a shyness, you don't collaborate well with yourself. You need to be pushed into edges where you're uncomfortable. For others sometimes those positions seem extreme – they are extreme – but for me they're easier access, because it's over the top. You don't have references, you're just letting go and whatever happens, happens. There's a great pleasure in that, and one that I discovered quite late."
"Because I'm shy there are barriers you want to cross. You're pushed into edges, places that feel extreme, just letting go." And she really does mean extreme. The infamously violent shower scene with Willem Dafoe in Antichrist, for example, shows her being shoved up against the tiles, hands pressing into her neck, while her veins pop and eyes bulge. Nymphomaniac features S&M scenes where Charlotte is tied up with rope and bound down with rough belts – a stunt double does some of the work 'down there', but the arms and face – sweating and writing and throbbing – are all Gainsbourg.
In particular it's these physically violent scenes that Charlotte says she enjoys the most creatively, that she's drawn to. "I could see that in those scenes I was not questioning myself anymore, not asking whether I'd done it right," she explains. "It was stronger than me. Things just happen by accident. And now I understand that those are the moments that are the easiest, when you're not in control."
This allowing of chaos and loss of control fed into the album too. SebastiAn suggested Charlotte write in French and use French-style production, with the voice very much up front, standing out above the music, and using a single voice. "With my father you always had the voice very close, and a single voice," she says. "With Beck and with Air, I always doubled all my voices because that's how they did it, and to have more strength, to fit in better."
This time around, Charlotte Gainsbourg wasn't trying to fit in with anyone – she was determined that Rest would be all her. "We kept the little imperfections. If it was too well behaved, too polished, it lost me," she says. "I'm not a singer, I don't have a great voice, but it's my voice. When little things happen, when I'm endangered by my own breath, by my own unprofessional way of singing – that's me. "
She talks about using this new voice to speak with herself, in the main, rather than the listener, saying things in this voice that she needed to tell herself (at one point she pauses and asks how to pronounce the word "poignant", which is, well, pretty poignant) – talking about real things and actually enjoying the conversation, with all its little idiosyncrasies.
Rest may also be partly a conversation with her absent sister too. Charlotte was 42 when she died (Kate was four years older, 46), and she says that the sudden loss knocked the whole structure of her family, and her memories of it, askew. "It was [the album] all about that. Losing her meant that I went back to my childhood and revisited everything," she says. "It was completely off balance. Of course the human loss was huge – she was an incredible person – but the whole family was unstable. We have a smaller sister, but until I was nine it was my mother, my father, me and Kate – just the four of us – and it is a symbol of my childhood."
"My sister...protected me, she did everything before me, experienced things first and told me about them, it was really that simple – it is completely unbelievable and not possible that you could go on without that guide."
In exploring memories to write the album, Charlotte found her sister seemed all the more real, in spite of the tragedy. "The fact that my sister – she protected me, she did everything before me, experienced things first and told me about them, it was really that simple – it is completely unbelievable and not possible that you could go on without that guide," she says, grappling with the language in which to describe a feeling that's indescribable. "It's weird to now be the age that she was when she died. So I will soon be older than she ever got to be. It's so weird."
Charlotte says that now she finds herself more drawn to sisters as a subject, has become more curious and inquisitive about them. "My two daughters, I look at their relationship and I sort of analyse it through my perspective," she says. "When I shot the videos it was important for me to shoot them very much as sisters." Two of the girls in the 'Rest' video – a fascinating collage of scraps taken from films new and old, spliced together with new footage – are her daughters, showing how central family is to this record, as well as a desire to record and analyse their sisterly bond.
Charlotte then decided to film her mother, Jane Birkin, just for fun. "It was amazing to look at her through a camera. And it was sort of an excuse to be near her and be caring," she smiles. And during this process, her mother's own sister – Linda – turned up and she filmed that too. This is another precious relationship: "Thank goodness for my sister, Linda, when I'm stuck or miserable. I love being with her and her boys. When I'm really frightened before going on stage, I call Linda. She's wise, sensible, loving and so comforting," Jane told The Guardian in a 2013 interview. "And then it was all about sisters again," says Charlotte. She is still deciding what to do with that footage, but it is clearly precious to her, especially in light of losing one of her own sisters, who she won't grow old alongside.
And what would Kate have thought of the record if she were still here and able to hear it? "Oh she would have been very embarrassed," Charlotte laughs. "She would have been very embarrassed, how could I dare to talk about her like that?! I took a lot of liberties! I know that she didn't understand what I was looking for in music. She didn't understand why I did it."
Charlotte says that before losing Kate and before creating Rest she was very family oriented, but that she's tried to change that, as almost an act of self-protection. "My family was all I had, I didn't have many friends, now I am less like that," she says, reflectively. "After losing Kate I think I don't want to care as much."
New York made her more open and able to form relationships with others. "Open to strangers, new people, new faces, new friends," she says. "All new." Charlotte is not planning to stay forever though – she describes it as sort of a parenthesis, a bracket in her life. "But I love it," she says. "I'm not fed up of that life yet. But of course I feel that it's not home. At the moment though, I want not to be home."
So there she is. Reborn. Who knows what this new Charlotte will grow up to be?
Rest is out now via Because.