Pardey grew up all over the place, his dad's job taking the family from the UK to France, and then on to Singapore where he spent the majority of his adolescence. Pardey developed an early interest in music, spurred on by a girl at school. "When I was ten there was a kid who had long hair and played guitar and he was going out with the girl that I liked, so I was like, OK, I'm going to grow my hair long and learn how to play guitar," he laughs. "So I did start there, but that quickly evolved into just staying in my room and playing guitar all the time, playing with loop pedals and all that and just being nerdy."
On moving to Singapore, Pardey's creative isolation was only exacerbated by the lack of a live music scene. There were no gigs or bars where he could perform at an open mic. Instead he spent more and more time alone, writing songs and manipulating sounds in his bedroom.
When Pardey turned eighteen he enrolled at university in Boston, ready to immerse himself in a rich and active music community. However, old habits were hard to break and Pardey's love for isolation and immersion in his art won out. "I've found over the years that it doesn't really matter where I am, I always just lock myself away and work on stuff," he explains. "So I go to Boston and it's like, OK cool I can go and do all this stuff, but I still just stay in my room and make shit."
Pardey stayed in Boston a year and a half before he was ready to get out of America. Moving back to the UK he chose to study at Leeds College of Music in the hope he could piece together a band to help him realise the songs he'd been penning. "Coming back to the UK, I didn't know anybody because I hadn't been here," he says. "I had some friends but I didn't know any musicians at all, so coming back I was like, I need to go to a uni to meet people. I knew I wanted to start a band and I knew I wanted to make music."
At the start of his first class a latecomer took the final free seat, sitting next to Pardey. Call it beginners luck, he and drummer Bryn Jenkins struck up a friendship. The two began playing acoustic shows and open mics around the city whenever they could, eventually deciding they wanted to turn up the volume and enlisting Andrew Thompson on bass. Thompson and Jenkins had worked together previously as session musicians on a couple of tours, and the band began to play shows around Leeds and the Welsh town of Llanelli where Jenkins' mum lived. "Once we got the band together I started to try and put myself out there," says Pardey. "But again, I don't know, I'm just quite antisocial."
The band self-released their debut single "Admit/Resist" in 2016, signing a publishing deal with management company Wildlife Entertainment who count the likes of Arctic Monkeys and Kae Tempest on their roster. "They're not our managers, but they do help out a lot," Pardey explains.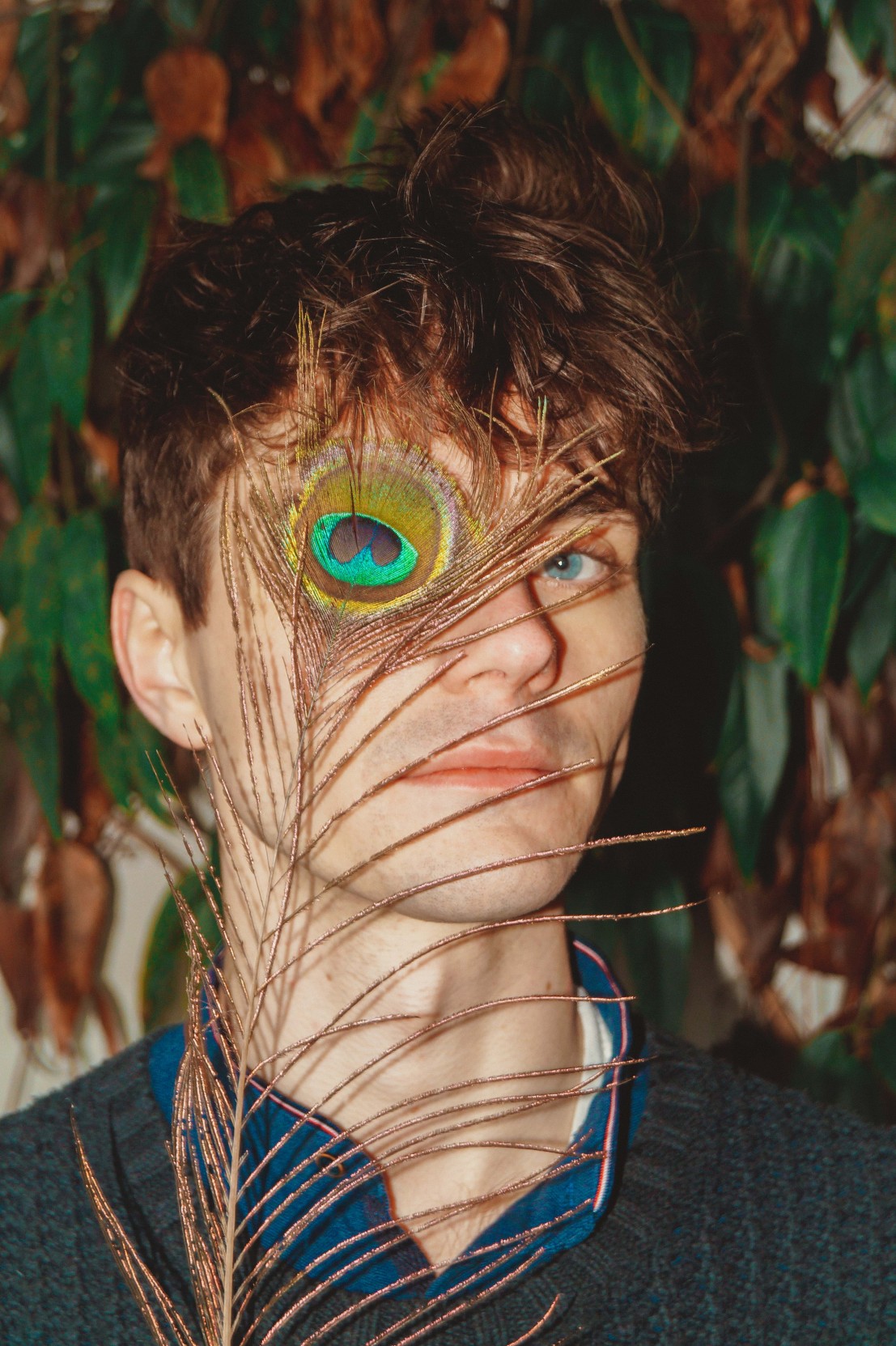 Whilst Pardey (pictured above) was studying, Leeds College of Music ran a competition for two successful bands or artists to win financial support for a UK tour. One of the judges was radio plugger Robert Platts who, following Caro's victory, took them on for management. The trio had their first taste of touring supporting Californian artist Day Wave on a handful of shows. "That was definitely the most luxurious tour we've ever been on," laughs Pardey. "We had a van and there was a guy driving and we had hotels, and we haven't had any of that since. It was amazing."
Over the years, Pardey has allowed more and more people into his art, to participate in the creative process and help him realise his visions. In Caro there's a fourth, silent member in Hugo Meredith-Hardy, a composer and producer who also studied at Leeds College of Music and slowly won the trust of Pardey. "He's the fourth guy, we just got lucky that we can communicate very well. We're on the same page a lot of the time, we like the same music and we have the same goals a lot of the time and it works really well," Pardey enthuses. "He lives in this crazy house that's slightly old and slightly decrepit in places but amazing and just an incredible place to be. That's where we mixed and recorded a bunch of the album. He's an opinion that I really trust, he's somebody that'll tell me what he thinks. I'll tell him what I think. We don't sugarcoat it, we can just be very honest."
However, Pardey admits that it took a while for him to let Meredith-Hardy into the fold. Despite the clear benefits of having him involved, it just wasn't easy for Pardey to let go. "To begin with I was mostly mixing stuff and then Hugo started helping out more and more and I sort of very reluctantly relinquished. I remember, I was staying at Bryn's flat and I'd gone and done the first mix session with him and I came back to Bryn and I'm like, fuck, we've definiely gotta work with him he made this song so much better. I was like, annoyed about it. I felt like a failure that I wasn't able to finish the mixes like he could. That's how megalomaniac I was about doing everything, but he just adds dimensions."
Caro have the wending, glistening guitars of Gengahr, the falsetto flutter of Everything Everything and the skewed instrumentalism of fellow Leeds students, alt-j. However, the one artist that Pardey cites as an important influence is St. Vincent, marvelling at the way she synthesises her guitar into an array of riling electronic soundscapes. "But I want Jon Congleton St. Vincent, though," he pinpoints. "I'd say St. Vincent's probably the most consistent and the biggest of all those influences you just mentioned, a couple of her albums at least. She's the biggest influence and the biggest inspiration a lot of the time, but I'll never actually sound like her. Which is kind of good because it means if I try and rip her off I'm not gonna sound like her."
Pardey's quest for creative control doesn't stop with the music. For Pardey the aesthetic of the band and their visuals are just as important. He began making his own stop motion videos with the release of single "Cold Comfort" in 2016, exacerbating the months spent in focused seclusion, and giving the band's then manager a headache. "The first stop motion video that we did, I had painted this mannequin head and I was like, oh I did this thing. I just wanted to do it for fun, and Rob was like, you could make a stop motion video out of that and really spurred us on," he smiles. "I think he might have regretted having done that considering how much time I then spent making stop motion videos. After that he was like, please stop doing this, it's taking way too much time."
Pardey says he spent around five months on the recent video for single "Closet Lunatic". It's an impressive feat of patience, endurance and artistic integrity. The video follows a small clay head, the face becoming something of a mark or mascot for the band. He grows, rolls, swells and is chased around a busy city, overwhelmed and afraid. It's a funny, sweet, and empathetic clip that fits perfectly with the song. If you need a measure for Pardey's blinkered devotion, it's this video's four minutes.
Prior to the release of the "Closet Lunatic" opus came the video for past single "Cat's Pyjamas", a 90s infomercial romp into the absurd and banal. The eagle-eyed of viewers will spot the band's mascot creeping into a crazed board game. "It was a sad day when we shot that "Cat's Pyjamas" video coz I had a bunch of the clay heads from the "Closet Lunatic" video and then they just destroyed them and mashed them all up. And I was like, goodbye friends," he says, sadly.
For the "Cat's Pyjamas" clip Pardey relinquished some control, working with director Szymon Wyrzykowski of the glitch co. "That one was my initial concept but then they took the idea and ran with it and directed it and made it more than I could have possibly imagined," he smiles. "The reference for that was the Hide The Pain Harold meme. They were like, yeah we want him to look like this guy, just in a situation like, what the hell am I doing here? Just trying to smile through the insanity."
Pardey's megalomaniacal approach to his work is reminiscent of the character of Jean-Baptiste Grenouille from Patrick Süskind's novel Perfume, an affinity he draws out in the track "Monster Man". Grenouille's drive to perfect his art is as blinkered and consuming as Pardey's own, although no virgins were harmed in the making of the band's upcoming debut Burrows. "He's very guiltily relatable, but also a complete monster. To the detriment of everything else in your life, somehow this one thing, you just get so fixated on it," he explains. "That this is the most important thing in the world. And the more you isolate yourself, which I have been prone to do over the years, the more you can just get so lost in it. It's helpful and beneficial to make good stuff I think, in terms of you get so obsessed but then it's a bit of a harsh yank out of it to come back to reality and go, oh it doesn't actually matter at all. Nobody will ever care about this as much as I did. It doesn't actually matter as much as I'm capable of thinking it does."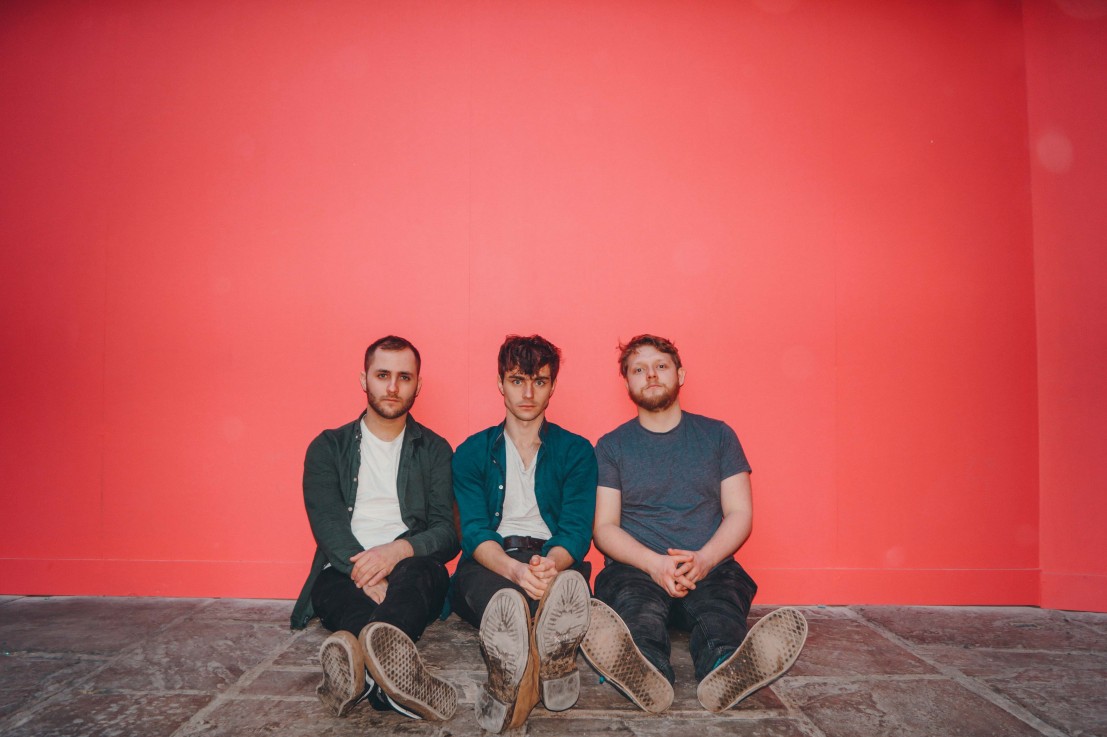 For the forthcoming "Monster Man" video, Caro are working with the glitch co again, although Pardey is hesitant to discuss his vision. "I am starring in it physically and that's why I'm quite nervous about it," he laughs. "It's an idea that I've had for years, since writing the song years ago, like it'd be so funny if we did this thing. I've been thinking about it for ages but I was like, nah of course I'm not gonna do that. I'm not gonna be in that video, that'd be ridiculous. And then this year it was like, ah fuck it let's just do it, whatever. If it's stupid it's stupid, but I think it's funny, so let's see how it turns out. Maybe you'll never see this video, that's still a possibility."
Burrows, out this week, is an original and intoxicating slab of art-rock and indie-pop fleshed out with driving and angular guitars that sway and slice between growling tones and electronic wanes, Pardey's elegant vocal delivery dancing with the instant hooks that knowingly repeat and resurface, his fast-paced, melodic falsetto a rallying yawn. "Closet Lunatic" opens the album, a brooding and menacing polemic against modern life. The rhythm section provides an expansive backbone, thumping and layered with percussive trills and spills. Title track "Burrows" takes you on a journey through the mind of Pardey, a stream of sublime consciousness and all its invasive twists, turns and tragedies. The song constructions surprise without losing their way, swapping from the quietly organic to chaotically synthetic through sometimes pummelling dynamics.
Pardey's songwriting works between captivating storytelling and reactionary imagery, darkly humorous and pessimistic, his mixed inflections and dizzying delivery reminiscent of Glass Animals as he plays with the intonation and timing of words. On "Monster Man" he spits, "A hunchbacked, ugly, knuckle-dragging, fuzzy-nippled tricksy little fool with a knack for causing far more bother than a blizzard in the summer," his lyrics twisting around Jenkins' strict sticks. While on "Cat's Pyjamas" he deadpans, "I can't stop thinking about how I just wanna die, it's hard to not fantasise when all the adverts make it look so nice."
It's an album of intelligent, dynamic guitar music, released through YALA! Records, who've been vital in supporting recent indie artists, renewing the much derided genre with releases by the likes of The Magic Gang and Willie J Healey. "It's nice working with them," says Pardey. "They're really supportive and they have experience of being in a band and what it's like, the creative process and stuff. You feel understood. They've been a big help."
For Pardey, much like everyone, this year has been a strange one. However, the road to releasing Burrows has been incredibly long, so for it to be coming out now in the midst of a global pandemic certainly feels like another darkly humorous twist in Caro's tale. "We finished the album two years ago. It's been done for a really long time, and all of the songs even before they were done, have been around," he sighs. "It's been a big build up to OK, we're releasing the album this year! And then I've just been sat at home again. Like, OK, finally things are gonna change! I'm gonna go out and tour and be in the world and this is finally my key to get myself out of my room and all that. And then it's like, nope, stay home and don't see anybody."
For Pardey, a self-confessed hermetic creative, lockdown shouldn't have been so tough. But the psychological toll of our Covid year has struck even the most ardent of lonerists. "Within the lockdown I haven't been able to go back to that place of caring about something and really pouring yourself into something, because it just seems so insignificant in light of everything," he explains. "This year I've been more in a state of starting things. I can't really start and finish things at the same time, I feel like they're very different mindsets because when you're finishing something you're just so hypercritical of, is this the best possible thing it can be? Which is not a conducive mindset to creating, because you just have way too harsh standards. It's OK for it to be shit at the beginning. I need time to be able to tell if something is good. I can't tell if something's good in the moment. I can't trust that there's something good there without that time."
"This year I've been more able to create for the joy of, and not worrying about it. But the people I look up to are the people that did something that hadn't been done before. That is sort of always the goal"
The album's title track is a clear example of this constant need for improvement, a quest for absolute perfection. "I wrote 'Burrows' mostly in Boston, but then tried to record it with a band there and we did a really rocky live version of it that wasn't very good, but I always knew that it was something. I love through-composed songs that just keep going from section to section to section. "Uncle Albert/Admiral Halsey" by Paul & Linda McCartney, "Bohemian Rhapsody" and "Paranoid Android", those songs where it just keeps going and keeps evolving. Like, I really wanna write one of those. Not to say that it's fucking "Bohemian Rhapsody", but y'know, you're trying," he laughs. " It sat on the shelf for a while but when we came back to do it, it wasn't that hard."
In fact, the most difficult track on the record was "Cat's Pyjamas", a comedic monologue inspired by stand-up routines. "It was sort of like, I wanna be super concise with the words and it's like the first lyric, the melodic contour of it, it sounds like how you would say the line," he explains. "The melody and lyrics had to sound like they would be spoken. The inflection of all the melodies had to line up with the syllables and everything, so it was very difficult to get it to sound conversational. It came from a time when I was just fantasising about dying. Going to sleep at night, do you ever go to fantasies of hypothetical situations? It's like that became my warm, cozy, comforting thought was death. The chorus of this song just came out when we were working on something. I was like, oh yeah, I am really just thinking about dying all the time and like, longing for it in this unhealthy way. So then I had the chorus and I had the first line, and then trying to write everything else about it was like dwelling on those thoughts for months of like, why did I want to die? What's all the reasons that I wanted to die? And just thinking about that for months was slightly maddening."
For Pardey, creation seems to come with a pressure to deliver something new into the world. Songs aren't written for pleasure or catharsis, but more to drive art forward, from the constant evolution of "Burrows" to the stand-up patios of "Cats Pyjamas". It's something that Pardey has given a lot of thought to. "This year I've been more able to create for the joy of, and not worrying about it. But the people I look up to are the people that did something that hadn't been done before. That is sort of always the goal," he explains. "I think that's why finishing stuff is so hard. Because you can ignore that goal at the beginning and go, I'm just gonna make, I'm just gonna do and not have to think about it too much. But then that's always in the back of your mind and when you're coming to finish it, like, is this something that hasn't been done before? It definitely is in the back of your head for sure. Or the front, sometimes."
Luckily for Pardey, there is light at the end of the tunnel.
Burrows is released on 4 December via YALA