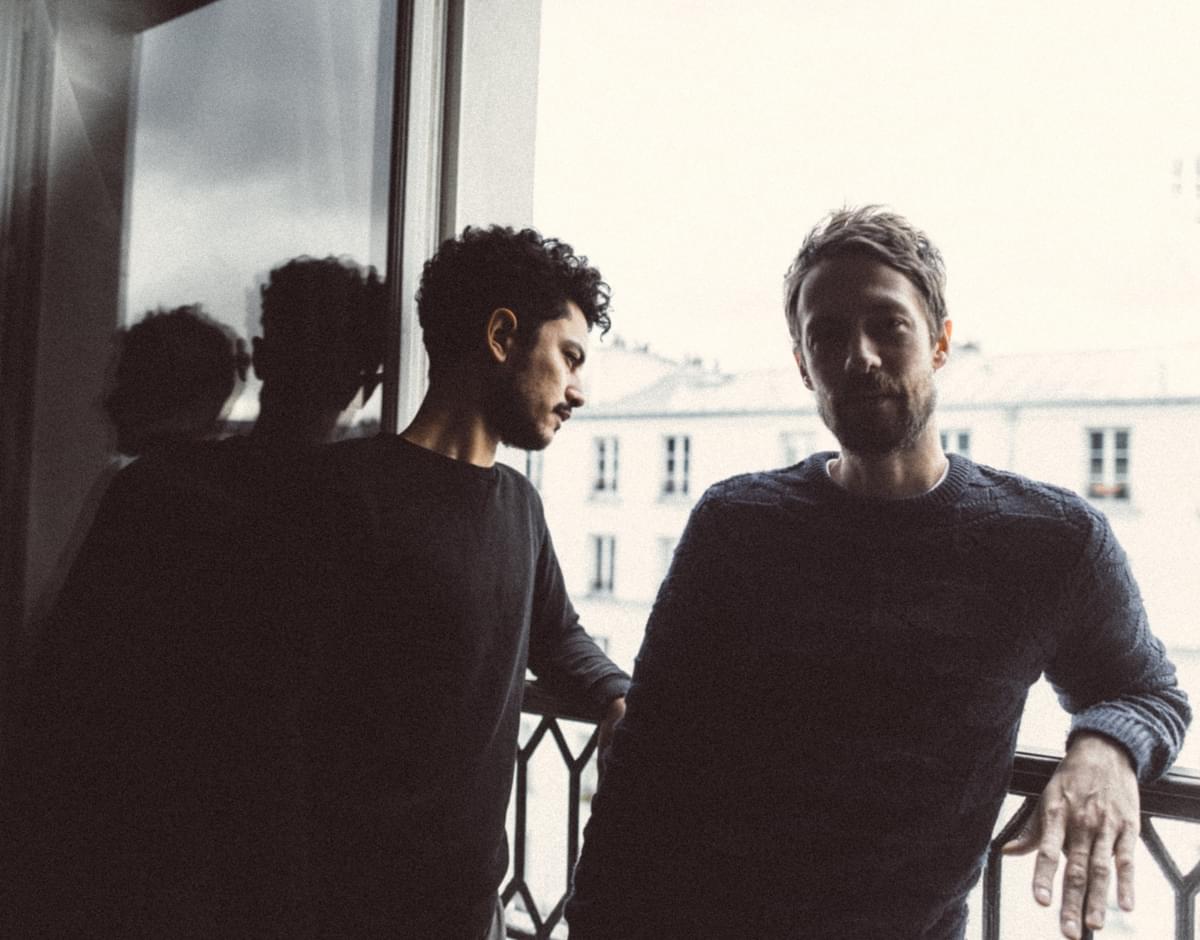 All Too Human
05 September 2018, 11:00
The Blaze are cousins Jonathan and Guillaume Alric and on the eve of the release of their debut album, Dancehall, they discuss why electronic music is the perfect vehicle for presenting human emotion in its purest form.
At the time of writing this piece, The Blaze have racked up over 30 million views across their cinematic, self-directed music videos, a figure that will no doubt increase in the coming months as their upward trajectory continues to take flight at a meteoric rate. A mere glance at any of the aforementioned music videos will quickly demonstrate what it is about this unique pairing's artistic output that has captured people's attention and quickly thrown them into the limelight.
In many ways, their videos go beyond the standard format, existing as short films rather than mere additional entities to their euphorically-charged electronic music. "Virile" was the French duo's first joint creative escapade back in 2016. Pieced together on a shoe-string budget, it's an intimate, momentary insight into the life of two men, where Jonathan and Guillaume present a story without judgement or too much detail, leaving space in the wider picture for the viewer to fill in the gaps and make their own decisions, a tool they would return to again and again in their visuals. It's deceptively simple, but its strength lies in the wholly immersive way in which it is able to capture not just a moment in time, but the depth of the emotion that laps around the scene.
"It's like a human adventure when we shoot a music video," smiles Guillaume, the sandy-haired member of the duo, perfectly articulating the journey that their visual exploits are able to take you on as a spectator. Emotion, intimacy and the human experience provide the foundation of their work, and it's a mission statement that has proved them well.
"We are living our lives like everybody" He continues, going on to highlight the importance of the microscopic lens that the duo put on people's emotions, "And we want to put that across in our music videos, and that is why there is something more intimate in there and [it's] quite universal… because in the end we all kind of have that same intimacy."
"And that intimacy also came from the way we work," Adds Jonathan. The slightly younger of the pair, Jonathan carefully places his chopsticks to one side, becoming animated with passion as he begins to talk through the process of how their latest music video for "Queens" came into being. "It is really important for us to be realistic, because it's [through] being realistic that we can find emotion and it can touch people."
That commitment to being realistic means that the pair frequently go to great lengths to achieve their artistic vision. Take, for example, their new video for "Queens" which follows the story of two girls who live within a gypsy community. At the start of the video, there is a funeral scene, but ultimately the video focuses on the pure vitality of life, as Jonathan explains "It is about death, because that is the main scene, but we decided to talk about death by talking about life, because 90% of the movie is about life. The two girls represent youth, they are strong, they are crazy, they are full of energy, they are beautiful, they are human and these are the most important things... We wanted to talk about life and talk about death, but we wanted to do that by celebrating life."
As with everything that The Blaze touch, every part of their craft is carefully executed, and the visuals immaculately match the solemn ecstasy that flows through every ember of the slow-building electronic track. Furthermore, the video sees them stay true to their word when it comes to remaining realistic, as Guillaume and Jonathan found the gypsy community that the video focuses on, got to know them, drank with them and eventually found themselves welcomed into the very heart of the community itself. On watching the emotive cinematic result, it becomes clear that such persistence to stay true to that community pays of, presenting a real gypsy community in all its beauty, diverging away from cliché and instead presenting another stunning hue to The Blaze's craft.
This visually-stunning celebration of life is something that is not unique to "Queens" though, and instead seems to be a running theme for The Blaze that carries through everything that they do and is a message that they are completely infatuated with.
"All of our music videos are a basically a celebration of life in different categories," Explains Jonathan, exemplifying how previous video "Heaven" also explores these themes of life, just from a different angle. The video is based around Tree of Life, where a congregation of people come together in celebration. "If you go back to see your family, in a way that is a celebration of life, because in a way you are welcomed by everybody, you feel home and you feel life and so it becomes a celebration of life. And "Virile" was the first one we did, but that is the same thing, but [it's] a little more hidden. It is more intimate again… But dancing is the perfect metaphor to feel alive, I think."
It goes without saying that The Blaze have extensive talents when it comes to their visual creativity, but at the heart of those visuals lies their music, and whilst the images that accompany their carefully-crafted electronic sounds are emotive and driven by incredible story-telling, they music itself carries a heavy weight of emotion within it.
Whether it's "She" or "Heaven", the pair have a knack for exercising absolute patience in the execution of their music, never working up to the climax too quickly, instead letting the beats grow organically in a trancelike whirlpool that cloaks your consciousness and encourages you to become completely absorbed in their layers of sound. It has the power to hit you right in your chest, with that floating ecstasy that only music can really capture, where the outside world is irrelevant and all that matters is that single moment of euphoria. But what is it about electronic music that means that it can possess such power?
"That is a good question," Ponders Jonathan, thinking carefully on his response. "I think when you are dancing, you are physically moving, but you can close your eyes and think about something else. Electronic [music] can be like techno which enables you [to get into] a sort of trance and it's repetitive… There is a comparison between classical music and electronic music, because in electronic music you have so much choice! You can do anything! So you can create, you can do things with the music which can be really emotional and we can create a big, big story in the same way that classical music can."
There's certainly a similarity with classical music that runs through The Blaze's creative output, particularly in the way the album is laid out. Again, each track is so carefully placed within the wider folds of the album that they almost feel more like movements of a big electronic symphony rather than a straightforward album.
Although each cousin was brought up separately in different parts of France, with Guillaume growing up in a Dijon and Jonathan growing up in Normandy, they both had a shared experience of growing up around classical music, so somewhere along the line that sense of the epic must have seeped into their consciousness in one way or another.
"Classical music is a music without a BPM, it's really a floating music," explains Guillaume, outlining the link that sits between their music and the classical music that enveloped their youth. "It is a music that can really play with your emotion, your heart, your mind, because it is, it is mountains of emotion and we tried to transform that emotional way to electronic music."
Yet, despite both being surrounded by music when they were growing up, they both vehemently insist that they are the only musical ones in their family, which is how they ended up finding each other in the first place. Jonathan had been at film school, and when working on his final project he found that he was in need of some music. Knowing that Guillaume was the only person in the family who was into music, he reached out "I asked this bastard!" He laughs fondly, knowing full well that the film project was just the beginning of something pretty special for the pair.
Although Guillaume grew up mainly teaching himself piano and messing around with drums, Jonathan underwent some more rigorous training. As a child, he learnt piano for four years and was even examined to join the conservatoire - "But I didn't pass" He laughs. "And… I cried and everything because I couldn't attend."
However, as the release of their debut album ebbs ever closer, it's probably fair to say that not making it into music school did not really do any harm to Jonathan's career in the long run.
The album is called Dancehall, named after the 1930s phenomenon of coming together to dance. That inclusive feeling is central to The Blaze's manifesto, and proved to provide the very mantelpiece of the album's initial vision.
"Our main idea was just to get to people to dance and bring people together," says Guillaume. "We want [to make] something where people can dance altogether and feel together, you know, have these kind of human things in the dance too. And that's why we called it Dancehall, to speak about that time when people used to keep a place and try to organise but dance together."
Since their inception, The Blaze have deliberately masked themselves in mystery, finding comfort in the shadows whilst letting their visuals and electronically-manipulated vocals do the talking for them. They have only carried out a handful of interviews and there is an air about their work that suggests that they are complete perfectionists, treading carefully and remaining true to their craft.
Upon meeting them and speaking to them in the confines of the offices of their Paris-based label, it becomes clear that this preference for semi-anonymity is not borne out of ego or some kind of contrived stunt, but is based on their insistence on putting the human experience and the power of emotion at the very heart of the work that they convey to the world. Although they do possess a presence that commands a certain je ne sais quoi, they are incredibly welcoming and the warmth that is present in their music comes directly from the modesty of their personas.
"That's why, from the beginning, we did it the way we have," explains Jonathan. "Because we didn't want to be that much exposed, for example, you don't see our faces that much on the internet or anything, we try to only the good interviews and we did all of that because we wanted the music and the images to talk instead of us, because we are not good talkers and we prefer to express ourselves with what we like to do - and that is music and video."
Even on stage, they do not look out to crowd, but inwards, at each other. It's a physical manifestation of what they repeatedly refer to as "their bubble", which is their intimate creative world that nothing or no one else can seemingly penetrate, as Guillaume says "We are friends, we are cousins, so we have a practical link, and when we are in our bubble we have this great pleasure where creativity, and we can tell that there is no problem about anything, we can be really open in our discussions as well."
Their electric live shows are as carefully-crafted as anything else they do, and it comes as no surprise that their appearances at Coachella and Lovebox earlier this year only further spread the word that The Blaze are a force to be reckoned with.
As their creative journey increases to escalate at a great pace, there has been little time for the pair to properly think about where their music and videos have taken them, instead keeping their heads to ground and concentrating on what is most important to them.
Finally pondering on the power of electronic music, Guillaume muses "You can find something kind of epic in electronic music" and that is exactly where The Blaze operate, in that fine line between reality and the epic. They are not a fire that are ready to go out any time soon, and instead will continue to grow steadily, with patience, will they are now ready to burn brighter and stronger than ever before.
Dancehall will be released on 7 September via Columbia Records.
Get the Best Fit take on the week in music direct to your inbox every Friday