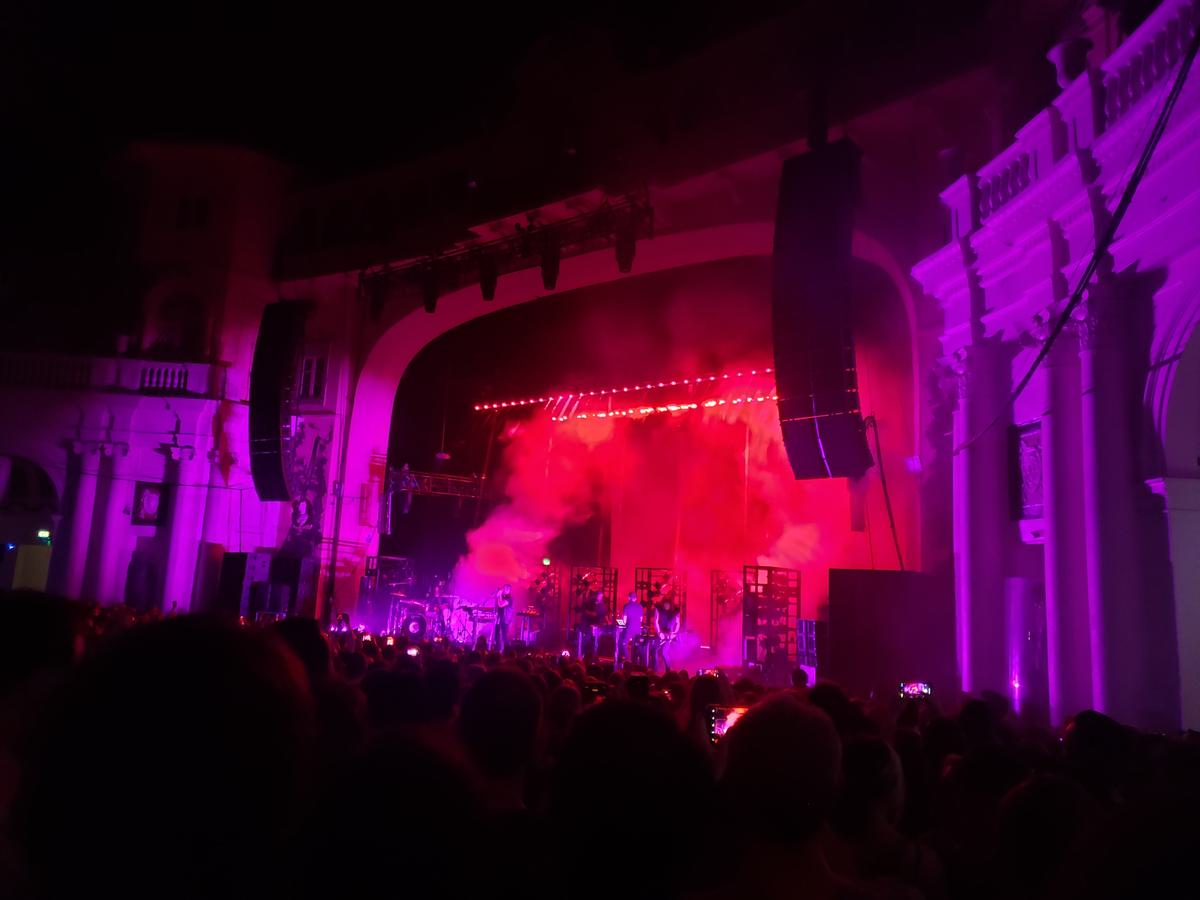 London sucked into The Downward Spiral at Nine Inch Nails' fierce return
22 June 2022, 12:26
After a four-year pause, Trent Reznor's pioneering industrial rockers bring the deepest of cuts to a sell-out crowd in London's Brixton Academy.
Few bands this far into their career can conjur this level of attunment from an audience: an ecstatic, lyric-perfect crowd who know even the b-sides like the back of their hands. But that's the emotional force of Nine Inch Nails — what happens when you spend your career narrating the terrorising and self-destructive thoughts that many of us darent speak aloud.
A collective sense of uncertainity heightens everything, as setlists across the last few dates have had little consistency and a few live debuts. Tonight, it is The Downward Spiral, the band's pounding 1994 album, which dominates. Kicking-off with a frantic rendition of track one, "Mr Self-Destruct", seven of its fourteen tracks make an apperance, including "Heresy", "Reptile", "March of the Pigs", "Piggy" and, of course, the song that launched a thousand BDSM nights, "Closer".
But it is testament to the band's longevity that hits across their 33-year career elicit a similarly explosive reception. "Less than" — relatively young and from their 2017 Add Violence EP — has become a live favourite, its unabashed sing-a-long chorus a reminder that NIN are, probably to some fans vehement denial, a pop band. "The Hand That Feeds", which appears towards the end of the set, harks back to Reznor's explicitly political phase and the hordes of listeners which it onboarded.
Lit by a custom rig of eye-watering strobes and spotlights, the visceral rage and self-hate of Reznor's lyrics still stings, his voice a powerful, perfected instrument. But Ilan Rubin, the drummer prodigy who Reznor lassoed in 2009 to replace Josh Fresse, is the second star of the show. Like Fresse, Rubin has both the sheer physical strength and the precision to honour NIN's arrangements, astounding in the chaotic closing bars of "Piggy" and rightfully stealing all the attention during the machine-gun breakdown of "The Perfect Drug".
Reznor himself is typically quiet between songs, aside introducing the band and alerting us to the fact that Alan Moulder, who has co-produced many a NIN record, is in the house (a screeching reception confirming the level of fandom in the audience). Of course, there is little need to speak, such is the unifiying heart of the work. In the introduction to "Even Deeper", written during a period where Reznor says he was simply "trying to survive", the crowd falls quiet in what seems to be a brief moment of mutual understanding. Looking at Reznor now, 22 years after the track was released and fully present and thankful in his performance, he provides both a pillar of recovery and a sweat-soaked space for fans to scream out their demons. A purifying experience.
Setlist
Mr. Self Destruct
Wish
Less Than
March of the Pigs
Piggy
Sunspots (Live debut)
Everything
Sanctified
Heresy
Letting You
Copy of A
The Lovers
Closer
The Perfect Drug
I'm Afraid of Americans (David Bowie cover)
Fashion (David Bowie cover)
Down in It
Gave Up
The Hand That Feeds
Head Like a Hole
Encore:
Reptile
Even Deeper
Hurt