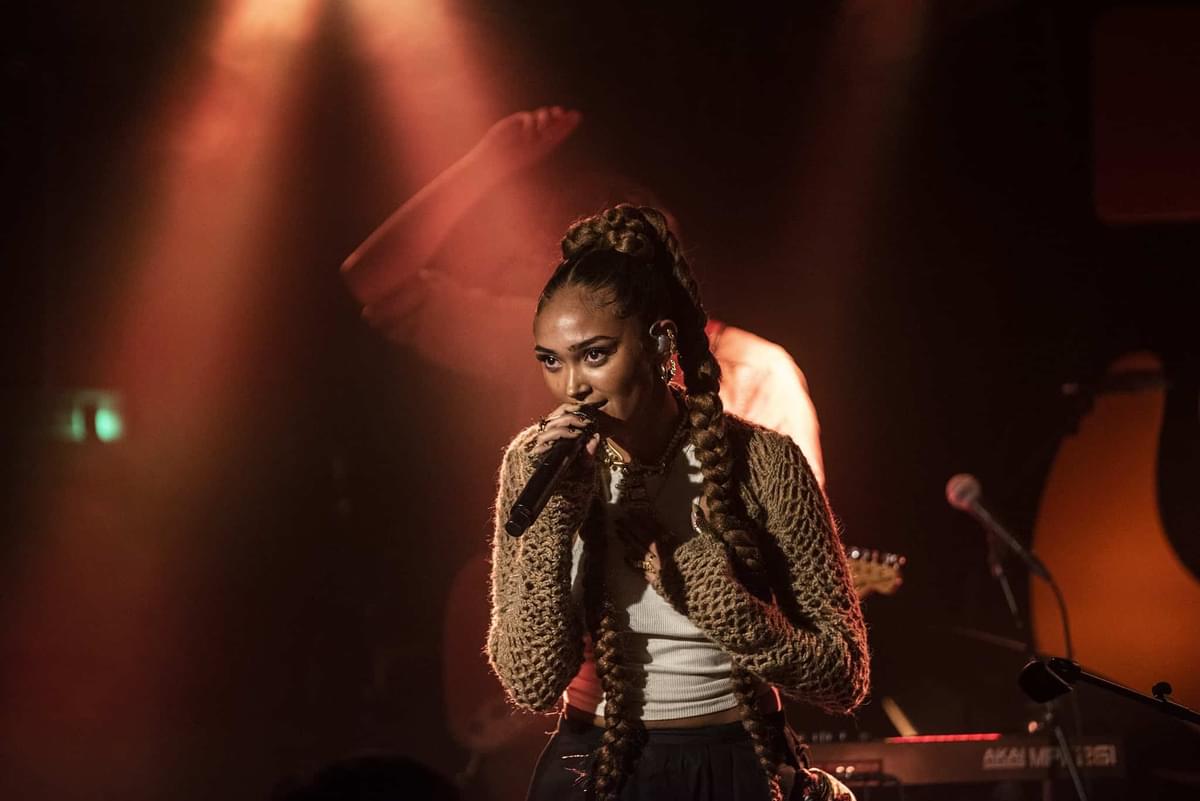 Joy Crookes gives a pitch perfect performance for BRITs Week
03 February 2022, 10:30
She might have nominations for Best Pop/R&B Act and Best New Artist under her belt, but the ever-soulful Joy Crookes displays a breadth of experience as she steps into London's Omeara venue for one of this year's BRITs Week performances, presented by Mastercard for War Child.
With two waist-length braids at her sides, a knitted bolero jumper covering her arms, and jewellery stacked as a homage to her heritage, Joy is a vision as she appears under the spotlight.
Having released her debut album, Skin, a little under four months ago, Crookes hasn't been absent from the stage for too long. She performed to a couple of thousand at O2 Forum Kentish Town in November, while also frequenting intimate venues and in-store gigs across the album's campaign. Still, she gives her all here - determined to reach the fans that haven't yet witnessed her live abilities.
Her four-piece band are stacked into the tiny framing of the stage, the keyboardist with his back at the 45-degree angle to the crowd. But, with ease and poise as the opening notes of "I Don't Mind" play out, a quasi-jam session is in full force. The Joy Crookes we get tonight is well-rehearsed and beaming, all pleasantries before launching into "Trouble".
"We've been inside too long, let me hear you sing with me," she proclaims after bringing the track to a stop after barely two bars, before restarting and drifting listeners back into her soulful world. It pays off, too, as the crowd match her energy. Her music often has a colloquial charm – as if she's addressing, confiding, or advising you directly – which feels natural in this compact space.
Across the set, each track is bookended by Joy's distinctive South London accent, fitting given a Brixton entourage in the crowd that offer rolling tongue chants of encouragement throughout. Whether they're friends or family is unclear, but it's a welcome addition to an otherwise mellowed out audience.
Crookes' pitch-perfect vocal that she puts on display is worlds apart and leaves the crowd stunned into silence. The soft ballad "Skin" is a momentous high point, in which her control in a live environment is truly exemplified – her voice reaching an emotional crescendo in the line "Don't you know the skin that you're given was made to be lived in?"
As well as playing one of her first-ever releases, "Don't Let Me Down", Joy brings her soulful elegance to a medley cover of Kendrick Lamar's "YAH" and "ELEMENT". Eager eared fans will know that she released a studio recording of the track three years ago, but, sitting under 100K views on YouTube, it's a hidden gem for those willing to search. Delivered with winks to the crowd and two-step movements, Joy interpolates the track as if it was made for her – her silky-smooth notes seeping into every nook and cranny.
Though, it's not the only unexpected reference of the set as she jokes: "Does anyone here know FIFA?" before entering the bassline of "Feet Don't Fail Me Now" (the track is a part of the game's 2022 in-game soundtrack, for those who don't play). As Crookes closes her set with "When You Were Mine", the show feels very much like a hometown advent. Don't get it twisted, though, "We're in London Bridge but let me take you to Stockwell", she declares as the big band sound plays out.
A lullaby-like performance and a celebration in equal measure, Joy Crookes proves that she's got her neo-soul flair on lock. Her multiplicity makes her a true star, and her onward nominations at this year's BRIT Awards is just one acclaim in the room of 300+ plaudits that leave feeling connected and inspired.
Get the Best Fit take on the week in music direct to your inbox every Friday