Fred again.. brings unity to his three-night stand in South London
08 December 2022, 11:00
From creating tracks on buses, trains, and planes, Fred again.. has long found solace in the bustle of London life. Tonight, O2 Academy Brixton becomes the playground for his work, and the crowd a backing track to his anthology.
Fred again.. is exiting 2022 with a much higher profile than the one with which he entered the year.
This might seem a logical proliferation for a behind-the-scenes producer who took steps into the limelight with his larger-than-life collaborations - and who, like many others, saw a devasting impact on the dance music industry for the better part of a year. But, Fred's music is niche in its scrapbook method of unfiltered storytelling.
Conceived very much as a studio body – owed to his self-assigned mission to soundtrack a generation's lockdown – to bring an artist still making his first steps as a performer to the stage of O2 Academy Brixton (for the first of three sold-out nights) is no small feat. His source material is personal and collages together voice notes featuring friends, Instagram stories, live recordings, and poetry to move with the ebbs and flows of daily life, while separating himself from the counterculture and cliché knob twiddling DNA of his scene.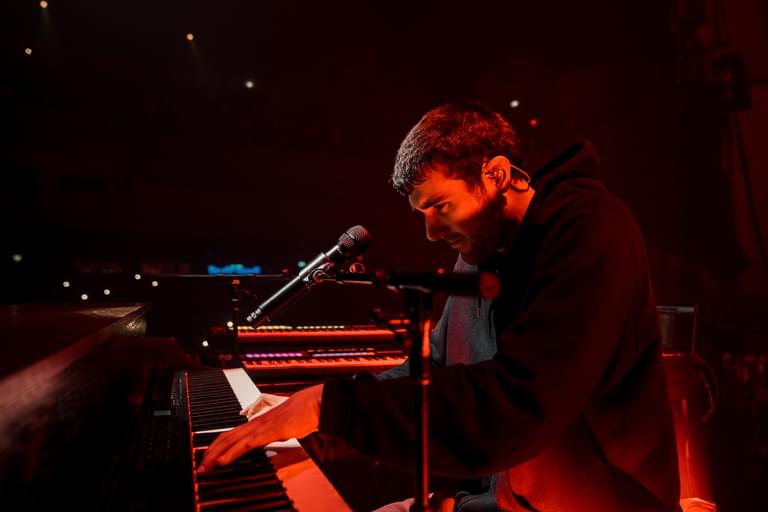 Theo Batterham
The journey to creating his audio-visual spectacle only truly began this year, and witnessed Fred soar at the Roundhouse before continuing his international festival circuit onto the likes of Primavera, Coachella, and Parklife. Now, bounding onto the stage with a sense of unity, tonight's show largely confirms what we already knew: Fred can take emotional strokes and evolve them to become an organism of their own; so much that it connects with an audience beyond rave kids. Yes, couples kiss and mates grab each other tightly, but there's something different in the air.
Any fear that these house-driven cuts might not land in a live environment is dispelled within seconds of his arrival. Fred – a joyous and smiley presence – places himself beneath three 16:9 vertical screens, which do most of the talking for him as he reduces any commentary to Helvetica-font sentences about his enthusiasm to be here. "I've grown up going to this venue," one message reads, "this is HOME!". Also acting as a quasi-spotlight for home recordings from his collaborators, there's a feverish discussion amongst the crowd about who will make an IRL appearance tonight: "He's been posting loads about the collab with Dermot Kennedy and BERWYN", "Imagine if 070 Shake is here", "Kieran (Four Tet) was on his Instagram story this morning".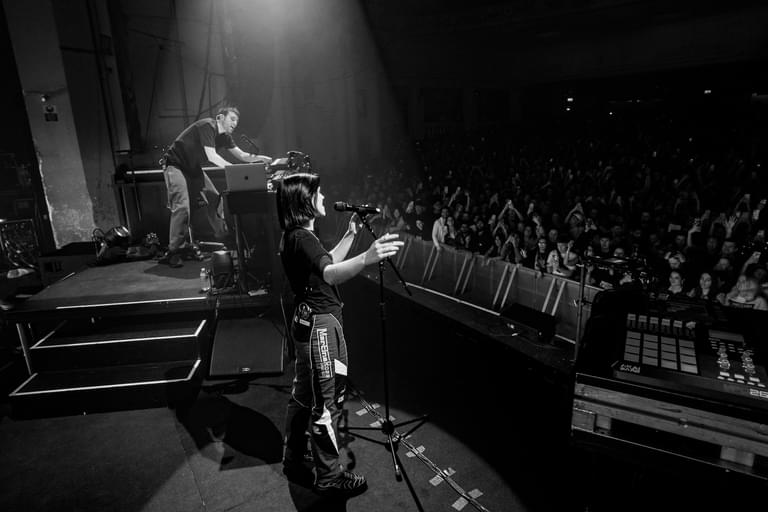 Theo Batterham
It's not long until The xx's Romy is spotted in the crowd, stage left; but, with heavy anticipation, her moment passes – before it doesn't. "Lights Out" remains a solo performance for Fred, pulling its energy from hard-hitting drums, but as she graces the stage for "Strong", it's hard to tell if this is meant to be a sad or euphoric moment in the set.
Things level up when Fred collects the fragments to re-contextualise his sound. His sophomore album, Actual Life 2 (February 2-October 15 2021) was a weighty expression of grief, and it's those vulnerable moments that are celebrated tonight. "Faisal (envelops me)" leads the crowd in a soulful singalong, whereas "Billie (loving arms)" is a misty-eyed dancefloor moment. The crowd are desperate for something more, and he's able to deliver. Without a big reveal, he exerts his intent at the right moments – moving to a smaller rig at the front of the stage for the heavy hitters like "Marea (we've lost dancing)", while a camera linked up to the screen behind mirrors his every intricate movement.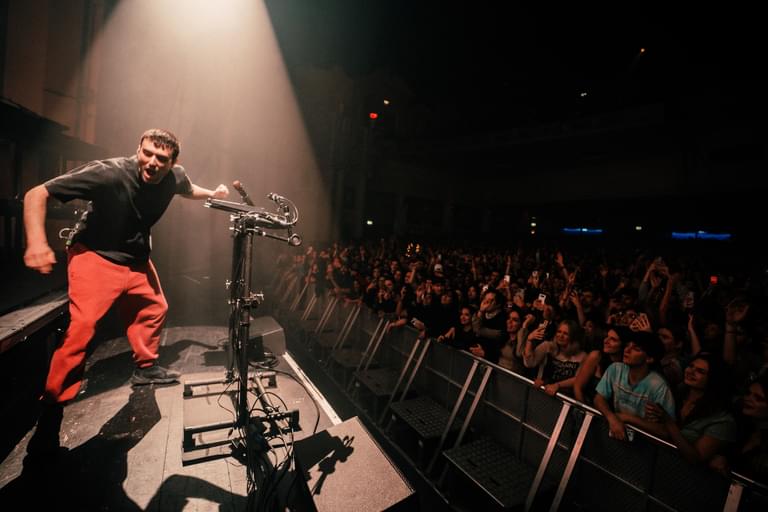 Theo Batterham
There's an overarching sense of escapism as Fred again.. continues on his quest to be the universal DJ in demand. It's evident that he is not just someone that audiences tag along to for nothing; most of the people here are genuinely invested in Fred's discography and dance with a tear in their eyes. Sometimes, it's a bit too sweet, but his competence is sure to carry on electronica's torch into an even higher degree of modernism; where anthems are second nature, and virality becomes personal.

Setlist
Kyle (i found you)
Bleu (better with time)
Tate (how i feel)
Kammy (like i do)
Jungle
Turn On The Lights again..
Lights Out
Rumble
Faisal (envelops me)
Nathan (still breathing)
Danielle (smile on my face)
Strong
Dermot (see yourself in my eyes)
Chanel (Frank Ocean cover) / A New Error (Moderat cover)
Sabrina (i am the party)
Angie (i've been lost)
Sabrina (i am the party)
Clara (the night is dark)
Winnie (end of me)
Kelly (end of a nightmare)
Marea (we've lost dancing)
Billie (loving arms)
Delilah (pull me out of this)

Get the Best Fit take on the week in music direct to your inbox every Friday