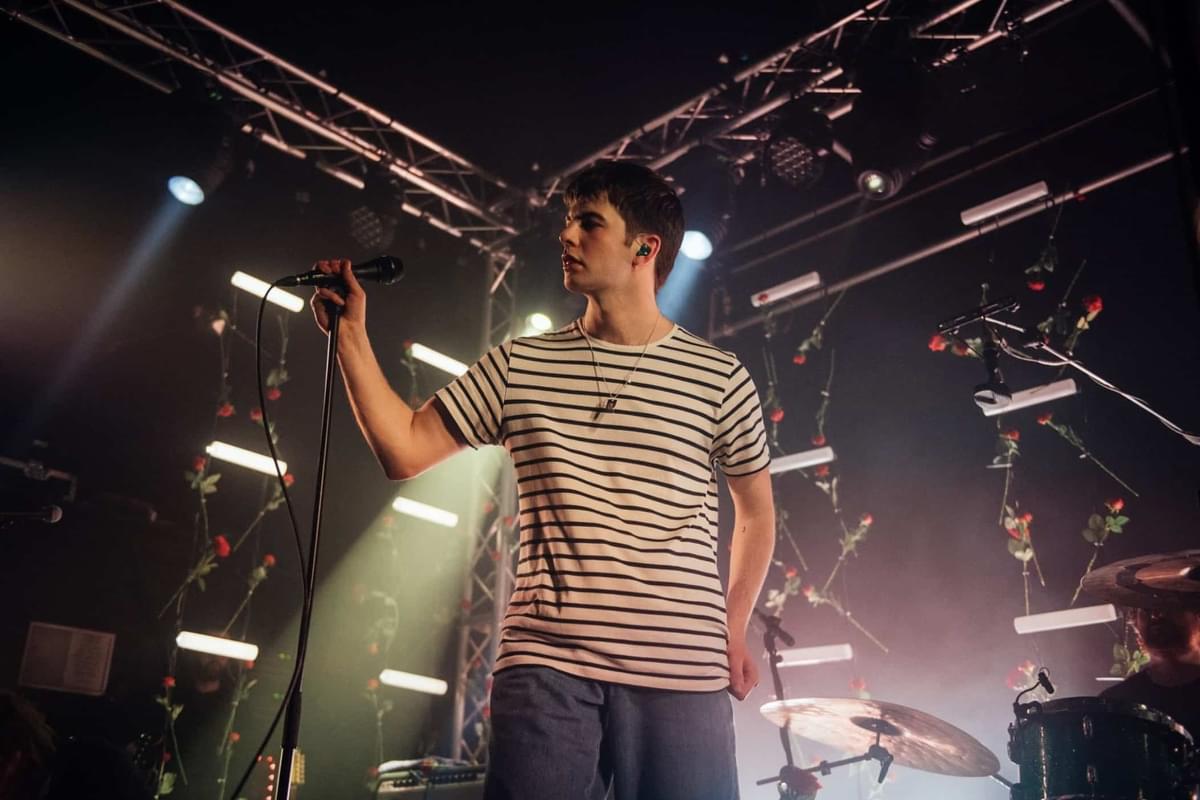 Fontaines DC continue to capture hearts at their BRITs week show
05 February 2022, 12:00
Having rapidly gone from first-on support act for the likes of Shame prior to their 2019 debut album Dogrel, to commanding and dominating Alexandra Palace on their 2020 second outing A Hero's Death, Fontaines DC seem unstoppable.
While the large rooms are no doubt proof of the Dublin five-piece's expanding charm, in a small venue is where that tangible electricity sparks through the eyes of the enchanted staring up at them — which tonight is a 500-cap crowd biting at the bit for the bands underplay at London's sold-out The Dome BRITs Week Performance presented by MasterCard for War Child.
Indeed, this is a band - now Brit and Grammy-nominated - who have gone from poetic dissidents to spearheading the ever-expanding pack of post-punkers. As four scraggly but dapper figures saunter onto stage fortressed in by rope ladder lights affixed with fake roses, trailing behind them comes lumbering vocalist Grian Chatten — a mean feat given none of the band seems to stand higher than the stacked amps. Pacing faster as "Too Real" whips itself and the crowd to life, his striped shirt and dog tags hang effortlessly, a small tattoo on his pale right bicep revealing itself as flashing lights match the beat. Instantly the crowd swirls along with the guitars before the venue erupts in pent up howls of "ISITTOOREALFORYAAAA!"
Following closely, "Televised Mind" continues the Irish bands London takeover, before the punchy mod beat of "Sha Sha Sha". "Hullo" are the first of few words from Chatten, instead, throughout it's the setlist and body language that does the talking. With "Lucid Dream", he leans, reaching his hand out, gesturing symbolically for guidance or to save the souls before him. The live debut of their latest single "Jackie Down The Line", finds a rousing reception, along with proof that Fontaines are simply unstoppable. They're a juggernaut of poetic prose rooting around sturdy, focused driving rhythms and melodies flowing between predatory and solemn.
"Yous a Guinea pig and a half", Chatten's voice laughingly growls through the darkness at the promised debut of more cuts from their upcoming third album Skinty Fai. Next picking up a bouquet of fake flowers and clattering tambourine they break into "I Don't Belong", followed by "You Said" before "I Love You", the second new track of the evening makes an appearance (aired previously at Ally Pally). "Consider this song a sincere and honest prayer for the kids", Chatten wryly says, letting us know guitarist Carlos O'Connell has opened a callous on his hand. Their wicked Irish sense of humour plays well with their passion for creating unfurling scenes deeper than the pages of Ulysses. The clattering drums of Dogrel opener "Big" wade in. Finishing it off by violently stamping his mic stand into the stage till it retreats inside itself — the pen is mightier than the sword, but it feels like Chatten can wield both indiscriminately.
"Hurricane Laughter"'s eye rotates the crowd forward, ready to hungrily consume the band if not for being blocked by the security rail. Next up, "I Was Not Born" sandwiches in before "Roman Holiday", the freshest of the Skinty Fai songs to get a debut. The air stills as the crowd ingest this new offering, a swirling near-psychedelic lament where Chatten urges "Baby come on, get stoned, get stoned". Compensating this new airings delicateness, "Boys In The Better Land" finally kicks to life. The sermon finds its congregation, and all are delivered.
"This is our last song," Chatten says, not even believing his own words, as "A Hero's Death" springs to life. "Life ain't always empty" is its rallying cry — and a promise, from Fontaines. As the notes fall away, guitars are removed from nonchalant bodies who saunter off the stage as effortlessly as they did on. "God fucking bless," Chatten mumbles once more into the mic before disappearing into that good night. True to his word, it is their last song.
This is why Fontaines DC. are special. They always leave you guessing, you feel you understand them, but there's always a layer they'll keep close to their chests — an intricate subplot you miss due to the behemoth nature of the main arc. But when they can tower over the largest and smallest of stages with such mesmerising might, who cares?
Get the Best Fit take on the week in music direct to your inbox every Friday