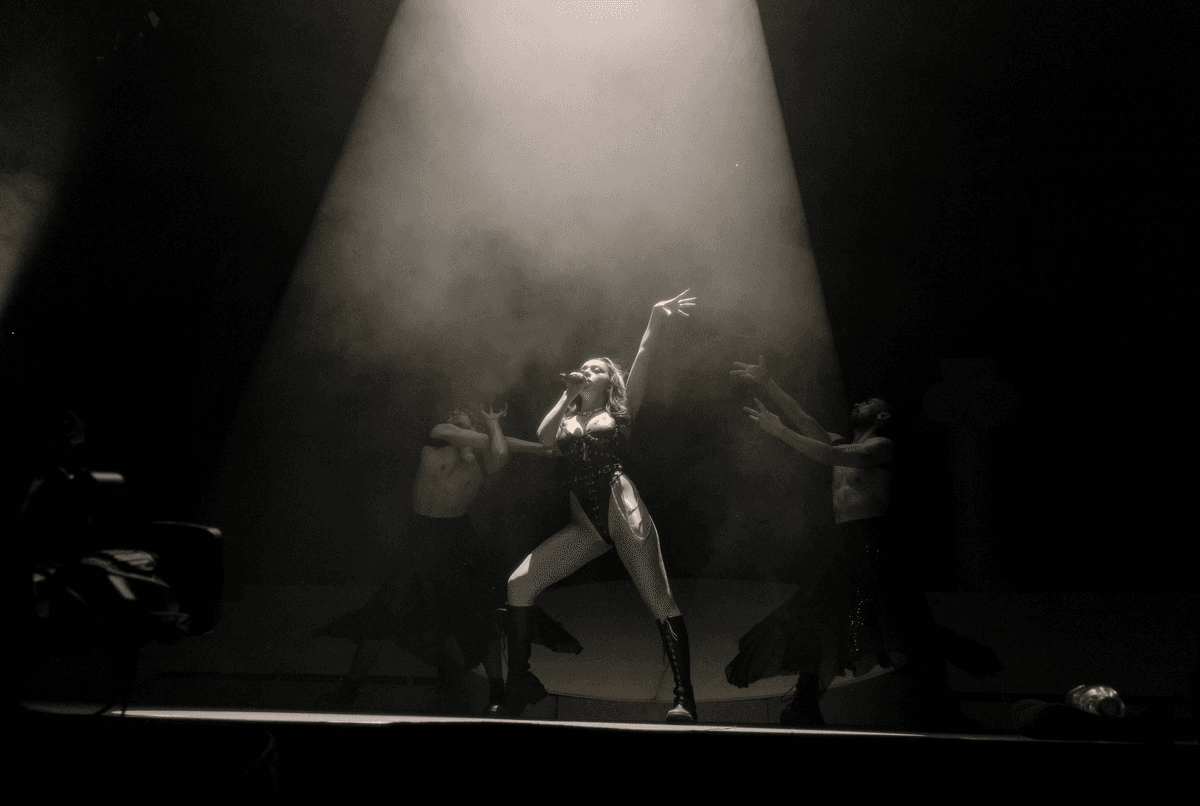 Charli XCX makes her dreams come true at Alexandra Palace
20 May 2022, 09:00
Bursting with joy and dripping with sweat, Charli XCX's biggest headline appearance to date is further proof there is no-one like her.
As the UK leg of the Crash tour lands in London with a guest appearance from Caroline Polachek, Charli performs the entireity of her number one album Crash alongside hits like "1999", a revised version of "Boom Clap" and the zeitgeist-shifting "Vroom Vroom". Having made her way through the US and one night in Ireland, Charli's London stop marks the halfway point in the UK leg of the Crash tour and her single largest show to date.
Supported by experimental artist yeule and a pre-show playlist of Charli leaks, from her scrapped third album. Tracks like "Bounce", "Do You Wanna Come To My Party" and "The One I Die For" already have Charli's devoted angels jumping and screaming every word back. The Pete Tong demo of "Girls Night Out" and SOPHIE's version of "No Angel" are highlights of this second support slot, if you know what you're listening for.
Backed by a huge LED screen, she is silhoutted by lightning strikes as she opens the set with album standout "Lightning" before leaping into Christine and the Queens collaboration "Gone". The Crash-heavy setlist works perfectly: there are no deep cuts and the 10,000 strong crowd can recite the lyrics to everything from divisive single "Baby" to the album's only ballad "Every Rule".
Getting the crowd hyped for "Yuck", Charli teases that this could be the next single from Crash and reminds fans that she's got her eye on Julia Fox for the music video. Expanding on the concept in an interview with Elite Daily earlier this week, she said "I thought it would be cool if we could both be just taking billionaires' money in the video and then going and spending it."
Before launching into a four-track encore and album closer "Twice", she's is joined on stage by the only guest performer of the night. Caroline Polachek saunters into view to deliver her ethereal final verse of "New Shapes" – it's all over way too quickly, but with such a meticulously choreographed set complete with impressive lights and lasers, there's no wonder Polachek's appearance can't be extended to include Pop 2's "Tears".
Taking a brief pause mid-encore, Charli delivers a series of emotional thank yous exclaiming "I never thought I'd be able to do this, so thank you." Her managers and all the people she's worked with along the way get a shoutout before she nods to "the people who inspire me – Caroline [Polachek], A.G. [Cook], SOPHIE and Rina [Sawayama]" and finally her fans; "you guys supported me when no-else believed in me."
As one final thank you, or gleeful smirk, to those fans as the lights go up in Alexandra Palace cult favourite, and perhaps the most demanded Charli XCX song of all time, "Taxi" blares through the speakers – "taxi for one, taxi for them, taxi for him, taxi for her... let's call you a taxi." It's the perfect send off as her angels begin to make their way home.
Get the Best Fit take on the week in music direct to your inbox every Friday