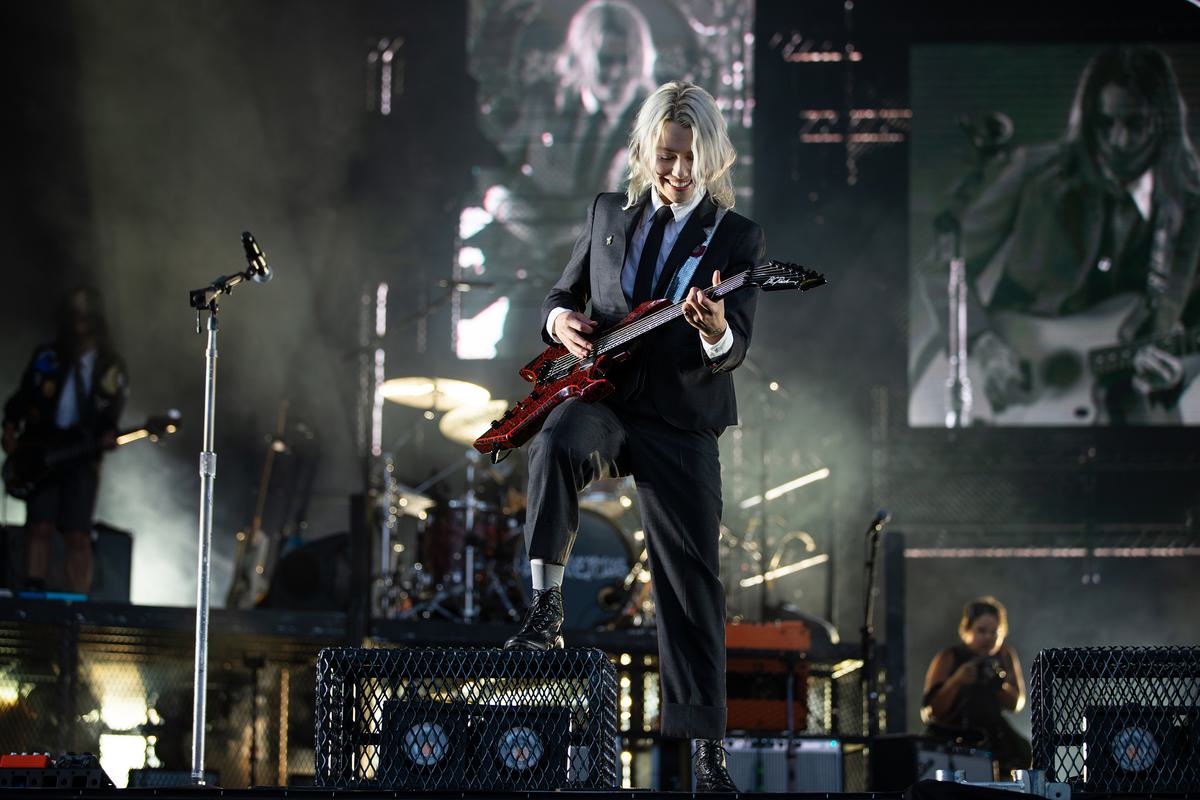 Boygenius cast a spell over Gunnersbury Park
23 August 2023, 16:00
Boygenius show how special a day can be when the band themselves curate a lineup that resonates with their fans – especially when they choose some of the most exciting young queer singer-songwriters coming up right now, writes Sophie Lou Wilson.
England has just lost the Women's World Cup final, but as the sun beats down on Gunnersbury Park, the mood is anything but sombre.
A swooning delirium is building as Swifties and metalheads alike congregate in West London for EthelMunaGenius, as the event has become known online. To see just how dedicated a fanbase has gathered there, you only have to cast your gaze to the merch stand where, for the first half of the day, the queue stretches back much further than any queues for the bars or toilets.
Boygenius – the Phoebe Bridgers, Julien Baker, Lucy Dacus supergroup – have curated a line-up of their favourite artists to take over the park for the day; Irish singer-songwriter Soak, Southern Gothic alt-icon Ethel Cain and euphoric queer pop band MUNA. The music of Boygenius is fraught with self-loathing, heartache and despair, but this would be hard to grasp if you rewatched their set with the sound turned off, or glimpsed one of the many TikToks circulating in the days following the event.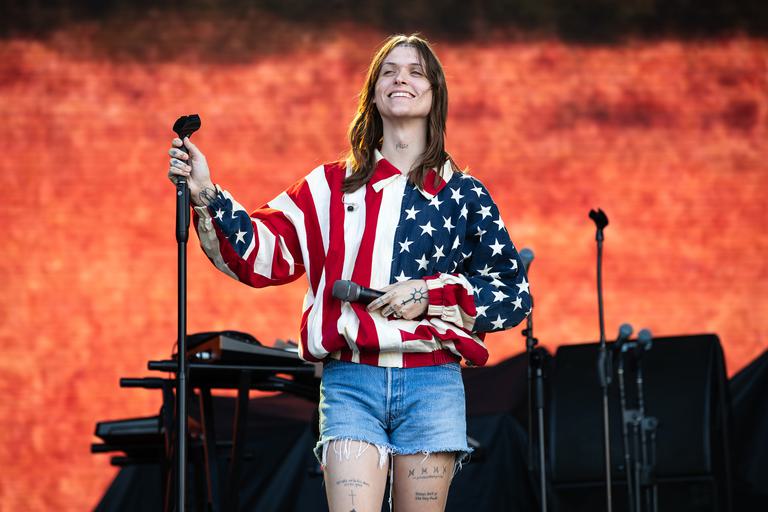 Ethel Cain
The boys, as fans affectionately call them, look like they're having so much fun onstage, whether they're rocking out or making out. In the crowd, best friends sway hand in hand wearing t-shirts they lovingly DIY'd together especially for today. They turn to each other, tears swelling in their eyes, as songs like 'Cool About It' or 'Me & My Dog' reach their most gut-wrenching lines. Whether onstage or in the audience, the show is a moving testament to the power of female friendship and platonic love. "It wasn't like falling in love," Bridgers recently told Rolling Stone about meeting her Boygenius bandmates. "It was falling in love."
Our initial ideas about love are often formed by the pop songs we listened to growing up. More often than not, they depict a yearning and all-consuming heterosexual romantic love. Pronouns nearly always refer to the opposite sex and we're told that friendships matter less than falling in love. While Boygenius certainly have their fair share of yearning, heartbroken love songs, they also wax poetic about the platonic loves of their lives. When they play 'True Blue', Dacus' love song for her bandmates, the best friends in matching t-shirts raise their hands in the air bathed in blue light.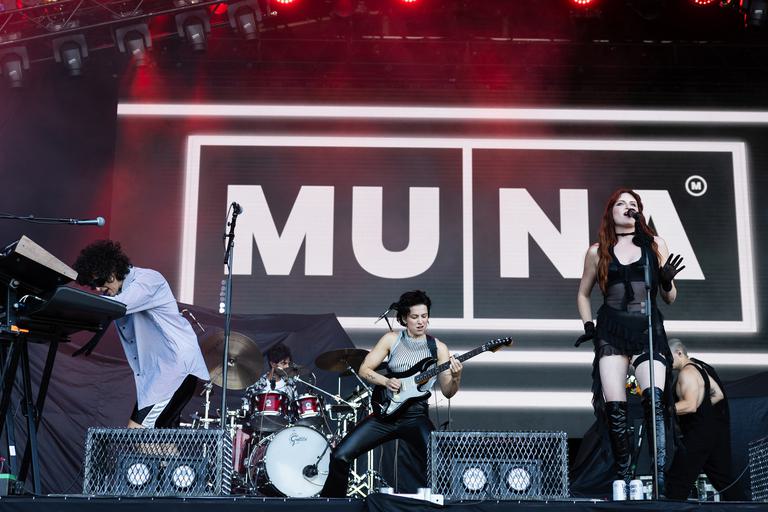 Muna
We've been blessed with a staggering amount of emotive, introspective singer-songwriters in recent years. From Mitski's ruminations on love and loss to Lorde's suburban angst and Billie Eilish's moody introspection, our hunger for the genre is seemingly never-ending. Many of these artists, including Bridgers, have spoken out about despising the reductive 'sad girl' label often ascribed to their music. Their work explores a textured map of emotions that reach beyond sadness, but upon first listen, Boygenius lyrics are shaded with indisputably melancholy tones.
A 2019 studyanalysing over 50 years worth of song lyrics from 1965 to 2015 found that words associated with negative emotions significantly increased over that time period while descriptors of positive feelings noticeably decreased. And if things felt bleak in 2015, they feel even bleaker now. Boygenius didn't release their first album until 2018, but they joined the tradition of songwriters delving into their darkest thoughts for lyrical material.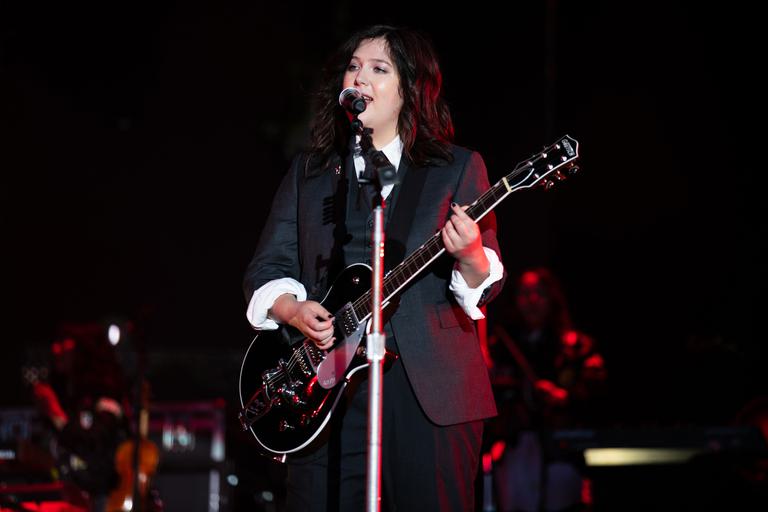 Lucy Dacus
Yet the Gunnersbury Park show reveals that singing about negative emotions more often isn't necessarily a bad thing. Teenagers in old school ties and Ethel Cain fans in prairie dresses come together to sing loudly to songs they might have cried alone to in dark bedrooms, joining a chorus of thousands in songs exploring sadness, anxiety and depression and, in doing so, reaching a state of catharsis. Sing loud enough amid a 25,000-strong crowd and those feelings evaporate until you're just left with connection.
Sometimes it can be hard for artists with slower songs to command such vast spaces without losing a sense of intimacy that these deeply emotional tracks deserve. Certain sections do feel better suited to smaller venues, but when Bridgers asks the crowd to put their phones away during "Letter To An Old Poet" – written about "one of the darkest periods of my adult life" – everyone miraculously obeys. In those moments, everyone is transfixed and you almost forget that so many people are there.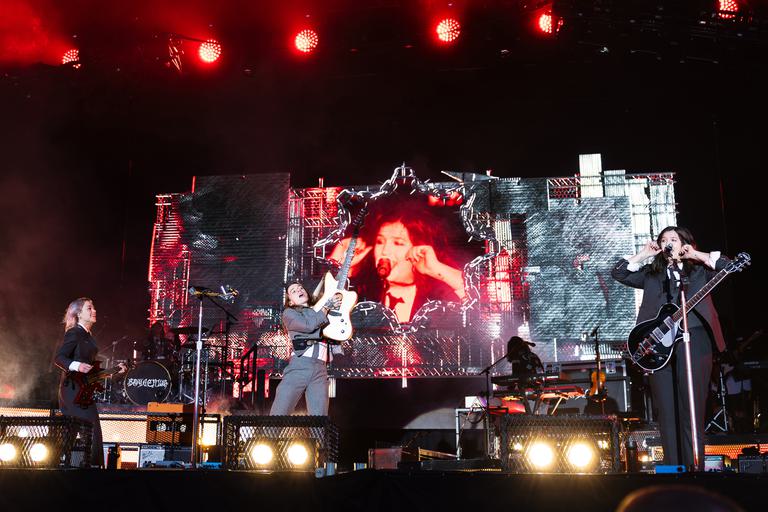 Other moments feel deservedly big. When fireworks explode across the late summer night sky, MUNA join them and both bands run riotously across the stage, beaming and kissing each other as "Salt In The Wound" reaches its clashing crescendo. It feels like a release of any pent up sadness that's still lingering, like ripping off the bandaid to see that the wound has healed beneath. Their first ever London show might just mark the beginning of true Boygenius world domination, but most of all, it showed just how special a day can be when the band themselves curate a lineup that resonates with their fans, especially when they choose some of the most exciting young queer singer-songwriters coming up right now.

As fans trudge slowly back to Acton Town, rather than pushing or rushing to get to the station, a quiet feeling of awe descends over the crowd as though under a lasting spell. Friends and lovers are still holding hands in their football shirts and new Boygenius merch, letting the day's emotions slowly evaporate into the cool West London night.