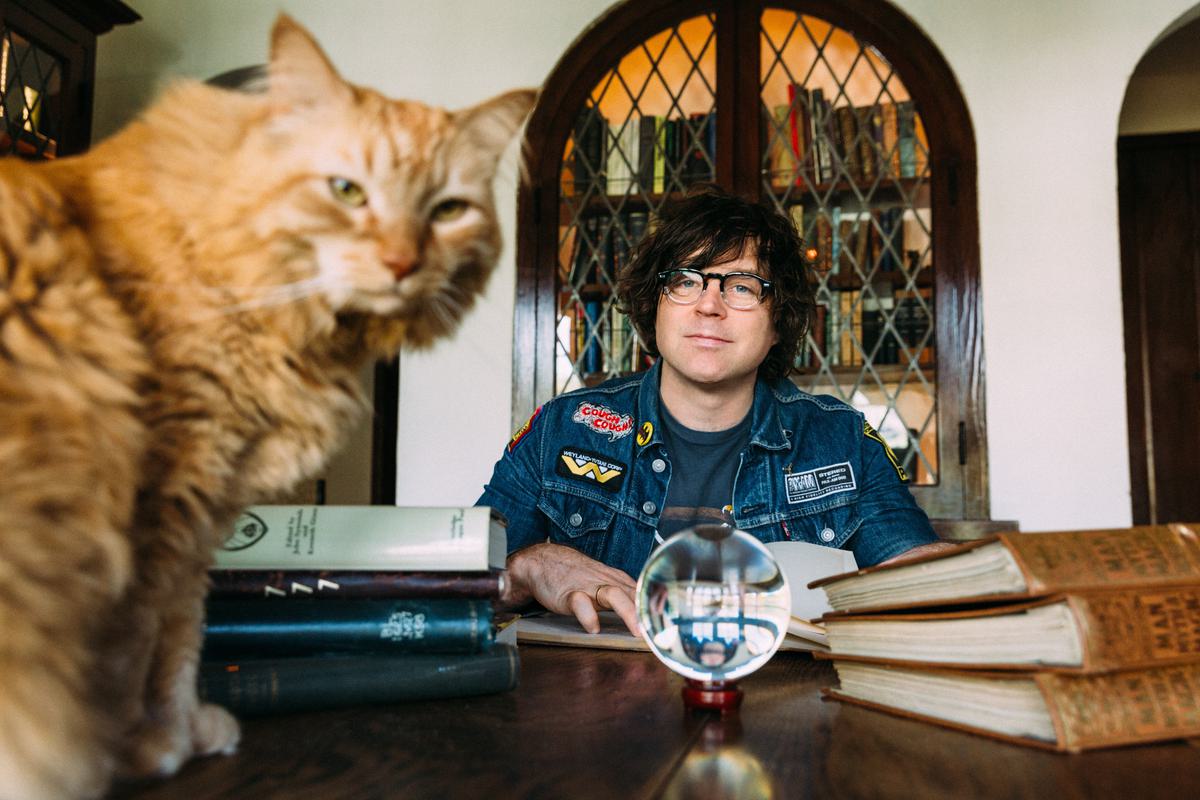 10 things we learned from 20 minutes with Ryan Adams
17 February 2017, 10:00
On a whistle-stop promo trip to London which included a string of intimate solo shows across an old Courtroom, a spiritual bookshop, and a record store - as well as a 24-hour jaunt to Manchester - we managed to grab a brisk 20 minutes to discuss Prisoner, a record Adams describes as "my best thing... my most me thing".
Recorded during a period of intense creative freedom in New York versus his own Pax:Am studio in Los Angeles, the resulting 12 tracks offer a deeply personal listen and draw directly from a painful period of divorce from wife of six years Mandy Moore. Prisoner finds Adams at the top of his game both in terms of songwriting and sonic wizardry (not to mention an endless supply of stadium-sized guitar licks). Here's what we learned....
The
Prisoner
'
End Of World
' box set is ambitious as fuck - and full of secrets
"I'm a geek and a huge record collector so when it came time to think about the box set, I realised there were more songs than I knew what to do with and I really wanted to make a different version of the record. I had to come up with a way to figure out 'how do we do this?' and I started dreaming out loud about it and talking to Charlie [Stavish - Adams' bass player and manager of his recording studio/label Pax:Am] and we got into this zone where we started thinking 'wow, it should be like a play set - it should be like an old school play set with action figures'. We went into how we could get actual action figures made but it's really difficult to get moulds made in order to manufacture them... it actually takes longer than anybody knows."
"But the thing is, it does more than people know. It makes sounds and there are also secrets. It wouldn't even matter if you were to look at it up and down and all over. Until I tell you, you won't know. There's literally no way for anyone to decipher it. 'Cos only I know."
New York will always feel like home
"I had been back [in LA] when I needed to be back and my new home there was getting set up whilst I was on tour… but, I really felt like in order to make the record I needed to make I had to go right back to where I was the day before I left [New York]. The day that I left to go and be in this new city with someone that was going to become my wife. The transition was so hard that I think it just sort of swept me off my feet and took me a long time to adjust. There was literally no other way to do it than go and be in LA. So when I moved from New York I didn't even pack my stuff up. Someone else did it."
"I was also going back to New York a lot because I was dating someone. Someone that really helped me and inspired me that's just been my best friend. I just really wanted to go back and be there... and it resulted in making what I think is my best thing... my most me thing."
He didn't record Prisoner with his (now former) band The Shining
"My best friend Johnny T. [Yerington] still lives in New York and I always write my music with him. I knew that I was going to write a record about how all this stuff had happened - or a deep record - I'd gone to New York and I really felt comfortable there. So once I'd started there I just had to continue."
"In the middle of the sessions Charlie came over but the rest of my band didn't give a shit. We're not a band anymore... but not because they're 'wrong' people, there are just people that are down [for things] and some that are not. And I'm a lifer and so my thing is, we'd be on the road and two and a half weeks would open up and I'd say 'I'm getting on a plane and going to New York, I'm going to go and make music - if anyone wants to come that'd be cool' and they didn't really want to.... and I get that. I don't hold it against them. So I was just like, 'cool I'm gonna play all the instruments on the record then!'. Except for the song 'Do You Still Love Me?'… that's from one week of recording with The Shining. It was the only useable track from a week and a half. We had two weeks booked with the band at Pax:Am and it just didn't work. The way we were were on the road just didn't translate on record."

(Photograph by Jason Williamson)
It's his most Ryan Adams™ sounding record yet
"All that stuff ['80s influence] got into the record because there was no one to tell me differently and I didn't have to please anyone else's ego. I like to leave big spaces and that really helps the sound. I like reverb and I like things to sound quaint and juxtaposed with things that sound far away. I got to produce this record but I also got to have no one else in the way of it so that it felt the way that I feel... and it sounded the way that I wanted it to sound."
He had a blast recording the album
"It was a lot of fun. I mean, I always have fun in the studio but this was particularly fun... it was nice to be away. It was nice to be in New York with Johnny and Megs [Megan Butterworth]... you know, hanging out with all my friends and seeing old places and going to my favourite restaurants for dinner. Going up to Joseph Leonard for dinner... man, I love that place. I felt inspired and I love Electric Lady. That place is like home to me and... the material being whatever it is - the intensity of it - it was never a pain to go there. It's all part of the trip."
Leaving his marriage freed him creatively
"There was always this feeling of guilt or being burdened by my natural inclinations to play [when I was married]. That's just the way that it was. I'm not laying blame and it was nobody's fault. But when that was gone I felt released - not in a way where someone had held me captive and hurt me. But more like 'oh man, I'm free now to be a part of my own desire'. The muse found me again because I was open and I was ready. I think that activated it all and this beautiful sound came with it. It's so funny because it's all over me, it's all in me, it's around me, and I feel it every day, and I pick up a guitar and it's right there and it's just wonderful."

(Photograph by Jason Williamson)
There's been a lot of crazy collaborations at Ryan's Los Angeles studio Pax:Am
"There's been a couple that have been really incredible. I did a couple of recordings where it was my friend Marshall on drums, Bob Mould on guitar, Johnny Depp on bass, and me on guitar. We would just jam weird crazy punk rock stuff. We did it a couple of different times. That stuff is really cool. Then also I was working with The Lemonheads for a minute but I don't think they were ready in themselves to maybe go there and make a record. I think that maybe Evan wanted to do something different."
"Then also I had a band that only ever recorded at Pax:Am - it was with Paul Cutler, the guitar player from 45 Grave. I was the drummer and my friend Alice was on bass and the band was called Sorcerer. We made all of this surf rock stuff that kind of sounded like 45 Grave and I love that stuff so much. He's a genius. Paul Cutler is such a fucking genius."
"Sometimes people just come to my studio to write. To demo and not to make the tunes. The stuff that we worked on for Jenny Lewis... I don't think that's the stuff that will make the record. My studio is private and sometimes people want to come and just fish around and get a vibe. Sometimes it's just for us and sometimes when the intent is there we make a record."
He's not a fan of Q Magazine right now…
"That asshole from Q Magazine? He kind of misreported. Shit, we had such a lovely conversation so I think there must be something wrong with his personality - which sucks. His editor is also the guy that runs MOJO and also supposedly has Ménière's disease [Adams also suffers from the condition]. I mean, maybe you don't see everything that goes through but whatever."
…or a fan of computers
"Computers have made people not trust themselves. Which is really lame."
Blood on the Tracks is his favourite Bob Dylan record
"It's a masterpiece. [The alternate recordings] are the best thing I've ever heard in my life. You know, the brother of the woman he was divorcing [Sara Lownds] convinced Dylan to change the tone of some of the songs because maybe they were too deep and he was afraid of the impact they'd have. But man, you hear 'Idiot Wind' in its original form and it can destroy you. Because you realise he's not mad he's destroyed."
"It's the first in a series. It's by Pax:Am and JHS and it's a massive sound in a single pedal. It's great 'cos it just has toggles. So you can toggle on the boost, toggle on the reverb, toggle on the chorus... or not! What I like is that I gave you an option. It's the kind of boost I like, the kind of reverb I like and the kind of chorus I like... if you turn them all on and you put them a little less than 12 O'clock it's exactly what I use on this new record. It's that sound."
Prisoner is out now via Pax:Am / Blue Note Records. Ryan Adams is currently on a world tour - check his official site for up to date announcements. Read the Best Fit review of the new record.