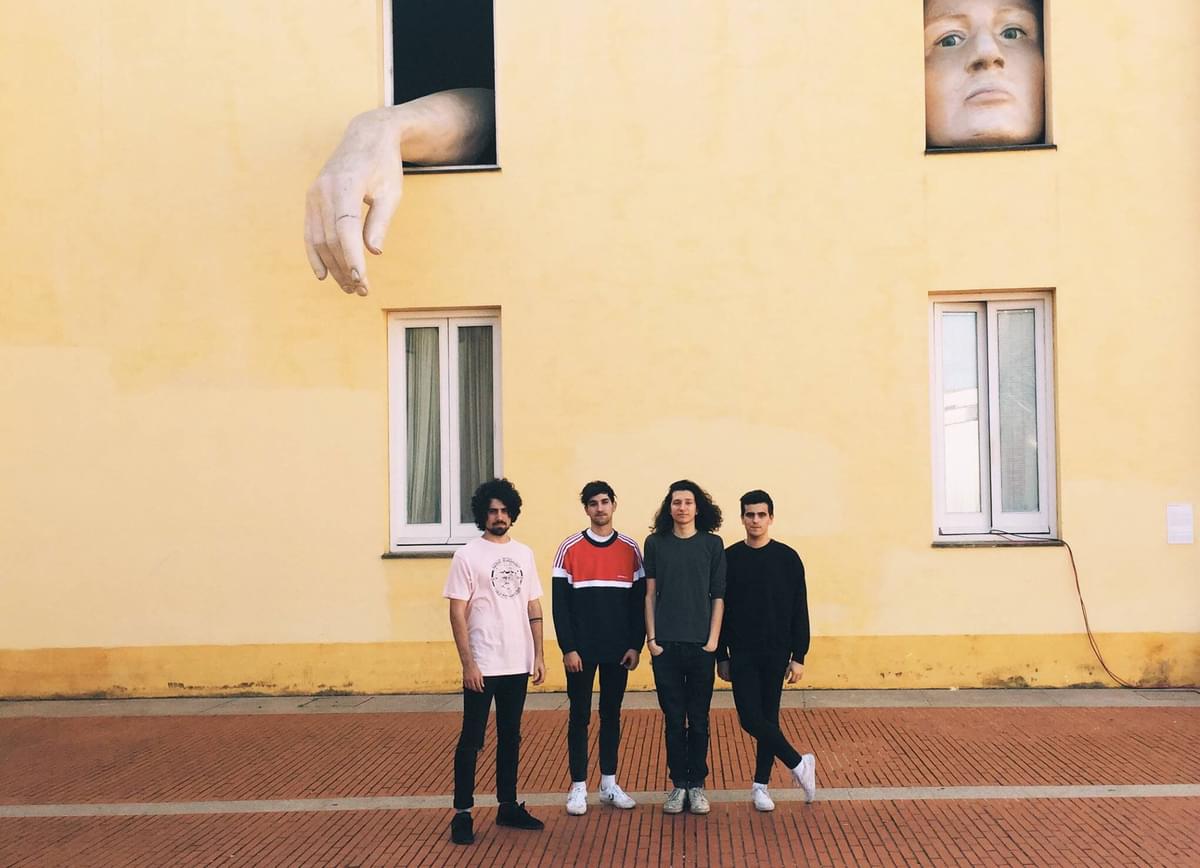 The New Sound of Young Spain
21 March 2017, 12:00
The last two years have seen the Spanish music scene ripping up the rulebook to make the rest of the world take notice.
With bands like Hinds and The Parrots opening the doors for a new generation of young Spanish artists, there's a greater openness than ever before to the creative explosion in Madrid and across the entire country. And it's not just the guitar bands that are making us excited. On the horizon, artists like RRUCCULLA, Ten Bears and John Grvy are also forging their own sound but there's an even more vibrant scene happening across the spectrum.
Baywaves (pictured above) - co-headliners of Best Fit's new Madrid-based clubnight, which runs at Siroco next Wednesday (29 March) - pick ten all stars redefining el sonido de España.
Best Fit Club, Madrid showcases the best in UK and Spanish music, side by side - find out more and get tickets.
When talking about new spanish music, you have to talk about the rap/trap/R&B YouTube scene. Since pioneer rap collective PXXR GVNG rose to fame in 2014, bringing cloud rap and trap sounds and aesthetics to Spain, the YouTube scene is blooming.
YouTube has been offering an enormous amount of new video singles everyday harvested by amazing beatmakers, rappers, reggaeton singers and creative videomakers. Among those Bejo is one of a kind. A member of the Locoplaya collective, he comes from the Canary Islands; unlike most rappers of the YouTube scene, he talks about mangos and doing the laundry and not about big fat booties and moving kilos. He's probably the most skillful rapper in Spain regarding flow and rhymes and he is also known for his surreal videos, directed by CachiRichi (undisclosed identity) and for his chill beats, evoking '90s east coast vibes.
Another rare specimen in the YouTube scene is One Path. Born in Madrid, now living in Barcelona, the twenty-something singer/rapper/beatmaker has been part of several musical projects and he is an usual collaborator of the BNMP collective. You could say he is the "self-made good guy" of the scene, focused on the music and not the looks, switching between archetypical trap tunes, agressive EDM songs, and songs like this Guinda, a mix between r&b and electropop.
Always talking about working hard, drinking enough juice to stay healthy and pursuing your dreams, he's been around for a long time but just now he is starting to take off, having released three mixtapes and several video singles.
Within the bubbling Youtube scene, we have a great number of female rappers such as Chanel, Mueveloreina, La Zowi or Ms Nina, which have been dropping some ace tunes recently. Bad Gyal is from Barcelona and she broke out with catalan sung hit "Indapanden" and a great rework of Rihanna's "Work" (hehe).
She brings an original point of view with her dancehall-discotrap bangers and her hedonist latin vibe does the rest for some dancefloor tunes. She has plenty of those in her latest mixtape Slow Wine, from which we have taken "Dinero", where she sings in Catalan, Spanish and English.
Pedro Ladroga is surely one of the most underrated rappers on the YouTube scene. He's been dropping weirdly arty drug-infused tracks with vapory videos for a long time and with every release he proves he deserves more attention.
As a rapper, he has a weirdly attractive voice and his flow is one of the catchiest in the scene, delivering strange rhythms and verses filled with Andalusian slang. He occasionally joins forces with beatmaker Skyhook under the name Skydrvg, as we can see in this video; the tracks they both deliver and blend really killer beats and groovy rhythms with stoned, purple high vapor tones that surround and enhance Pedro's cryptic style.
Sorry Kate is probably the weirdest, most eclectic group of musicians making tunes in Spain right now. Based in Madrid, they have released several mixtapes and a record, which embodies much of the genre juxtaposition spirit they push forward.
They mix beautiful melodies, English and Spanish lyrics with strange samples, changes from one bar to the other and synthetic and analog sounds. They have an amazing live show, somewhere between rave, performance and a rock concert.
We had a peek at their new material and it's amazing; it can only be labeled as "reggaeton for Warp Records fans".
Imagine a mix between the Bee Gees, The Rocky Horror Picture Show and the Beatles. Imagine a mediterranean version of The Lemon Twigs. Imagine a vaudeville-themed live show by Yes.
All those images come close but they don't do justice to just how amazing Alien Tango (located between London, Valencia and Barcelona) is. With just one EP released, in which they showcase their exotic glam collage pop, they have the most bizarre, danceable and musicly complex shows in the spanish scene right now and probably the most charismatic toon-like frontman since Mike Patton. Catch'em at Primavera.
Having to chose only one song from this 23-year from Barcelona is complicated: in the last year she has sung in two of the most heard R&B/rap singles of the summer: there are some videos of her playing electronic music live, an amazing Frank Ocean cover and then this, "Los Angeles", the flamenco record from which Catalina is taken from.
Having collaborated with C. Tangana (probably the most famous rapper in Spain right now), being huge on Instagram and having been on the cover of several fashion magazines, Rosalia is a pop star with a big fan base among young people, so, in addition to the amazing singing, the selection of songs and the raw production, this album can be regarded as a record that got a lot of young people interested in flamenco.
We've known Ed for a long time as he's been part of different projects around Barcelona. He's a lovely blonde and so talented no matter whether he's singing, rapping, making beats, recording his vids, building weird instruments or cooking fries.
Under the aka E.J. Marais he released "Catalan Beauty" last year, a sound-collage ballad which drove us crazy – it's a really smooth, soft disco song with chillwave vibes and a great chorus. You can find videos of him singing while lying in bed or ironically political electropop songs which tell us we can expect great things from him in the future.
In the '00s Spain had a bunch of post-emo/melodic hardcore bands that created a small scene but didn't leave any indelible marks on Spanish music. Nevertheless, they did have a child prodigy called Cala Vento. The Catalonian duo is formed by Aleix and Joan, both in their mid twenties, and have already released two LPs filled with singable, heartfelt pop-core songs about love, cotidianity and youth.
They move comfortably between the DIY spirit of touring all over the country and give sweaty, beautiful and intense live shows and their minimalistic and elegant artworks and videos. In this one you can see a bunch of bands which they met touring their first album - including us (yay!) - playing a song off their latest record.
"Fanso has brought lo-fi to the hood," they say. And it's true - they're kings of lo-fi around here, with a unique collection of sunbleached beats with tasty textures that put you into a perfect chill mood.
They build a colorful and stilly universe full of weed, Playstation games, milkshakes and daily thoughts that fits so well with their self-produced videos. Last year they released a great mixtape called "Dalsy" but we got to love them with this minifilm called "Acid House" where you can travel into their world for 17 minutes.
Best Fit Club, Madrid showcases the best in UK and Spanish music, side by side - find out more and get tickets.
Get the Best Fit take on the week in music direct to your inbox every Friday