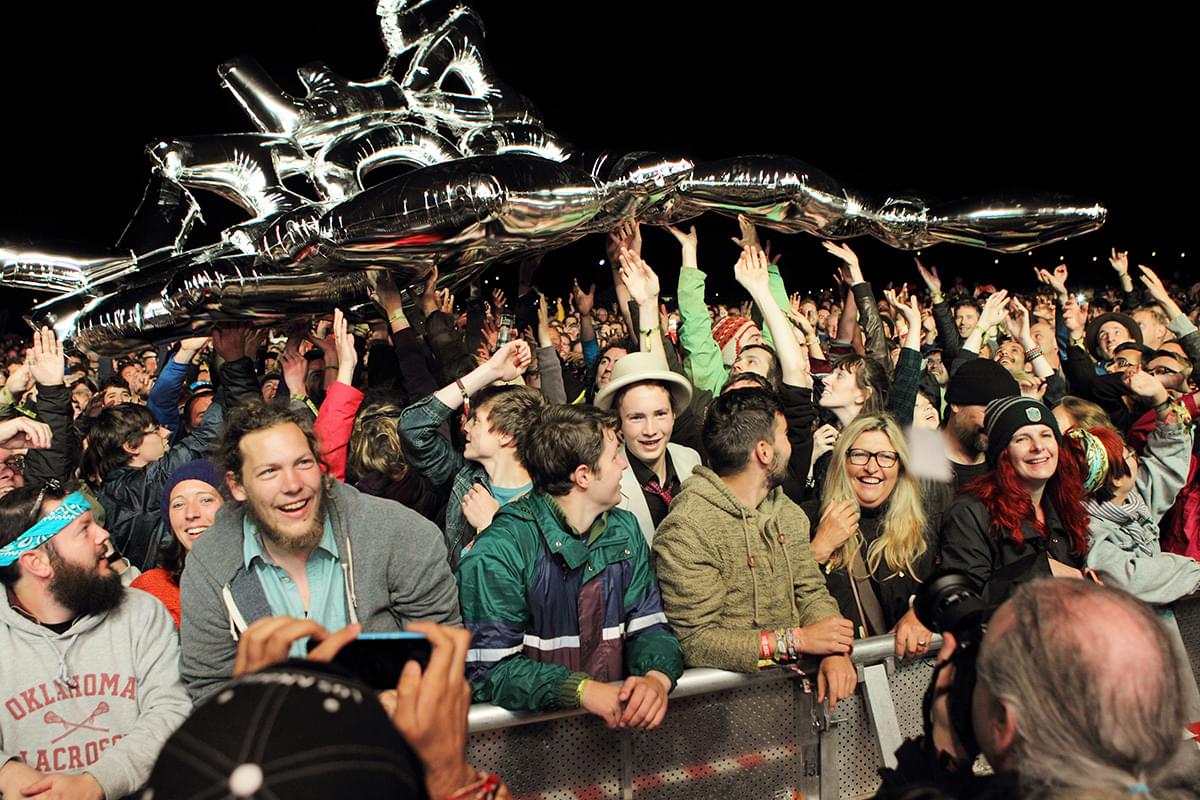 26 bands you should see at End of the Road 2015 according to the music industry
31 August 2015, 11:00
The End of the Road Festival reaches its tenth birthday next week and continues to offer a brilliantly bizarre clash of musical delights filled with curveball surprise and careful regard for quality and the serious music fan.
This year's line-up finds old favourite from the festival's first decade stacked against some of the bigggest names around. We spoke to some of its more well-known fans to get an idea of who they're most excited about. You can also check out a playlist of their selections over on Spotify.
Kate Hutchinson, Deputy Editor, The Guardian Guide recommends...
Torres
Torres [pictured above] is one of those magical songwriters who expresses her emotions both in the abstract and as if her diary has just fallen open. Her second album this year, Sprinter, has been unfairly slept on – I see her in the same realm as St Vincent or Sharon Van Etten, able to capture the latter's intensity but with echoes of the former's robotic space rock. I'd love to see her with a full band at some point but for now she fills the stage with an intensely intimate performance on her own.
Stealing Sheep
Stealing Sheep's new album Not Real, which came out this April, hasn't been far from my record player – I love how they've paired shimmering electronics and properly strutty beats with the folksier, triple-pronged harmonies and psychedelic strumming of their earlier work. I'll be gathering up some brightly coloured, floaty material and wafting it around for their set.
King Khan & BBQ Show
I've no idea what the 'BBQ Show' part of this performance will entail (flying burgers? Live basting?) but King Khan's shows are so unpredictable that anything, really, could happen. Anyway, there's loads of brass, garage-rock vibes that calls to mind a rip-roaring grindhouse soundtrack and Khan's outlandish stage outfits and prescence are always a spectacle, even if you don't like the music.
John Mulvey, Editor of Uncut recommends...
Frazey Ford
Two of the albums I've played most in the past year or so have been by Natalie Prass and Frazey Ford [pictured above], and I can't encourage you enough to see both of them play. I suspect Natalie might be a bit better known, so here's a very strong endorsement for Frazey Ford. My knowledge of her old, folkish band The Be Good Tanyas is pretty sketchy, to be honest, but the solo album she put out last year, Indian Ocean, is wonderful; a southern soul record made with members of Al Green's old band, that is nuanced, groovy and emotionally engaged in a very artful way. Her voice is very impressionistic, understated, and she conveys passion, heartbreak, ecstacy etc with the merest flecks. Good times.
Ryley Walker
Actually as I'm writing this I'm playing yet another Ryley Walker album, a duets set with Bill MacKay called, maybe aptly, Land Of Plenty. Ryley moves so fast, and has such an energised and dispassionate attitude to his previous work, that it's hard to imagine quite what he'll do this weekend. But he's a genuinely unmediated talent, a free spirit who at the same time is so commendably unabashed about his influences. Also his vibe is rowdy and unprecious, quite the opposite of what you might imagine: he's often my favourite person on Twitter, not least because every time I write something like that I get retweeted by his parents, sweetly.
Houndstooth
I think this might be the first time Houndstooth have played over here, which is cool. They're from Portland, and they've released a couple of albums on the great No Quarter label: initially they reminded me of something like Avi Buffalo, something fairly indie, but the more I listen, the more I hear Richard Thompson, late chugalong VU, a spindly psychedelia which, on record, never quite stretches itself as far I want it to. Live, I suspect, they'll head into looser, jammier territory; I hope so, anyway.
Laura Barton, Journalist for The Guardian and Q recommends
Meilyr Jones
Meilyr Jones has something a little bit magical about him, and if the stars align as they ought to he will be huge in the next year. He's a brilliant songwriter - literate, witty and open-hearted, with an incredible voice, and has played some of my favourite live shows of the past six months.
Laura Marling
To my thinking, Marling is Britain's best lyricist - a songwriter of such instinct and quiet wisdom, who seems to grow better with every album. Live, she has a compelling strength and stillness which I suspect will sit beautifully in this setting.
Future Islands
This band pretty much saved my life once upon a time, so it's been a joy to see them flourish over the past year or two. They write the kind of records you can lose yourself inside, and their live shows are the most red-blooded, heart-rearing things ever.
Mammút
Iceland just spews out amazing artists and this lot [pictured above] are on their third album; it's like the baby sister of The Sugarcubes.
Brakes
I am so glad they are back and playing live and live, they are tremendous. The energy from Eamon is infectious. "Dick Chaney" and "All Night Disco Party" are two of my favourites.
Nadine Shah
What a voice, crikey it's so powerful yet tender and delicate. She's a huge talent and I adore her lyrics.
Marika Hackman
She just works away at what she does brilliantly. Her new album that was out in February 'We Slept At Last.' is definitely in my top albums of the year. It's like beauty on tape.
Hinds
Really excited about this lot, such energy and power at the start of what I think is going to be a very successful career.
Girlpool
Big fan of girl duo bands and they finally got round to releasing their debut album a few months ago. Simplicity made to sound bombastic is what they do so well. That for me shows great songwriting when a few chords can make you feel like it's the most complicated composition.
Bernard + Edith
They're actually called Greta and Nick [pictured above] and use their middle names. Nick/Bernard used to be in Egyptian Hip Hop. Greta was an artist. Their album Jem is named after Greta's dog. Bernard + Edith are one of this country's most interesting bands around right now. It's like this dark, industrial disco pop. There's a sense of the grinding momentum that The Knife do well but you also find in Joy Division. It's abrasive and uncompromising and they're an endlessly fascinating pair.
Flo Morrissey
She's deceptively revivalist but there's a freshness, depth and ear for melody that helps Flo Morrissey's sound transcend its obvious influences. Her record Tomorrow Will Be Beautiful is a soul-nourishing listen.
Mac DeMarco
I think perhaps the first question you should ask any potential friend, partner or soul-mate is, "do you like Mac"? Or perhaps, "How much do you like Mac?" Music just doesn't produce enough personalities anymore does it? I've seen him about six times in the last two years and I'll happily sit through every show he does.
Richard Knight, Producer at BBC Radio 4 recommends...
Slow Club
'Dependable People And Things That I'm Sure Of' by Slow Club is, I think, pretty much the perfect song. Slow Club – if you're reading this – please, please play it.
Frazey Ford
I can't wait to see Frazey Ford. She has a truly mesmeric voice. I've been playing her over and over since I discovered Indian Ocean, which she recorded with a bunch of Al Green-era Hi Records veterans.
Saint Etienne
Anyone who was at university in the early nineties – like me – has a special place in their heart for Saint Etienne. I'll be there, at the Garden stage, hoping Sarah Cracknell will be able to make me feel 18 again.
Jonathan Dean. Senior Writer at The Sunday Times recommends...
Sufjan Stevens
His really sad album about the cancer in his mother may not seem like Saturday night party disco music, but this Americana legend always puts on a show.
Fat White Family
When I saw these guys in SXSW, the lead singer stripped to his y-fronts, stuck his hand down them, and smothered himself in oil. The music's good too.
Montage of Heck [showing in the cinema tent]
Underrated among all the - deserved - buzz for Amy, the year's other big dead rock icon doc is well worth a wallow. Exceptional home movie footage of Kurt is the standout.
Rich Thane, Founder of The Line of Best Fit/Best Fit Recordings
Andrew Combs
Unabashed songwriting at its best. Combs crosses the country and pop bridge with a delicate precision and approach to his craft. He's part of a new breed of 'outlaw' artists that are continuously proving that Nashville borne music doesn't necessarily have to mean glitz and glamour. The perfect way to kick off proceedings at the Woods Stage on Friday afternoon.
My Morning Jacket
Twelve years down the line and I still hold the firm belief that 2003's It Still Moves is one of the great classic American records of our time and they're indeed one of the few bands that have managed to pull off releasing a live album that's actually worthwhile (2006's Okonokos). This year's The Waterfall remains one of my favourite release of 2015 and a definite 'return to form'. Filled with huge, life-affirming songs - I dare you to find a bigger chorus than "Big Decisions" at this weekend's festival. A must see.
H. Hawkline
On the live stage, Hawkline takes the surrealist pop of his recorded output and peppers it with a punky punch. Urgent, brisk and full of wry fun.
Hinds
Despite having only released a few fab singles, the band [pictured above] have already gained a bit of a cult following. This may be something to do with the fact they are seemingly having way more fun than everyone else. If you're going to run off with a band this weekend, these are your lot.
Fuzz
They are well fuzzy and cool as hell. Wander into the haze and hang out there as long as you can, be at one with the heavy vibes. Be a vibe.
End of the Road Festival kicks off this Thursday at Larmer Tree Gardens in Dorset. Find out more at endoftheroadfestival.com
Get the Best Fit take on the week in music direct to your inbox every Friday